Fort Solis is a thrilling science fiction adventure game that takes place in a Mars colony called Fort Minor. It was developed by Liverpool-based Fallen Leaf Studios and published by Dear Villagers in August 2023. The game aims to deliver an atmospheric thriller and a narrative-driven sci-fi adventure, not unlike Dead Space with fewer supernatural monsters. It does so using the most recent edition of Unreal Engine. The game is available on PC and PlayStation 5. Here, we'll take a look at the game's premise, characters, and, of course, tips, tricks, and cheats.
Fort Solis Premise
Fort Solis is a single-player adventure game from the third-person perspective. The game takes place in a Mars colony, during a stormy night on the far side of Mars. Engineer Jack Leary, who is doing repairs in the colony, and scientist Jessica Appleton, from the nearby base Fort Minor, respond to a routine alarm where events take a darker turn, completely out of the ordinary.
The narrative of Fort Solis revolves around Jack Leary, an engineer who arrives at the Mars base the game is named after, Fort Solis, following the alert. As a looming storm forces Leary inside the base, it leads to a series of surprising and grim discoveries. He finds the base on lockdown with bloodstains, and signs of something sinister looming in the darkness. As Leary delves deeper, he encounters corpses of crew members, each victim violently killed.
Leary's journey takes him throughout the base to find living members of the base, but the exploration doesn't go as planned. In the game, players follow the story from the perspectives of both Appleton and Leary as they uncover the truth behind the base's lockdown, involving a deadly virus.
Fort Solis Characters
In Fort Solis, the characters are the driving force behind its gripping story. The narrative, set in the isolated and hostile Mars base, leans heavily on its characters to create a suspenseful atmosphere. Each character brings unique perspectives and motivations to the plot, and the game isn't without twists and turns. Players take control of two different characters, the protagonists Jack Leary and Jessica Appleton as they unfold the mystery and horrors on Fort Solis. Ultimately they are trying to find survivors and what is behind this gruesome scene.
Jack Leary: Jack Leary is an engineer who arrives at Fort Solis Mars base to investigate an emergency. He discovers the base deserted and in lockdown, leading him to uncover a series of dark secrets and dangers. Leary is central to the narrative, navigating the base, and eventually confronting the antagonist. He is voiced by Roger Clark.
Jessica Appleton: Jessica Appleton, a scientist at the nearby human Mars colony Fort Minor, receives an emergency alert from Fort Solis. She maintains radio communication with Leary and later physically explores the base. Appleton encounters and escapes from the antagonist, and her investigation plays a key role in unfolding the story. She is voiced by Julia Brown.
Wyatt Taylor: Wyatt Taylor, the lead officer and a doctor at Fort Solis. He is the game's antagonist. After discovering a virus caused by Martian soil, he takes extreme measures to keep it contained. He ends up killing his colleagues in the process. Voiced by Troy Baker.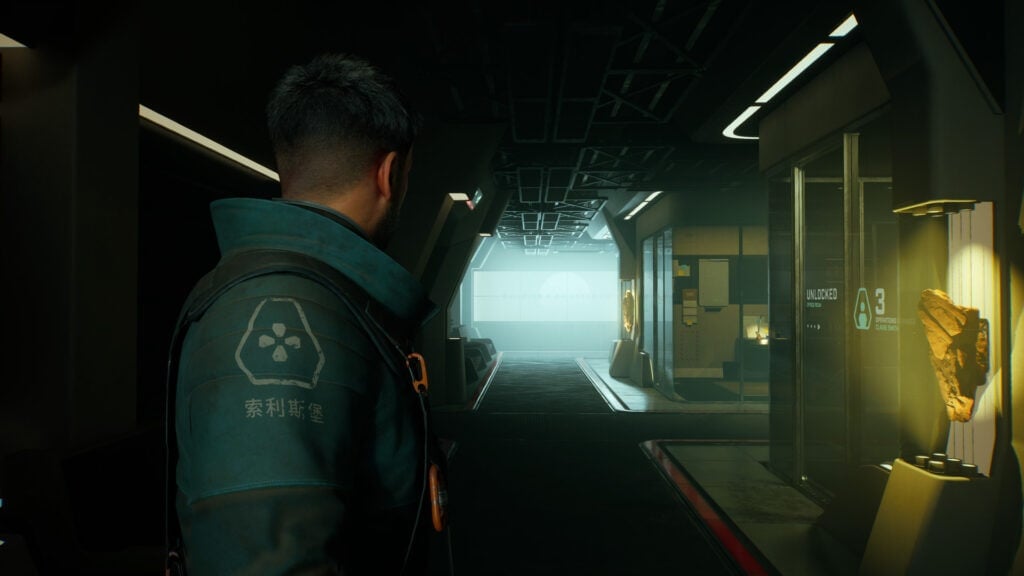 Games in the Series
Fort Solis is a standalone title released in August 2023 that doesn't have any predecessor or announced successors at this point. The game was developed by a new independent developer called Fallen Leaf Studios.
Fort Solis Cheats
Fort Solis does not feature cheats in any sense of the word. The game is designed to immerse players in its narrative and atmosphere without shortcuts. It is played as an interactive story, where the story itself is at the forefront. However, players can still find ways to progress in the story easier if they have access to certain pieces of information. Let's take a look at some of them here.
Helen's Office Safe
Players looking to unlock the safe in botanist Helen Dunpart's office at Fort Solis need to discover a hidden code. Unlike some other codes located on paperwork or in other easily accessible places, accessing this safe presents more of a challenge. The "03.10.2080" audio log entry reveals the code. Helen discloses her vault code, 0721, later in the log as she explains its contents. The safe, an important story element, contains a vial of something called compound 26. Unlocking it also awards one of the game's trophies, "Everything is Dust."
PlayStation Trophies
| | | |
| --- | --- | --- |
| Trophy | Description | Trophy Type |
| Fort Solis | Obtain all trophies. | Platinum |
| Dust Dancing | Take 3000 steps on the surface of Mars. | Gold |
| Skeleton Crew | Locate all crew members. | Gold |
| Tragedy Documented | View all Video Logs. | Gold |
| Cartographer | Visit all locations at Fort Solis. | Gold |
| Terra Tour Guide | Collect all audio logs, posters, emails, and banners. | Gold |
| Causality | Experience the alternate ending. | Gold |
| Darkest Before the Dawn | Complete Fort Solis. | Gold |
| Congratulations, you're an engineer | Gain access to Nick Tout's broken Multi Tool. | Gold |
| The Safety of Disbelief | Survive the Storm. | Silver |
| Lights Out | Locate the Generator in the Maintenance Unit. | Silver |
| Everything is Dust | Find compound 26. | Silver |
| Mi Casa Su Casa | Gain access to Officer Taylor's room. | Silver |
| Once more into the Breach | Gain entry to the Ridge Tunnel. | Silver |
| A Better Tomorrow | Enter the Greenhouse. | Silver |
| Outpatient | Escape the Medical Bay. | Silver |
| Welcome to Fort Solis | Complete the Ridge Climb. | Bronze |
| Relic | Grant power to a door. | Bronze |
| Drinking on the Job | Finish the bottle of beer. | Bronze |
| Boston Heyday | Take a shot at the pool table. | Bronze |
| Boxing Clever | Interact with the punch bag. | Bronze |
Fort Solis Cheats FAQ
Can I play Fort Solis on Xbox?
Unfortunately not, at least not yet. Fort Solis is available on PC, macOS, and PlayStation 5, but not on Xbox consoles.
Is there multiplayer gameplay on Fort Solis?
No, Fort Solis is solely a single-player experience focused on narrative and exploration. In the game, players can control two different characters.
Does Fort Solis have different endings?
Yes, Fort Solis offers multiple endings based on player choices and actions throughout the game.