Guild Wars 2 is an MMORPG released by NCSoft in 2012. The game is unique amongst MMOs in that it features a storyline that is directly respondent to the actions of its player base. It uses a dynamic event system to let players and their factions impact the story. Like other MMOs, however, the story progresses through updates and DLC releases. One such DLC is Path of Fire, an expansion that launched in 2017. This expansion lets players travel to the Crystal Desert and take on the villainous god Balthazar. It also boasts new content for players to engage with during their quest. Mounts were introduced in this expansion, along with a bounty system for high-ranking enemies and elite specializations for player classes. Guild Wars 2 has had quite a few expansions since, but here's everything you need to know about Path of Fire.
Guild Wars 2: Path of Fire Premise
The overarching plot of Guild Wars 2 concerns the Elder Dragons. These are Lovecraftian entities that awoke following the events of the first game. These imposing and dangerous entities have thrown the world of Tyria into chaos. The player has teamed up with major dragon-hunting factions to control their madness. In Guild Wars 2: Path of Fire, you track one such Elder Dragon to the Crystal Desert, where Balthazar, the deposed God of War, is planning to slay it. Despite of the threat these creatures pose to the world, slaying them would cause even worse repercussions. Elder Dragons control the balance of magic in the world, and killing one would upset this delicate equilibrium. To that end, players must hunt down and stop Balthazar, both to protect the integrity of the world itself and to prevent the fanatical god from absorbing dangerous levels of power.
Guild Wars 2: Path of Fire Main Characters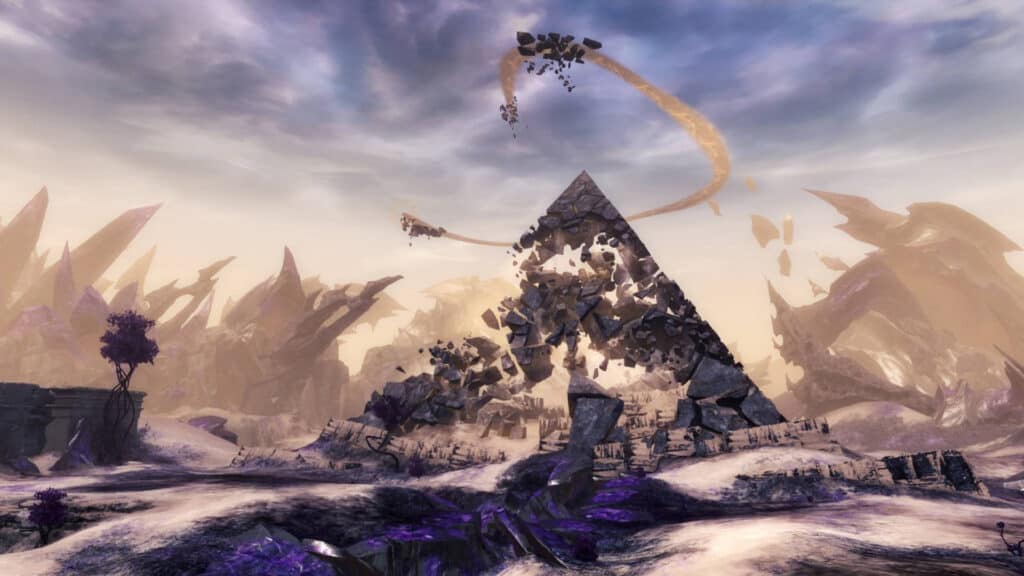 The epic fantasy story of Guild Wars 2: Path of Fire demands a hefty cast of characters. As you work to maintain the balance of magic and mitigate the impact of the Elder Dragons, you'll bump elbows with several major figures. These NPCs help advance the story through quests and rewards. Other NPCs, like Balthazar himself, threaten to undo all the work you and your allies are doing to maintain the peace. Here are some of the biggest names you'll encounter during your adventures in the Crystal Desert.
Aurene: This young dragon is a scion of the dragon Glint, and a longtime companion of the player character. She has chosen you as her champion and shares a mental link, allowing her to accompany you on your journey to the Crystal Desert.
Canach: Canach is a Secondborn sylvari and a recurring character. He placed a bet that the Commander, otherwise known as the player, could defeat Balthazar and his army of Forged minions. In order to ensure his victory, Canach aids you on your quest.
Lady Kasmeer Meade: This noblewoman serves as an envoy of the human capital of Divinity's Reach. Having once worshiped the Six, the pantheon of human gods, Meade is shaken by Balthazar's actions. She seeks to remedy this crisis of faith while at the same time aiding the victims of the God of War's rampage.
Rytlock Brimstone: Blood Legion tribune and former Destiny's Edge hero, Rytlock also aids the Commander in bringing peace to the Crystal Desert. He struggles to come to terms with the fact that he must protect the Elder Dragon Kralkatorrik, who was responsible for the deaths of two of his friends.
Taimi: This asuran prodigy aids the Commander from afar with her scholarly works, using long-distance communication to assist in your quest.
Palawa Joko: This sinister lich seized control of the realm of Elona and rules it with an iron fist. His undead legions are a major threat in the region.
Kralkatorrik: The Elder Dragon of Crystal has grown to immense power and flown to the Crystal Sands to enact his unfathomable will. In spite of Balthazar's attempts to slay him, he remains a formidable foe and a major threat.
Balthazar: This rogue god has sworn revenge against those who have dimmed his light. He aims to use the power of the Elder Dragons to pursue this mad goal. With his army of constructed Forged minions, as well as his fanatical Zaishen Order followers, he terrorizes the region of Elona.
Guild Wars 2: Path of Fire Games In The Series
The Guild Wars franchise might not be as prominent as titles like World of Warcraft, but it maintains a dedicated following nonetheless. Since the original game's launch in 2005, there have been quite a few additions to Guild Wars canon. In addition to titles and spinoffs, there are even a few Guild Wars novels. Here is every Guild Wars video game and expansion currently available for MMO fans.
Guild Wars Prophecies (2005)
Guild Wars Factions (2006)
Guild Wars Nightfall (2006)
Guild Wars: Eye of the North (2006)
Guild Wars 2 (2012)
Guild Wars 2: Living World Season 1 (2013)
Rytlock's Critter Rampage (2013)
Guild Wars 2: Living World Season 2 (2014)
Guild Wars 2: Heart of Thorns (2015)
Guild Wars 2: Living World Season 3 (2016)
Guild Wars 2: Path of Fire (2017)
Guild Wars 2: Living World Season 4 (2017)
Guild Wars 2: The Icebrood Saga (2019)
Guild Wars 2: End of Dragons (2022)
Guild Wars 2: Secrets of the Obscure (2023)
Guild Wars 2: Path of Fire Cheat Codes
There are no cheat codes available for Guild Wars 2 or any of its expansions, Path of Fire included. Since the game is an entirely multiplayer experience, cheat codes would grant unfair advantages to some players. This would throw off the entire balance of the game and ruin the experience for legitimate fans. To that end, players caught using cheats will be banned immediately. If you want to continue enjoying Guild Wars 2: Path of Fire, you should steer clear of third-party cheat software.
There is one thing you can do to shake up your Guild Wars 2 experience, however. While cheats are expressly forbidden, there are a few mods you can install. These won't drastically change your performance in combat, but they're still quite useful. They can enhance the UI and give you access to new menus to make gameplay more accessible. Looking up helpful Guild Wars 2 add-ons can be a great way to give yourself an edge without risk of getting banned outright.
Guild Wars 2: Path of Fire Cheats FAQ
Is Guild Wars 2: Path of Fire worth it? One of the biggest selling points for Guild Wars 2 is that the base game is free to play. While this means fans can enjoy plenty of content without paying a cent, it also makes the expansions a bit of a harder sell. Guild Wars 2: Path of Fire has a price tag of $30. Of course, the question of whether or not any given expenditure is worth it is largely subjective. Path of Fire, however, is a very substantial addition to the game. With major changes like mounts, this DLC has much more impact than just the story content it offers.
How long is Guild Wars 2: Path of Fire? With MMOs like Guild Wars 2, the question of playtime is a bit trickier than normal. If you focus on just the story content, you're liable to spend about 35 hours playing Guild Wars 2: Path of Fire. But the main draw of an MMORPG is its online content, and if you focus on playing co-op with other players, you can spend hundreds of hours in the new region offered by this expansion. It all comes down to your playstyle. Either way, though, Path of Fire is a hefty expansion.