Are you concerned about For Honor ? Wait. Back up. Let's rewind a bit. Hi! Do you know what For Honor is? It's an action game where players pick a semi-historical faction from the Legion knights, Chosen samurai, and Warborn Vikings. Once you choose which side you're on, you pick one of four classes for your character and build the avatar up by determining which weapons it equips, skills it uses, and fighting styles it relies upon. In addition to hack-and-slash elements and a campaign, it also has duel moments where you size up and face another enemy as you go into a one-on-one battle. In addition to a campaign, it also has multiple multiplayer modes.
Okay, now that we're all caught up, how do you feel about For Honor ? Personally, I'm a bit concerned. From what I played at E3 2016 to recent announcements regarding the split-screen feature that was initially billed as so integral to the experience, I wonder if this could end up being a rather boring and ultimately forgettable game that will fall to the wayside, rather than be fondly remembered.
Part of it has to do with the central premise, with its Legion, Chosen, and Warborn factions and their respective campaigns, which can be played alone or with a friend. None of the storylines particularly pop. When you hear about a new game, be it part of a major series like Assassin's Creed, Call of Duty, and Mass Effect or stand-alone like Nioh or Horizon: Zero Dawn , the companies set the stage with all kinds of interesting characters and lore to hype you up. Even though For Honor is out in February, the campaigns don't sound very appealing. The characters and their stories all sound like tales that have been told before. The Chosen's Orochi is an assassin that was imprisoned and defamed and must clear its name. The Iron Legion's Warden is a soldier looking for a knightly purpose. The Raider wants to bring peace to the Warborn. OK, fine, but beyond these blank slates and loose concepts, we have no real reason to care about these figures or their stories. Ubisoft hasn't done enough to make the plot seem engaging or exciting. This war doesn't matter to us yet.
After going hands-on with For Honor at E3 2016, I have to say that the battle system also didn't really appeal to me in the way other games' have. In particular, I have concerns about the one-on-one duel controls. Once you're in a fight with one other enemy, controlled by either AI or a human opponent, things feel a bit more convoluted and complicated than they need to be. You move with the left analog stick. You have to hold down the left trigger to lock on to your enemy, while also pressing up, left, or right to set your stance and direction of attack and pressing either R1 or R2 for a light or heavy attack. While it did work and could be something you adjust to, it felt overly complicated. It's the sort of control scheme that I could see becoming uncomfortable if you're playing for a long period of time, especially since multiplayer modes don't offer you the luxury of switching between hack-and-slash and one-on-one duels. With multiplayer, it's always 1v1, 2v2, or 4v4. It felt like the sort of thing that will be novel the first few times you play, but gets more tedious and lackluster the longer you play.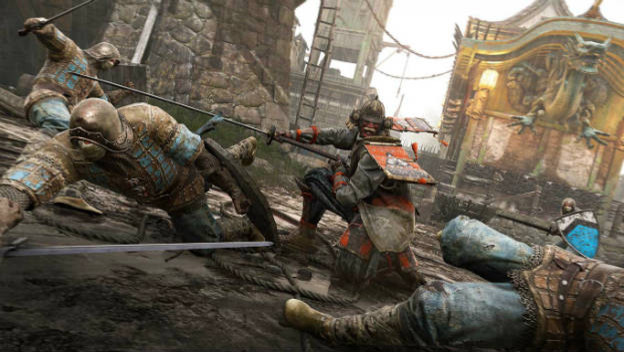 Plus, a recent design decision makes me wonder if even Ubisoft Montreal is certain about what For Honor should be. Ever since it was announced at E3 2015, we've been hearing how important the split-screen multiplayer is to the game. So much hype has centered around how we'll be able to see what our character and our opponent's character will be doing on the same screen. And it does seem critical, since watching stances is critical to succeeding in 1v1 fights. But now, the feature has been pulled from the online co-op . Ubisoft hasn't said if it remains in the other multiplayer modes. To take something billed as an important part of the game experience and toss it out four months before launch is concerning.
For Honor could end up being a good game. There could be substance to this adventure. It might even inspire a new genre. It'd be great if that were true, since I'm sure there are people who will enjoy it. What I know, though, is that I wasn't wowed by For Honor at Ubisoft's E3 2016  booth in the same way I was by other games at the event, like Battlefield 1, Watch Dogs 2, and The Legend of Zelda: Breath of the Wild. Now that Ubisoft is backpedaling on what seemed like an important feature, it makes me wonder even more if this is going to be a AAA sensation or one of those games that's okay for a few weeks, then flops.