The Sims 4 has proven to be one of the most popular life simulation games in the series. With the Cats and Dogs expansion pack, players can bring some furry friends to their virtual worlds. This highly anticipated expansion, released in late 2017, introduced many exciting features and content. It allows players' Sims to become pet owners and experience the joys and challenges of caring for their four-legged companions. However, there are some other notable additions as well. Let's look at The Sims 4: Cats and Dogs and explore the new features that it brings to the game.
The Sims 4: Cats and Dogs Premise
The Sims 4: Cats and Dogs is the fourth major add-on for the popular sim game and launched in 2017. As you can guess from the title, this expansion is focused on pets. It offers players the opportunity to include dogs, cats, foxes, and raccoons in their Sims' lives. Whether you're a cat or dog person (or maybe you prefer something a little more exotic), this expansion has a lot of appeal for animal-loving Sims players.
Set in the coastal town of Brindleton Bay, Cats and Dogs allows Sims to adopt and raise their own pets. This opens up a new world of interactions, experiences, activities, purchasable items, and more. Here are all of the standout features that make this expansion a must-have for any Sims 4 enthusiast:
New Features The Sims 4: Cats and Dogs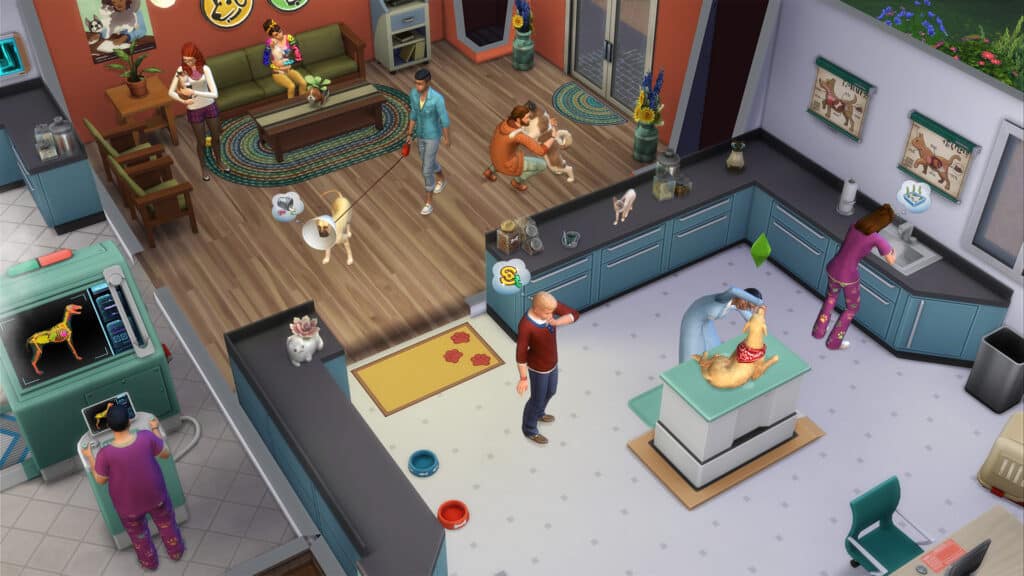 Create-A-Pet
The expansion's biggest addition is the Create A Pet tool, allowing players to fully customize little buddies for their Sims. You can choose from various breeds, customize fur patterns and colors, and even dress pets in cute and funny outfits. The level of detail in creating your cat or dog is impressive, allowing you to design pets that match your Sims' personalities.
Not only can you customize their appearance, but you can also select their traits and behaviors, shaping the personalities of the pets themselves. Want a mischievous, playful kitten or a loyal, protective canine companion? The choice is yours. And as you can imagine, this greatly impacts your Sims' interactions with their pets.
Veterinarian Career
The Sims 4: Cats and Dogs add-on introduces a new career path – becoming a veterinarian. Player Sims can now own and operate a veterinary clinic, providing care for the pets of Brindleton Bay. As a vet, you'll diagnose and treat various ailments, and you can even hire skilled staff members to assist you. The veterinarian career adds some new depth to the gameplay by allowing Sims to pursue a profession centered around their love for animals.
Pet Training and Relationships
Building a strong bond with your pets is one of the most joyful parts of having any animal. As you'd expect, this is a big part of The Sims 4: Cats and Dogs. Your Sims can train their pets, teach them tricks, and form emotional connections with their mammalian companions. The more time and effort your Sims invest in their training and caring for their pets, the more rewarding the relationship becomes. Well-trained pets will behave well and perform tricks, adding a fun (and very cute) layer of entertainment to the game.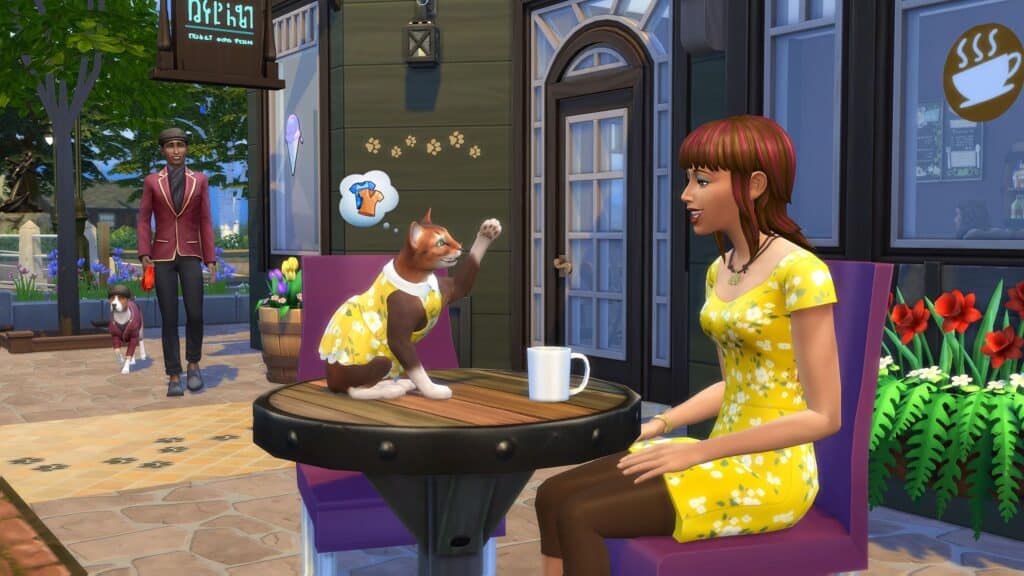 Pet Accessories and Pet-Specific Traits
The expansion pack brings a range of pet accessories to collect, from stylish collars and toys to beds and houses. These accessories can enhance your pet's appearance and can also affect their happiness and general well-being. Additionally, pets can have unique personality traits. Traits like "Couch Potato" or "Independent" influence their behavior and interactions with their human owners, adding depth to the personalities of your Sims' furry friends.
Stray Pets and Pet Adoption
Acquiring new pets in The Sims 4: Cats and Dogs isn't limited to the Create A Pet tool. Brindleton Bay is also home to a variety of stray animals, providing opportunities for your Sims to take in and care for them. Sims can befriend strays, feed them, and eventually adopt them into their household. Stray pets bring an element of surprise and unpredictability to the game. You never know what kind of personality or traits they may have.
Outdoor Activities in Brindleton Bay
Brindleton Bay, the setting for The Sims 4: Cats and Dogs, gives players a whole new world to explore. The expansion also introduces a variety of new activities for your Sims and their pets to enjoy throughout Brindleton Bay. Sims and their pets can play fetch, head to the park, build and navigate obstacle courses, or enjoy nice walks along the scenic Brindleton Bay coastline.
There are a lot of expansions for The Sims 4, and Cats and Dogs is easily one of the best. It offers a pet-filled paradise for animal-loving Sims players. It allows Sims to bond with their furry companions, embark on veterinary careers, and customize pets in fun and unique ways. Whether you're a pet enthusiast, a die-hard Sims 4 aficionado, or both, Cats and Dogs does a great job of bringing the joy of pet ownership to the game.