Riffing With Rayman
Third-party platform exclusives are becoming increasingly rare these days, and it's almost unheard of for a series to go from multiplatform to exclusive. The lure of the Wii U's GamePad controller, though, was enough for Ubisoft to take Rayman (previously available on everything short of your pocket calculator) on an exclusive outing for the Wii U in Rayman Legends.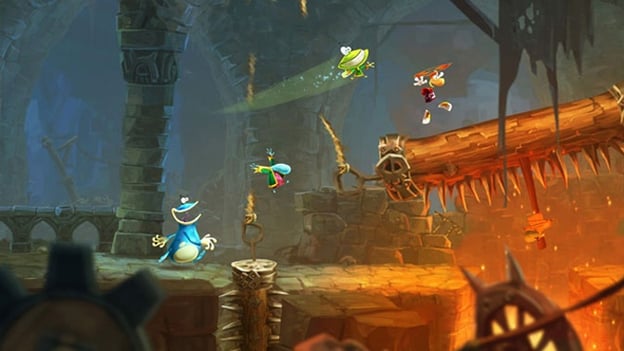 After many years of relying on the Rabbids, Ubisoft finally brought back its platforming hero, Rayman, in the beautifully designed and critically acclaimed Rayman Origins. When that game's multiplayer mode proved popular with gamers, the company decided to put an even greater emphasis on the multiplayer experience in the sequel, Rayman Legends. With the Wii U allowing for an asynchronous multiplayer experience, Ubisoft decided to integrate the tablet-controlled character so deeply into the gameplay that Legends simply wouldn't work on other consoles.
The result of that tablet focus can be seen in the various available trailers and the playable demo for Rayman Legends. In single-player mode, the player will need to switch between using a regular platforming character and the tablet-controlled Murfy the fly, who directly manipulates enemies and objects using the stylus and touchscreen. In multiplayer mode, the GamePad player can choose to be Murfy full-time (or swap back and forth with a press of the B button), while up to four others select from an array of characters like Rayman, Globox, and a delightfully homicidal axe-wielding Viking named Barbara.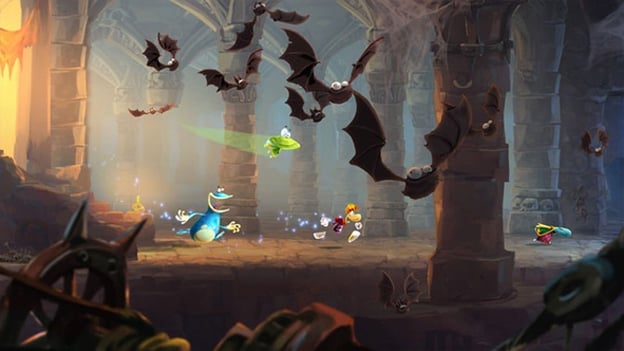 Ironically, it appears to be Ubisoft rather than Nintendo that has first mastered asynchronous multiplayer platforming on the Wii U, as a stylus player in New Super Mario Bros. U tends to either be bored or looked upon as a menace by other players. Murfy players, on the other hand, are integral to the success of the Rayman team, and there's always something interesting to do with the stylus. Murfy can cut ropes, tickle enemies, pick up goodies and drag them to the other players, manipulate the environment to lead the other players to hidden areas, or poke hazards in order to neutralize them—and that's just when he's not required to do things like move or tilt platforms.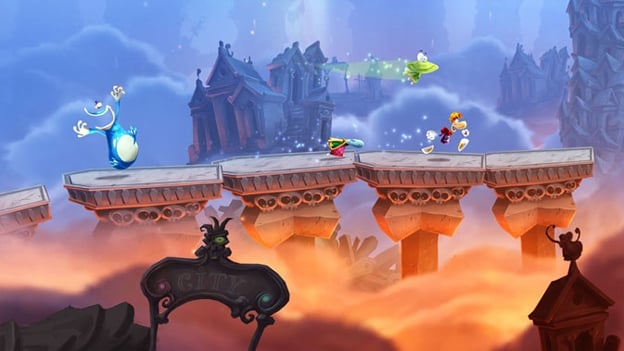 Tilting platforms is accomplished by tilting the GamePad itself, and is the one Murfy responsibility that I found to be a drag when playing through the Rayman Legends demo. The control feels fidgety, it's too easy to accidentally kill the other player during tilt puzzles, and the exact same thing could have been accomplished by simply allowing the player to grab and object and rotate it using the stylus. Otherwise, though, playing as Murfy is quite fun, and works equally well with a skilled player looking out for less-skilled friends or as a less-skilled player being useful without having to perform tricky platforming moves.
Having those varied multiplayer options is great, because at its heart, Rayman Legends remains a challenging platformer with a one-hit, one-kill philosophy. Players working through the game alone will likely repeat difficult segments many times in order to successfully complete them and save all the captured critters found in the game's levels. Going through the game with more than one player allows for individuals to make more mistakes and gives players the option to have a full-time Murfy assistant.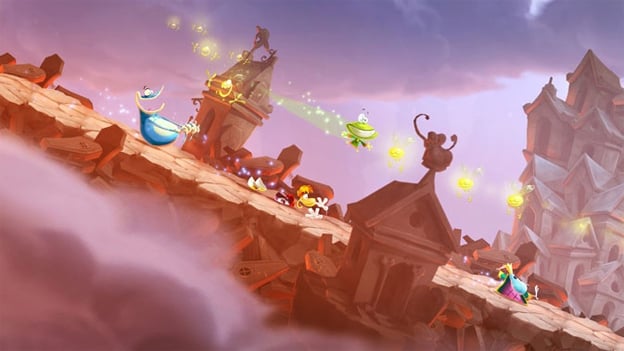 Music was a definite highlight of Rayman Origins, and it will be more tightly integrated into the gameplay of Rayman Legends. Certain levels are being billed as "Platforming Hero" levels, in which the player will want to run, jump, and punch to the beat of the song that's playing. An example of these levels, Castle Rock, is found in the demo. It was certainly my favorite of the demo levels, possessing frantic yet rhythmic gameplay and oodles of charm.
Rayman Legends retains the gorgeous 2D visuals found in its predecessor, but uses the Wii U's graphical capabilities to infuse the levels with improved lighting effects, more animation frames, and other subtle improvements. The new worlds seem a less immediately zany than the animate Mexican food and singing Lum-packed Rayman Origins levels, but are still full of weird monsters and hilarious animations.
Wii U owners should definitely take a few moments to try out the Rayman Legends demo, especially if they can finagle a friend or two to try out the multiplayer experience. The new Rayman series has managed to hit a sweet spot in which multiplayer platforming is an exercise in cooperation instead of frustration, and in which the audio and visual design actually manages to be a bit edgy instead of coming across as lame. Judging from what we've played so far, new additions like Murfy and the Platforming Hero segments only improve upon the formula that was established in Rayman Origins.
Rayman Legends is rightfully one of the most anticipated titles in the Wii U launch window software lineup, and it should rekindle excitement around the Wii U when it arrives in late February.
Game Features:
Five-Player Co-op: Now even more players can join the fun! With four Wii Remote controllers (or Pro Controllers) and the Wii U GamePad, up to five players can play simultaneously! Jump in and jump out at any time during the 80+ levels of gameplay!

Murfy to the Rescue: As the dedicated character on the Wii U GamePad, Murfy can tickle enemies, rotate platforms, move objects, cut ropes, dig paths, and even shoot a slingshot to take out dragons! Discover all the ways Murfy can interact with the world!

Rayman Rocks: See if you have what it takes to be a Platforming Hero – jump to the beat of a drum, punch to the bass line, even zip-line during a guitar sustain. Timing and rhythm are the keys to completing these maps set to music.

The Game Must Go On: The Wii U console allows you to keep playing the game – even when your television is off – and continue Rayman's adventure on the Wii U GamePad!