Listen up, folks: Alien Covenant is out in theaters, and it's a hot contender for my favorite blockbuster movie of 2017. It's awesome, and it has me hyped up about Alien all over again. Ridley Scott's Alien is one of the straight-up best movies of all-time and its enduring legacy, despite a franchise of wavering quality, is proof of that. There are even a handful of pretty good to great video games with the Alien (or Aliens , or Alien vs Predator ) brand slapped on 'em. Let's take a look back at some of the best. Also, shout-out to Alien for the Atari 2600 for being a bad Pac-Man clone that was still programmed better than the official Pac-Man port.
Alien Resurrection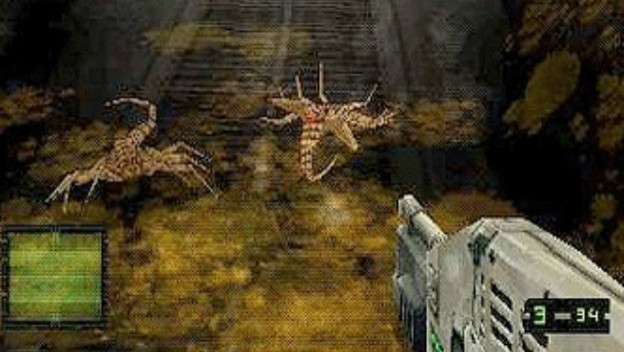 Alien Resurrection is considered by many to be the worst movie in the franchise. That's debatable; it's a bit of a mess, but does some pretty interesting stuff despite that. The PlayStation game, however, had very little interest in recreating the movie. Instead, it opted to be a more horror-like first-person shooter, and one of the earliest ones to use today's two-stick play methods. That makes Alien Resurrection notable from a historical standpoint, too!
Alien Trilogy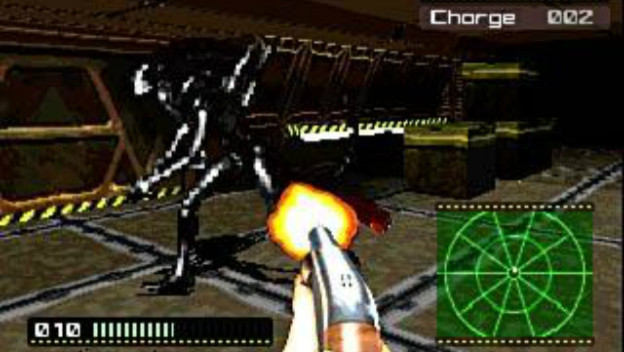 Look closely enough into the history of any piece of genre media that came out after 1979, and there's a good chance someone involved with its creation was inspired by Alien . The same holds true for DOOM . How appropriate then, is a PS1-era Alien game that's heavily inspired by DOOM ? Alien Trilogy is a run and gun, 90's shooter that may as well be a re-skin of DOOM based on how it looks and feels. It sort of smashes scenes from the first three movies all together haphazardly, but it doesn't matter when the goal is to shoot everything in sight.
Alien 3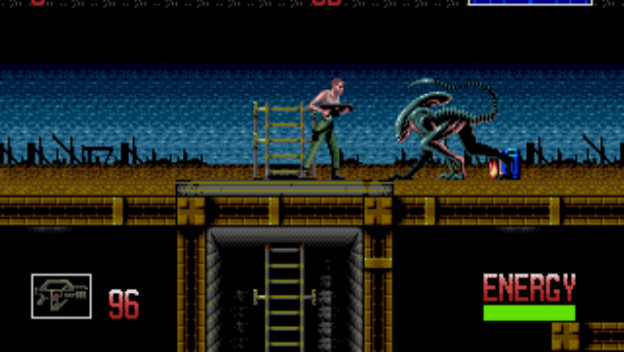 In an era full of just horrible 90's IP-licensed games, the struggling film Alien 3 managed to somehow produce a pretty solid affair! Released on both the SNES and Genesis, Alien 3 was an interesting, thoughtful take on the franchise. It had a hub-style structure, intense timed missions, and Aliens that were scary threats instead of bullet-fodder, like in so many other games at the time. Check it out. It's no masterpiece, but for a movie-based game in the 16-bit era, there's more to it than you might think.
Alien 3: The Gun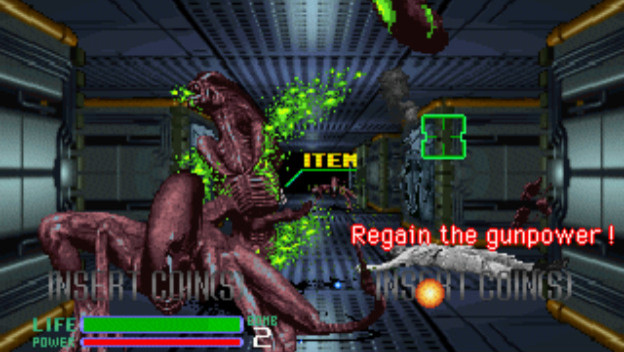 Another game based on Alien 3 ? What? Well, Alien 3: The Gun , if you couldn't tell from it's doofus title, is extremely loosely-based on David Fincher's sequel. It's an arcade game from Sega, so you know it's about pumping lead and losing cash. A good analogue would be Area 51 . It's two players, you get a goofy plastic gun, and unload on huge, ugly sprites until you either run out of quarters or make it to the end. If you ever run into a cabinet somehow, there's no reason not to give it a shot.
Aliens (Arcade)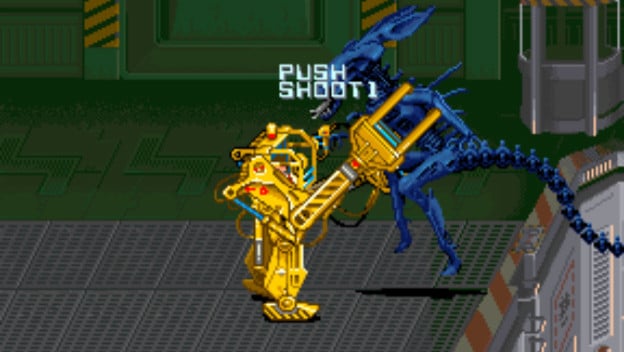 Much like Alien Trilogy and DOOM share DNA, so do Konami's Aliens and Contra . This is another arcade game, this time a sidescrolling, run-and-gun with occasional shifts in perspective. Just like Contra ! This one loosely follows the beloved James Cameron sequel it's named after, and occasionally you even get to play through sections based on Ripley's battle with the Alien Queen, complete with power-lifter. It's a bit janky compared to many of Konami's other arcade classics, but it's still work a look. Especially if you're a fan of games like Contra and Sunset Riders .
Alien vs Predator (Arcade)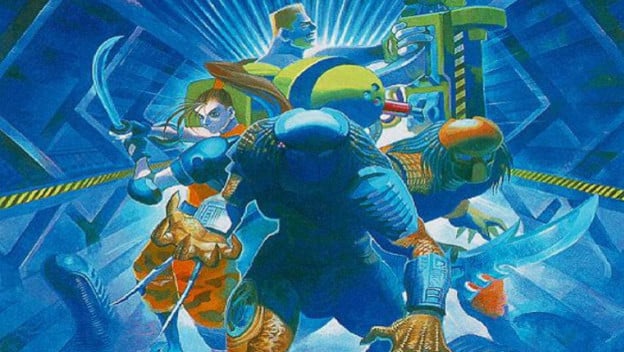 Here we go, ladies and gentlemen – this game rules. Alien vs Predator is the final arcade game on our list, and this time it's a big ol' Final Fight-style brawler from Capcom. It's set from the perspective of the Predators, along with a couple weirdo human characters. Basically, the whole time you beat the acidic tar out of armies of Aliens, and it's a blast. It may be the least thematically appropriate game on the list, but it's also one of the best in terms of pure, video game-ass fun. Like the other arcade games here, it isn't available in other formats. So, you'll either need to happen upon a cabinet or use emulation to check it out.
Alien vs Pinball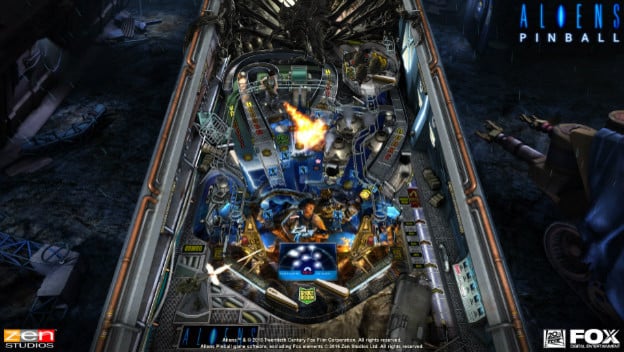 Alien vs Pinball is an odd one. But, it's a super-effective one! The Zen Pinball 2 platform has been a long-running success, building up a huge library of DLC based on all manner of licenses, from Marvel comics to Star Wars . When Alien Isolation came out, Zen Pinball 2 ended up with this as a bit of extra promotion. This was actually a three-pack, including a board based on Alien Isolation , Aliens vs Predator, and Alien Isolation . Each board had widely different rules, even including the closest thing one could possibly get to stealth in a pinball game.
Aliens vs Predator Classic 2000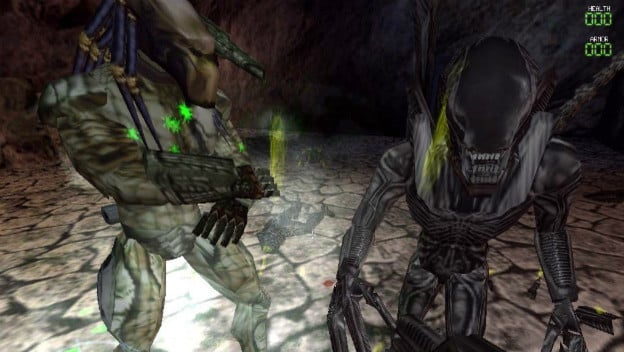 Originally just called Aliens vs Predator , Aliens vs Predator Classic 2000 is from Rebellion, the makers of Sniper Elite and the Judge Dredd games. This was a first-person shooter in the style of something like Half-Life , but it let you play as both an Alien and a Predator in addition to the gun-toting human marine. A ton of thought was put into how each of these characters operated, and playing as Alien was an especially bizarre, but satisfying experience (especially in multiplayer). This one is all of $5 on Steam now, so it's hard to come up with excuses not to snag it.
Alien Infestation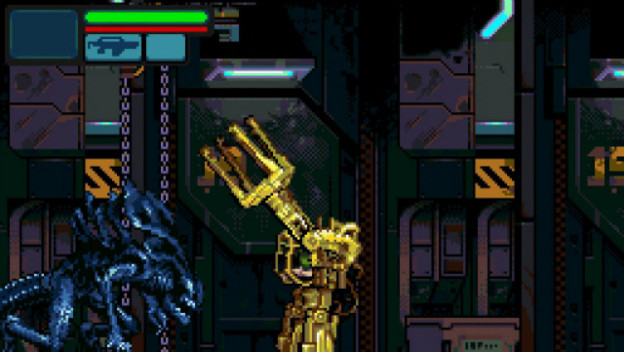 Alien Infestation was a sleeper success, released for the DS after the 3DS was already out as the new hotness. It's a "Metroidvania" kind of game, created by WayForward of Shantae fame. You start with a squad of four marines trying to figure out what's going on (and how to survive), but each one can totally die permanently. They can be replaced, but you'll never have the same characters again, so it really helps sell the Alien threat. Unfortunately, being a game that didn't really get noticed until it was too late, it's a bit hard to get ahold of for a reasonable price these days.
Alien Isolation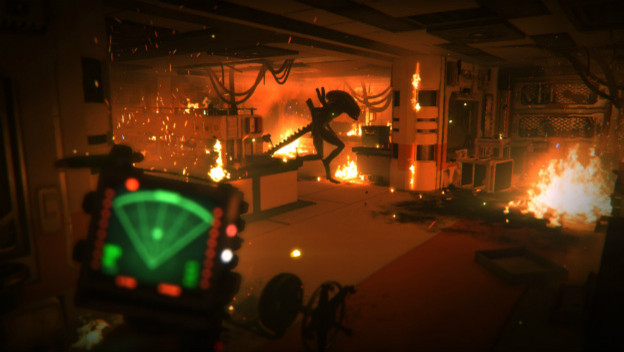 I know, I know. It's the obvious pick for the final item on the list. But hey, this game earns its spot. Alien Isolation is an incredible game – a real work of art in a lost full of goofballs and oddities. It aims for and captures the feel of Ridley Scott's original film as perfectly as one can today, with a real sense of horror, dread and danger as Ellen Ripley helplessly sneaks around her environments with no real ways to defend herself. The singular Alien creature is just as huge and terrifying as the monster appeared in the film and just as deadly. The DLC even revisits the events of the film, so going all-in on Alien Isolation is totally worth it. It's also pretty cheap now, to boot.