We're living in an increasingly interconnected world. Most games are multiplatform releases. Simultaneous worldwide releases aren't uncommon. There isn't much disparity between versions of games. Consoles have even been allowing it since 2002, when people with PC and PS2 copies of Final Fantasy XI could play together. Yet we're still seeing companies that refuse to acknowledge the demand for such opportunities, even within the same ecosystem.
I'm speaking, of course, about Call of Duty: Infinite Warfare . While the game is available for PS4, Xbox One, and PC, Activision has put the walls up. As expected as it is for PS4 players to only be lumped together with other PS4 players and Xbox One owners with other Xbox One fans, surprising barriers are in place in the PC versions of the game. People with Windows 10 Store copies of the game can't play with people who bought it on Steam. Activision has encouraged division in a game where it would behoove them to push for a unified front.
This is a wall of Activision's own making. Microsoft has a long standing commitment to supporting cross-play between its platforms and games. Its own, first party games support it. Killer Instinct offers play between the Xbox One and PC versions. Forza Horizon 3 supports it. It's even shown dedication to making such openness happen for Gwent: A Witcher Card Game . CD Projekt Red's game will offer cross-platform play for people on Steam, the Windows 10 Store, and Xbox One. Microsoft supports cross-play for companies that seek it out. Activision decided not to seek it out for Call of Duty: Infinite Warfare .
Which makes no sense. What did Activision believe? That this would make Windows 10 owners buy the game twice? That people would purchase a second copy for a console for a better multiplayer experience? Certainly, it doesn't hurt people who bought the game on Steam. There are more of them in the wild. The most it would have meant is extra work on Activision's part to ensure all PC gamers could play together.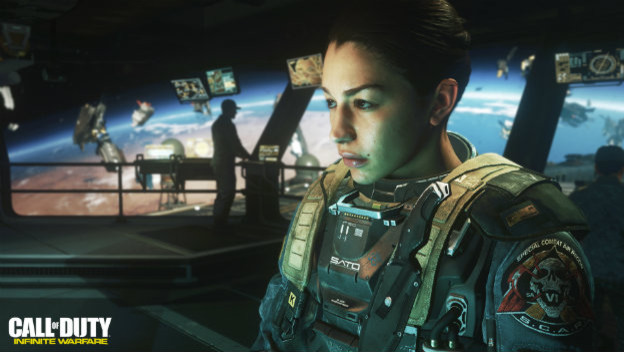 It's also ironic. Cross-platform play is growing and extending its reach. We have games like Final Fantasy XIV, Street Fighter V, Rocket League, Project Spark, God Eater 2: Rage Burst, Gwent, and DC Universe Online that transcend platforms and allow people on consoles, handhelds, and PCs to all play together. Instead of embracing that and seeing what it can do to allow Call of Duty fans to play together, Activision is encouraging further division by not even allowing people with PCs the guaranteed right to play with other PC owners.
To not open up your game to as many people as possible is lunacy. It isn't good for the players. It limits the number of folks you'll have to play with. It isn't good for consoles, as it causes wars over which ones are better or worse. It absolutely isn't good for the people making the games, as it shows they don't care about consumers and smart business decisions. Activision's decision to lock down Call of Duty: Infinite Warfare makes no sense. One can only hope the outcry will cause them to rethink their decisions and work toward a more inclusive future.