Sonic Mania looks incredible. When Sega hosted its 25th Anniversary party for Sonic back in July (which was a hilarious train wreck at points), far and away the biggest announcement was Sonic Mania . The internet kept pleading for a new 3D Sonic game, and we got one, but Sonic Mania stole the show – it's the game that nobody knew we wanted until we saw it action. It's tradition for Twitch chat to take a crap on any new game when it's revealed, no matter how promising it looks. When Sonic Mania made its debut, it was met with hype and elation.
This is a true return to Sonic's roots. I'm not talking about Sonic Adventure or Sonic Generations roots, either. This is Sonic like you remember him on the Sega Genesis. A true blue (pardon the pun) recreation of the 2D hedgehog that we know and love. Based on the videos we've seen, expect an incredible soundtrack, side-scrolling platforming goodness, and an ingenious mix of classic pixel art and modern animation technologies.
Straight into my veins, Sega, this is what we've been dying to see. Sonic Boom can die now; we've got a proper Sonic game in the works. To my delight, Sega recently took a Twitter poll to gauge interest in a collector's edition. "Real Talk: If we made a Sonic Mania Collector's Edition, would you buy it?" Our options were "Yes," "No," and "SHUT UP AND TAKE MY RINGS." As I'm sure you'd guess, over 80% of the votes were cast for the first and third options, with 54% of us practically throwing our metaphorical rings at Sega.
Well, Sega listened, but it listened wrong. The Sonic Mania Collector's Edition has been revealed, and it falls so short of expectations. Sonic Mania looks great, but it's also a 2D side-scrolling platformer. I expect the game to last no more than six or seven hours, and cost no more than $20. I might pay $30, but I'd want to know how long the game is first. That collector's edition? That will cost you $70.
Holy crap, right? A $70 CE must be stuffed with awesome stuff. Maybe a history of Sonic booklet could celebrate the "Blue Blur's" evolution through the years, tracing a circle from Genesis roots in the early 90s all the way back to his 2D return in 2017. A soundtrack is a must, of course, and it will have to include that incredible reveal tune composed by Hyper Potions and Nitro Fun. Maybe in addition to a physical copy of the game it could come with an actual, playable Genesis cartridge that contains a few simplified levels? So many great possibilities!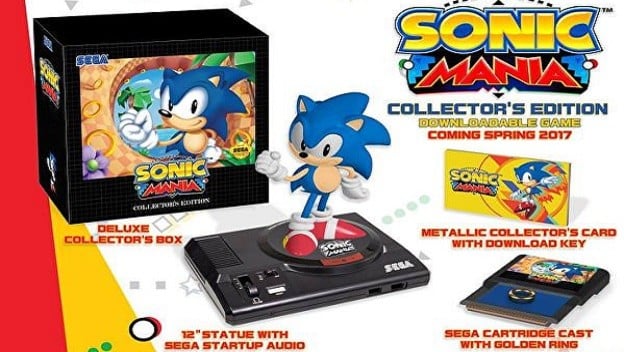 And none of them will be realized. Sega decided to pile together a bunch of leftover plastic for this collector's edition. So what do we get? We get a big fancy box. That box contains a 12″ statue of Sonic standing on a Sega Genesis (oh look, it plays the Sega startup audio when you push a button). That's the bulk of the goods here, folks. Also thrown in are a Genesis cartridge cast, a little "gold" ring, and a collector's card with a download code for Sonic Mania – we don't even get a physical copy of the game.
I don't know about you, but that took all the wind out of my sales. I'm not going to be a blowhard about it, I'll still buy the game, but dang if they didn't completely waste an opportunity to offer an amazing collector's edition. The way I see it, we're paying an extra $50 for some refurbished E3 and PAX giveaways that Sega had laying around.
Were you guys happy with the collector's edition? Are you okay with paying $70 and not getting a physical copy of the game? Why or why not? What would you have included in the collector's edition?