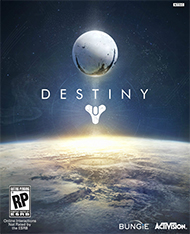 System: PS3, Xbox 360, Ps4*, Xbox One
Dev: Bungie
Pub: Activision
Release: September 9, 2014
Players: 1 (2+ Online)
Screen Resolution: 480p-1080p
Animated Blood Violence
Those decisions will really start changing as you progress into the Crucible. The Crucible is the PVP area and loads of similarities in what you'd expect from and FPS, controlling the territories to name one. But it is still as enjoyable as the main gameplay even for players that typically shy away from the online multiplayer in games, due to one reason or another. For example, I don't typically enjoy the way online gaming has molded into this weird social experiment of abusive natures of gamers, and yet I have enjoyed the experiences in the Crucible thus far.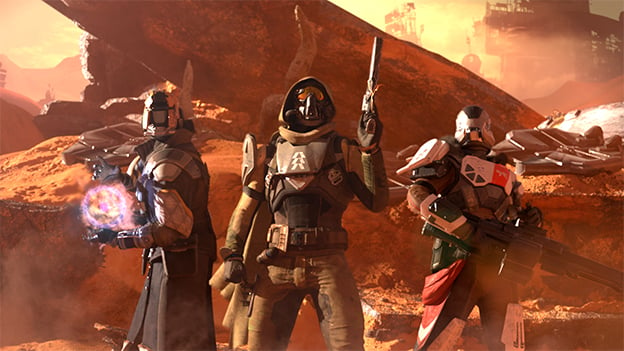 Of course, my level of enjoyment of Destiny is only further complimented by the absolutely gorgeous graphics on display. I have spoken many times before about solid graphics in gaming; Destiny to me raises the bar for next-gen finally. The opening cinematic is absolutely breathtaking. I dare any sci-fi geek to watch that sequence and not have an astronomy nerdgasm. The world after that is still wondrously colored and visually realized. Destiny appears alive and that is the bar that needed to be raised and can't wait to see what comes next graphically.
Now as far as the sound of the game, I have already acquired the melodic music that plays on the main menu of the game. The rest of the score is just as solid and enjoyable. The consistency in the sounds also helps the game maintain its need to keep you in the game. The voice acting is something I specifically wanted to address. During the time of the beta, many complained about the dry delivery of the dialogue from some of the characters. Specifically Peter Dinklage as your robotic ghost. First off, he's a robot, and while it would be cool to just have him deliver epic monologues and quips as he does for Tyrion Lannister on Game of Thrones, he's still a robot. His delivery in the beta was solid and here in the main game it is even more so.
I could sit and talk about Destiny all day long, but my wife summed up best what Destiny was to gamers. "It's like Halo and Borderlands got together one night for some great fun and had a beautiful baby." I personally think she hit the nail on the head, but there are obviously a few things that imply other genres stepping in as well. It's because Bungie knows the areas they need to play it safe, and because Bungie knows the areas they want to attempt to explore and make better that I am glad this is the game I have waited for all year long, and why I feel this is another example of why the next-gen console cycle is ready to take off into new, exciting, and interesting ways. Destiny, simply put, might just be the game of year, but definitely makes you want to join the next generation.
By
Matt Walker
Editor-In-Chief
Date: September 9, 2014
Game Features:


An incredible story set within a newly-imagined, always-connected universe filled with action and adventure.

Create your character, forge your legend by defeating powerful foes, and earn unique and customizable weapons, gear, and vehicles.

Unprecedented variety of FPS gameplay that redefines the genre and breaks traditional conventions of story, cooperative and competitive multiplayer modes.