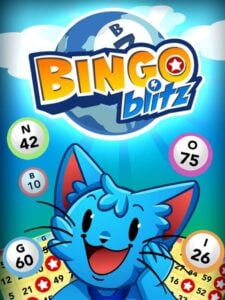 Bingo Blitz
Experience your online bingo game as you never have before, while going on a bingo games adventure, in Bingo Blitz.
Join Blitzy the cat for awesome online bingo games missions, online bingo freebies, goodies and more bingo fun besides!
What are you waiting for? Get playing Bingo Blitz now!
•Multiple card play: One bingo card is SO old-skool – play multiple free bingo games at the same time!
•Grab Powerups: Need a little extra? Grab powerups for even bigger bingo wins!
•Collect souvenirs: What's a round the world trip if you don't have cool stuff to show for it? Grab souvenirs in every city you visit!
•Win special bingo cards: This is Bingo Blitz, free bingo with a difference – we do things a bit differently here.
•Play epic mini-games! Bingo Blitz is about more than just bingo – play mini-games while you wait for your next bingo game to start!
•Go with the seasons: Check out Blitzy's awesome SEASONAL and FEATURED bingo rooms, for even bigger free bingo prizes, collection items and online bingo rewards!
•Journey around the world for DAILY FREE COINS and CREDITS: free bingo games don't get better than this!
•Play epic bingo side games worldwide, including bingo slot machine spins and spin the bingo bonus wheel!
•Go on fun free bingo quests all around the world for epic bingo live prizes and bonuses, including extra credits, coins and power-ups!
•Play free bingo games tournaments, with DAILY wins!
International online bingo is SO much more fun with friends; free bingo doesn't get much better than this!