The Mega Evolution mechanic first appeared in Generation VI in the titles Pokemon X/Y and Omega Ruby/Alpha Sapphire. The controversial mechanic was also available in Generation VII with Pokemon Sun/Moon and Let's Go Pikachu/Eevee!. But just what is a Mega Evolution? Why is the mechanic so controversial among the fanbase? And why was it removed from future titles? This article will break down each of these burning questions and provides a comprehensive list of all Pokemon with Mega Evolutions.
What is a Mega Evolution?
Mega Evolutions are temporary transformations some Pokemon can do during battle that affect their stats, type, abilities, and effectiveness. During Mega Evolution, Pokemon will transform with a new design, similar to regular evolutions.
Players will see a large increase in their Pokemon's damage, not only due to their base stats increasing but also their type changing as well. For example, Pinsir is a Bug-Type Pokemon but changes to a Bug/Flying-Type during their Mega Evolution.
These Mega Evolution forms will last until the end of the battle, which usually doesn't take long since the opposing Pokemon will likely get K.O. quickly. Depending on the game, players will need a Key Stone and Mega Stone for their Pokemon to turn them into their Mega form.
Why are Mega Evolutions Controversial?
The opinions around Mega Evolutions differ among fans because they make Pokemon overpowered. Some fans complain that the Mega forms make the game too easy, making it so some Pokemon can win battles in just a couple of hits.
On the other hand, fans enjoy the Mega Evolution mechanic because some Pokemon who may not have gotten more evolutions receive a new Mega form. Pokemon like Aerodactyl, who have no base evolutions, received a Mega form, adding new ways to play and battle. However, some Pokemon received Mega form but probably didn't need it, only making them stronger and more overpowered.
Why were Mega Evolutions Removed?
The evolutions were removed because they were a gimmick. While the mechanic adds new ways to play, they had their own gimmicks when other future titles were released. Take Pokemon Sword/Shield, featuring Dynamax and Gigantamax. Having Mega Evolutions in the game would make it compete with new mechanics Game Freak wanted to add. Plus, Gigantamax is like Mega Evolutions. The controversy surrounding the Mega forms also didn't help in its survival.
Which Pokemon have Mega Evolutions?
Venusaur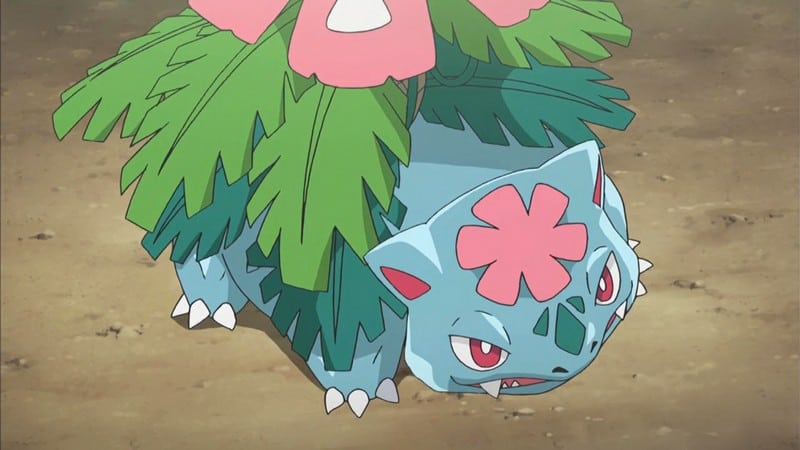 | Stats | Base | Lvl. 50 | Lvl. 100 |
| --- | --- | --- | --- |
| HP | 80 | 140 – 187 | 270 – 364 |
| Attack | 100 | 94 – 167 | 184 – 328 |
| Defense | 123 | 115 – 192 | 225 – 379 |
| Sp. Atk | 122 | 114 – 191 | 224 – 377 |
| Sp. Def | 120 | 112 – 189 | 220 – 372 |
| Speed | 80 | 76 – 145 | 148 – 284 |
| Overall | 625 | 651 – 1071 | 1271 – 2104 |
| Damage | Type |
| --- | --- |
| Damage | Normal, Poison, Ground, Rock, Bug, Ghost, Steel, Fire, Ice, Dragon, Dark |
| Weak | Flying, Psychic |
| Immune | None |
| Resistant | Fighting, Water, Grass, Electric, Fairy |
Charizard X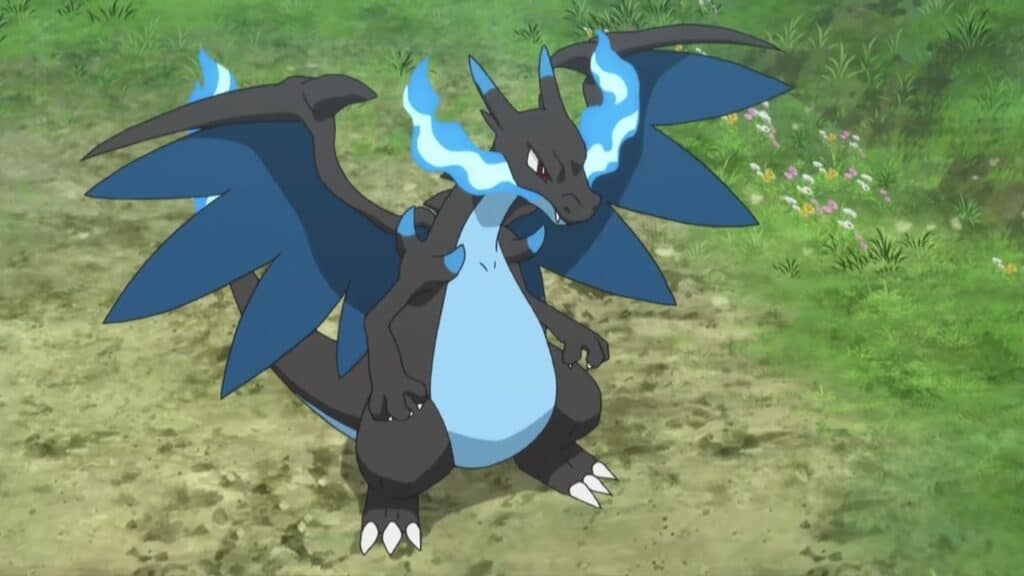 | Stats | Base | Lvl. 50 | Lvl. 100 |
| --- | --- | --- | --- |
| HP | 78 | 138 – 185 | 266 – 360 |
| Attack | 130 | 121 – 200 | 238 – 394 |
| Defense | 111 | 104 – 179 | 204 – 353 |
| Sp. Atk | 130 | 121 – 200 | 238 – 394 |
| Sp. Def | 85 | 81 – 150 | 157 – 295 |
| Speed | 100 | 94 – 167 | 184 – 328 |
| Overall | 634 | 659 – 1081 | 1287 – 2124 |
| Damage | Type |
| --- | --- |
| Damage | Normal, Fighting, Flying, Poison, Ghost, Water, Psychic, Ice, Dark, Fairy |
| Weak | Ground, Rock, Dragon |
| Immune | None |
| Resistant | Bug, Steel, Fire, Grass, Electric |
Charizard Y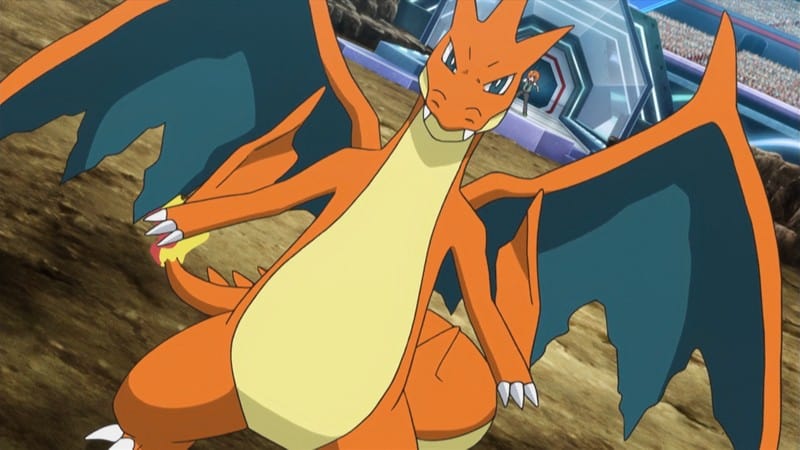 | Stats | Base | Lvl. 50 | Lvl. 100 |
| --- | --- | --- | --- |
| HP | 78 | 138 – 185 | 266 – 360 |
| Attack | 104 | 98 – 171 | 191 – 337 |
| Defense | 78 | 74 – 143 | 144 – 280 |
| Sp. Atk | 159 | 147 – 232 | 290 – 458 |
| Sp. Def | 115 | 108 – 183 | 211 – 361 |
| Speed | 100 | 94 – 167 | 184 – 328 |
| Overall | 634 | 659 – 1081 | 1286 – 2124 |
| Damage | Type |
| --- | --- |
| Damage | Normal, Flying, Poison, Ghost, Psychic, Ice, Dragon, Dark |
| Weak | Rock, Water, Electric |
| Immune | Ground |
| Resistant | Fighting, Bug, Steel, Fire, Grass, Fairy |
Blastoise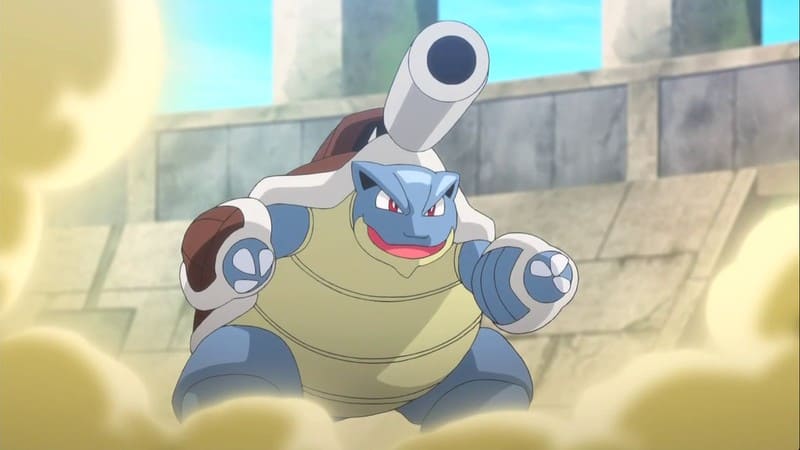 | Stats | Base | Lvl. 50 | Lvl. 100 |
| --- | --- | --- | --- |
| HP | 79 | 139 – 186 | 268 – 362 |
| Attack | 103 | 97 – 170 | 189 – 335 |
| Defense | 120 | 112 – 189 | 220 – 372 |
| Sp. Atk | 135 | 126 – 205 | 247 – 405 |
| Sp. Def | 115 | 108 – 183 | 211 – 361 |
| Speed | 78 | 74 – 143 | 144 – 280 |
| Overall | 630 | 656 – 1076 | 1279 – 2115 |
| Damage | Type |
| --- | --- |
| Damage | Normal, Fighting, Flying, Poison, Ground, Rock, Bug, Ghost, Psychic, Dragon, Dark, Fairy |
| Weak | Grass, Electric |
| Immune | None |
| Resistant | Steel, Fire, Water, Ice |
Alakazam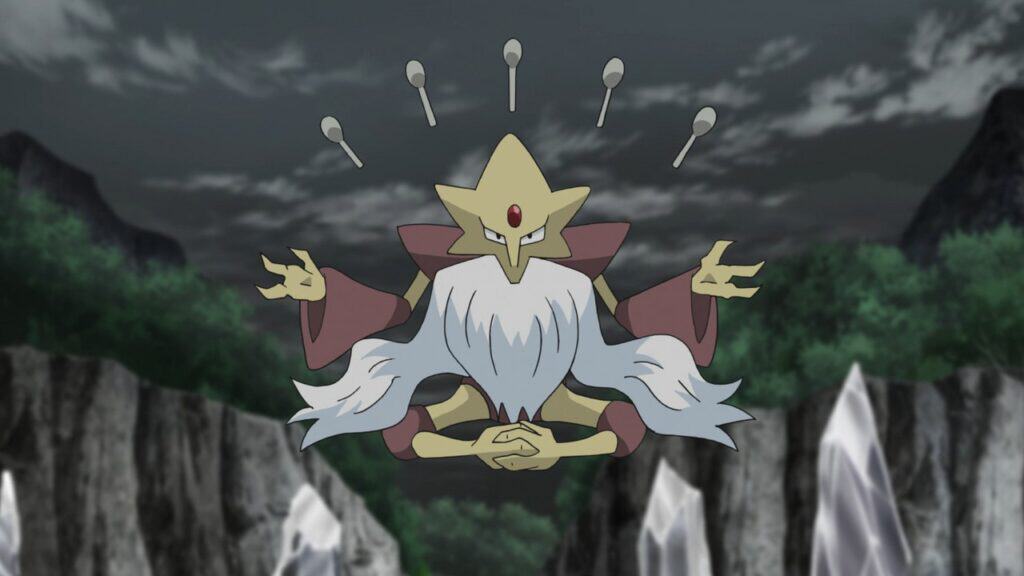 | Stats | Base | Lvl. 50 | Lvl. 100 |
| --- | --- | --- | --- |
| HP | 55 | 115 – 162 | 220 – 314 |
| Attack | 50 | 49 – 112 | 94 – 218 |
| Defense | 65 | 63 – 128 | 121 – 251 |
| Sp. Atk | 175 | 162 – 249 | 319 – 493 |
| Sp. Def | 95 | 90 – 161 | 175 – 317 |
| Speed | 150 | 139 – 222 | 274 – 438 |
| Overall | 590 | 618 – 1034 | 1203 – 2031 |
| Damage | Type |
| --- | --- |
| Damage | Normal, Flying, Poison, Ground, Rock, Steel, Fire, Water, Grass, Electric, Ice, Dragon, Fairy |
| Weak | Bug, Ghost, Dark |
| Immune | None |
| Resistant | Fighting, Psychic |
Gengar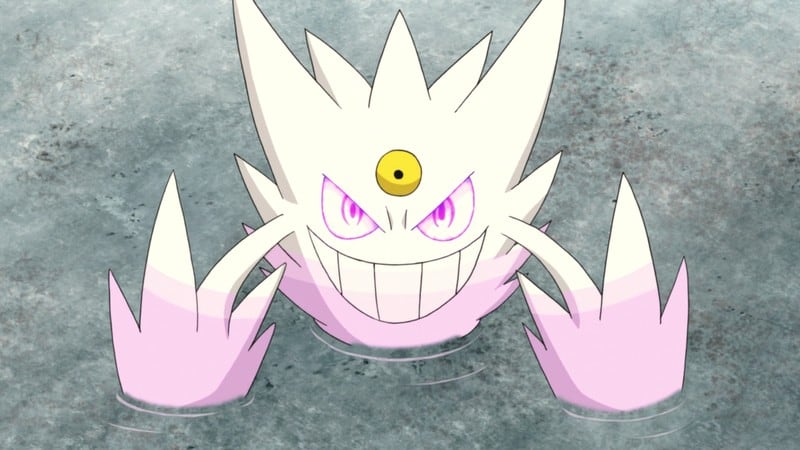 | Stats | Base | Lvl. 50 | Lvl. 100 |
| --- | --- | --- | --- |
| HP | 60 | 120 – 167 | 230 – 324 |
| Attack | 65 | 63 – 128 | 121 – 251 |
| Defense | 80 | 76 – 145 | 148 – 284 |
| Sp. Atk | 170 | 157 – 244 | 310 – 482 |
| Sp. Def | 95 | 90 – 161 | 175 – 317 |
| Speed | 130 | 121 – 200 | 238 – 394 |
| Overall | 600 | 627 – 1075 | 1222 – 2052 |
| Damage | Type |
| --- | --- |
| Damage | Flying, Rock, Steel, Fire, Water, Electric, Ice, Dragon |
| Weak | Ground, Ghost, Psychic, Dark |
| Immune | Normal, Fighting |
| Resistant | Poison, Bug, Grass, Fairy |
Kangaskhan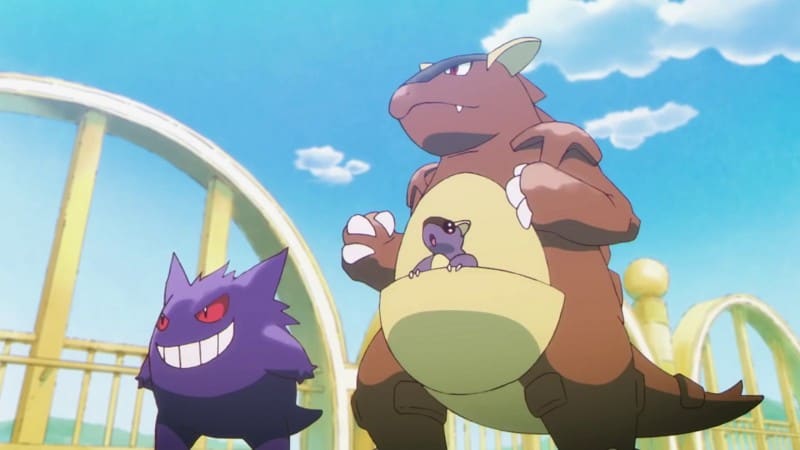 | Stats | Base | Lvl. 50 | Lvl. 100 |
| --- | --- | --- | --- |
| HP | 105 | 165 – 212 | 320 – 414 |
| Attack | 125 | 117 – 194 | 229 – 383 |
| Defense | 100 | 94 – 167 | 184 – 328 |
| Sp. Atk | 60 | 58 – 123 | 112 – 240 |
| Sp. Def | 100 | 94 – 167 | 184 – 328 |
| Speed | 100 | 94 – 167 | 184 – 328 |
| Overall | 590 | 622 – 1030 | 1216 – 2121 |
| Damage | Type |
| --- | --- |
| Damage | Normal, Flying, Poison, Ground, Rock, Bug, Steel, Fire, Water, Grass, Electric, Psychic, Ice, Dragon, Dark, Fairy |
| Weak | Fighting |
| Immune | Ghost |
| Resistant | None |
Pinsir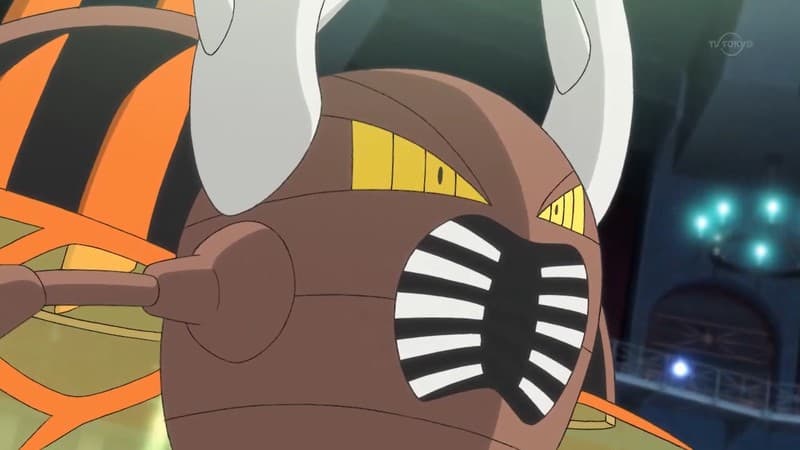 | Stats | Base | Lvl. 50 | Lvl. 100 |
| --- | --- | --- | --- |
| HP | 65 | 125 – 172 | 240 – 334 |
| Attack | 155 | 144 – 227 | 283 – 449 |
| Defense | 120 | 112 – 189 | 220 – 372 |
| Sp. Atk | 65 | 63 – 128 | 121 – 251 |
| Sp. Def | 90 | 85 – 156 | 166 – 306 |
| Speed | 105 | 99 – 172 | 193 – 339 |
| Overall | 600 | 628 – 1044 | 1223 – 2051 |
| Damage | Type |
| --- | --- |
| Damage | Normal, Poison, Ghost, Steel, Water, Psychic, Dragon, Dark, Fairy |
| Weak | Flying, Rock, Fire, Electric, Ice |
| Immune | Ground |
| Resistant | Fighting, Bug, Grass |
Gyarados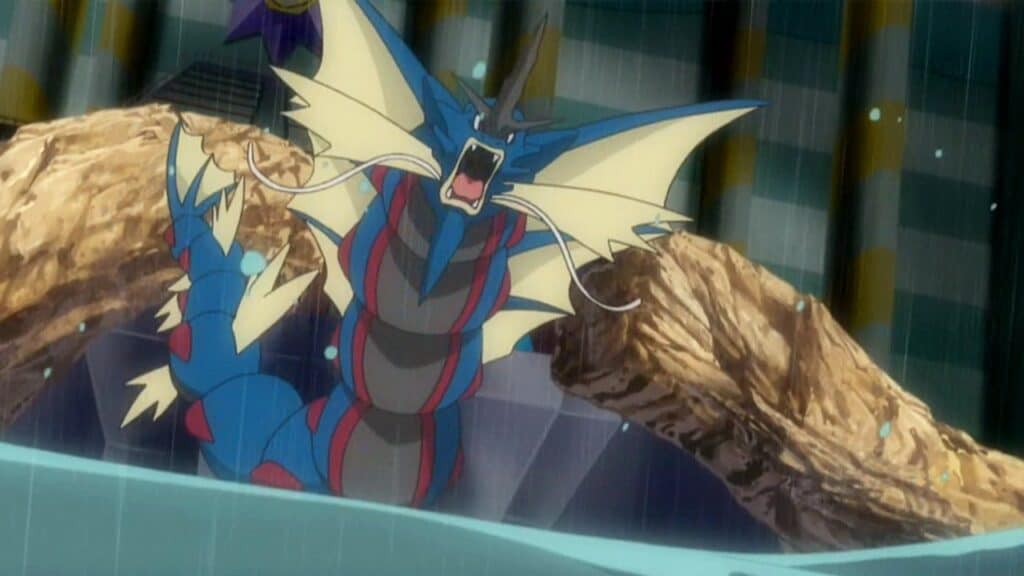 | Stats | Base | Lvl. 50 | Lvl. 100 |
| --- | --- | --- | --- |
| HP | 95 | 155 – 202 | 300 – 394 |
| Attack | 155 | 144 – 227 | 283 – 449 |
| Defense | 109 | 102 – 177 | 200 – 348 |
| Sp. Atk | 70 | 67 – 134 | 130 – 262 |
| Sp. Def | 130 | 121 – 200 | 238 – 394 |
| Speed | 81 | 77 – 146 | 150 – 287 |
| Overall | 640 | 666 – 1086 | 1301 – 2134 |
| Damage | Type |
| --- | --- |
| Damage | Normal, Flying, Poison, Ground, Rock, Dragon |
| Weak | Fighting, Bug, Grass, Electric, Fairy |
| Immune | Psychic |
| Resistant | Ghost, Steel, Fire, Water, Ice, Dark |
Aerodactyl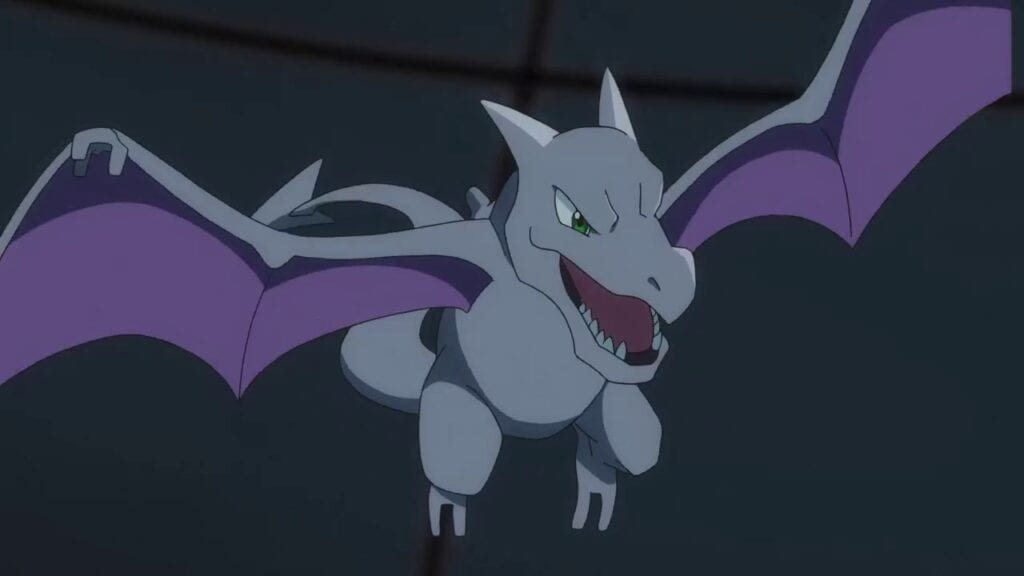 | Stats | Base | Lvl. 50 | Lvl. 100 |
| --- | --- | --- | --- |
| HP | 80 | 140 – 187 | 270 – 364 |
| Attack | 135 | 126 – 205 | 247 – 405 |
| Defense | 85 | 81 – 150 | 157 – 295 |
| Sp. Atk | 70 | 67 – 134 | 130 – 262 |
| Sp. Def | 95 | 90 – 161 | 175 – 317 |
| Speed | 150 | 139 – 222 | 274 – 438 |
| Overall | 615 | 643 – 1059 | 1253 – 2081 |
| Damage | Type |
| --- | --- |
| Damage | Fighting, Ghost, Grass, Psychic, Dragon, Dark, Fairy |
| Weak | Rock, Steel, Water, Electric, Ice |
| Immune | Ground |
| Resistant | Normal, Flying, Poison, Bug, Fire |
Mewtwo X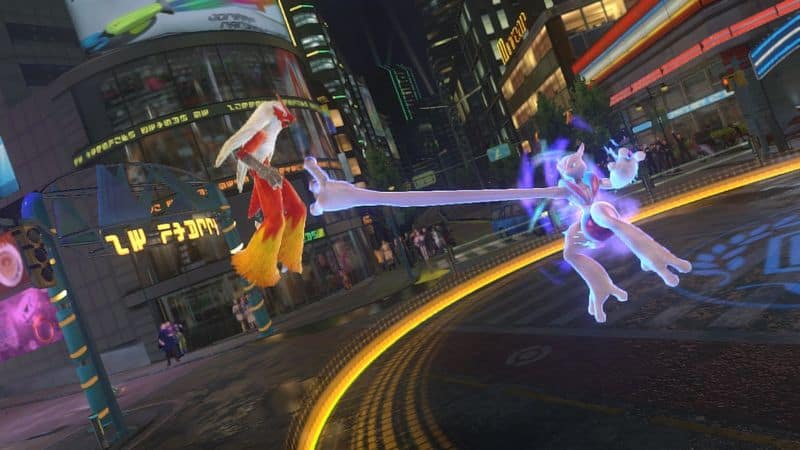 | Stats | Base | Lvl. 50 | Lvl. 100 |
| --- | --- | --- | --- |
| HP | 106 | 166 – 213 | 322 – 416 |
| Attack | 190 | 175 – 266 | 346 – 526 |
| Defense | 100 | 94 – 167 | 184 – 328 |
| Sp. Atk | 154 | 143 – 226 | 281 – 447 |
| Sp. Def | 100 | 94 – 167 | 184 – 328 |
| Speed | 130 | 121 – 200 | 238 – 394 |
| Overall | 780 | 793 – 1239 | 1555 – 2439 |
| Damage | Type |
| --- | --- |
| Damage | Normal, Poison, Ground, Bug, Steel, Fire, Water, Grass, Electric, Psychic, Ice, Dragon, Dark |
| Weak | Flying, Ghost, Fairy |
| Immune | None |
| Resistant | Fighting, Rock |
Mewtwo Y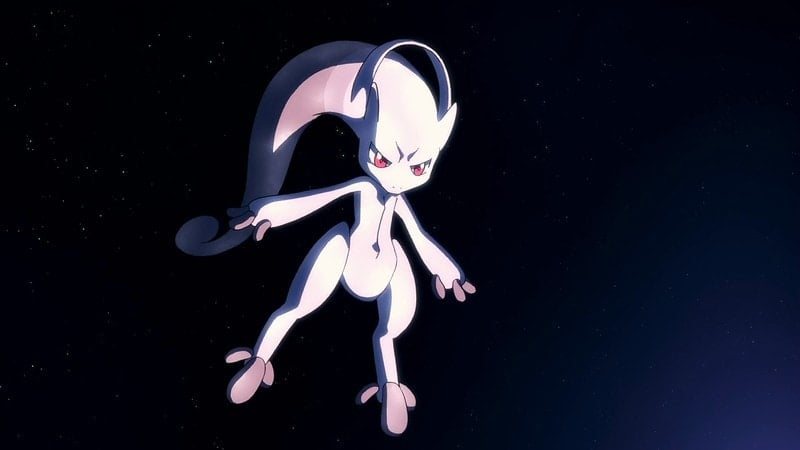 | Stats | Base | Lvl. 50 | Lvl. 100 |
| --- | --- | --- | --- |
| HP | 106 | 166 – 213 | 322 – 416 |
| Attack | 150 | 139 – 222 | 274 – 438 |
| Defense | 70 | 67 – 134 | 130 – 262 |
| Sp. Atk | 194 | 179 – 270 | 353 – 535 |
| Sp. Def | 120 | 112 – 189 | 220 – 372 |
| Speed | 140 | 130 – 211 | 256 – 416 |
| Overall | 780 | 793 – 1239 | 1555 – 2439 |
| Damage | Type |
| --- | --- |
| Damage | Normal, Flying, Poison, Ground, Rock, Steel, Fire, Water, Grass, Electric, Ice, Dragon, Fairy |
| Weak | Bug, Ghost, Dark |
| Immune | None |
| Resistant | Fighting, Psychic |
Ampharos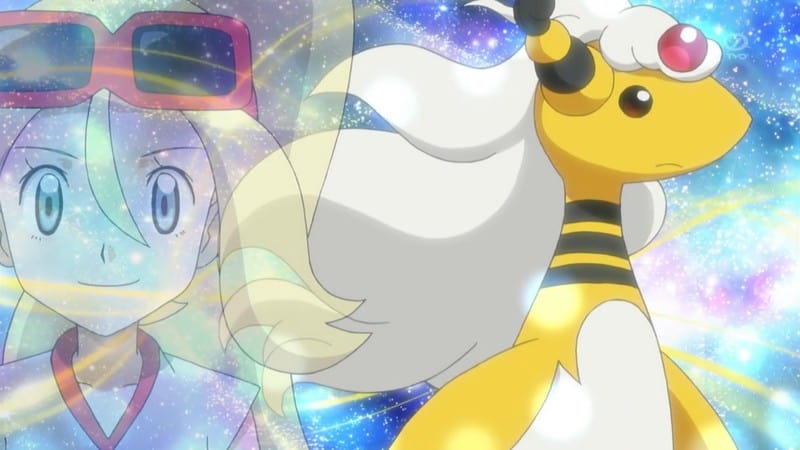 | Stats | Base | Lvl. 50 | Lvl. 100 |
| --- | --- | --- | --- |
| HP | 90 | 150 – 197 | 290 – 384 |
| Attack | 95 | 90 – 161 | 175 – 317 |
| Defense | 105 | 99 – 172 | 193 – 339 |
| Sp. Atk | 165 | 153 – 238 | 301 – 471 |
| Sp. Def | 110 | 103 – 178 | 202 – 350 |
| Speed | 45 | 45 – 106 | 85 – 207 |
| Overall | 610 | 640 – 1052 | 1246 – 2068 |
| Damage | Type |
| --- | --- |
| Damage | Normal, Fighting, Poison, Rock, Bug, Ghost, Psychic, Dark |
| Weak | Ground, Ice, Dragon, Fairy |
| Immune | None |
| Resistant | Flying, Steel, Fire, Water, Grass, Electric |
Scizor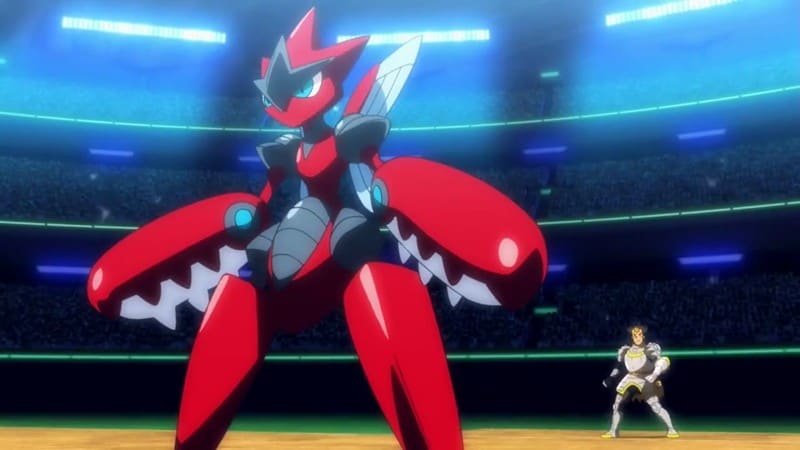 | Stats | Base | Lvl. 50 | Lvl. 100 |
| --- | --- | --- | --- |
| HP | 70 | 130 – 177 | 250 – 344 |
| Attack | 150 | 139 – 222 | 274 – 438 |
| Defense | 140 | 130 – 211 | 256 – 416 |
| Sp. Atk | 65 | 63 – 128 | 121 – 251 |
| Sp. Def | 100 | 94 – 167 | 184 – 328 |
| Speed | 75 | 72 – 139 | 139 – 273 |
| Overall | 600 | 628 – 1044 | 1224 – 2050 |
| Damage | Type |
| --- | --- |
| Damage | Fighting, Flying, Ground, Rock, Ghost, Water, Electric, Dark |
| Weak | Fire |
| Immune | Poison |
| Resistant | Normal, Bug, Steel, Grass, Psychic, Ice, Dragon, Fairy |
Heracross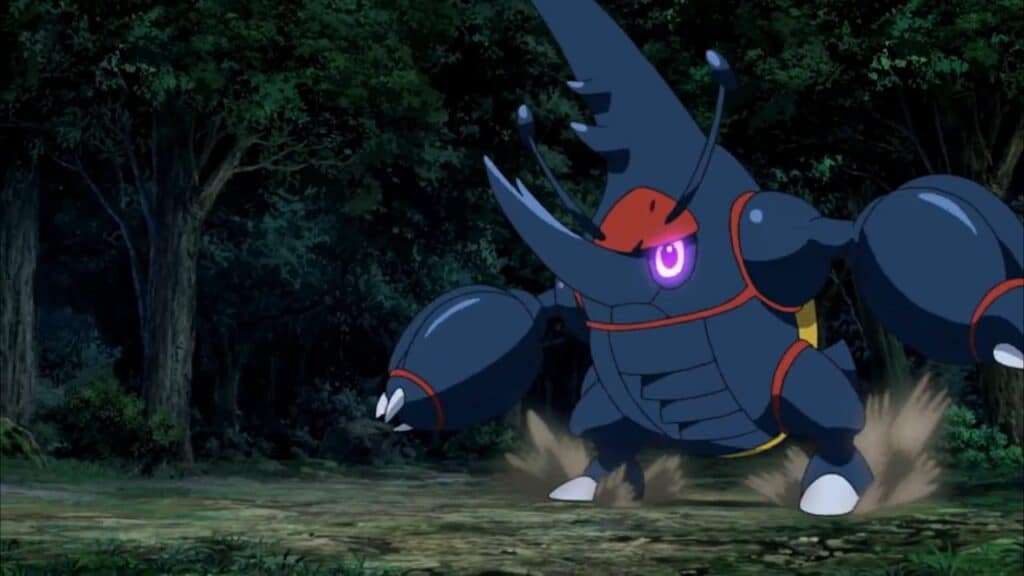 | Stats | Base | Lvl. 50 | Lvl. 100 |
| --- | --- | --- | --- |
| HP | 80 | 140 – 187 | 270 – 364 |
| Attack | 185 | 171 – 260 | 337 – 515 |
| Defense | 115 | 108 – 183 | 211 – 361 |
| Sp. Atk | 40 | 40 – 101 | 76 – 196 |
| Sp. Def | 105 | 99 – 172 | 193 – 339 |
| Speed | 75 | 72 – 139 | 139 – 273 |
| Overall | 600 | 630 – 1042 | 1226 – 2048 |
| Damage | Type |
| --- | --- |
| Damage | Normal, Poison, Rock, Ghost, Steel, Water, Electric, Ice, Dragon |
| Weak | Flying, Fire, Psychic, Fairy |
| Immune | None |
| Resistant | Fighting, Ground, Bug, Grass, Dark |
Houndoom
| Stats | Base | Lvl. 50 | Lvl. 100 |
| --- | --- | --- | --- |
| HP | 75 | 135 – 182 | 260 – 354 |
| Attack | 90 | 85 – 156 | 166 – 306 |
| Defense | 90 | 85 – 156 | 166 – 306 |
| Sp. Atk | 140 | 130 – 211 | 256 – 416 |
| Sp. Def | 90 | 85 – 156 | 166 – 306 |
| Speed | 115 | 108 – 183 | 211 – 361 |
| Overall | 600 | 628 – 1044 | 1225 – 2049 |
| Damage | Type |
| --- | --- |
| Damage | Normal, Flying, Poison, Bug, Electric, Dragon, Fairy |
| Weak | Fighting, Ground, Rock, Water |
| Immune | Psychic |
| Resistant | Ghost, Steel, Fire, Grass, Ice, Dark |
Tyranitar
| Stats | Base | Lvl. 50 | Lvl. 100 |
| --- | --- | --- | --- |
| HP | 100 | 160 – 207 | 310 – 404 |
| Attack | 164 | 152 – 237 | 299 – 469 |
| Defense | 150 | 139 – 222 | 274 – 438 |
| Sp. Atk | 95 | 90 – 161 | 175 – 317 |
| Sp. Def | 120 | 112 – 189 | 220 – 372 |
| Speed | 71 | 68 – 135 | 132 – 265 |
| Overall | 700 | 721 – 1151 | 1410 – 2265 |
| Damage | Type |
| --- | --- |
| Damage | Rock, Electric, Ice, Dragon |
| Weak | Fighting, Ground, Bug, Steel, Water, Grass, Fairy |
| Immune | Psychic |
| Resistant | Normal, Flying, Poison, Ghost, Fire, Dark |
Blaziken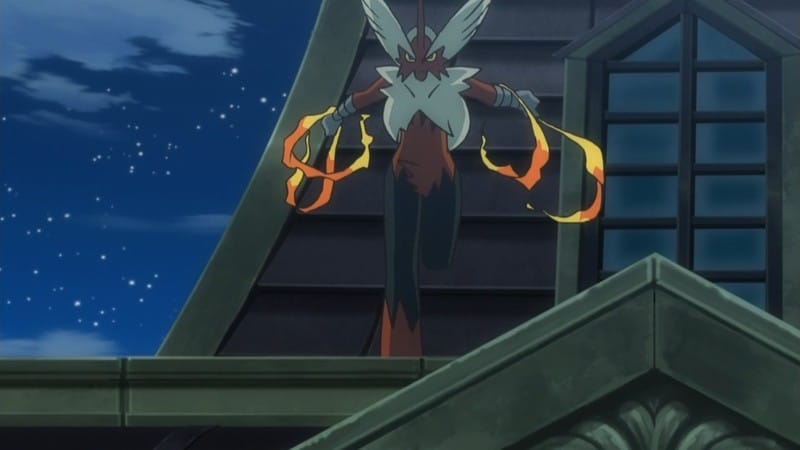 | Stats | Base | Lvl. 50 | Lvl. 100 |
| --- | --- | --- | --- |
| HP | 80 | 140 – 187 | 270 – 364 |
| Attack | 160 | 148 – 233 | 292 – 460 |
| Defense | 80 | 76 – 145 | 148 – 284 |
| Sp. Atk | 130 | 121 – 200 | 238 – 394 |
| Sp. Def | 80 | 76 – 145 | 148 – 284 |
| Speed | 100 | 94 – 167 | 184 – 328 |
| Overall | 630 | 955 – 1077 | 1280 – 2114 |
| Damage | Type |
| --- | --- |
| Damage | Normal, Fighting, Poison, Rock, Ghost, Electric, Dragon, Fairy |
| Weak | Flying, Ground, Water, Psychic |
| Immune | None |
| Resistant | Bug, Steel, Fire, Grass, Ice, Dark |
Gardevoir
| Stats | Base | Lvl. 50 | Lvl. 100 |
| --- | --- | --- | --- |
| HP | 68 | 128 – 175 | 246 – 340 |
| Attack | 85 | 81 – 150 | 157 – 295 |
| Defense | 65 | 63 – 128 | 121 – 251 |
| Sp. Atk | 165 | 153 – 238 | 301 – 471 |
| Sp. Def | 135 | 126 – 205 | 247 – 405 |
| Speed | 100 | 94 – 167 | 184 – 328 |
| Overall | 618 | 645 – 1063 | 1256 – 2090 |
| Damage | Type |
| --- | --- |
| Damage | Normal, Flying, Ground, Rock, Bug, Fire, Water, Grass, Electric, Ice, Dark, Fairy |
| Weak | Poison, Ghost, Steel |
| Immune | Dragon |
| Resistant | Fighting, Psychic |
Mawile
| Stats | Base | Lvl. 50 | Lvl. 100 |
| --- | --- | --- | --- |
| HP | 50 | 110 – 157 | 210 – 304 |
| Attack | 105 | 99 – 172 | 193 – 339 |
| Defense | 125 | 117 – 194 | 229 – 383 |
| Sp. Atk | 55 | 54 – 117 | 103 – 229 |
| Sp. Def | 95 | 90 – 161 | 175 – 317 |
| Speed | 50 | 49 – 112 | 94 – 218 |
| Overall | 480 | 519 – 913 | 1004 – 1790 |
| Damage | Type |
| --- | --- |
| Damage | Fighting, Ghost, Steel, Water, Electric |
| Weak | Ground, Fire |
| Immune | Poison, Dragon |
| Resistant | Normal, Flying, Rock, Bug, Grass, Psychic, Ice, Dark, Fairy |
Aggron
| Stats | Base | Lvl. 50 | Lvl. 100 |
| --- | --- | --- | --- |
| HP | 70 | 130 – 177 | 250 – 344 |
| Attack | 140 | 130 – 211 | 256 – 416 |
| Defense | 230 | 211 – 310 | 418 – 614 |
| Sp. Atk | 60 | 58 – 123 | 112 – 240 |
| Sp. Def | 80 | 76 – 145 | 148 – 284 |
| Speed | 50 | 49 – 112 | 94 – 218 |
| Overall | 630 | 654 – 1078 | 1278 – 2116 |
| Damage | Type |
| --- | --- |
| Damage | Ghost, Water, Electric, Dark |
| Weak | Fighting, Ground, Fire |
| Immune | Poison |
| Resistant | Normal, Flying, Rock, Bug, Steel, Grass, Psychic, Ice, Dragon, Fairy |
Medicham
| Stats | Base | Lvl. 50 | Lvl. 100 |
| --- | --- | --- | --- |
| HP | 60 | 120 – 167 | 230 – 324 |
| Attack | 100 | 94 – 167 | 184 – 328 |
| Defense | 85 | 81 – 150 | 157 – 295 |
| Sp. Atk | 80 | 76 – 145 | 148 – 284 |
| Sp. Def | 85 | 81 – 150 | 157 – 295 |
| Speed | 100 | 94 – 167 | 184 – 328 |
| Overall | 510 | 546 – 946 | 1060 – 1854 |
| Damage | Type |
| --- | --- |
| Damage | Normal, Poison, Ground, Bug, Steel, Fire, Water, Grass, Electric, Psychic, Ice, Dragon, Dark |
| Weak | Flying, Ghost, Fairy |
| Immune | None |
| Resistant | Fighting, Rock |
Manectric
| Stats | Base | Lvl. 50 | Lvl. 100 |
| --- | --- | --- | --- |
| HP | 70 | 130 – 177 | 250 – 344 |
| Attack | 75 | 72 – 139 | 139 – 273 |
| Defense | 80 | 76 – 145 | 148 – 284 |
| Sp. Atk | 135 | 126 – 205 | 247 – 405 |
| Sp. Def | 80 | 76 – 145 | 148 – 284 |
| Speed | 135 | 126 – 205 | 247 – 405 |
| Overall | 575 | 606 – 1016 | 1179 – 1995 |
| Damage | Type |
| --- | --- |
| Damage | Normal, Fighting, Poison, Rock, Bug, Ghost, Fire, Water, Grass, Psychic, Ice, Dragon, Dark, Fairy |
| Weak | Ground |
| Immune | None |
| Resistant | Flying, Steel, Electric |
Banette
| Stats | Base | Lvl. 50 | Lvl. 100 |
| --- | --- | --- | --- |
| HP | 64 | 124 – 171 | 238 – 332 |
| Attack | 165 | 153 – 238 | 301 – 471 |
| Defense | 75 | 72 – 139 | 139 – 273 |
| Sp. Atk | 93 | 88 – 159 | 171 – 313 |
| Sp. Def | 83 | 79 – 148 | 153 – 291 |
| Speed | 75 | 72 – 139 | 139 – 273 |
| Overall | 555 | 588 – 994 | 1141 – 1953 |
Lvl. 100
| Damage | Type |
| --- | --- |
| Damage | Flying, Ground, Rock, Steel, Fire, Water, Grass, Electric, Psychic, Ice, Dragon, Fairy |
| Weak | Ghost, Dark |
| Immune | Normal, Fighting |
| Resistant | Poison, Bug |
Absol
| Stats | Base | Lvl. 50 | Lvl. 100 |
| --- | --- | --- | --- |
| HP | 65 | 125 – 172 | 240 – 334 |
| Attack | 150 | 139 – 222 | 274 – 438 |
| Defense | 60 | 58 – 123 | 112 – 240 |
| Sp. Atk | 115 | 108 – 183 | 211 – 361 |
| Sp. Def | 60 | 58 – 123 | 112 – 240 |
| Speed | 115 | 108 – 183 | 211 – 361 |
| Overall | 565 | 596 – 1006 | 1160 – 1974 |
| Damage | Type |
| --- | --- |
| Damage | Normal, Flying, Poison, Ground, Rock, Steel, Fire, Water, Grass, Electric, Ice, Dragon |
| Weak | Fighting, Bug, Fairy |
| Immune | Psychic |
| Resistant | Ghost, Dark |
Latias
| Stats | Base | Lvl. 50 | Lvl. 100 |
| --- | --- | --- | --- |
| HP | 80 | 140 – 187 | 270 – 364 |
| Attack | 100 | 94 – 167 | 184 – 328 |
| Defense | 120 | 112 – 189 | 220 – 372 |
| Sp. Atk | 140 | 130 – 211 | 256 – 416 |
| Sp. Def | 150 | 139 – 222 | 274 – 438 |
| Speed | 110 | 103 – 178 | 202 – 350 |
| Overall | 700 | 718 – 1154 | 1406 – 2268 |
| Damage | Type |
| --- | --- |
| Damage | Normal, Flying, Poison, Rock, Steel |
| Weak | Bug, Ghost, Ice, Dragon, Dark, Fairy |
| Immune | Ground |
| Resistant | Fighting, Fire, Water, Grass, Electric, Psychic |
Latios
| Stats | Base | Lvl. 50 | Lvl. 100 |
| --- | --- | --- | --- |
| HP | 80 | 140 – 187 | 270 – 364 |
| Attack | 130 | 121 – 200 | 238 – 394 |
| Defense | 100 | 94 – 167 | 184 – 328 |
| Sp. Atk | 160 | 148 – 233 | 292 – 460 |
| Sp. Def | 120 | 112 – 189 | 220 – 372 |
| Speed | 110 | 103 – 178 | 202 – 350 |
| Overall | 700 | 718 – 1154 | 1406 – 2268 |
| Damage | Type |
| --- | --- |
| Damage | Normal, Flying, Poison, Rock, Steel |
| Weak | Bug, Ghost, Ice, Dragon, Dark, Fairy |
| Immune | Ground |
| Resistant | Fighting, Fire, Water, Grass, Electric, Psychic |
Garchomp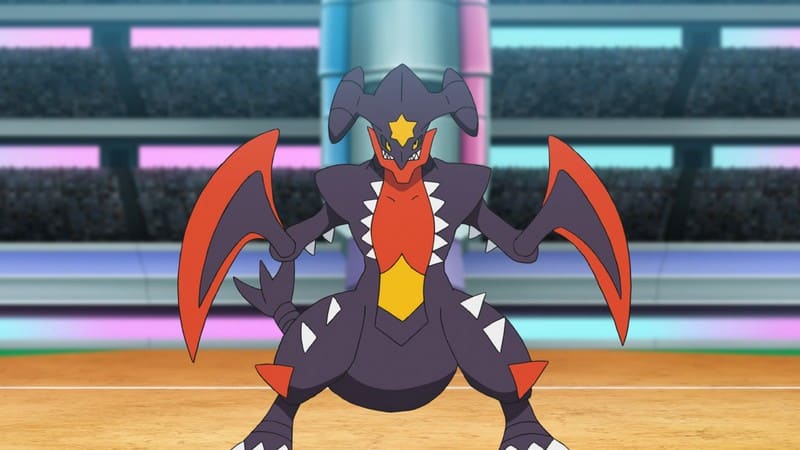 | Stats | Base | Lvl. 50 | Lvl. 100 |
| --- | --- | --- | --- |
| HP | 108 | 168 – 215 | 326 – 420 |
| Attack | 170 | 157 – 244 | 310 – 482 |
| Defense | 115 | 108 – 183 | 211 – 361 |
| Sp. Atk | 120 | 112 – 189 | 220 – 372 |
| Sp. Def | 95 | 90 – 161 | 175 – 317 |
| Speed | 92 | 87 – 158 | 170 – 311 |
| Overall | 700 | 722 – 1150 | 1412 – 2263 |
| Damage | Type |
| --- | --- |
| Damage | Normal, Fighting, Flying, Ground, Bug, Ghost, Steel, Water, Grass, Psychic, Dark |
| Weak | Ice, Dragon, Fairy |
| Immune | Electric |
| Resistant | Poison, Rock, Fire |
Lucario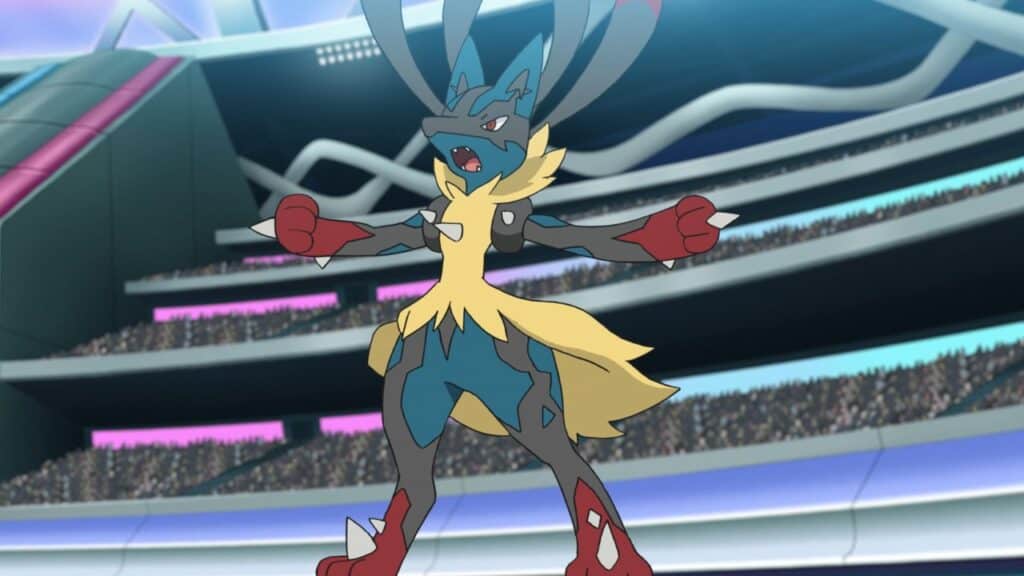 | Stats | Base | Lvl. 50 | Lvl. 100 |
| --- | --- | --- | --- |
| HP | 70 | 130 – 177 | 250 – 344 |
| Attack | 145 | 135 – 216 | 265 – 427 |
| Defense | 88 | 83 – 154 | 162 – 302 |
| Sp. Atk | 140 | 130 – 211 | 256 – 416 |
| Sp. Def | 70 | 67 – 134 | 130 – 262 |
| Speed | 112 | 105 – 180 | 206 – 355 |
| Overall | 625 | 650 – 1072 | 1269 – 2106 |
| Damage | Type |
| --- | --- |
| Damage | Flying, Ghost, Water, Electric, Psychic, Fairy |
| Weak | Fighting, Ground, Fire |
| Immune | Poison |
| Resistant | Normal, Rock, Bug, Steel, Grass, Ice, Dragon, Dark |
Abomasnow
| Stats | Base | Lvl. 50 | Lvl. 100 |
| --- | --- | --- | --- |
| HP | 90 | 150 – 197 | 290 – 384 |
| Attack | 132 | 123 – 202 | 242 – 399 |
| Defense | 105 | 99 – 172 | 193 – 339 |
| Sp. Atk | 132 | 123 – 202 | 242 – 399 |
| Sp. Def | 105 | 99 – 172 | 193 – 339 |
| Speed | 30 | 31 – 90 | 58 – 174 |
| Overall | 594 | 625 – 1035 | 1218 – 2034 |
| Damage | Type |
| --- | --- |
| Damage | Normal, Ghost, Psychic, Ice, Dragon, Dark, Fairy |
| Weak | Fighting, Flying, Poison, Rock, Bug, Steel, Fire |
| Immune | None |
| Resistant | Ground, Water, Grass, Electric |
Beedrill
| Stats | Base | Lvl. 50 | Lvl. 100 |
| --- | --- | --- | --- |
| HP | 65 | 125 – 172 | 240 – 334 |
| Attack | 150 | 139 – 222 | 274 – 438 |
| Defense | 40 | 40 – 101 | 76 – 196 |
| Sp. Atk | 15 | 18 – 73 | 31 – 141 |
| Sp. Def | 80 | 76 – 145 | 148 – 284 |
| Speed | 145 | 135 – 216 | 265 – 427 |
| Overall | 495 | 533 – 929 | 1034 – 1820 |
| Damage | Type |
| --- | --- |
| Damage | Normal, Ground, Ghost, Steel, Water, Electric, Ice, Dragon, Dark |
| Weak | Flying, Rock, Fire, Psychic |
| Immune | None |
| Resistant | Fighting, Poison, Bug, Grass, Fairy |
Pidgeot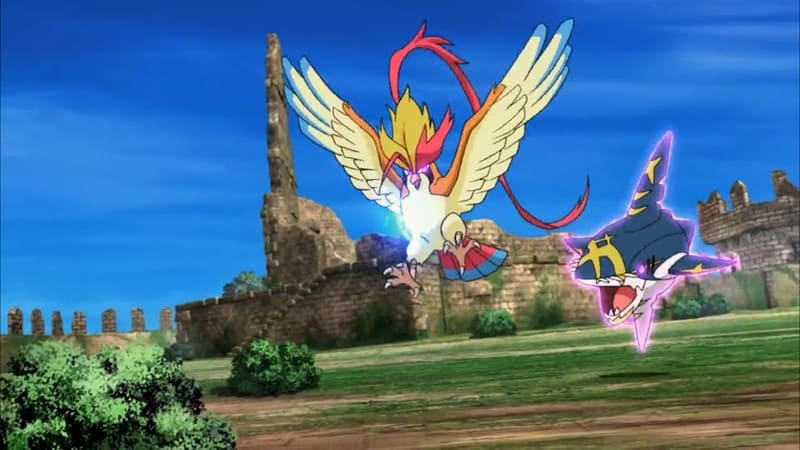 | Stats | Base | Lvl. 50 | Lvl. 100 |
| --- | --- | --- | --- |
| HP | 83 | 143 – 190 | 276 – 370 |
| Attack | 80 | 76 – 145 | 148 – 284 |
| Defense | 80 | 76 – 145 | 148 – 284 |
| Sp. Atk | 135 | 126 – 205 | 247 – 405 |
| Sp. Def | 80 | 76 – 145 | 148 – 284 |
| Speed | 121 | 113 – 190 | 222 – 375 |
| Overall | 579 | 610 – 1020 | 1189 – 2002 |
| Damage | Type |
| --- | --- |
| Damage | Normal, Fighting, Flying, Poison, Steel, Fire, Water, Psychic, Dragon, Dark, Fairy |
| Weak | Rock, Electric, Ice |
| Immune | Ground, Ghost |
| Resistant | Bug, Grass |
| Stats | Base | Lvl. 50 | Lvl. 100 |
| --- | --- | --- | --- |
| HP | 95 | 155 – 202 | 300 – 394 |
| Attack | 75 | 72 – 139 | 139 – 273 |
| Defense | 180 | 166 – 255 | 328 – 504 |
| Sp. Atk | 130 | 121 – 200 | 238 – 394 |
| Sp. Def | 80 | 76 – 145 | 148 – 284 |
| Speed | 30 | 31 – 90 | 58 – 174 |
| Overall | 590 | 621 – 1031 | 1211 – 2023 |
| Damage | Type |
| --- | --- |
| Damage | Normal, Flying, Poison, Ground, Rock, Dragon, Fairy |
| Weak | Bug, Ghost, Grass, Electric, Dark |
| Immune | None |
| Resistant | Fighting, Steel, Fire, Water, Psychic, Ice |
Steelix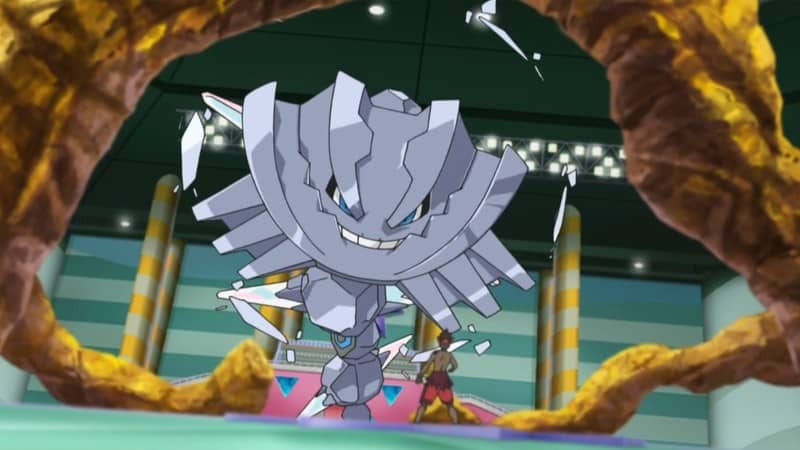 | Stats | Base | Lvl. 50 | Lvl. 100 |
| --- | --- | --- | --- |
| HP | 75 | 135 – 182 | 260 – 354 |
| Attack | 125 | 117 – 194 | 229 – 383 |
| Defense | 230 | 211 – 310 | 418 – 614 |
| Sp. Atk | 55 | 54 – 117 | 103 – 229 |
| Sp. Def | 95 | 90 – 161 | 175 – 317 |
| Speed | 30 | 31 – 90 | 58 – 174 |
| Overall | 610 | 638 – 1054 | 1243 – 2071 |
| Damage | Type |
| --- | --- |
| Damage | Ghost, Grass, Ice, Dark |
| Weak | Fighting, Ground, Fire, Water |
| Immune | Poison, Electric |
| Resistant | Normal, Flying, Rock, Bug, Steel, Psychic, Dragon, Fairy |
Sceptile
| Stats | Base | Lvl. 50 | Lvl. 100 |
| --- | --- | --- | --- |
| HP | 70 | 130 – 177 | 250 – 344 |
| Attack | 110 | 103 – 178 | 202 – 350 |
| Defense | 75 | 72 – 139 | 139 – 273 |
| Sp. Atk | 145 | 135 – 216 | 265 – 427 |
| Sp. Def | 85 | 81 – 150 | 157 – 295 |
| Speed | 145 | 135 – 216 | 265 – 427 |
| Overall | 630 | 656 – 1076 | 1278 – 21116 |
| Damage | Type |
| --- | --- |
| Damage | Normal, Fighting, Rock, Ghost, Steel, Fire, Psychic, Dark |
| Weak | Flying, Poison, Bug, Ice, Dragon, Fairy |
| Immune | Electric |
| Resistant | Ground, Water, Grass |
Swampert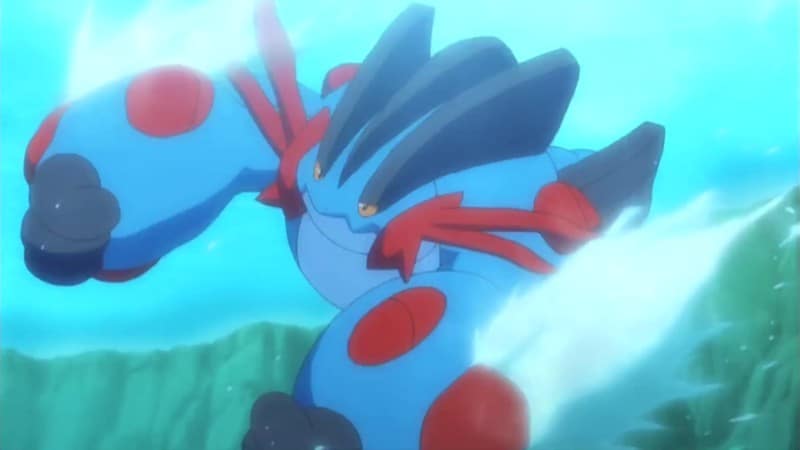 | Stats | Base | Lvl. 50 | Lvl. 100 |
| --- | --- | --- | --- |
| HP | 100 | 160 – 207 | 310 – 404 |
| Attack | 150 | 139 – 222 | 274 – 438 |
| Defense | 110 | 103 – 178 | 202 – 350 |
| Sp. Atk | 95 | 90 – 161 | 175 – 317 |
| Sp. Def | 110 | 103 – 178 | 202 – 350 |
| Speed | 70 | 67 – 134 | 130 – 262 |
| Overall | 635 | 662 – 1080 | 1293 – 2121 |
| Damage | Type |
| --- | --- |
| Damage | Normal, Fighting, Flying, Ground, Bug, Ghost, Water, Psychic, Ice, Dragon, Dark, Fairy |
| Weak | Grass |
| Immune | Electric |
| Resistant | Poison, Rock, Steel, Fire |
Sableye
| Stats | Base | Lvl. 50 | Lvl. 100 |
| --- | --- | --- | --- |
| HP | 50 | 110 – 157 | 210 – 304 |
| Attack | 85 | 81 – 150 | 157 – 295 |
| Defense | 125 | 117 – 194 | 229 – 383 |
| Sp. Atk | 85 | 81 – 150 | 157 – 295 |
| Sp. Def | 115 | 108 – 183 | 211 – 361 |
| Speed | 20 | 22 – 79 | 40 – 152 |
| Overall | 480 | 519 – 913 | 1004 – 1790 |
| Damage | Type |
| --- | --- |
| Damage | Flying, Ground, Rock, Bug, Ghost, Steel, Fire, Water, Grass, Electric, Ice, Dragon, Dark |
| Weak | Fairy |
| Immune | Normal, Fighting, Psychic |
| Resistant | Poison |
Sharpedo
| Stats | Base | Lvl. 50 | Lvl. 100 |
| --- | --- | --- | --- |
| HP | 70 | 130 – 177 | 250 – 344 |
| Attack | 140 | 130 – 211 | 256 – 416 |
| Defense | 70 | 67 – 134 | 130 – 262 |
| Sp. Atk | 110 | 103 – 178 | 202 – 350 |
| Sp. Def | 65 | 63 – 128 | 121 – 251 |
| Speed | 105 | 99 – 172 | 193 – 339 |
| Overall | 560 | 592 – 1000 | 1152 – 1962 |
| Damage | Type |
| --- | --- |
| Damage | Normal, Flying, Poison, Ground, Rock, Dragon |
| Weak | Fighting, Bug, Grass, Electric, Fairy |
| Immune | Psychic |
| Resistant | Ghost, Steel, Fire, Water, Ice, Dark |
Camerupt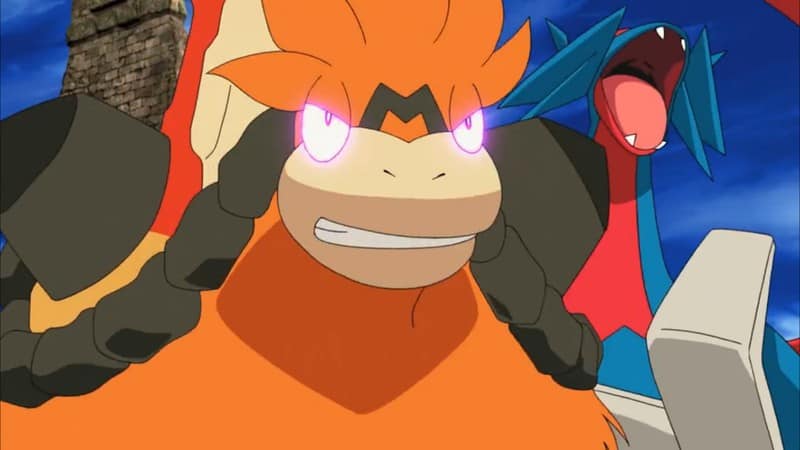 | Stats | Base | Lvl. 50 | Lvl. 100 |
| --- | --- | --- | --- |
| HP | 70 | 130 – 177 | 250 – 344 |
| Attack | 120 | 112 – 189 | 220 – 372 |
| Defense | 100 | 94 – 167 | 184 – 328 |
| Sp. Atk | 145 | 135 – 216 | 265 – 427 |
| Sp. Def | 105 | 99 – 172 | 193 – 339 |
| Speed | 20 | 22 – 79 | 40 – 152 |
| Overall | 560 | 592 – 1000 | 1182 – 1962 |
| Damage | Type |
| --- | --- |
| Damage | Normal, Fighting, Flying, Rock, Ghost, Grass, Psychic, Ice, Dragon, Dark |
| Weak | Ground, Water |
| Immune | Electric |
| Resistant | Poison, Bug, Steel, Fire, Fairy |
Altaria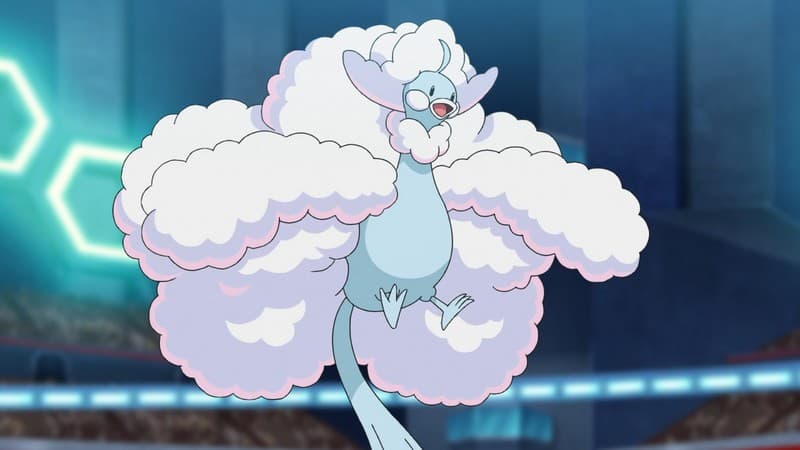 | Stats | Base | Lvl. 50 | Lvl. 100 |
| --- | --- | --- | --- |
| HP | 75 | 135 – 182 | 260 – 354 |
| Attack | 110 | 103 – 178 | 202 – 350 |
| Defense | 110 | 103 – 178 | 202 – 350 |
| Sp. Atk | 110 | 103 – 178 | 202 – 350 |
| Sp. Def | 105 | 99 – 172 | 193 – 339 |
| Speed | 80 | 76 – 145 | 148 – 284 |
| Overall | 590 | 619 – 1033 | 1207 – 1745 |
| Damage | Type |
| --- | --- |
| Damage | Normal, Flying, Ground, Rock, Ghost, Psychic |
| Weak | Poison, Steel, Ice, Fairy |
| Immune | Dragon |
| Resistant | Fighting, Bug, Fire, Water, Grass, Electric, Dark |
Glalie
| Stats | Base | Lvl. 50 | Lvl. 100 |
| --- | --- | --- | --- |
| HP | 80 | 140 – 187 | 270 – 364 |
| Attack | 120 | 112 – 189 | 220 – 372 |
| Defense | 80 | 76 – 145 | 148 – 284 |
| Sp. Atk | 120 | 112 – 189 | 220 – 372 |
| Sp. Def | 80 | 76 – 145 | 148 – 284 |
| Speed | 100 | 94 – 167 | 184 – 328 |
| Overall | 580 | 670 – 1022 | 1190 – 2004 |
| Damage | Type |
| --- | --- |
| Damage | Normal, Flying, Poison, Ground, Bug, Ghost, Water, Grass, Electric, Psychic, Dragon, Dark, Fairy |
| Weak | Fighting, Rock, Steel, Fire |
| Immune | None |
| Resistant | Ice |
Salamence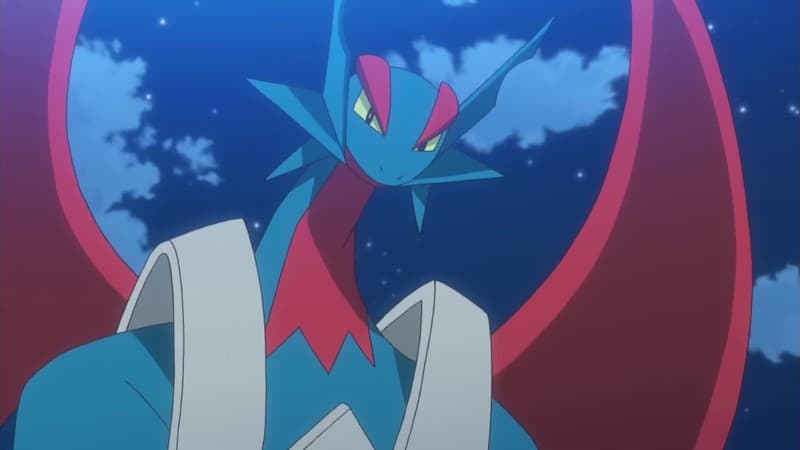 | Stats | Base | Lvl. 50 | Lvl. 100 |
| --- | --- | --- | --- |
| HP | 95 | 155 – 202 | 300 – 394 |
| Attack | 145 | 135 – 216 | 265 – 427 |
| Defense | 130 | 121 – 200 | 238 – 394 |
| Sp. Atk | 120 | 112 – 189 | 220 – 372 |
| Sp. Def | 90 | 85 – 156 | 166 – 306 |
| Speed | 120 | 112 – 189 | 220 – 372 |
| Overall | 700 | 720 – 1152 | 1409 – 2265 |
| Damage | Type |
| --- | --- |
| Damage | Normal, Flying, Poison, Ghost, Steel, Electric, Psychic, Dark |
| Weak | Rock, Ice, Dragon, Fairy |
| Immune | Ground |
| Resistant | Fighting, Bug, Fire, Water, Grass |
Metagross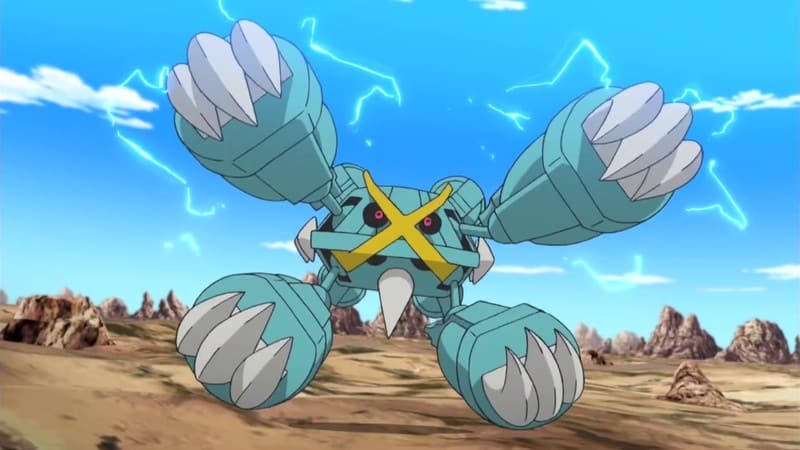 | Stats | Base | Lvl. 50 | Lvl. 100 |
| --- | --- | --- | --- |
| HP | 80 | 140 – 187 | 270 – 364 |
| Attack | 145 | 135 – 216 | 265 – 427 |
| Defense | 150 | 139 – 222 | 274 – 438 |
| Sp. Atk | 105 | 99 – 172 | 193 – 339 |
| Sp. Def | 110 | 103 – 178 | 202 – 350 |
| Speed | 110 | 103 – 178 | 202 – 350 |
| Overall | 700 | 719 – 1153 | 1406 – 2268 |
| Damage | Type |
| --- | --- |
| Damage | Fighting, Bug, Water, Electric |
| Weak | Ground, Ghost, Fire, Dark |
| Immune | Poison |
| Resistant | Normal, Flying, Rock, Steel, Grass, Psychic, Ice, Dragon, Fairy |
Rayquaza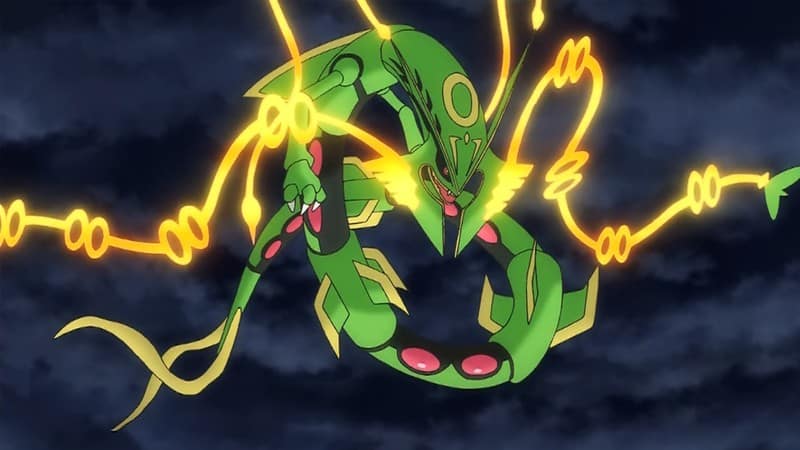 | Stats | Base | Lvl. 50 | Lvl. 100 |
| --- | --- | --- | --- |
| HP | 105 | 165 – 212 | 320 – 414 |
| Attack | 180 | 166 – 255 | 328 – 504 |
| Defense | 100 | 94 – 167 | 184 – 328 |
| Sp. Atk | 180 | 166 – 255 | 328 – 504 |
| Sp. Def | 100 | 94 – 167 | 184 – 328 |
| Speed | 115 | 108 – 183 | 211 – 361 |
| Overall | 780 | 793 – 1239 | 1555 – 2439 |
| Damage | Type |
| --- | --- |
| Damage | Normal, Flying, Poison, Ghost, Steel, Electric, Psychic, Dark |
| Weak | Rock, Ice, Dragon, Fairy |
| Immune | Ground |
| Resistant | Fighting, Bug, Fire, Water, Grass |
Lopunny
| Stats | Base | Lvl. 50 | Lvl. 100 |
| --- | --- | --- | --- |
| HP | 65 | 125 – 172 | 240 – 334 |
| Attack | 136 | 126 – 206 | 249 – 408 |
| Defense | 94 | 89 – 160 | 173 – 315 |
| Sp. Atk | 54 | 53 – 116 | 101 – 227 |
| Sp. Def | 96 | 90 – 162 | 177 – 320 |
| Speed | 135 | 126 – 205 | 247 – 405 |
| Overall | 580 | 609 – 1021 | 1187 – 2009 |
| Damage | Type |
| --- | --- |
| Damage | Normal, Poison, Ground, Steel, Fire, Water, Grass, Electric, Ice, Dragon |
| Weak | Fighting, Flying, Psychic, Fairy |
| Immune | Ghost |
| Resistant | Rock, Bug, Dark |
Gallade
| Stats | Base | Lvl. 50 | Lvl. 100 |
| --- | --- | --- | --- |
| HP | 68 | 128 – 175 | 246 – 340 |
| Attack | 165 | 153 – 238 | 301 – 471 |
| Defense | 95 | 90 – 161 | 175 – 317 |
| Sp. Atk | 65 | 63 – 128 | 121 – 251 |
| Sp. Def | 115 | 108 – 183 | 211 – 361 |
| Speed | 110 | 103 – 178 | 202 – 350 |
| Overall | 618 | 645 – 1063 | 1256 – 2090 |
| Damage | Type |
| --- | --- |
| Damage | Normal, Poison, Ground, Bug, Steel, Fire, Water, Grass, Electric, Psychic, Ice, Dragon, Dark |
| Weak | Flying, Ghost, Fairy |
| Immune | None |
| Resistant | Fighting, Rock |
Audino
| Stats | Base | Lvl. 50 | Lvl. 100 |
| --- | --- | --- | --- |
| HP | 103 | 163 – 210 | 316 – 410 |
| Attack | 60 | 58 – 123 | 112 – 240 |
| Defense | 126 | 117 – 195 | 231 – 386 |
| Sp. Atk | 80 | 76 – 145 | 148 – 284 |
| Sp. Def | 126 | 117 – 195 | 231 – 386 |
| Speed | 50 | 49 – 112 | 94 – 218 |
| Overall | 545 | 580 – 980 | 1132 – 1924 |
| Damage | Type |
| --- | --- |
| Damage | Normal, Fighting, Flying, Ground, Rock, Fire, Water, Grass, Electric, Psychic, Ice, Fairy |
| Weak | Poison, Steel |
| Immune | Ghost, Dragon |
| Resistant | Bug, Dark |
Diancie
| Stats | Base | Lvl. 50 | Lvl. 100 |
| --- | --- | --- | --- |
| HP | 50 | 110 – 157 | 210 – 304 |
| Attack | 160 | 148 – 233 | 292 – 460 |
| Defense | 110 | 103 – 178 | 202 – 350 |
| Sp. Atk | 160 | 148 – 233 | 292 – 460 |
| Sp. Def | 110 | 103 – 178 | 202 – 350 |
| Speed | 110 | 103 – 178 | 202 – 350 |
| Overall | 700 | 715 – 1157 | 1400 – 2274 |
| Damage | Type |
| --- | --- |
| Damage | Fighting, Poison, Rock, Ghost, Electric, Psychic, Ice, Fairy |
| Weak | Ground, Steel, Water, Grass |
| Immune | Dragon |
| Resistant | Normal, Flying, Bug, Fire, Dark |