Quick Disclaimer : I'm writing this mid-day on Thursday, so it's very likely bigger (and more impressive) news has surface as of this reading. Be sure to check CheatCC for more info.
The geekiest, most awesome mecca of nerdy goodness is finally upon us my brethren. The 2014 San Diego Comic-Con has officially kicked off. Many of the vendors have taken queues from those at E3 and already released several tidbits regarding what you'll see on the convention floor. It's been a virtual explosion of fun news and info regarding a myriad of upcoming projects. Needless to say; there is a ton to sort through out there on the old interwebs. Here is just a small round-up of what has tickled my fancy the most thus far!
Red Hood to Appear in Arkham Knight!
If you've followed any of my coverage over the last several months, you now I am VERY excited about the upcoming Arkham Knight game. Our first Batman to utilize the full potential of the next-gen tech looks to close out the series with a bang (and I do mean bang…now that we get a weaponized version of the Batmobile). If you pre-order the game via GameStop, you'll get exclusive access to a Red Hood themed story mode (with Harley Quinn also featured in the familiar challenge maps). Seeing his design, he looks striking similar to the game's mysterious new villain. Coincidence?
TOYS TOYS Everywhere!
Just seeing some of the images of the awesome collectibles featured at this year's convention truly makes me wish I had made the trek out West. A new DC line that highlights figures from series such as Arrow, Arkham and more were all on-hand. However, one that particularly interests me is the latest take on an old classic: Batman – The Animated Series . Ranging from the earliest design concepts to the later years of the show (after it became " The New Batman Adventures ) these are definitely on my wish list. So what is my most wanted item you might ask? Hands down, the kick-ass Delorean/Marty McFly combo seen below!
More on Original Cast Returning for Alien: Isolation.
The Alien franchise is so iconic, that even after 35 years it's still going strong! Not only were fans happy to learn that we'd get the chance to revisit the series in video game form with Isolation (from SEGA and The Creative Assembly), announcing the original cast's return was certainly an added thrill. While it was unclear exactly how much participation the film's cast would have, a new trailer makes it clear that the studio has spared no expense. Sigourney Weaver (and her cast mates) reveal how great making a game like this can be, due to the level of immersion provided to the players (especially with the Alien legacy behind it). If this new behind the scenes feature doesn't get you pumped , then you're not a real fan!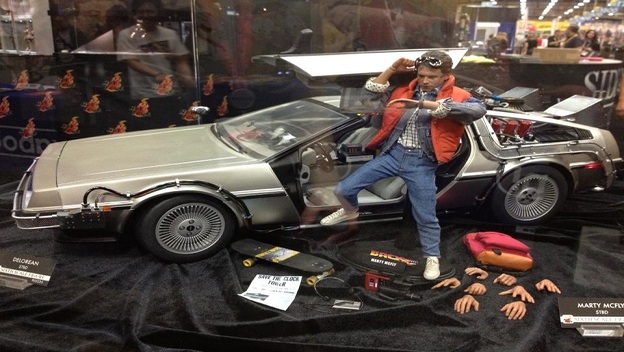 Our First Real Look at the New Batsuit!
Kevin Smith (who is long time buds with Ben Affleck) was one of the first to get a peek at what the new Batsuit would look like in the upcoming Batman v. Superman: Dawn of Justice . Describing it as what fans saw in the comic Hunt the Dark Knight years earlier, we were later teased with a black and white snapshot of the Hollywood A-Lister in the garb. Although the film itself doesn't have much of a presence at this year's convention, images have surfaced of the glass case where the cape and cowl are physically being shown off. Based on what I've seen (with the stubbed ears and harder edges), this new look could far and away be my favorite since the days of Keaton/Burton.
While I could never encapsulate all the great info rocketing out of the San Diego area like a multi-colored rocket, this was just some of the latest which has gotten my Spidey-Sense tingling in the last 24 hours or so. Luckily, the convention is just getting started and we're in for much more before it's all said and done.The sheer number of videos depicting various panels and interviews destined for YouTube alone will no doubt fill your weekend with geeky bliss.
Is there something I missed that you feel deserves an honorable mention? Perhaps you're looking forward to something in particular at this year's Comic-Con? Be sure to let us know in the comments section below!