It is June 11, and you know what that means! E3 2018 is upon us! The actual show runs June 12-14, 2018, but the days before are just as exciting due to all the press conferences. We already know what Microsoft, EA and Bethesda have planned for our consoles over the next two or three years. We know about what's coming for Halo, Gears of War, Madden, DOOM, Battlefield, The Elder Scrolls , and Fallout fans, as well as what people can expect from new IPs like Anthem. Let's review the day one E3 2018 coverage together!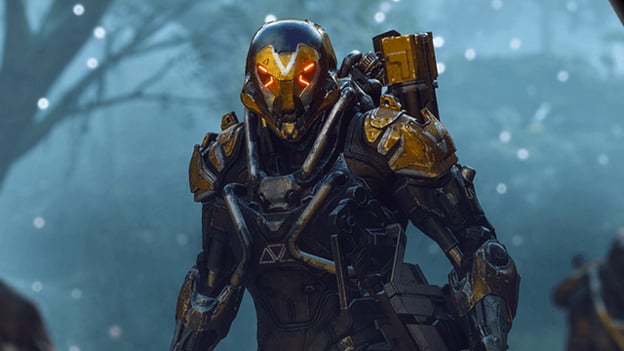 EA WRAP-UP:
2018's Electronic Arts press conference was jam packed. A major breakaway from previous years, EA's sports titles took a back seat. On that subject however, we do know that FIFA 19 will be releasing on September 22, 2018. And FIFA 18 , with all its World Cup content, is free to play (for a limited time) starting today on all platforms.
In similarly brief form, let's go over some major announcements! The title of Respawn Entertainment's Star Wars game is Jedi: Fallen Order , and it has a Holiday 2019 release window.  We heard about Origin Access Premier, a new PC subscription service coming late summer 2018. (We don't know what makes it special over the existing Origin Access yet, which is free this weekend by the way,) Command & Conquer: Rivals was revealed as the new mobile take on the franchise. It's currently available for Android players, and releasing later on iOS. Unravel Two was premiered and revealed to be available already today for single and co-op play. Sea of Solitude is the new EA Original title, and will be releasing sometime in early 2019. EA also announced that they have given $1 million to three different charities, thanks to the Play to Give event this year. Star Wars: Battlefront II will be getting Clone Wars content later 2018, including the planet Geonosis and General Grievous, Obi-Wan Kenobi, Count Dooku, and Anakin Skywalker as playable characters.
Bigger news included Battlefield V , which will have a second reveal at the Xbox Briefing. It appears that aerial support will be a part of gameplay. Gamers will be able to move large machinery and weapons around the map for the first time ever. And environmental damage will be huge, with the ability to take down entire homes with tanks and missiles. Most importantly, it will have a Royale multiplayer mode.
BioWare gave us a closer look at Anthem , which is releasing on February 22, 2019. There are four javelin suits that players can utilize (Ranger, Colossus, Interceptor, and Storm) and switch between. There will be a shared world for multiplayer, and bases to explore in single-player. Fans can play solo in the greater world, but it will be more difficult.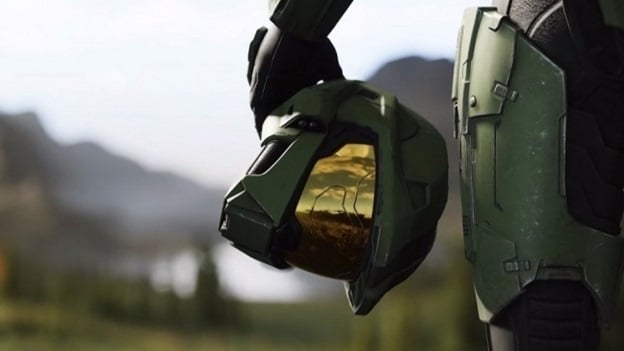 MICROSOFT WRAP-UP:
Microsoft is unfortunately going into E3 with low expectations from the gaming community. They are trailing in terms of popularity and sales in the console department, and lack the quantity and quality of exclusive games that both Sony and Nintendo have dazzled audiences with since last summer. The Xbox One really needed to drop some jaws at its press conference, and it certainly loaded it full of content. Some big hitters made their world debuts here, and it was an impressive lineup.
Let's start with the console exclusives. Halo Infinite , the next Master Chief entry from 343 Industries, was only briefly teased, but it's nice to have the next entry finally revealed. Microsoft's other big homegrown shooter, Gears of War , also delivered a few surprises later in the show. An odd Funko Pop mashup will come to mobile devices, Gears Tactics will offer a turn-based XCOM style experience on the planet Sera, and most importantly, Gears 5 picks up the story some years following where the previous game left off, with a wide array of new and grotesque enemies. Forza adhered to its seesaw progression, with Forza Horizon 4 taking the stage to showcase breathtaking vista of the British mainland, from spring to winter, in a shared world experience that lets you join up with friends and strangers alike on and off the road. Crackdown 3 softened its delay announcement with Terry Crews' vocals and lots of explosions. Sea of Thieves highlighted some new content, including skeleton-crewed ships and new areas to explore. Also, Ori and the Will of the Wisps , sequel to the fantastic 2D platforming Ori and the Blind Forest , showcased its gorgeous natural settings and symphonic sounds.
Microsoft made a surprising amount of headway with Japenese developers and publishers this year. FromSoftware kicked off the Asian invasion with a brutal new action game called Sekiro: Shadows Die Twice . Tales of Vesparia: Definitve Edition , an RPG from the revered Tales series is making its western debut this winter. Naruto, Dragon Ball, One Piece , and other anime hits will be having a brawling mash-up with Jump Force . Devil May Cry 5 provides some satisfying hack-n-slash demon slaying, a welcome sight for fans who have waited a decade since the last canon game. Kingdom Hearts 3 also brought a new display of Disney lore, with Frozen, Tangled, Wreck-It Ralph, Toy Story , and Monsters Inc . highlighting the Disney stories we could be disrupting.
Square Enix brought a few more treasures to the Xbox floor. There was The Awesome Adventures of Captain Spirit , an adventure from the same universe as Life is Strange , and of course Shadow of the Tomb Raider , with strong and long cinematics bringing to light the conflicts within Lara and the costs of her actions. Player choice and consequences were also a big theme in Dying Light 2 , along with great parkour and melee combat demonstrations. We also saw trailers and demonstrations for other big upcoming releases, such as Fallout 76 , Metro Exodus , Battlefield V , We Happy Few , PlayerUnknown's Battlegrounds , and Tom Clancy's The Division 2 . Xbox head Phil Spencer's farewell was hacked by CD Projekt Red's trailer for Cyberpunk 2077 , and that was the bang we were left with.
It was a huge display of games and a nice blend of genres. Whether you think Microsoft and the Xbox console will remain behind in the standings, one thing is for certain from today's press conference, Xbox owners have plenty of gaming options on the way.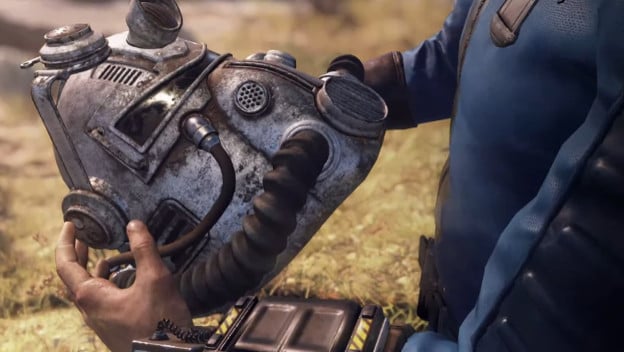 BETHESDA WRAP-UP:
Bethesda's E3 2018 press conference was quite the whirlwind of emotional announcements. One of the highest points was the news that Bethesda is working on its first new IP in 25 years, Starfield . Equally exciting is confirmation that The Elder Scrolls VI in development.
Let's start with The Elder Scrolls news. The Elder Scrolls: Blades was announced as a first person RPG playable initially on iOS and Android devices in Fall 2018, but then also PCs, consoles, and virtual reality systems. The best part is it'll be free on all platforms and interconnected between them. Another neat fact is portrait mode play on mobiles. The Elder Scrolls Online is getting a new Wolfhunter dungeon, as well as another Mirkmire story add-on which will take fans to Black Marsh, the home of the Argonians. The card game version of The Elder Scrolls: Legends is getting overhauled visuals and releasing on Switch, Xbox One, and PlayStation 4 in 2018.
Other major properties also appeared. We also learned that DOOM is getting a sequel called DOOM Eternal . There will be more on that at QuakeCon 2018 in August. Quake Champions is free to play from June 10-17, 2018. If you play during this free trial, it will continue to be free afterward. Rage 2 was more of a footnote than I think most expected, showing some gameplay and getting a release window of Spring 2019. Also Fallout Shelter is available immediately on the Switch and PlayStation 4.
There is Wolfenstein and Prey news too. Wolfenstein II: The New Colossus is coming to the Nintendo Switch on June 29, 2018. 2019 will see a new entry in the franchise with Wolfenstein Youngblood , a co-op or single-player game featuring BJ Blazkowicz's twin daughters. Wolfenstein Cyberpilot will have you hack Nazi robots in VR in 2018. Prey is getting a free update tonight adding New Game+ and Survival modes and the DLC Mooncrash, which procedurally generates enemies and obstacles every time you play. Another DLC, Typhon Hunter will be coming in Summer 2018, allowing five players to act as mimics, while one human tries to find and kill them. Prey's Typhon Hunter will also be available separately in VR.
The biggest focus tonight was on Fallout 76 , the franchise prequel that is four times the size of Fallout 4 . It's an online game, but players will be able to go it alone if they'd like. There will be six regions to explore, and players will be able to build/move encampments wherever they'd like. It's been labeled as "soft core" survival and will have 100% dedicated servers. Players will not have to choose a server, but will rather be put into a game with a few dozen other players. You can join friends' games whenever you'd like, and your progression will go with you (and will stay with you even if you die). Fallout 76 will have a special Power Armor Edition that includes: a map of the world that glows in the dark, figures, and a T-51 Power Armor Helmet (with working headlamp) that you can wear. Fallout 76 will release on November 14, 2018.
Beta (Break it Early Test Application) tests for Fallout 76 and Elder Scrolls: Blades can be signed up for through Bethesda's official websites .
*STAY TUNED TO CHEAT CODE CENTRAL ALL WEEK LONG, AS WE BRING YOU THE LATEST NEWS, INFO AND UPDATES YOU CRAVE FROM THIS YEAR'S E3!