At this point, most are aware of the news that, in order to access a game's multiplayer system on the PlayStation 4, you will be required to maintain a PlayStation Plus subscription. Sony slyly announced this at their E3 press conference under an impressive layer of ambiguity, and then quickly followed the announcement with a slew of bonuses that the subscription will offer. I've already touched on the announcement directly, saying that Sony's careful declaration of pay-to-pay multiplayer was a brilliant PR tactic, and that, ultimately, it succeeded in dumbing down the significance of their turnaround on multiplayer philosophy. But, unsurprisingly, not everyone is happy with the news. In fact, plenty of gamers abhor the shift so adamantly that they've jumped off the PS4 train altogether.
To some degree, I can understand why some would react resentfully. After all, a major early selling point for the PS3 was its free online ability. Alas, times have changed; PS+ has proven its worth, and there's little room for anything free in the next generation of consoles. Complaining about paying for the PS+ subscription is foolish.
But before anything, let's nail down what, exactly, this means for the PlayStation population. As Jack Tretton put it, in order to "fully immerse themselves in the incredible PS4 games with online multiplayer," gamers will have to be a PlayStation Plus subscriber. As I've said before, this sounds like nothing more than a pretty promotional slogan. However, in reality land, where purple prose only gets you so far, this means that anyone who wants to access any game's online multiplayer network will have to pay an additional $50 a year.
However, this does not mean that non-PS+ PS4 owners won't have access to Netflix (ehem, Xbox Live), the PlayStation Network, or any other basic online streaming/browsing functions. Therefore, if you don't play online, you shouldn't even care about this change.
Regardless, even if you are an avid multiplayer gamer, you have nothing to complain about. Sure, you'll be paying $50 a year for a subscription service, but, as Sony has already proven, PlayStation Plus pays you back with interest . And some steep interest, at that.
Now let's look at the hard facts of PlayStation Plus. To reiterate: It costs $50 a year. (Which is $10 less than Xbox Live Gold's $60, confirmed to stay price tag.) It's also important to note that one PS+ subscription is valid and covers all PlayStation devices registered to the same account. This means that if you currently are or are looking to become a PS+ member, your PS3, PS4, and PS Vita will all reap the benefits of it. Similarly, current PS+ subscriptions will carry over into the next-gen without a hitch.
Those are the bases of the service, but they fail to explain the literal monetary value of it. Seeing as how I'm arguing that PS+ being required is a good thing, let's look at what we're all after: free games.
The Instant Game Archive available only through PlayStation Plus is incomparable, plain and simple. No other service—not Nintendo's eShop, not Steam, and not XBLA—can hold a candle to the amount of free games that Sony throws at their consumers. In the first half of June alone (a timeframe that hints at Tretton's announcement), PS+ subscribers have been given Deus Ex: Human Revolution, Saints Row The Third , Uncharted 3, XCOM: Enemy Unknown, and LittleBigPlanet Karting for a grand total of nothing. The retail value of those five games alone figuratively pays for two years of PlayStation Plus, and those were all handed out in a week.
But that's just current-gen goodies; what does the PS4 have to offer?
As their conference detailed , PlayStation Plus members will be compensated for their subscription from day one of the PS4's launch. Whether you subscribe tomorrow or the day before you pick up your PS4, or if you've been a member for years, you'll get a free copy of Driveclub. That's a $60 game being thrown into your digital lap for free. Not only does this immediately cover the service's annual subscription fee and then some, but it gives you a brand-new game to play, ensuring that the PS4 won't meet the software-starved fate of the Wii U.
That's certainly not the end of next-gen merits, mind you. PS+ subscribers will also receive three free indie games (Don't Starve, Outlast, and The Secret Ponchos) during the three months following the PS4's launch. And let's not forget that the subscription comes with access to all of the titles that the PS4's Gaikai-powered cloud network offers, which will undoubtedly see a slew of giveaways all their own.
Speaking of hundreds of games: How many of the PlayStation 4's confirmed 140+ in-progress titles do you think will be added to the instant game archive? Given Sony's track record, we can safely assume plenty. Plus, all of this is to say absolutely nothing of the hundreds of current-gen titles currently available for the attractive price of jack squat. And, because I know you're all thinking it, no, hard drive space isn't an issue, because it's upgradeable .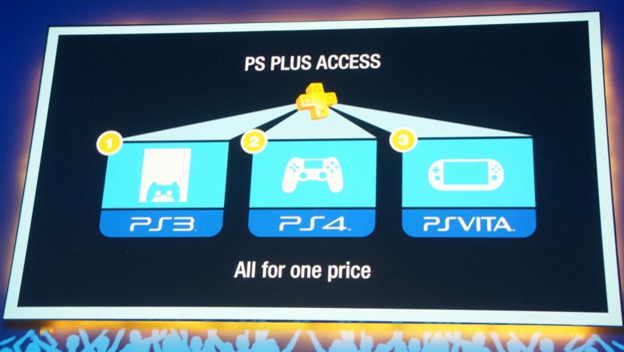 Let's recap: Hundreds of free games, a cloud-based PlayStation archive, at-launch giveaways, and multiplayer access for $50 a year. Better still, as a recent statement from Sony Worldwide Studios president Shuhei Yoshida confirms, the proceeds from PlayStation Plus will be directed towards improving the PlayStation Network as a whole and providing a more stable and secure service. As Yoshida explained, keeping the service free would impede providing "very robust and great online services going forward." As such, through the requisite multiplayer fee, Sony is asking "the most engaged consumers in the online activities to share the burden with us so that we can continue to invest."
Yoshida went on to confirm that they will also be adding "one digital game every month" to the aforementioned Instant Game Collection so players "get high-quality indie games as well on top of what they get on PS3 and Vita," further raising the value of PS+. In addition, the president clarified that they "will continue the free access to online play on PS3 and Vita."
Not only will current-gen systems remain unaffected, but we can add radically improved PlayStation Network services to the list of benefits brought on by the multiplayer mandate. As a result, anyone still willing to complain about the change can only come across as a desperate Microsoft fanboy or a grouchy curmudgeon with no concept of next-gen workings. So, I'll go ahead and ask it: What's the problem here?