In 2019, in our space of video game fun, innovation and economic strife, we stand on what sometimes feels like the primary battlefield of a culture war. As video game communities grow more diverse and inclusive, the backlash against that gets angrier and more like a cornered animal. Part of that is a loud movement against the ideas of "politics" in games, which more or less shows that for some people, things like reading comprehension and subtext are akin to scaling a mountain. So that being said, while most works of art include "politics" by their very nature of being narratively-charged creative work, I've compiled a list of ten big, popular, and well-received video games that are overtly adjacent to politics.
Assassin's Creed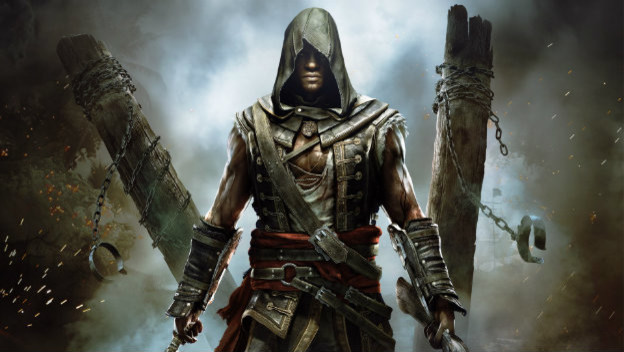 Ubisoft dips its toes into a lot of political pies, considering how much the company's representation denies its intentions or presence of any content relevant to themes and ideas present in the real world. Just look at the Assassin's Creed series, for example. I'm not just alluding to the basic fact this series is set in various moments in history. Choices, by the creative team, are made to portray the people involved in these stories (real people) in certain ways. Assassin's Creed III for example, makes deliberate, nuanced choices in how it portrays both sides of the American Revolution. That's… political.
Wolfenstein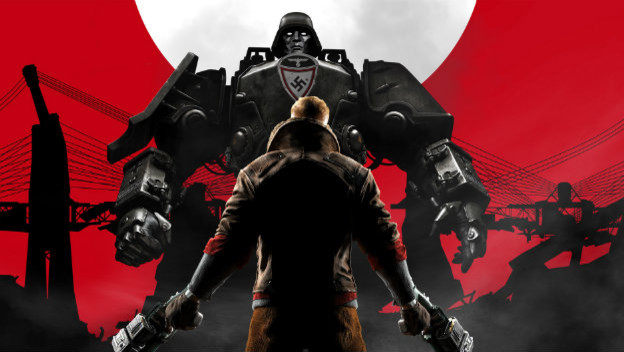 The Wolfenstein series isn't just "political" because it's about shooting Nazis. When MachineGames took over the series and released New Order , a new energy was injected into the soul of what Wolfenstein is. The stories in that game and its sequel are deeply entrenched in American history, not only in terms of Things That Happened, but also cultural moods and themes that colored the times and places that are being so heavily fictionalized. It isn't just "Nazis are bad," Wolfenstein points its lens on America itself every chance it gets.
Metal Gear Solid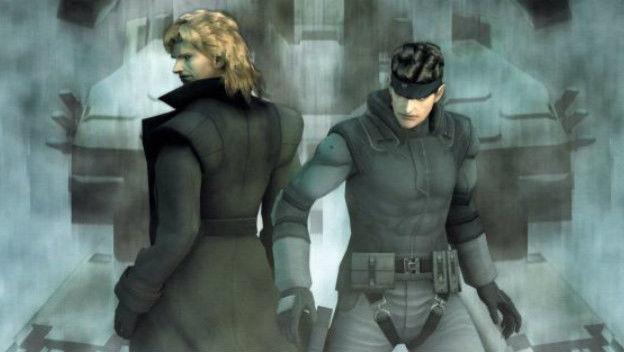 Kojima Productions' Metal Gear Solid isn't just a goofy game about dudes with facial hair yelling at each other about robots and nanomachines. It's a (admittedly hamfisted) commentary on the horrors of nuclear war, specifically the kind that's more economically motivated than anything else. The military industrial complex is something Hideo Kojima seems to be deeply interested in, and in-between all the anime nonsense and movie references is a cautionary tale about for-profit military escalation.
Spec Ops: The Line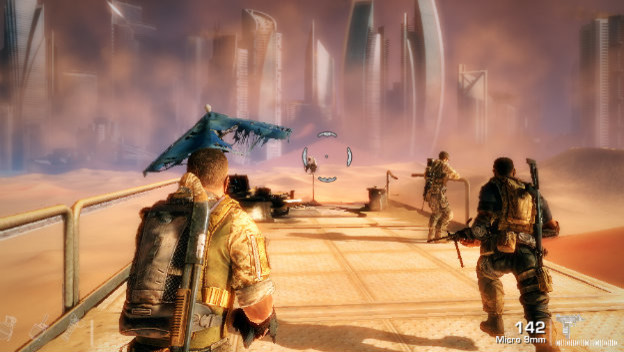 While I take issue with Spec Ops: The Line 's use of Hearts of Darkness as inspiration for its story (it's not an effective or useful parallel for several reasons), there's no denying it's one of the most ambitious military shooters ever made. While it looks and plays like your typical cover-based shooter, with buzz cut-laden white dudes gunning down brown folks for Freedom, the story progresses when the real stuff hits the fan. Suddenly a hoo-rah Army shooter becomes a man's battle against his own sense of morality, and even reality, as the horrors of war break him. And at the end, his own people turn against him. Now this is a game that has an "agenda."
Call of Duty: Modern Warfare 2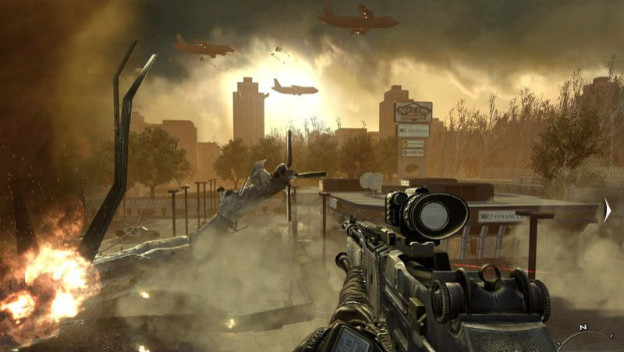 The first Modern Warfare is just kind of an action romp about some drama with everyone's favorite villains, Russia. But in the sequel, things get really murky, and all the weird stuff like Donald Rumsfeld quotes on loading screens are traded for lines blurring, colors greying, and people within the US Army being just as involved in violent wrongdoing as the foreign menace of the week. War comes to American soil in a big way in Modern Warfare 2 , and instead of being more modern Red Scare stuff, there's actual commentary on international politics and war profiteering (hm, I wonder why that's such a common theme). Modern Warfare 2 is a deeply fascinating Call of Duty story, and part of that is its tangled web of right vs wrong.
Final Fantasy XIV: Shadowbringers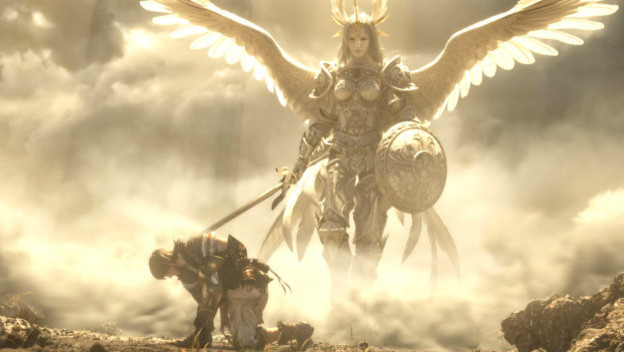 Final Fantasy XIV has been one of the most successful MMO experiences since World of Warcraft , and a big part of it has been the game's epic story, which has spent half a decade building its world and characters. That has, for now, culminated in Shadowbringers , the latest expansion that takes the cast to a whole new world and new situation. Because of that setting change, the stakes need to be particularly high, and they absolutely are. In this new post-apocalyptic world, players are immediately confronted with a deep class divide, with a city built by the wealthy taking advantage of the poor on a level that's only slightly unrealistic (and that's only because of the godlike monsters involved). While inhuman evil rules the roost, the journey there is filled with the ugliest parts of humanity in a way that reflect's today's political climate in real life.
Fire Emblem: Three Houses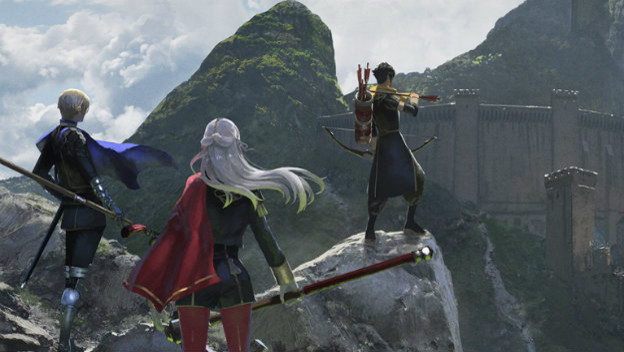 Fire Emblem is a series full of political intrigue, but for the most part the series has been fairly straightforward. You play as the good guys, and you have to defeat the bad guys. But in Fire Emblem: Three Houses , the core of the game is your choice to lead one of, well, three houses. The way these groups of nobles come together and clash gives the player tons of difficult moral and political conundrums to mull over, and while there are a few choices, mostly you're along for the ride. And because each route depends on a choice early in the game, most of the discussion has been internal, with fans debating which house is in the right, if any of them are.
The Division 2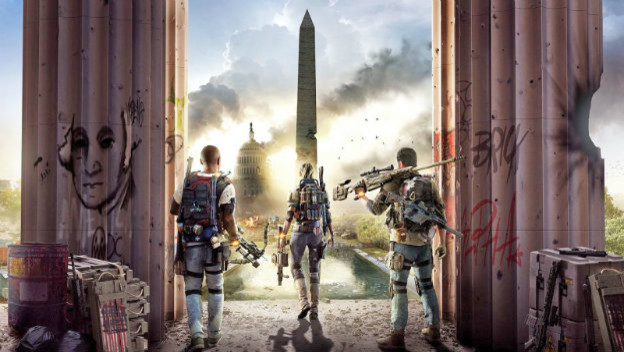 Here's one of the most controversial entries on the list, and that's exactly why it's on the list. The first The Division sort of had a political-looking aesthetic to it, mostly because of its police-oriented story. But it's largely a goofy, Hollywood sci-fi, with most of the story being about tracking down the bad guy who poisoned all the money. But the sequel takes a hard turn to the center-right, setting the game in Washington D.C. and going full-bore into the angle that cops need to be the justifiably violent enforcers of the American way.
The game starts with some comically loaded imagery basically blaming millenials' problems on Wi-Fi and coffee, and anti-gun sentiment. Then you spend most of the game shooting petty criminals before the paramilitary groups show up. It's a survival fantasy, and a particularly right-wing one at that. At the same time it tries to have its cake and eat it too with things like pride flags and other surface-deep "both sides" appeals, but at the end of the day, the text "did you own a gun?" was still part of the introduction.
Fallout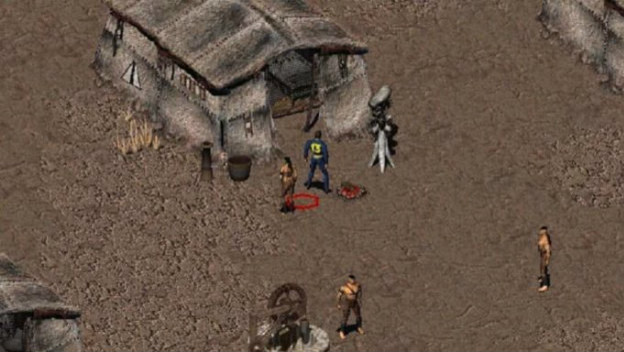 Since Bethesda took over the Fallout series, it has sort of leaned harder on its pseudo-ironic humor and sci-fi action storytelling. But in its heydey, the Fallout series was dripping with anti-war text, aggressively pushing forward a message that nuclear weapons are a horrible thing and we should be terrified of them still. "War never changes" isn't meant to be a kitschy brand stinger, it's supposed to be a thematic trampoline that launches players into a vision of the apocalypse that's far too plausible.
Final Fantasy VII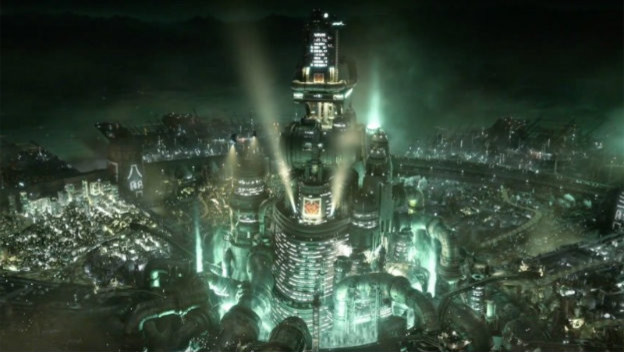 Final Fantasy VII is about a guy who defected from a privatized military superpower and is leading a group of ecoterrorists against a megecorporation that is literally suffocating the planet in order to power its dystopian nightmare of a city. The corporation has complete control over the known world, and its brazen attempts to mess with the natural order of things resulted in a victim of genetic experimentation nearly destroying the planet with a giant meteor. That's possibly the most political a video game has ever been.