Ultimate Chicken Horse is a wacky multiplayer platformer game. Players must race through increasingly difficult obstacle courses to earn points and win. Ultimate Chicken Horse was developed and published by Clever Endeavour Games. The game was initially released on 4 March 2016 for Windows, Linux, and Mac.
After its release, Ultimate Chicken Horse received positive reviews from critics. The game was praised for its simple yet creative gameplay. Ultimate Chicken Horse is the type of game players can always return to because of its endless replayability. This game elevates the 2D platformer genre to new heights and is a must-play game.
Ultimate Chicken Horse Premise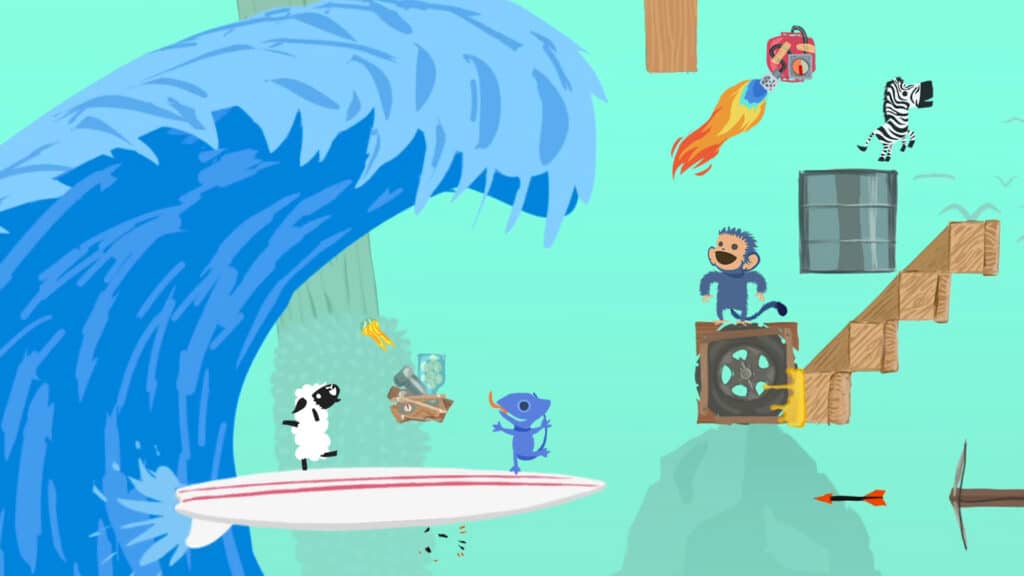 Ultimate Chicken Horse is a unique platformer where players actually build the level themselves. The objective of the game is to reach the flag at the end of the level before anyone else. Players can add hazards and traps to the level to stop their opponents, but they have to make sure that they can reach the end. Being the only person to reach the flag earns players the most amount of points, but if every player makes it to the end, no points are awarded.
Ultimate Chicken Horse encourages players to be sadistic to one another. Your level designing and platforming skills will be put to the ultimate test.
UItimate Chicken Horse Characters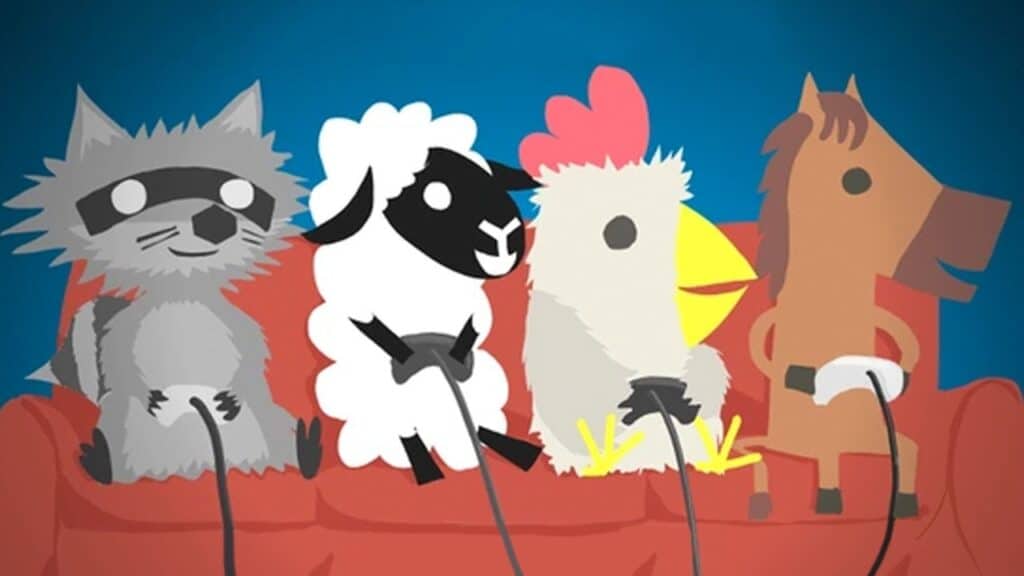 In this game, players take control of various animals. Each animal has the same abilities and skills, so the only difference between them is appearance, sound, and the different outfits that can be unlocked. The Chicken and Horse animals are the titular characters, but there are a total of twelve different animals that players can pick from. Below is a list of every playable animal in the game:
Chicken
Horse
Sheep
Racoon
Chameleon
Squirrel
Bunny
Elephant
Monkey
Snake
Hippo
Turtle
Ultimate Chicken Horse Series
The concept for Ultimate Chicken Horse first emerged during the game jam event in 2014. Afterward, the game's lead developer, Richard Atlas, formed Clever Endeavour Games. Despite the game coming out in 2016, Clever Endeavour Games has spent years adding free content, like new animals, outfits, and levels.
At the moment, Ultimate Chicken Horse is the only game that Clever Endeavour Games has developed. There are no current sequels or prequels to the game. Even though Clever Endeavour Games is a relatively new indie studio, we'll likely see more amazing games from them in the future.
Ultimate Chicken Horse Cheat Codes
In Ultimate Chicken Horse, players can collect mystery boxes while playing that unlock new levels, characters, and outfits. There are a total of 59 unlockables in the game, which means that it can take some time to unlock all the game's content. Luckily, there is a cheat code that unlocks everything instantly.
Pressing Dance Dance Run Run Dance Dance RotateRight in this order will cause every unlockable in the game to immediately be available. Here is a list of the button combinations for each platform Ultimate Chicken Horse is on:
R R Shift Shift R R E" (keyboard)
"Y Y X X Y Y RB" (Xbox controller)
"Triangle Triangle Square Square Triangle Triangle R1″ (PS4 controller)
"Y Y X X Y Y R" (Switch controller)
Achievements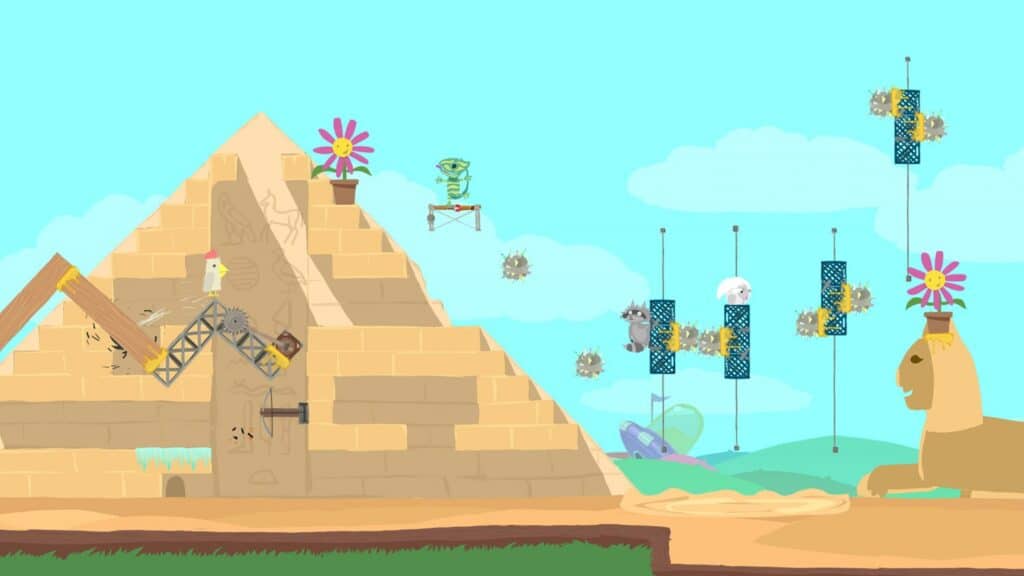 There are a total of 32 different achievements that players can earn. It's important to remember that if a player uses the cheat code that unlocks everything, they won't be able to earn any achievements that relate to unlockables. The only way to get the achievements is to reset your game progress through the Treehouse game menu.
| | |
| --- | --- |
| Achievements | Requirements |
| Super Ultimate Chicken Horse! | Congrats! You've unlocked all of the trophies. |
| Gettin' the Hang of It | Play 10 games |
| Seasoned Vet | Play 30 games |
| Ultimate Expert | Play 100 games |
| Techie | Play 10 games online |
| Showoff | Play 50 games online |
| Takin' On the World! | Play online with a local friend |
| Trappist | Place 200 traps |
| Threat to Public Security | Place 1000 traps |
| Young Explorer | Unlock a level |
| Magellan | Unlock all levels |
| A New Friend Appears | Unlock a character |
| Building A Community | Unlock all characters |
| Gettin' Fancy | Unlock an outfit |
| Full Wardrobe | Unlock all outfits |
| Wilhelm Audition | Fall into the void 100 times |
| Animal Cruelty | Kill people with traps 100 times |
| Archer | Kill someone with an arrow 100 times |
| Goon | Kill someone with a hockey puck shooter 100 times |
| Not So Sharp | Die on barbed wire 10 times |
| Neat and Nimble | Wall jump 1000 times |
| Craftsperson | Attach two blocks together with glue |
| Engineer | Glue four blocks together |
| Necromancer Dancer | Get 10 post-mortem points |
| Space-Time Cadet | Teleport 50 times |
| Clutch Performer | Enter sudden death 20 times |
| Greedy McGreedster | Get 50 coins |
| Droppin' Bills | Die with the coin 10 times |
| Comeback Kid | Score 50 comeback points |
| Solo Master | Score 100 solo points |
| Spaghetti Award | Die 50 times in a black hole |
| Back to the Basics | Win without any special points |
Ultimate Chicken Horse Cheats FAQ
Does Ultimate Chicken Horse have cheat codes?
Yes, there is a cheat in Ultimate Chicken Horse that unlocks every unlockable in the game. Press Dance Dance Run Run Dance Dance RotateRight to unlock everything instantly.