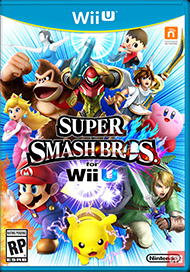 System: Wii U
Dev: Namco Bandai
Pub: Nintendo
Release: November 21, 2014
Players: 1-8
Screen Resolution: 480p-1080p
Cartoon Violence, Comic Mischief, Mild Suggestive Themes
There are so many different ways to play in Super Smash it is very intimidating. Classic Mode, Event mode, All-Star mode, I mean this alone almost feels like it could be daunting to so many groups of players. But if you are a gamer who has to have everything unlocked and everything player, even if you only play with the unlockable once or never, it's going to take you some time to do everything in this game. This alone increases the amount I love this game. As a collector it has become a mission to get everything. Duck Hunt and I shall conquer it all!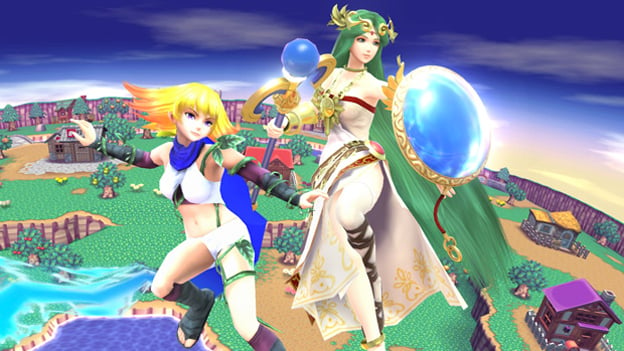 Graphically, this game truly impressed me. I have played a lot of games on the Wii U and I dig the graphically prowess of the machine, but regrettably never felt wowed. However, Smash is a beautiful game. It flows well, it doesn't hiccup (to the best of my knowledge) and even more impressive is that when you have 8 players duking it out plus the environments, plus the vast amount of Poké Balls being thrown out, the game never feels hindered by what is going on. This to me is a huge accomplishment.
Speaking of accomplishments (or is it more nostalgic love?) the score for the game is fantastic. The clarity of the sound is beautiful. Pumping the original Duck Hunt music through the sound system I have made me feel like a kid again. This happened many times with many characters. The only "issue" I have with the sounds in the game is a ridiculous one. The fighter sounds of the characters can get on your nerves, but then again this can be and is the issue with many fighting games.
As I mentioned earlier, I am not a fighting game expert, but I know what I like. I also know the enjoyment I had playing this with friends and the enjoyment I saw when my kids played. In the end Super Smash Bros. is a great game. It is a game meant to be played by every one who has ever wanted to fight Mario versus Peach, and then some. But it is also more about the players who love just smashing the buttons to make their character do cool things, and that's alright too. If you want a fighting game that is easy to get into and even easier to enjoy Super Smash Bros. for Wii U is the only fighting game you need to have.
By
Matt Walker
Editor-In-Chief
Date: November 19, 2014
Game Features:


Compete with classic players from the Super Smash Bros. series, along with new challengers like Mega Man, Little Mac or newly announced Palutena, the Goddess of Light from the Kid Icarus games. For the first time, players can even compete as their own Mii characters.

Use a variety of control methods during the high-energy and action-filled battles, including Nintendo GameCube controllers - the longtime controller of choice for hard-core Super Smash Bros. players.

Customize move sets when playing locally or online with friends.

Connect with amiibo for added fun.

Experience the beauty of Super Smash Bros. for Wii U in stunning HD, a first for the series.

Fight against friends and family locally or online, or battle random challengers from all over the world online in "For Fun" or "For Glory" modes.