It's no secret that I am a huge fan of the comic book medium. I have been collecting comics most of my life. It's the amalgamation of great stories, great art, and awesome cover work that keeps me going. Through the years, there have been so many series that I thought would make great video games. Now that the market is shifting and comic books are showing up more and more in mainstream media, I thought it would be a good time to sound off about what comics that I think would make great games.
Stormwatch (Image Comics)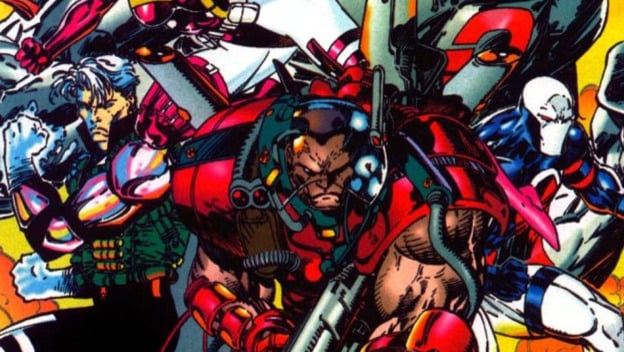 This secret UN team is not only made up of super-powered troops, but it is also unknown to the rest of the heroes appearing in the Image Universe (I know that DC Comics has since picked this title up, but the early version is my favorite). The reason I think this would make a great game is that this team works in shadow and secrecy in a medium where being over-the-top is commonplace. Having to accomplish superhero type challenges and maintain zero visibility to everyone else–including other superheroes–could potentially make for some serious gaming fun. And with there being a team of operatives to choose from, you could easily turn this into a squad-based, third-person action title of epic proportions. Hell, you could even take the idea from Tom Clancy's upcoming title, The Division , and make it an online co-op game where some people are support roles and others are the offensive team.
Excalibur (Marvel UK)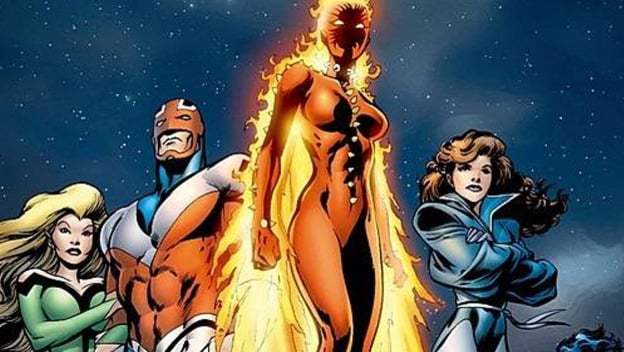 I always thought that this title could have been a great video game. It's got everything from superheroes battling evil, to travelling across dimensions and finding alternate versions of themselves, to a little dragon that is every bit as fearsome as he is cute. Steeped in British mythos and lore, this title could have easily been picked up by a company such as Beenox and turned into a stellar third-person platformer. With the whole concept of dimensional travel, the possibilities are really endless. The best part is that you could have some of the old-school X-men thrown in there for good measure, such as Nightcrawler and Shadowcat. The only real issue I see with this is that after Chris Claremont left the series as writer, they left a lot of things unfinished. So you would need to bring in a great writing team to really dress this one up and make it into something awesome.
ROM (Marvel Comics)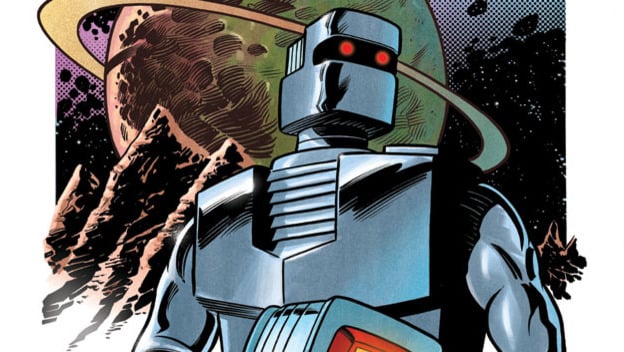 For those of you who are unfamiliar with this title, let me give you the down-and-dirty. ROM is a cyborg knight from the Planet Galador. Rom helped drive an evil alien race called the Dire Wraiths from his home planet, and then he started chasing them around the universe to ensure their destruction. While ROM is based on hyper-advanced Galadorian technology, his enemies–the Dire Wraiths–rely solely on dark magic and the ability to alter their appearance into anything or anyone they encounter. ROM has the Galdorian's greatest weapon, the "Neutralizer," which has the power to blast the Dire Wraiths into the dimension known as Limbo Forever. So the reason I think this could make a great game is the fact that there are 1000 of these cyborg "Space Knights" created by the Galdorians, and each one has unique weapons, armor, and abilities. Then there's the notion of intergalactic travel. If you were to take the concept gaming model of Mass Effect and add in a lot more large-scale action, this game could seriously be incredible.
Magnus, Robot Fighter (Valiant Comics)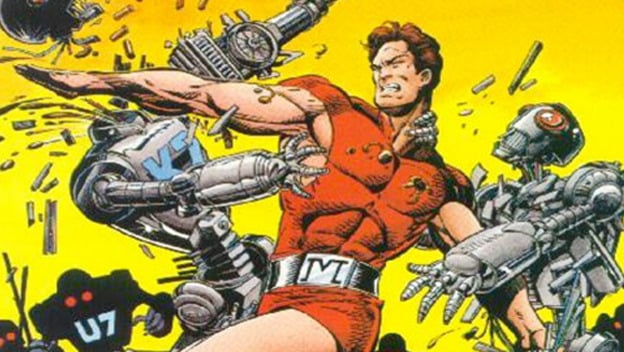 The premise of this title is simple. Humans have become dependent on robots to survive a dystopian future. Robots have become self-aware and want totalitarian rule over humans. But a rogue robot known as 1A (suggesting he was the first) raises and trains a human child named Magnus to be a great martial artist who possesses the power to rip through steel with his bare hands. They live in North Am, which is a megacity that encompasses the entire North American Continent. The city has various levels from lower to upper, each higher level becoming more lavish due to the wealth of its inhabitants. But when North Am is crippled by a radioactive event, some robots and humans see their chance to further their own goals of domination, and it falls to Magnus to try and stop them. Does anyone else think that if you grabbed the team from Ninja Theory that brought us Enslaved: Odyssey to the West and Devil May Cry that this game could be an intense action/brawler?
The War Machine (Marvel Comics)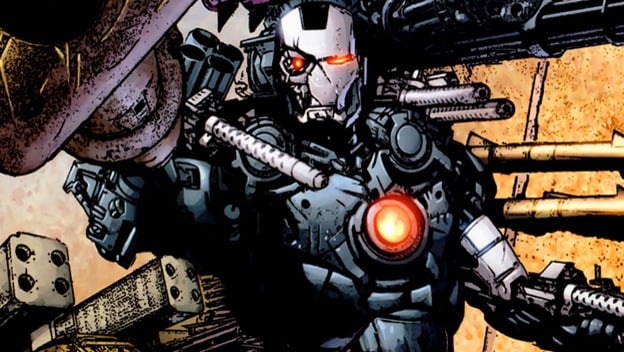 I know that Iron Man has been all the rage in theaters lately. But the truth is that Rhodey and his Iron Man suit, the War Machine, were always my favorites in the Iron Man series. Besides, Rhodes' tactical knowledge is far superior to that of Tony Stark. I know that Stark grew up in a weapons-making empire. But that doesn't make him an expert in combat. That's why I always thought that the War Machine would be the dude I wanted on my six if I ever got stuck in a combat situation. So let's break this down as a game. I am thinking third-person shooter, with someone like Naughty Dog or Insomniac Games at the helm. This game needs a studio that can tell a great story and then wow you with action that is just as intense. Then you add in the customization of the suit and weapons and the possibility of calling in emote-guided Iron Man suits and you got yourself one hell of a shooter.
Venom (Marvel Comics)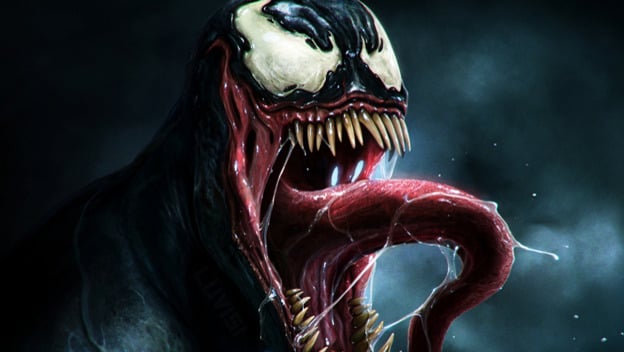 Is anyone else tired of the fact that Venom doesn't have his own movie or game yet? The one time I actually thought that Venom was done well was in Beenox's Spiderman: Edge of Time , where he appeared as his alternate self: AntiVenom. But Eddie Brock and his symbiote pal deserve to have their own game. Venom has wreaked more havoc in the Marvel Universe than most other villains and has made countless cameos and appearances throughout the titles of Marvel Comics. Again, I am thinking someone like Insomniac Games or Radical Entertainment for the developer. This game would almost have to be open world in order to experience the full effect of the carnage that he could bring. Speaking of which, who better for him to try and take down than the other symbiote menace, Carnage? Those two duking it out in a major metropolitan area would make Godzilla look like a salamander.
The Maxx (Image Comics)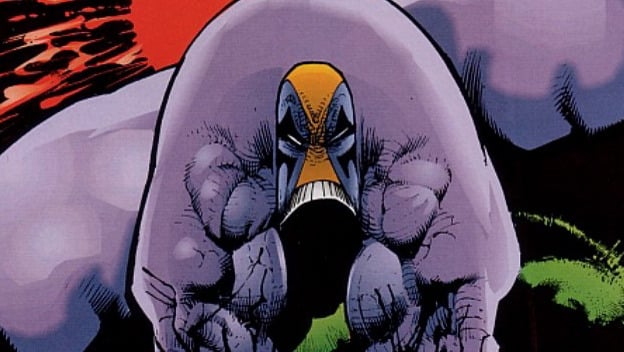 This comic book series would make a great game if it were put in the hands of the right people. It's got all the makings of a total mind-melting story, with its mix of great action and an amnesiac superhero…who is homeless…and drunk most of the time. The story revolves around the Maxx. He is a masked amnesiac and homeless drunk who is constantly being bailed out of jail by a social worker named Julie Winters. But in the alternate reality of the Outback, which only the Maxx knows about, Julie is the Jungle Queen and the Maxx is her protector. The best part of this story is that you never really know if the real world is real or if the Outback is a fever dream brought on by alcohol abuse by the protagonist. But either way, the nefarious Mr. Gone has a telepathic link to Julie and the Outback world (apparently, we all have an alternate universe that we exist in and can choose to embrace or forget), and he plans to use it to do evil things. The Maxx is the only thing that can stop him; so naturally, Mr. Gone wants him dead and will stop at nothing to make sure that happens.
Kabuki (Caliber Press)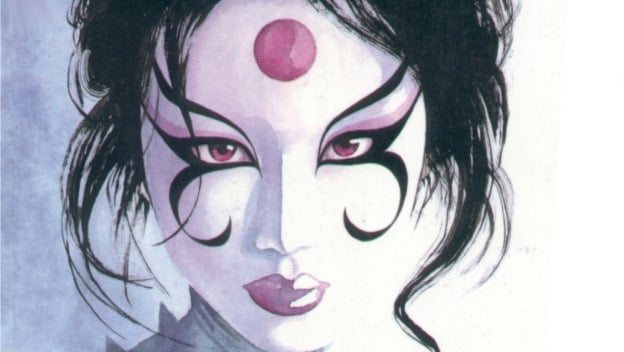 This story reeks of video game greatness. I'll do my best to explain it in one paragraph. Ukiko is raised to be an assassin by a man known only as "The General." She is the illegitimate daughter of The General's son, Kai, who raped his father's new wife, Ukiko's mother. The General raises her as his own and trains her to be an assassin for his clandestine organization known as the Noh, and she becomes one of its top operatives. The agency is eventually disbanded, leaving Ukiko (now called Kabuki) with an old man named Dove, who reveals himself as her biological Grandfather. He sends her on missions to take down the Noh and several political figureheads in an effort to stop Kai's reign and end the needless bloodshed used to keep their society in check. After succeeding in killing nearly everyone who had anything to do with the Noh, she is terribly wounded but saved by another secret organization who holds her captive and interrogates her about the Noh. Meanwhile, the other operatives of the Noh have been reactivated and assigned the task of finding and killing Ukiko. She evades them with the help of a fellow inmate. I'm just staying that if this game were given to the right team, it could be every bit as awesome as the comic.
The Savage Dragon (Image Comics)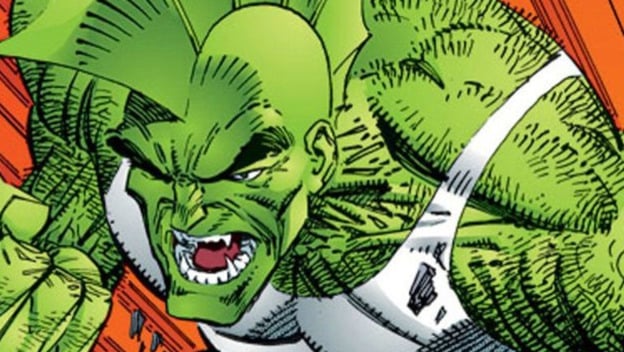 "Bloody." "Brutal." "Brawler." Those are the three words I would use to describe a game worthy of the Savage Dragon name. When Erik Larsen put this title out, it was one of the most violent and intense series on the market. Then you weave in the plot of a man waking up in a burning vacant lot in Chicago, who suddenly has green skin and a fin on his head, and things get a little more interesting. Then you mix in the rampaging hordes of super-criminals he always seems to be fighting, and you got yourself the makings of a great action/brawler. You could even bring in the likes of Dart and Super Patriot to make this a multiplayer smash-fest of insane proportions. The art style would have to be over-the-top and as crazy as the characters that pop up in this series. There wouldn't be a ton in the way of amazing storytelling, but in the face of such intense action, would you really need a ton of story to keep you wanting to smash faces wholesale?
Lobo (DC Comics)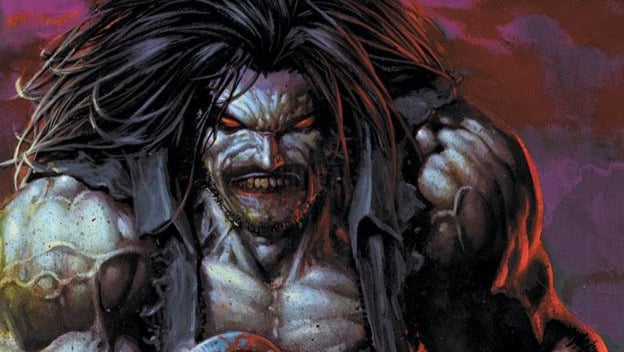 For a character that was really created to be the butt of so many jokes in the DC Universe, Lobo has smashed, murdered, and smart-assed his way to the top of the heap of antihero fame. He rockets around the galaxy on his space motorcycle and kills pretty much anything or anyone that gets in his way. Essentially, he is nothing more than a mercenary and bounty hunter. He goes where the money is. And sometimes he just goes where the action is. And other sometimes he just goes for the hell of it. But no matter what his motivations, you can rest assured that wherever Lobo is, disaster is coming with him. I mean, this guy killed his entire race as a child. Even Stan Lee from Marvel Comics said that Lobo was hands-down his favorite character in the DC Universe. Apparently, he even threatened the guys at NetherRealm for not putting him in Injustice . He scared them so much that they were forced to put him in the game or face the consequences. But seriously, if you grabbed the guys at High Moon (they brought us Deadpool ) and gave them the reigns, I think that the Lobo game would be one that people would love…or Lobo would kill them for not liking it.