Airline Manager 4 is playable on multiple platforms, including iOS, Android, PC, and Mac. Even when playing on a browser, the game is 100% free with no ads. If you want to become the next big plane tycoon, this is the best airline manager game for you. Players can compete against friends and challengers from across the globe as they look to dominate the skies. The game was developed and published by Trophy Games and released in 2021. Described as a "multiplayer aviation simulation game," you can become more significant than real-life corporations like United Airlines, Emirates, Lufthansa, and Ryanair.
As for cheat codes, the game doesn't have any available or even console commands to use. Your best bet is to use specific strategies and tactics to increase your revenue.
Airline Manager 4 Premise
In Airline Manager, you have the opportunity to purchase more than 360 actual plane types and fly to over 3,600 real airports. The game is filled with functional features allowing you to control your empire completely:
Track your flights live on the interactive map
Schedule plane repairs and maintenance
Customize your aircraft seat configuration
Buy fuel and CO2 quotas at the right time to optimize profits
Flight time calculator
Flight distance calculator
The game allows you to become a CEO of a airline tycoon as you focus on delivering cargo and passengers, while navigating the difficulties of employee happiness, consumption, revenue, and so much more.
Airline Manager 4 Main Characters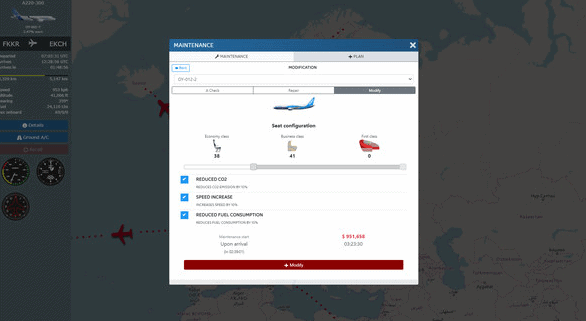 As with most simulation games, the product lacks any single-player storyline, resulting in fewer NPCs or characters of note. Instead, you have a cast of employees and board members who help you manage and run your company. Here is a list of the main characters in the game:
The Player (You): As the player, you take on the role of an airline manager, making all the decisions and managing the operations of your airline.
Chief Financial Officer (CFO): The CFO is a key character who assists you in managing the financial aspects of your airline. Based on the title, it's no surprise this NPC is all about revenue and managing investments. Use their advice for cost management.
Chief Operations Officer (COO): The COO is responsible for overseeing the day-to-day operations of your airline. They handle the logistics, maintenance, and scheduling of flights, as well as manage the ground staff and crew. This specific NPC is going to help your crews remain happy and efficient.
Chief Marketing Officer (CMO): The CMO is responsible for developing and implementing marketing strategies to promote your airline's brand and attract passengers. This NPC will dictate everything containing your branding, message, and vibe, and they will work closely with the others to ensure a satisfied customer.
Airline Manager Titles in the Series
The game has grown significantly over the years as a cult following continues to play the game. The latest installment is downloadable on Steam, as well as your typical web browser and smart phones.
Airline Manager (2012)

Playable Platforms: Android, iOS, Web browser

Airline Manager 2 (2014)

Playable Platforms: Android, iOS, Web browser

Airline Manager 3 (2016)

Playable Platforms: Android, iOS, Web browser

Airline Manager 4 (2021)

Playable Platforms: for iOS, Android, Web browser
Sadly, the latest edition has mixed reviews on Steam with a myriad of issues.
"Honestly, I was really looking forward to playing this game – the concept is cool and I like planes so it was a good fit for me," reads one review. "Unfortunately, the game is insanely slow paced due to the planes seemingly flying in real time which limits your progression to a crawl. It was really fun with the one free 4x speed boost but without it the game isn't engaging at all if you want to play actively (and for free). Really a shame."
Like most mobile games simulating real-life time frames, the game can feel slow and tedious. And if you want to speed the process up, you must pay real currency. This problem is all too common for mobile gaming and is one of the massive issues currently in online mobile gaming.
Airline Manager 4 Cheat Codes
Sadly, the game has no embedded cheats or console commands, so you'll have to use helpful hints from experts. There is one possible chance at downloading free in-game currency from a third-party website. I'll have the instructions and link to the website below, but be careful. I wouldn't advise this, and I would stick to playing the game as intended.
Head to Nova Games, and click one of these buttons.

You'll access their generator and then have the option to enter in a large number sum for money and points. you'll then enter in your in-game username and select which platform, iOS and Android. It looks like there is no support for web browser users.
Then you'll be asked to verify your validity as a human and not a bot by downloading a game or answering a survey. I would heavily advise the survey and not download anything to your phone. It says to restart your game, and you should have your currency.
I have not tested the validity of this cheat, and I'm very suspicious this could work, so do this at your own risk.
Now for some safe hints and advice for actual players of the game.
The first hint is straightforward; you want to fill out your fleet at each tier before moving on to the next. This will allow you to capitalize at each level, gain valuable cash when you go to sell, and stop you from overspending. It may be tempting to upgrade after purchasing only a few planes, but you must play the long game. You should also start the game with an entire fleet of either DC-9-10 or BAe146 planes. Then, and only then, should you start selling them off to upgrade to the second tier of planes.
The second hint is to keep your worker morale at 80% or above. This will stop your staff from legal action or striking while keeping your customers happy. There is no need to keep it at 100% since you'll be overpaying for employee happiness.
The third hint is always to buy fuel when it costs $500. That price can be rare, so you won't always have the opportunity, but any time you see that price, buy as much as you can.
Airline Manager 4 Cheat Codes FAQ
How to make money fast in Airline Manager 4?
Unless you're willing to spend real-life currency, you'll have to play the long game. Spend time building up your fleet to the max at each plane tier. Then once you hit the capacity, sell them off to start your next level. Be sure to complete all steps. Pay attention to fuel prices, and don't spend too much on marketing. Keep your employees at 80% or above for happiness, and you'll slowly start to build your empire. Sorry, this game is almost impossible to make money quickly without financial help.
Can you sell a hub in Airline Manager 4?
No, you can not sell a hub in Airline Manager 4. You can only abandon it.
What are the specs for Airline Manager 4?
Here are the listed system requirements.
Minimum
OS: 64-bit Windows 7 / 8 / 10
Processor: Intel i5, 2.4 GHz
Memory: 2 GB RAM
Graphics: Integrated HD Graphics 520 w/128mb
DirectX: Version 8.0
Network: Broadband Internet connection
Storage: 250 MB available space
Sound Card: DirectX Compatible Sound Card
Recommended
OS: 64-bit Windows 7 / 8 / 10
Processor: Intel i5, 2.4 GHz
Memory: 8 GB RAM
Graphics: Integrated HD Graphics 520 w/128mb
DirectX: Version 8.0
Network: Broadband Internet connection
Storage: 4 GB available space
Sound Card: DirectX Compatible Sound Card