It's time to talk cars. Grand Theft Auto is all about them, after all. You don't have to kill anyone to perform the titular crime and earn yourself a new ride, but in the end, the goal is a car. Grand Theft Auto V has been out since 2013, making it ten years old as of this article. Players who don't want to pay for online access to join GTA Online still play the vast story mode where cars are still king. There are so many options, though, that it's overwhelming, especially for a newbie.
Right now for those who do have GTA Online, there are a whopping 722 possible cars! That's the most in any Grand Theft Auto game so far. While not quite as plentiful, the story mode in GTA V boasts 348 controllable cars. That number is still double previous Grand Theft Auto games.
You'll have your own favorites and plenty of short-term use vehicles, but sometimes you need a car you know can outperform others and get you where you need to be without any interference. So whether you're jumping back in to finish or just now buying GTA V, it's good to know the clear favorites every player should consider investing in.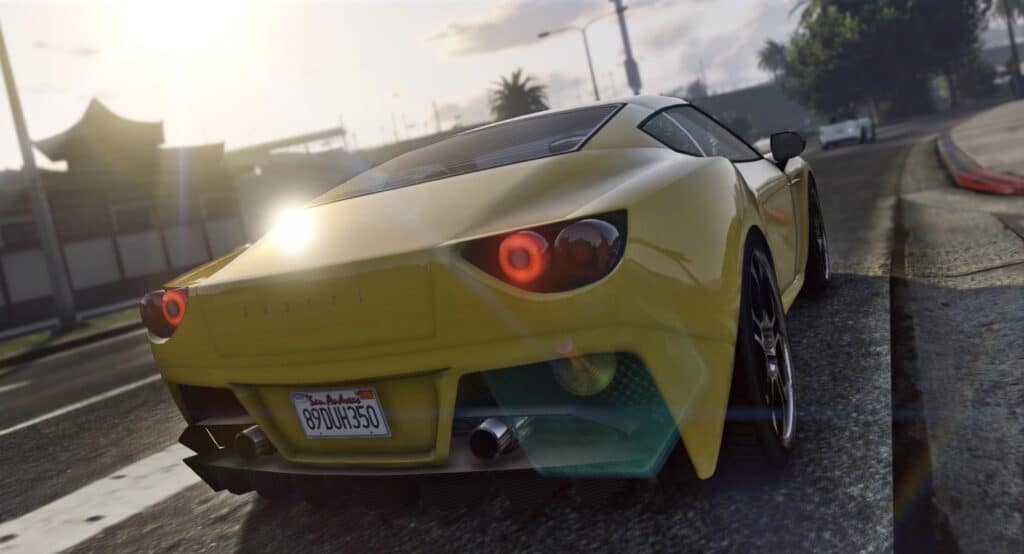 What makes a car worth seeking out, spending the time and money on, and customizing it to the gills? Grand Theft Auto is about 50% functionality and 50% style, so having a car that looks the part while still being able to perform is key. Whether you have expensive tastes or want something that looks mean, you want your vehicle to be able to outrun the authorities and dodge the terrible NPCs making a mess all over the road.
So, with those attributes in mind, let's look at the five best cars overall in Grand Theft Auto V's story mode.
5) Dewbauchee Massacro
The Massacro, again, is another car for those with expensive tastes. The good news here is that while it resembles a high-end Aston Martin, it won't put a massive dent in your wallet. In GTA Online the Massacro costs $275,000 from Legendary Motorsports. In the story mode, though, you'll simply have to steal it. Two different-colored and fully loaded versions of the car will spawn at the West Vinewood Garage at night and at Los Santos Customs in Virgin during the day.
You'll be able to acquire this 2-door sports car earlier in the game, giving you access to a very suitable ride. The Massacro has some of the best speed in the game and good braking to manage that speed. Unfortunately, it may not always enjoy top-speed turns, but it's still a gem for a very reasonable price. The Massacro's top speed clocks in right around 121 mph.
Vehicle Stats
Speed – 82.09
Acceleration – 90.25
Braking – 30.00
Handling – 74.24
Overall – 69.15
4) Pegassi Zentorno
The Zentorno is a high-end Supercar. Its look is modeled after various Lamborghinis, real-world Supercar stars in their own right. The Zentorno is an exotic-looking ride that will get the job done while impressing all your rich buddies. Rightfully so, as it'll cost you $725,000 from Legendary Motorsports.
It has the fastest car acceleration in the game but doesn't slouch in other areas as a result. It's got great handling for taking corners at high speed, partly due to its low suspension. You won't have to worry about frequent spinouts, as the four-wheel drive helps keep those in check. The Ventorno clocks in at a top speed of 122 mph to round things out.
Vehicle Stats
Speed – 85.31
Acceleration – 88.75
Braking – 33.33
Handling – 80.30
Overall – 71.92
3) Entity XF
The Entity XF from Overflod is an all-around beast on wheels. It's got style with a body modeled after two different Koenigseggs with a little Porsche thrown in. It has both speed and handling at an elite level, so you can compete with almost any other car in the game when it comes to evading. Add on to that decent acceleration, and you've got a beautiful vehicle with quality in all the right places.
The Entity XF is a 2-seat Supercar that's been in the game since it initially launched, which makes its inclusion on this list even more impressive. While it's a bit pricey, the game definitely has more expensive cars. You can get an Entity XF from Legendary Motorsports for $795,000, which you should have somewhat early in a playthrough. As a bonus, you'll get some really good whining from the engine as you work up to the car's 121 mph max speed.
Vehicle Stats
Speed – 83.16
Acceleration – 82.50
Braking – 29.99
Handling – 83.33
Overall: 69.75
2) Truffade Z-Type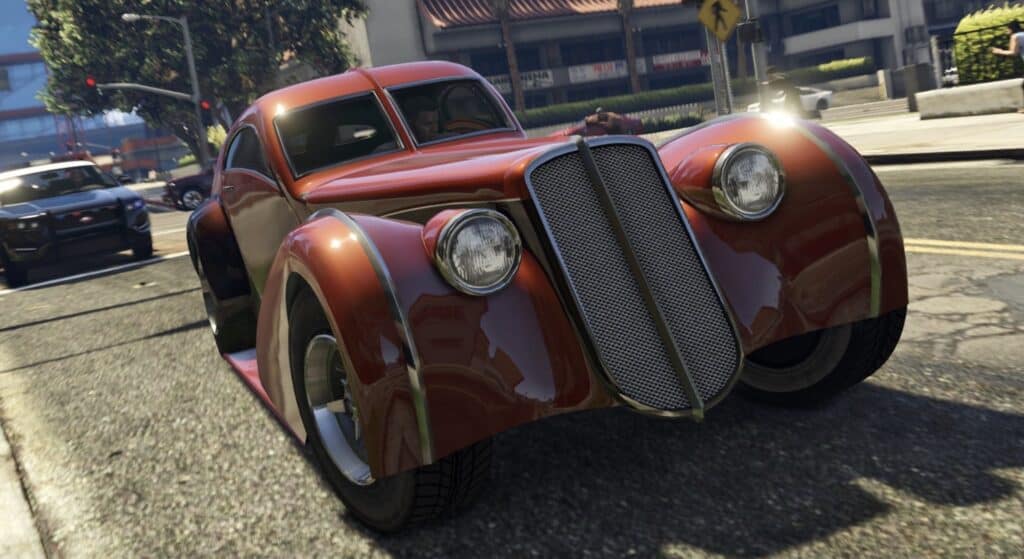 The Z-Type stands out as the most unique-looking car on this list, and probably the game, for that matter. It's a Classic Sports car modeled after the very rare real-life 1937 Bugatti Type 57SC Atlantic. This car is so unique that its first appearance in the Grand Theft Auto franchise is actually in GTA 2 from 1999. While its cousin, the Truffade Adder, maybe in other top 5 lists, this car's style outweighs that car's performance.
The Z-Type is the second fastest car in the Grand Theft Auto story mode, clocking in at a swift 126 mph. The unique style and the car's top-notch performance make it the most expensive car in the game if you buy it. You can purchase one from Legendary Motorsports, but the price tag is a staggering $10,000,000. That makes it a purchase for later in a play-through as it costs as much as some of the properties, but when you have the money, it's worth it.
Alternatively, you can do a little work if you haven't already completed a specific mission and get the car for almost nothing. During the mission "Eye in the Sky," you can jump and steal the car and park it in a garage. Exit the vehicle and let it stay in the garage for a minute. Then, get in the car again and leave it abandoned outside, and it will be impounded. Do not retry the mission; you can then retrieve the car from the impound for $250. Sadly, if you've already completed this mission, you won't be able to get it this way.
Vehicle Stats
Speed – 75.11
Acceleration – 55
Braking – 13.33
Handling – 50
Overall – 48.36
1) Pisswasser Dominator
The Dominator is the fastest car in Grand Theft Auto V. It's a 2-door Muscle Racing car from Manufacturer Vapid. The model is based on a newer style Ford Mustang, but with its speed and sponsorship stickers, you could also mistake it for a NASCAR racer. It has a top speed of 125.5 mph, but don't worry, it's also got decent acceleration. This is the go-to car for speed if you want to leave everyone behind. While it may be a little fast to try and outmaneuver some of the other vehicles on this list, it will undoubtedly outrun them.
Finally, a reward for the "OG" players who picked up Grand Theft Auto V back on PlayStation 3 or Xbox 360. Those players who return to the game on a newer console such as PlayStation 4, Xbox One, or PC can get a Dominator without spending any money. Those players must simply win the first three stock car races, and then the car will be there waiting to hop into and claim. Those who aren't jumping from older consoles to new-gen don't have this option. The Dominator's price tag on GTA Online is $315,000 from Southern S.A. Super Autos.
The car is highly customizable, but you'll have to keep the sponsorship stickers no matter what else you do to it. While keeping this look may be a downside, it makes sense that the fastest car in the game looks like a race car as it's zooming past the competition.
Vehicle Stats
Speed – 78.87
Acceleration – 77.50
Brake – 29.99
Traction – 69.69
Overall – 64.0