Merge Mansion is a puzzle mobile game developed by Metacore, released in 2020. The game has over 10 million downloads on the Google Play Store and a 4.6-star rating on the App Store. It is also ranked as one of the best games in the App Stores Puzzle genre. The game works on a freemium business model. So it's free to download, but users can purchase in-game items and currency with real money. With over 40 million downloads worldwide, it is one of the most successful apps on either platform. This has also contributed to the game generating $40 million in revenue.
The game is most famous for its advertisements, which people generally describe as "weird," "dramatic," and "just looking to go viral." The ads first began as animated shorts, usually depicting creepy or odd things that go on around the mansion. What stands out to audiences is the portrayal of the grandma, Ursula, as a deceptive, manipulative woman. Metacore began running live-action adaptation advertisements featuring Oscar-award-winning actress Kathy Bates as Grandma Ursula, along with the animated ads. These gained lots of attention, including videos from YouTubers MatPat and Danny Gonzalez, which gained millions of views. Later ads feature Pedro Pascal as Detective Tim Rockford, helping the channel reach 50 million views.           
Merge Mansion Premise 
Merge Mansion follows Maddie arriving at her grandmother's mansion. She must take on the responsibility of renovating the grounds and repairing all items around the house, after receiving the keys. Without the player's help, the mansion will be condemned, and Grandma Ursula will lose everything. The gameplay involves players merging items together and completing puzzles. Users heavily criticized this aspect, claiming that the ads and the actual gameplay do not match. Players believe the gameplay is subpar, while ads show off the game as more of a murder mystery.
Players will have to solve puzzles, similar to Candy Crush, to advance to the next area. As you continue, Grandma Ursula will discuss family secrets while remaining vague and inconspicuous. However, players have noted that the storyline in-game doesn't tell a complete story and never answers questions as to what is happening.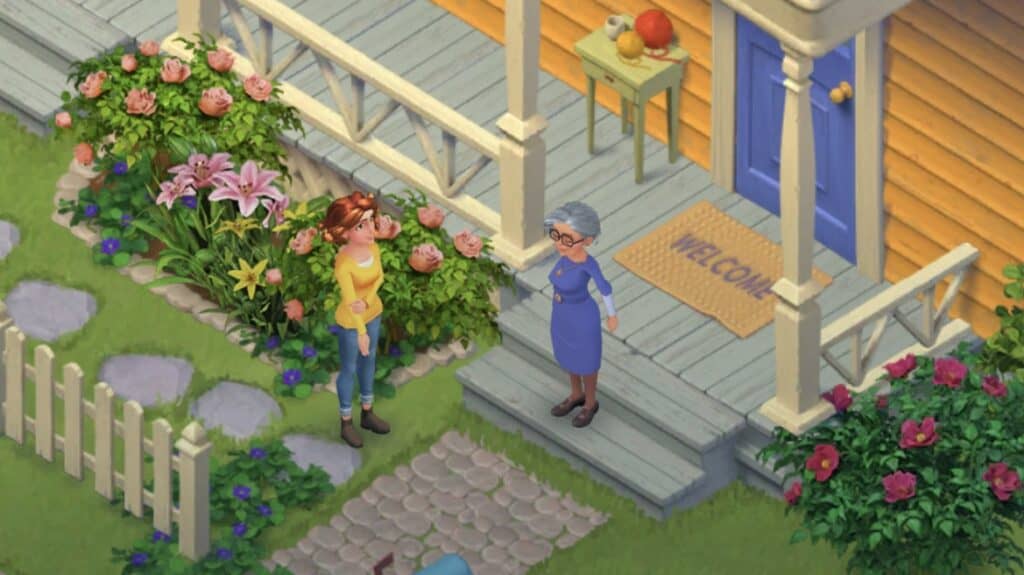 Merge Mansion Main Characters
Maddie: Maddie is the protagonist of Merge Mansion, and who the player is controlling. She is a professional engineer and inventor, giving her background on why she can easily merge items. While renovating the house, she also takes interest in learning family secrets and mysteries. 
Ursula: Grandma Ursula is the owner of the mansion and Maddie's grandmother. She sneaks around the grounds and keeps family secrets away from Maddie. 
Roddy: Roddy, a local architect, tells Maddie that the house will be torn down if she cannot renovate it. They both have a crush on each other, but neither realizes that the other has feelings.
Merge Mansion Titles in the Series 
There are currently no sequels or games in the Merge Mansion series. Metacore has only made one game, Merge Mansion, but is currently being given the rights to Everdale by its investor Supercell. Players who want more Merge Mansion can enjoy regular updates and features for new content to play. 
Merge Mansion Cheat Codes
There are no cheat codes in Merge Mansion for a variety of reasons. The game works on a freemium model, meaning that in-game purchases are an important part of the developer's revenue. Adding cheat codes would hurt their sales, making the shop obsolete. The game is intended to challenge players as they solve and complete puzzles. Cheats would take away from the intended gameplay experience and provide a different, unintended experience by the devs.  While some websites offer cheats and unlimited currency, users should avoid them as they are fake. Using these sites can put your device at risk or worse.
Merge Mansion Cheat Code FAQ
Are there cheat codes in Merge Mansion?
No, Merge Mansion does not feature any cheat codes. Players looking for more resources can purchase them from the shop or return daily for rewards. Any website that claims to have cheat codes should be avoided since they are fake.
How do I get free gems on Merge Mansion?
It is only possible to get free gems in Merge Mansion if won from rewards or claimed from the Daily Box. Players can also purchase gems from the in-game shop. You can also get gems by completing levels. The more you play the more you will earn.