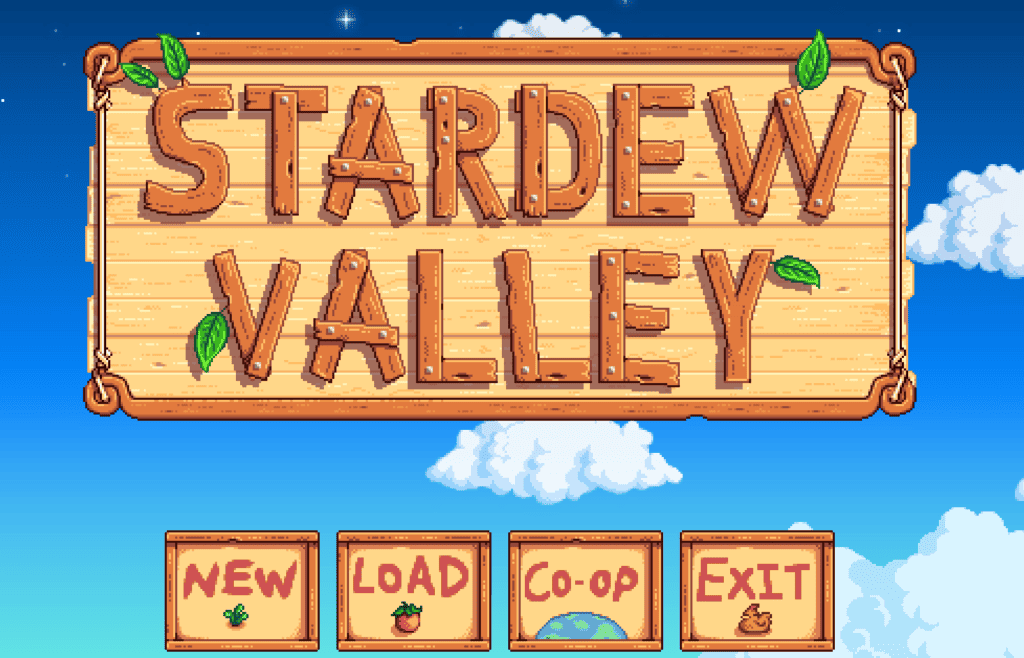 Stardew Valley is a cozy gamer's favorite farming simulator. It's designed/developed by Eric Barone; also known as ConcernedApe online. This beautiful game was first released on Windows on February 26, 2016. It has since been ported on many many different platforms. A few popular ones are Nintendo Switch, PlayStation 4, iOS, and Android.
What's this Game Really About?
When you first immerse yourself in the pixelated world that contains the quaint and quiet Pelican Town, you start as a miserable office worker just begging to get out of the mundane. Then, out of the blue, you're hit with the death of your grandfather. Truly awful. But wait! The letter also informs the player that they shall inherit his farm. This might just be the escape we were looking for. It's time to start our new life! Thank you grandpa, you were a real one to the very end.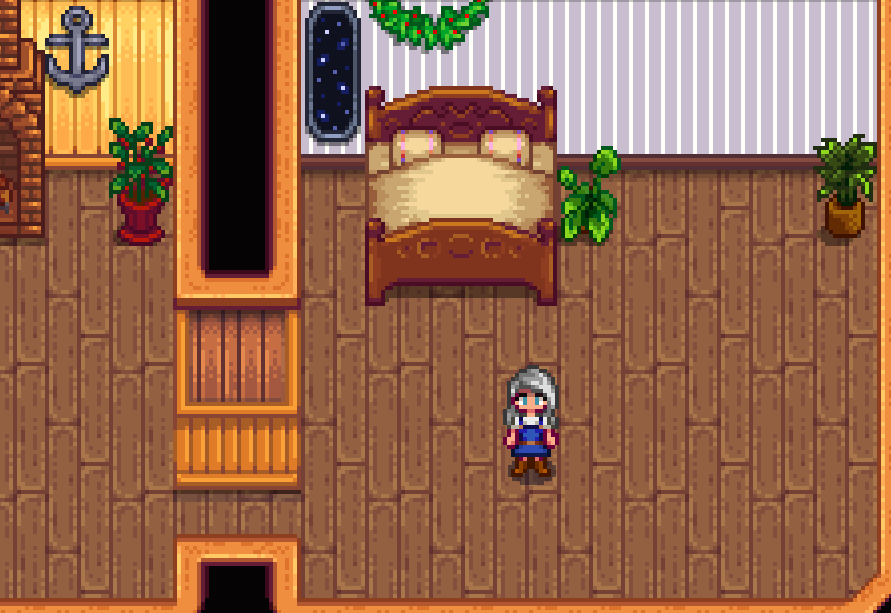 After the deep and painful grief that the player goes through, they can finally step foot on their new farm. What a joyous day! Except, the entire town is falling apart. Oh geez, can't we just get a break? Even still, the game follows the player as they bring the town back to its former glory (with the help of a loner wizard). Along the way, you can make friends with the townspeople and even fall in love. Not to mention, you get to rebuild your grandfather's farm and make it your own. This game allows the player to live a small, but meaningful, life while also making a difference.
Characters
Stardew Valley has a plethora of characters to interact with. One of the strengths of the game itself is these character interactions. As stated above, you can form a romantic relationship with the townspeople and build a family. To keep things organized, I'll split the characters up into non-romanceable characters and romanceable ones.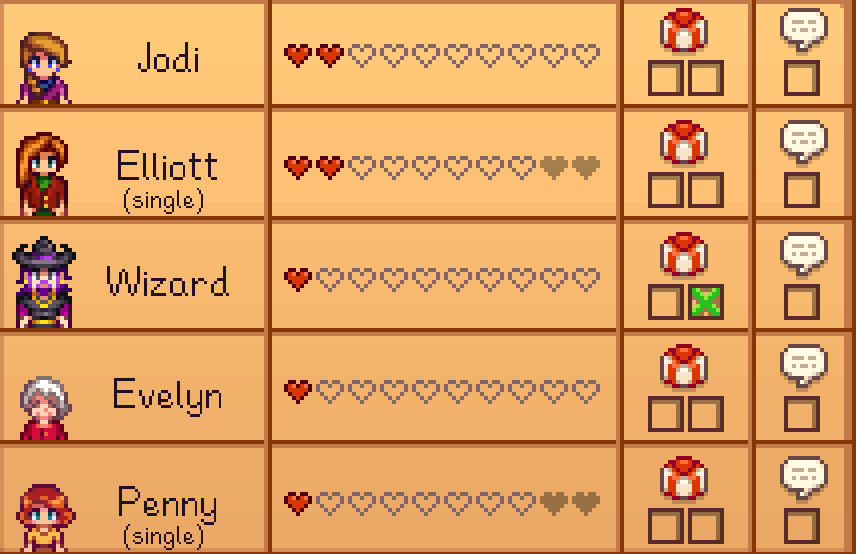 Non-Romanceable Characters
While romance can be fun, this game has a decent amount of characters that you can't romance. I find that games like this tend to struggle to balance between romanceable and nonromanceable characters, with the romanceable ones severely taking over. Stardew Valley allowing the townspeople to not like you in that way is nice. These characters are there to help build up the town, rather than the individual player.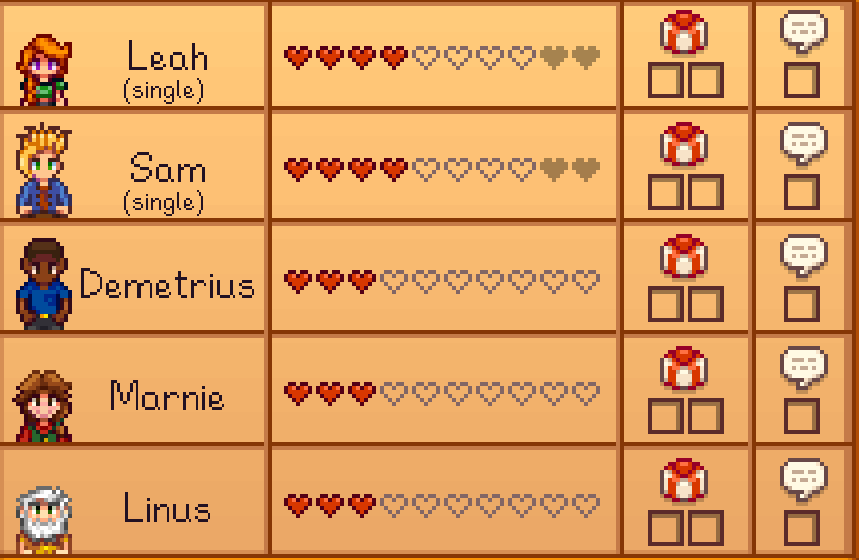 Marne – She runs the other ranch in town. She is in charge of providing farm animals as the player progresses. She is the aunt to both Jas and Shane.
Kent – Husband to Jodi, and the father of Sam and Vincent. During the first year he is away serving in the army. He later returns in Spring of year two.
Caroline – The mother of Abigail, and wife to Pierre. She sports green hair opposite to her daughter's purple one.
Clint – A bearded man that runs the blacksmith shop.
Robin – Owner of the carpenter shop. She has red hair that's tied in a ponytail with a yellow vest. She is the wife of Demetrius, and is the mother of Maru and Sebastian.
Pierre – Owner of the general store. He has swooped back auburn hair and glasses. Caroline is his wife, and Abigaile is his daughter.
Demetrius – Is a scientist that studies the wildlife in Stardew Valley. He is the husband of Robin, and the father of Maru and Sebastian.
Jodie – Mother of Sam and Vinvent. She is also the wife of Kent, and waits patiently for him to return.
Gus – A portly man with a mustache who runs The Stardrop Saloon.
Sandy – Runs the store in the desert called Oasis.
Evelyn – The sweet old lad of the town. She is the grandmother of Alex, and the wife of grouchy George.
Lewis – The mayor of Pelican Town.
George – The grouchy old man of the town. He is the husband of Evelyn and grandfather of Alex.
Linus – A homeless man found in a tent in the mountains.
Krobus – A lil guy found in the sewers. You can "friend romance" him and he can live with your character if you don't romance anyone else. However, it's not a romance.
Willy – The owner of the fish shop, he gives you your first fishing rod.
Jas – Marnie's little nephew. She's a cute girl with purple hair tied in pigtails.
Leo – Originally found on Ginger Island, until you max friendship with him. Once that happens he becomes a villager in Stardew Valley.
Vincent – Son of Jodi and Kent. He is also the little brother of Sam.
Pam – The driver of the Pelican Town bus. She is the mother of Penny, and can be found at the Saloon after hours.
Wizard – A loner who lives in the tower in the woods. He helps you repair Stardew Valley.
Dwarf – A little guy that looks like jawa that chills in the mines.
Romanceable Characters
Now for the fun part, the romanceable characters. I know I know, I just said it's nice games don't make everyone romanceable and I stand by that! However, I am a romantic at heart and will always love being unoriginal and snagging the socially awkward loner dude. Can you guess which one I always romance? It's also good to note this game doesn't require you to be a certain gender before pursuing any of these characters.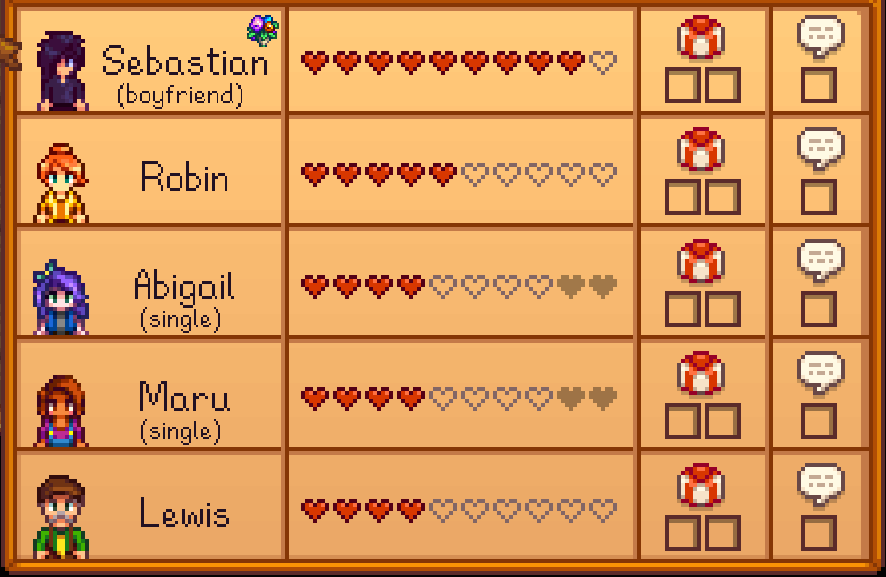 Elliot – A romantic writer with long luscious blonde hair. He can be found in his small house on the beach.
Abigail – A gamer girl with purple hair. She can be found living with her parents at the convenient shop.
Shane – The town drunk. He is found living with Marne on her ranch.
Emily – Is a spunky girl with blue hair. She works at the Saloon with Gus.
Sebastian – A loner who codes for games in his parents basement. He has a soft spot for frogs, so that makes up for it.
Haley – She's the it girl of Pelican Town. With long blonde hair and an attitude she isn't for the weak to pursue.
Sam – A rockstar with spiky blond hair, he can be found at his parents house or skating around Pelican Town.
Leah – An artist that lives in a cottage by the Ranch. Very much a cottage core lesbian.
Harvey – The doctor of Pelican Town, sporting a mustache and some glasses. One of the easiest to romance in the game.
Maru – The glasses wearing cutie that tinkers around in her room at the carpenters shop. She also helps Harvey at the town clinic.
Alex – The hot jock on the streets. Gives off himbo vibes with his sport jacket and spiky brown hair.
Penny – The sweet ginger and shy teacher of the town.
Item Codes
As you can see, there is a lot for you to do in this valley: Juggling friendships, romance, the entire Valley's wellbeing! That's so much put on your shoulders. Poor you, honestly. Well you're in luck gamer because I have some helpful tips and tricks for you to make this game easier. I know I know, I'm such a giver. So without further adieu, here's some of the more helpful cheats in the game. Disclaimer, this cheat code won't work on all platforms, as some of them have been patched.
"Make that Money" Codes
One of the more helpful cheats in Stardew Valley is the infinite item codes. These codes are different items that you want to constantly spawn. Any time you can name an animal on your farm, you need to name them the cheat code that you want. There are a few different ways you can use these codes. Whether you want to make more money at a quicker rate, or you want to boost someone's relationship with you, it's a helpful tool to use. As I said, making money is something that'll be easy peasy with these codes. Down below I listed some of the items that are the most lucrative. I'll also list how much each item goes for at their base level. Here are a few of their codes.

Legend (5,000G) [163]
Diamond (750G) [72]
Ostrich Egg (600G) [289]
Glacier Fish (1,000G) [775]
Mutant Carp (1,000G) [682]
Golden Egg (500G) [928]
Star Fruit (750G) [268]
Truffle Oil (1,065G) [432]
Rabbit's Foot (565G) [446]
Lava Eel (700G) [162]
Pearl (2,500) [797]
Crimsonfish (1,500G)[159]
Angler (900G) [160]
Green Slime Egg (1,000G) [680]
Purple Slime Egg (5,000G) [439]
Red Slime Egg (2,500G) [437]
Blue Slime Egg (1,750G) [413]
Tiger Slime Egg (8,000G) [857]
Fairy Rose Honey (680G) [595]
Ice Pip (500G) [161]
Blobfish (500G) [800]
Golden Pumpkin (2,500G) [373]
Star Shard (500G)[578]
Prismatic Shard (2,000G) [74]
Radioactive Bar (3,000G) [910]
Dino Mayo (800G) [807]
"I Just Want to Find Love" Codes
Another reason why this code is so helpful is because of the romance and friendship system in this game. While talking to the townspeople makes them like you, it's definitely not the most effective way for them to give you their trust. The fastest way to these characters' hearts is by giving them gifts! Each character has a gift, or gifts, that they either hate, like, or love. Everything else is a neutral reaction. You can use these cheat codes to help move your relationships along. I'll list below each character's favorite gift item codes. Feel free to reference my brief character descriptions above before settling on which codes you want to use.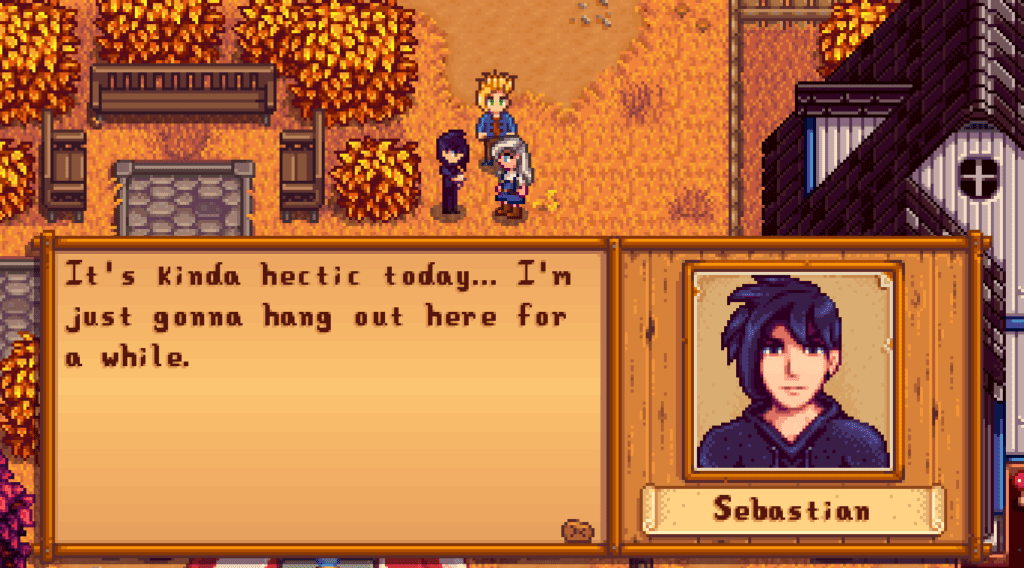 Elliot – Crab Cakes [732], Duck Feather [444], Lobster [715], Pomegranate [637], Squid Ink [814], Tom Kha Soup [218]
Abigail – Amethyst [66], Banana Pudding [904], Blackberry Cobbler [611], Chocolate Cake [220], Pufferfish [128], Pumpkin [373], Spicy Eel [226]
Shane – Beer [346], Hot Pepper [260], Pizza [206]
Emily – Amethyst [66], Aquamarine [62], Cloth [428], Emerald [60], Jade [70], Ruby [64], Survival Burger [241], Topaz [68], Wool [440]
Sebastian – Frozen Tear [84], Obsidian [575], Pumpkin Soup [236], Sashimi [227], Void Egg [305]
Haley – Coconut [88], Fruit Cake [454], Pink Cake [221], Sunflower [421]
Sam – Cactus Fruit [90], Maple Bar [731], Pizza [206], Tigers Eye [560]
Leah – Goat Cheese [426], Poppyseed Muffin [651], Salad [196], Stir Fry [], Vegetable Melody [200], Truffle [430], Wine [348]
Harvey – Coffee [395], Pickles [342], Super Meal [237], Truffle Oil [432], Wine [348]
Maru – Battery Pack [787], Cauliflower [190], Diamond [72], Cheese Cauliflower [197], Gold Bar [336], Iridium Bar [337], Miners Treat [243], Pepper Poppers [215], Radioactive Bar [910], Strawberry [400], Rhubarb Pie [222]
Alex – Complete Breakfast [201], Salmon Dinner [212]
Penny – Diamond [72], Emerald [60], Poppi [376], Melon [254], Poppyseed Muffin [651], Red Plate [230], Roots Platter [244], Sandfish [164], Tom Kha Soup [218]
Marne – Diamond [72], Farmer's Lunch [240], Pumpkin Pie [608], Pink Cake [221]
Kent – Fiddlehead Risotto [649], Roasted Hazelnut [608]
Caroline – Fish Taco [213], Green Tea [614], Summer Spangle [593], Tropical Curry [907]
Clint – Amethyst [66], Aquamarine [62], Artichoke Soup [605], Emerald [60], Fiddlehead Risotto [649], Iridium Bar [337], Gold Bar [336], Jade [70], Omni Geode [749], Ruby [64], Topaz [68]
Robin – Spaghetti [224], Goat Cheese [426], Peach [636]
Pierre – Fried Calamari [202]
Demetrius – Bean Hotpot [207], Ice Cream [233], Rice Pudding [232], Strawberry [400]
Dwarf – Amethyst [66], Aquamarine [62], Emerald [60], Jade [70], Lemon Stone [544], Omni Geode [749], Ruby [64], Topaz [68]
Jodie – Chocolate Cake [220], Diamond [72], Crispy Bass [214], Eggplant Parmesan [231], Fried Eel [225], Pancakes [211], Rhubarb Pie [222], Vegetable Melody [200]
Gus – Diamond [72], Escargot [729], Fish Taco [213], Orange [635], Tropical Curry [907],
Sandy – Crocus [418], Daffodil [18], Mango Sticky Rice [905], Sweet Pea [402]
Evelyn – Beet [284], Diamond [72], Chocolate Cake [220], Fairy Rose [595], Stuffing [239], Tulip [591]
Lewis – Autumn's Bounty [235], Glazed Yams [208], Green Tea [614], Hot Pepper [260], Vegetable Melody [200]
George – Fried Mushroom [205], Leek [20]
Linus – Blueberry tart [234], Coconut [88], Cactus Fruit [90], Yam [280], Dish O' The Sea [242]
Krobus – Diamond [72], Pumpkin [373], Iridium Bar [337], Void Egg [305], Void Mayonnaise [308], Wild Horseradish [16]
Willy – Catfish [143], Diamond [72], Iridium Bar [337], Octopus [149], Mead [459], Pumpkin [373], Sea Cucumber [154], Sturgeon [698]
Jas – Pink Cake [221], Fairy Rose [595], Plum Pudding [605]
Leo – Duck Feather [444], Mango [834], Ostrich Egg [289], Poi [906]
Vincent – Cranberry Candy [612], Pink Cake [221], Ginger Ale [903], Grape [398], Snail [721]
Pam – Beer [346], Cactus Fruit [90], Glazed Yams [208], Mead [459], Pale Ale [303], Parsnip [24], Parsnip Soup [199], Pina Colada [873]
Wizard – Purple Mushroom [422], Solar Essence [768], Super Cucumber [155], Void Essence [769]