Today is a big day, and not just because it happens to be Friday the 13th. It's important because we have 100%, total and complete confirmation that we're getting Friday the 13th . Did I confuse you for a moment? Let me explain. The Friday the 13th: The Game Kickstarter campaign has passed its $700,000 funding goal, so when it ends later today, we can all sit back, satisfied in the knowledge that Gun Media is bringing Jason back.
There are already strong indications that everything could be in place to ensure Friday the 13th: The Game pays the proper homage to the Friday the 13th movies. If all goes well, by next Halloween, people could enjoy something special. Or, at the very least, point to it and say that they got some things right. Because really, Gun Media has gone out of its way to pull some important pieces together so far.
For example, what's the first thing you notice about these movies before anything else? Close your eyes and think about it. You can hear that theme song by Harry Manfredini in your head right now, can't you? It's a crucial part of the experience and that "ki, ki, ki, ma, ma, ma" sticks with you. That Gun Media made sure Manfredini will be involved with Friday the 13th: The Game is a very good sign. You need that iconic lead-in.
But even more important is the look of the thing, and that's where Tom Savini comes in. I know what you're thinking, "What does a man who's known for being an actor, stuntman, and special effects artist have to do when it comes to coding? Talk to us when he's working on a new Friday the 13th movie!" Well, this is a man who has been involved in the series since the original 1980 movie and won the Saturn Award for his makeup work. What better way for Gun Media to make sure the game looks right than to consult with the man who helped embed the face of fear that is Jason Voorhees in our minds?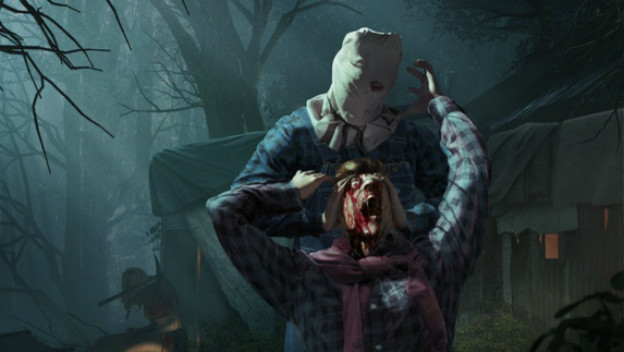 Of course, name dropping can only get you so far. What goes into Friday the 13th: The Game matters most. Fortunately, it seems like a promising prospect. There are two things you'd want to do in such a game, either go on a rampage as Jason or try and outwit him as a Camp Crystal Lake counselor. With 1v7 asynchronous multiplayer, people have that opportunity. All or nothing, whichever you prefer can be yours. Even better, you can stay offline and face off against AI counselors or a virtual Jason. People will hopefully have the opportunity to have it all.
Yes, it's okay to be hesitant about Friday the 13th: The Game . It's smart to keep from getting too invested in any crowdfunded project where there isn't a demo to see or it isn't funding a localization of something that already exists. This is especially prudent here, as Gun Media doesn't have a substantial track record to look to, only a mobile Breach & Clear game and lackluster Breach & Clear PC release. But with all of the good news that has come out of the Kickstarter campaign so far, it's okay to have hope.
Keep hope alive, so eventually Jason can come along and crush it!