The past few years have seen the emergence of truly epic action films and summer blockbuster movies. And with the news of some seriously cool re-dos and some awesome sequels in the works, the summer of 2014 may just be one of the best yet for summer box office smash films. So we decided to take a few minutes and talk a bit about some of our favorites.
RoboCop
Ok, so it's been a few days (or years) since the original RoboCop hit theaters. Peter Weller punched, shot, and generally destroyed his way to the head of OCP and single-handedly derailed their sinister plot. But not as much is known about this reboot. We know that the majority of the plot will remain intact but have been promised some changes that fans of the franchise will like, but it seems like every time we hear that phrase the movie ends up sucking. Oh well, at least Uwe Boll isn't directing it.
300: Rise of an Empire
Blood, guts and glory. Those are really the only things that any of us are expecting from the sequel to the Gerard Butler film. They killed off Leonidus and now the new crop of Spartans must take the fight to the Persians and the "god-king" Xerxes. It remains to be seen if there will be any truly epic scenes like the first one had. Scenes like the one where the Spartans were laughing about fighting in the shade while they hid under their shields during one of the intensely huge arrow volleys from the Persians.
Need for Speed: The Movie
Most of the time video game movies suck. Again, thanks to people like Uwe Boll, gamers had have little to hold onto in the way of hope that their favorite game franchise will actually appear on the big screen in an accurate and awesome fashion. However, Need for Speed seems poised to break that mold. When I first saw the trailer, I thought it was another Fast and Furious movie advertisement. Then something occurred to me…this film seems to have a plot. Since I thought it was strange that the next Fast and Furious film would bother with such a thing, I watched on. Much to my surprise, it was a preview for the Need for Speed movie.
The Amazing Spider-Man 2
I know that we are all tired of them just re-hashing the whole Spider-Man thing over and over again. It's like, how many more times do we need to see the origin of Spider-man before we get it? But the sequel to the first Amazing Spider-Man seems to have stepped itself up from the near-snoozer first film. It looks like they decided to get a little Michael Bay on it, which it really kind of needed. Then they went and cast Jamie Foxx as Electro. So needless to say I am a little worried about how this will all play out. Not as worried as I am about Ben Affleck as Batman, but worried nonetheless.
Guardians of the Galaxy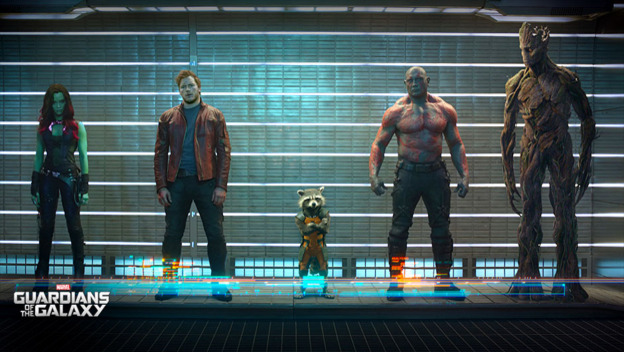 Being the huge fan of Nova that I am, I am excited to see that the Guardians of the Galaxy are finally getting their due. Not to mention that if Marvel Films is going to continue teasing us with tidbits concerning the Infinity Gauntlet, this day had to come. And Boy am I glad. I am just really tired of seeing the same movies from Marvel and a whole bunch of sequels. Sure, I still go to those movies–but I can't wait to see something fresh. And on a total fanboy note, I can't wait to see Nova on the big screen. Well, that and the fact that Zoe Saldana is playing Gamora. She's just awesome.
Godzilla
The freefall preview trailer for this film had me on the edge of my seat. I am a huge fan of monster movies (which explains my total love for Pacific Rim ) and am super-pumped to see Godzilla making a return to the theater. No more will Hank Azaria be running around with a video camera trying not to get squashed. No more will we hear the stupid running gag of trying to correctly pronounce the main character's last name. Oh yeah, and Bryan Cranston is in this movie. So if any of you have seen Breaking Bad , you know what this man can do.
X-Men: Days of Future Past
This is truly one of my favorite X-men story arcs ever. So naturally I was excited to hear that they are taking the cast of X-Men First Class in to this territory. I absolutely loved First Class and I thought that the casting was incredible for it. I am super-excited to see the amalgamation of the Magnetos and Professor X's as well. The transitions of there younger selves into their older selves is something that I think will be quite possibly the most excellent casting concept in a super-hero movie. That and I am totally pumped to see Sentinels on the big screen.
Captain America: Winter Soldier
Anyone who knows me knows I am a Captain America fan. Apart from a serious affinity for Tony Stark and his metallic alter-ego, Cap has always been one of my favorites. In all honesty, I feel like Chris Evans is a far more believable Cappy than the Human Torch. Not to mention that fact that the script for the first Captain America film was just much, much better than the Fantastic Four films. I am also excited to see the addition of The Falcon and Crossbones in this film. Oh, and Scarlett Johansson is in it as Black Widow. So even if the story sucks, there will at least be some serious eye-candy to look at.
Transformers: Age of Extinction
I only have one thing to say about this: Optimus prime was riding Grimlock, waving a sword over his head. Ok, I have some other stuff to say too. Shia LeBouf and Megan Fox are NOT in this movie. That means that even if it is a total stinker, I will still go see it just because they aren't going to be in it. Mark Wahlberg is in it and that has me a little worried, but I really dug him in The Big Hit , so I'll give him a chance. Let's face it, he can't possibly be any worse than that stammering idiot LeBouf.
Jupiter Ascending
For any of you who thought that the first Matrix film was one of the greatest movies you have ever seen (then thought the rest of them were hot garbage) you should check into Jupiter Ascending . The Wachowski brothers are poised to reclaim their glory days and redeem themselves for those second and third Matrix films. This film operates on the premise that there are an infinite number of universes co-existing alongside each other and that sometimes, the fabric separating them gets torn and crazy stuff happens. Before you say that sounds like the Golden Compass , slap yourself.