Six-Guns, an action-adventure video game with an open-world format, immerses players into the wild-west setting full of thrilling encounters and mysteries. Developed by Gameloft, the game was initially launched for iOS devices in 2011, followed by its introduction to Android devices in 2012. It's also available on Windows and Windows Phone. However, at this point, it might not be available for download. The game presents a combination of exploration, action, and adventure. 
Six-Guns Premise
In Six-Guns, players step into the boots of a character named Buck Crosshaw, navigating the game's vast landscapes on foot or horseback. The game features two map locations: the deserts and mesas of Arizona and the forests and mountains of Oregon. Buck embarks on a series of missions through these locales. Each completion rewards Buck with coins and experience points that unlock higher-tier items in the in-game store. The storyline unfolds as Buck seeks the truth behind his lost wife's fate. There are also optional multiplayer modes including online team deathmatches and capture the flag.
In addition to the mobile version, Gameloft introduced Six-Guns on Windows platforms, too. The game offers a variety of control options suitable for different platforms. The mobile version supports touch controls, but even game controllers are supported on Windows platforms. Six-Guns also has a cloud save option linked to accounts like Game Center on iOS or Xbox Live on Windows, allowing players to continue their wild-west adventure on any device.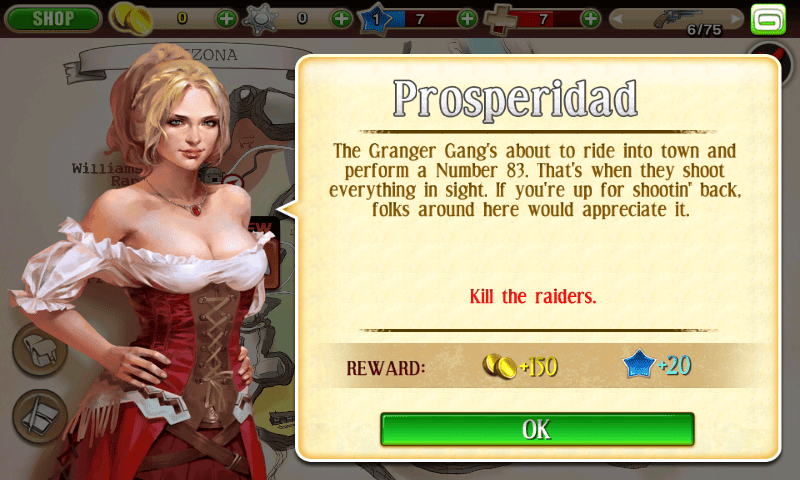 Six-Guns Characters
During the journey in Six-Guns, players will come across a collection of Wild West-themed characters. As an action-adventure, the narrative is from the game's protagonist's perspective. The outlaw Buck Crosshaw meets various figures along the adventures, including pivotal characters like the mysterious lady, who offers him various missions.
Buck Crosshaw: The game's protagonist, Buck is an outlaw with a mysterious past. He's on a quest to unravel the truth about his wife's sudden disappearance.
The Lady: The Lady is a recurring character in Six Guns who has a significant role in the main storyline. Apart from her character role, The Lady is also the face of Six Guns, alongside Buck, featuring in various game promotions, mission descriptions, and weekly challenge rewards.
The Sheriff: A crucial character in the game. The Sheriff is initially encountered in front of Prosperidad, where he enlists Buck's assistance in defending the town during the tutorial and assaulting the Outlaw Camp. He typically wields the Rusty Gun or Lawmaker Revolver but doesn't cause any damage.
The Exorcist: Also known as the Stranger or the Witch Hunter, The Exorcist is an important character in Six Guns who enlists Buck Crosshaw's help for several critical missions, including a battle against the Arch-Witch. He is typically seen wearing the full Witch Hunter outfit, distinguished by his red bandana, and wielding his signature weapon, the Witch Impaler.
Vampire Cowboys: These undead enemies in Six-Guns are armed similarly to the Bandits. Their outfits can vary but they typically wield weapons such as the Lawmaker Revolver, with some even dual-wielding handguns. The Vampire Cowboys possess the ability to transform into a swarm of bats that allows them to reposition quickly and avoid attacks.
Bosses: There are various bosses in Six-Guns that offer the player challenges. These range from a Confederate Soldier to a werewolf. The bosses include Coward Mark, who wields a Railgun, Heavy Will, a top-hat-clad bandit with a heavy pickaxe, Hurricane Matt with his Tesla Gun, Sharp Joe aiming down a Sniper Rifle, and lastly, Lone Wolf, who can transform into a werewolf.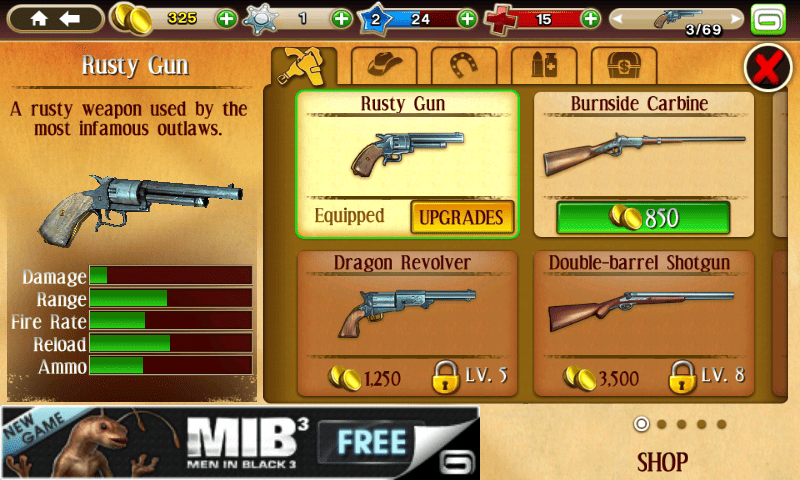 Games in the Series
Six-Guns remains a standalone title and does not have any direct sequels or prequels. However, the game saw a slew of updates during its reign. Those offered players new missions, characters, and in-game items, keeping the gameplay fresh. The game had a strong influence in mobile gaming a decade ago and has spawned dozens of similar titles that have tried to follow in its footsteps. It remains to be seen if Gameloft will revive the franchise with a new title. But, for now, Six-Guns is a one-off. 
Six-Guns Cheats
There are no official cheat codes provided by Gameloft for Six-Guns. Cheat codes have become less common in more recent games, especially those that include multiplayer elements or in-app purchases because they can disrupt the balance of the game and affect the fairness of play. However, Six-Guns has a variety of in-game purchases and upgrades that you can use to enhance your gameplay. This includes new weapons, equipment, and consumables that can help you progress through the game.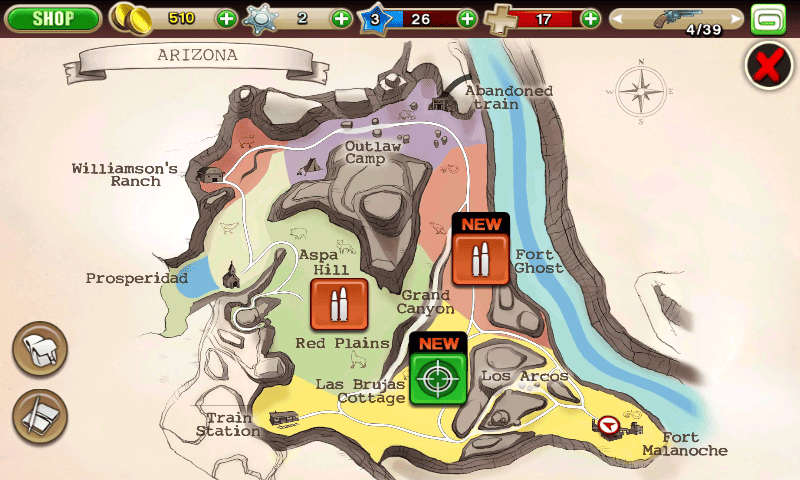 There are a few unconfirmed glitches that might or might not work, depending on the version of the game.
Lottery Glitch
This glitch allows the player to activate the in-game lottery multiple times by changing the device's time and date.
Start the game and navigate to the lottery section.
Participate in the lottery draw.
Exit the game and go to your device's settings to adjust the date from the current day to tomorrow.
Return to the game, wait for a few seconds, and you should see an opportunity for another free lottery play.
This can be repeated as many times as desired.
Rapid Fire
This is a method in Six-Guns to achieve rapid fire with any rifle, which will greatly increase the fire rate and allow players to dispatch enemies quicker.
Pick your desired rifle.
Stock up on ammunition for your weapon.
Enable the Auto Aim feature. While not necessary, it simplifies targeting opponents.
Once a target, like a monster, comes within your range, hold down the shooting button while tapping the zoom-in button quickly.
Hide in Aspa Hill
In Six-Guns, there's a simple strategy that could help players survive the timed battle of Aspa Hill.
Locate a rock with a split in the middle and position your character inside it.
Stay in this location until the timer runs out. Ignore the enemies who can't reach you in this position.
Pay special attention to threats like the female assassin, who can hit you even while you're inside the rock.
To improve your survival odds, use the rapid-fire cheat with your rifle. This will allow you to deal with dangerous enemies quickly and efficiently.
There are also other ways to help player speed up their progress. Here we've listed all the achievements available to players on Android. Similar achievements might be available on other platforms.
| | | |
| --- | --- | --- |
| Achievement | Points | Description |
| Death Is Not the End | 5 | Die once. |
| Demon Hunter II | 5 | Reach level 25. |
| Legendary Gunslinger | 5 | Win 25 matches in Multiplayer mode. |
| My Lucky Day | 5 | Try your luck with the Lottery. |
| Natural Born Killer | 5 | Kill 500 enemies. |
| The Bigger They Are… | 5 | Kill a Giant Werewolf. |
| Angel of Death | 10 | Kill 1,000 enemies. |
| Demon Hunter I | 10 | Reach level 15. |
| Demon Hunter III | 10 | Reach level 40. |
| Homeless | 10 | Use all Road Signs in the game. |
| Lone Ranger | 10 | Visit Oregon. |
| Straight to Hell | 10 | Kill one demon of each type. |
| Too Hardcore to Live | 10 | Kill your own horse. |
| Top of the Food Chain | 10 | Kill one animal of each kind. |
| Western 101 | 10 | Complete the tutorial mission. |
| What's Inside the Box? | 10 | Open 200 chests. |
| Gold! More Gold! | 15 | Obtain 50,000 coins. |
| Demon Hunter IV | 15 | Reach level 50. |
| 100% Completion | 20 | Complete all quests. |
| Genocide | 20 | Kill 10,000 enemies. |
FAQ
Is Six-Guns still available to play?
Gameloft seems to have abandoned Six-Guns, and the game is no longer available for either mobile platform. One might be able to play it on some platforms if it is already installed.