So for those of you who were at San Diego Comic Con (and those who weren't but kept up with the insanity), you know that one of the biggest and most underplayed announcements was Marvel Vs. DC . This title will be bigger than a Capcom vs. Mortal Kombat title. Think about it. You will finally have the ability to prove to your friends who think you are stupid for liking your favorite characters from either publisher. Finally there will be proof. The debates will all end soon enough. If done right, this could very well be the greatest fighting title ever created and will most surely be the greatest super hero title of all. So let's take a second and a deep breath and get into the ten epic battles that will be the reason why this will be an incredible title.
Solomon Grundy vs. The Incredible Hulk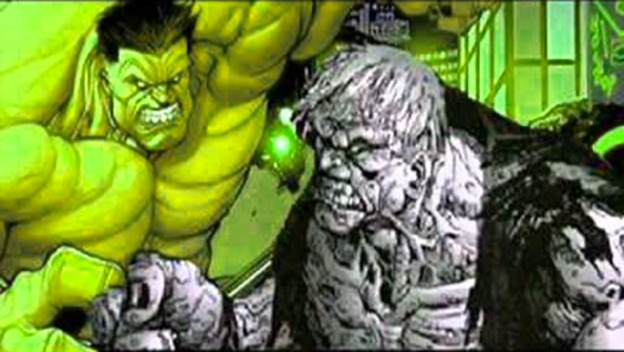 I almost thought that Bane would be a better fit here, but seriously if you are going to pit two total brutes against each other, let's grab the two that are nigh indestructible. That way the battle won't have an obvious handicap. One is a gamma radiation-fueled beast of immeasurable rage. The other is the undead spawn of evil who never seems to be truly dead, no matter how many times he is killed. Both have super-strength and seem to be able to fight on for days without tiring. These things alone make this a match of monumental proportions and one that I look forward to.
Psylocke vs. Raven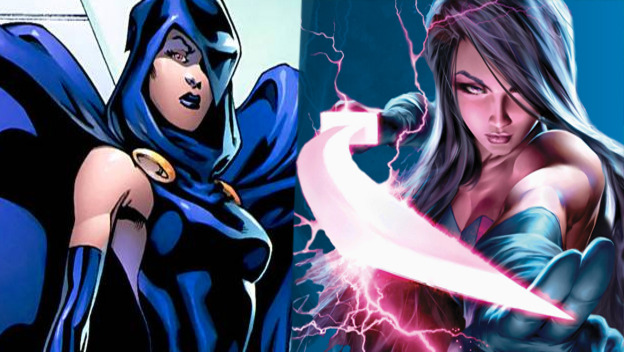 Digging a little into the femme fatales in both the DC Universe as well as Marvel Comics, these two ladies just seem like a killer match-up. Both have seriously hard-hitting fighting styles and while one favors the use of her powers more than her fists, both are equally adept at the employment of their abilities as well as their fists to get a job done. Then you add in the fact that they are both incredibly hot and you got yourself the makings of a seriously badass cat-fight. The sad truth of this is that I can't really choose a favorite here. I love them both equally. But no matter what, you could bet this would be an epic fight.
Cable vs. Cyborg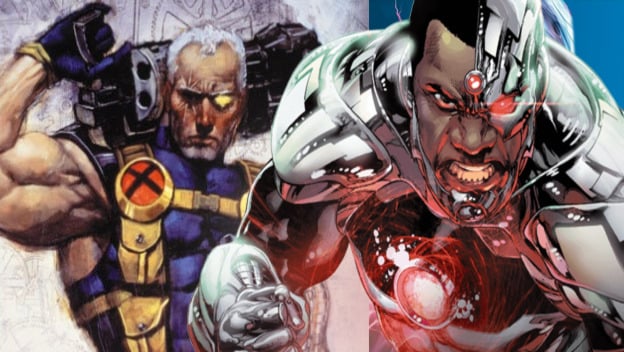 Both of these dudes are cybernetically enhanced. Both have attitude issues, both are masters of destruction, and both of them have a serious thing for heavy firepower. Okay, so maybe Cable is from the future and can warp his as around using future tech. But seriously, let Cyborg land one solid hit on Cable's onion and the fight would be on. This is one of those battles that you watch on TV, from the other side of the world. 'Cause seriously that would be the only way you would be even remotely safe from the obvious debris and chaos that would follow these two no matter where they decided to throw down.
Wonder Woman vs. She-Hulk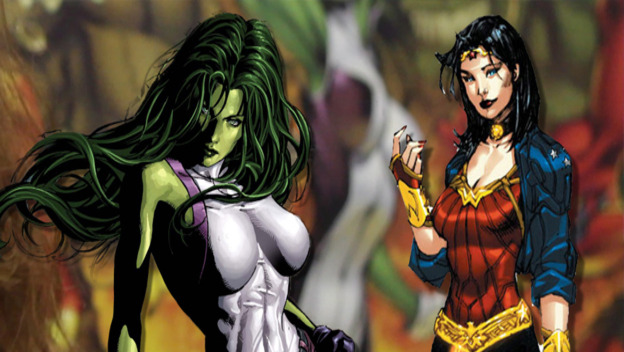 I am not going to lie to you, I am a little more than excited about pitting these two lovelies against each other. Both have insane strength and agility and unchecked levels of aggression. All traits of the woman of my dreams. And I mean dreams. If I ever met someone like either of these two in person, I would just immediately start waving a white flag and crying in the fetal position out of utter fear that they were actually real. But I digress. Imagine the devastation that these two could wreak on each other. Neither one has the concept of backing down anywhere in their heads. So no matter the outcome here, it would be an awesome thing to see.
Bane vs. Ben Grimm (The Thing)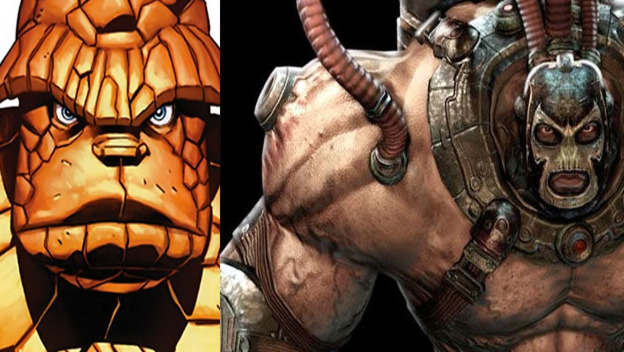 This one is going to be an epic battle of insane proportions. Why you ask? I'll tell you. Both are super-strong for different reasons, but within their strengths, there are innate weaknesses that can be exploited. Obviously Bane can have his Venom delivery system interrupted and that would bring about a momentary loss of power until he could right himself and get hooked back up. But with Ben, a well-placed taunt following a successfully executed attack would be enough to throw him in to a rage that would cause him to be even more powerful, but much less coordinated. We've seen these things happen a million times with these two.
The Joker vs. Gambit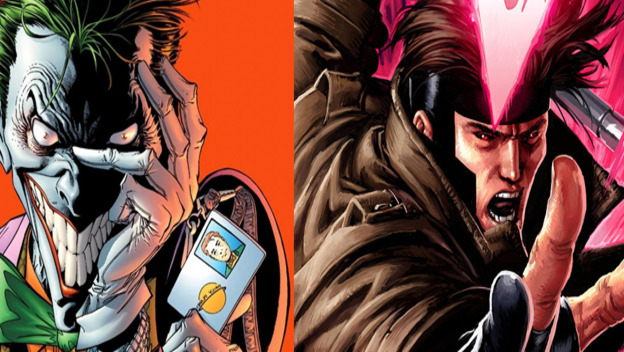 Both have a weird thing for playing cards. Both are smart-asses. Both have a collection of stylish coats. So why not? Let's toss these two in the ring and see how well Gambit holds up against the twisted, insane, and completely random attacks that the Joker continues to cook up in the sick head of his. Or would the Joker have to keep his head on a swivel to dodge and counter Gambit's barrage of kinetic cards and whatever else he decides to pick up, charge and throw at the Joker? Both characters are unstable, so this might actually be a good match-up.
Spider-Man vs. Nightwing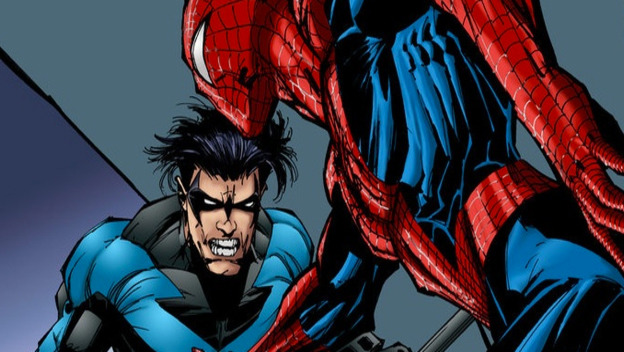 Spider-Man may have the proportionate power of a spider and awesome agility, but would it be enough to outwit and outdo the badassery of Nightwing? This one will be a tough call and it will ultimately boil down to whoever is in control from the get-go. Both characters are nimble as can be and very adept at hand-to-hand combat, but one possesses an intellect that if far superior tactically over the other. While Spidey may have super-human strength, Nightwing has the kind of smarts that makes people sorry they ever saw him. Where Spidey has speed and strength, Nightwing has stealth and tactics. No matter what, the winner of this one is really a toss-up.
Deadpool vs. Deathstroke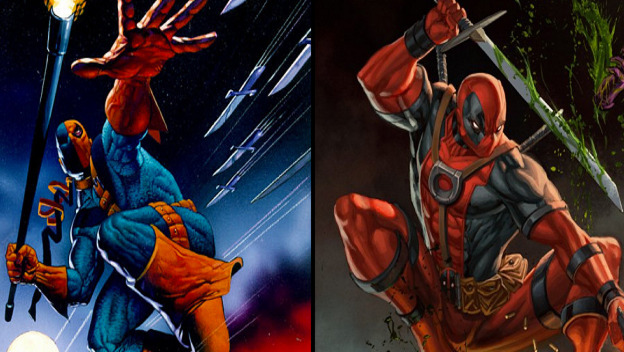 Everybody's favorite two assassins are finally going to square off and show what they can do. The debate will be settled, mostly between themselves, over who is the better assassin. The major difference in this match-up is attitude. What Deadpool has in quick wit and smart-ass comments, Deathstroke speaks very little and prefers to deliver his comments in the form of fists, feet, swords and gadgets to inflict maximum damage. But with Deadpool healing factor and near invincibility, Deathstroke will have to call on all his resources to overcome the bouncing red badass.
Batman vs. Iron Man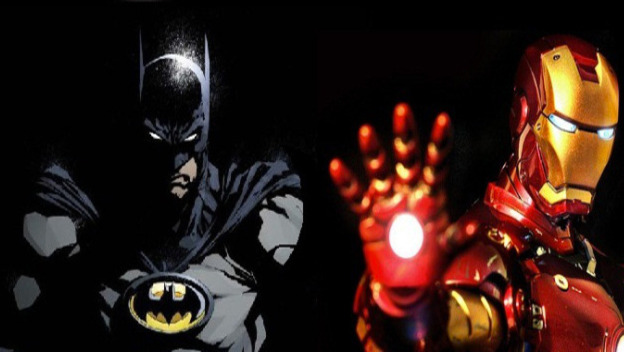 Super-rich eccentric millionaires. Apparently Batman and Iron Man really aren't all that dissimilar. They both were left with vast fortunes and a desire for vengeance. Neither one has super-powers or mutant abilities. Both rely on technology to augment their natural abilities. Both are well-versed in hand-to-hand combat. Both of them never give up–even when the odds are against them. Both are firm believers in collecting vast amounts of intelligence on an enemy before going into battle. So who would win in this epic battle? Well, the truth will come to light soon enough.
Superman vs. Sentry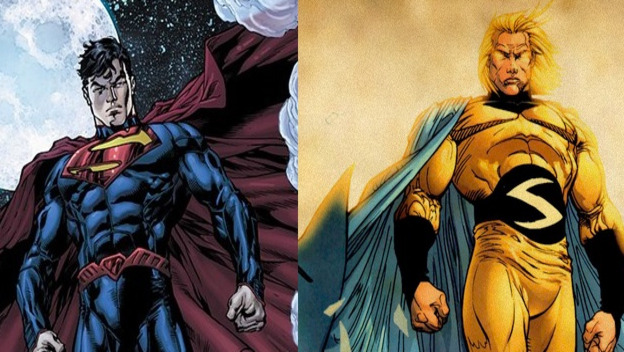 Who's Sentry you ask? Well, the reason you can't remember him is because your memory of him has been completely erased due to the fact that he has a more sinister side called the Void that kills massive amounts of people every time it shows up. So kind of like Superman when he was all pissy and red-eyed, these two have two sides to each other that can be tapped into to wield an even more devastating version of themselves. Evenly matched in powers and resolve, this would be the most insane match-up in comic cross-over history. Don't believe me? Do some background homework on these two and you will discover just how awesome a battle this will be.
So for those of you who have made it this far, I am sorry to have to crush your dreams. But there was no such announcement at SDCC this year. And sadly, according to the gaming developers and comic folks that were asked about it, it will never be a reality due to the legal constraints of former publishing rights for this or that and blah, blah, blah. But the truth of it is that an overwhelming majority of fans at SDCC were asked this question, "If there was a Marvel vs. DC fighting game out there, would you buy it?" Guess what? Not a single person asked this question said no. Not a single one. So hopefully someone who can work miracles is reading this because this title needs to be made. That is all.