FarmVille 2 is a 2012 agriculture-simulation mobile game developed and published by Zynga, where players have the opportunity to grow and manage their own farm through a variety of methods. Following on from the wildly successful FarmVille, the sequel saw a big improvement in visuals, but in terms of gameplay, it stayed extremely similar to the original. While most will play FarmVille 2 on mobile, it remains available on Facebook to be played in browser.
Farmville 2 Premise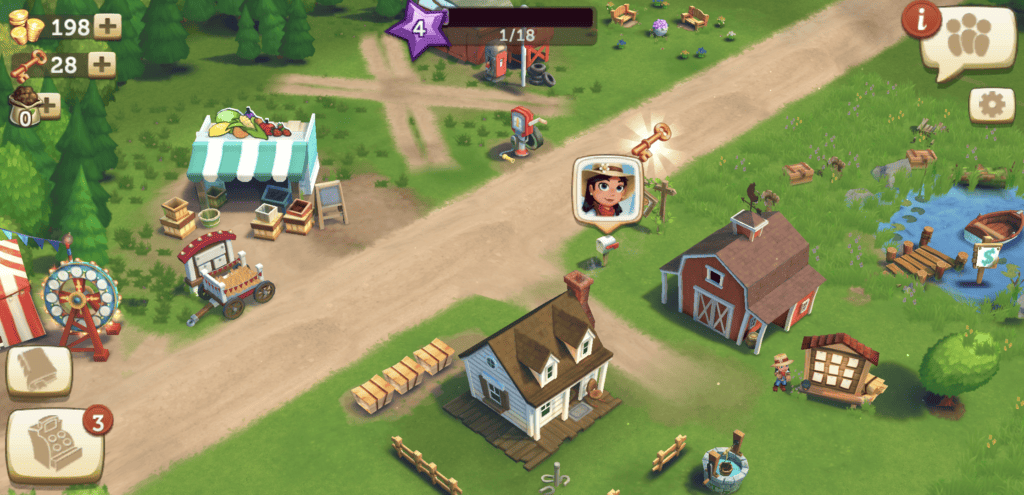 FarmVille 2 follows the formula of its predecessor, where you take over and nurture the farm of your dreams. Along the way, a fun cast of characters will come to work on your farm, and you've got the job of ensuring each one is doing the best job possible while taking care of your family of animals.
One of the biggest gameplay elements is growing crops. This is where FarmVille 2's mobile approach really begins to show. Each time you build a building or grow crops, you have to wait on a timer for it to reach completion. You can wait this out, or use a key to complete the job instantly. The catch? You have a limited amount of keys, so you'll have to buy more if you want everything done in good time. If you're happy for your FarmVille 2 journey to take place over a long time, then this probably won't be an issue for you. But if you want to immerse yourself in the game, then this could be a stumbling block.
Interestingly, FarmVille 2 does have some online elements that make it a social experience. You can trade with the farms of other players and even contribute to the progress of your friends' farms, so FarmVille 2 doesn't have to be a solo game.
FarmVille 2 Main Characters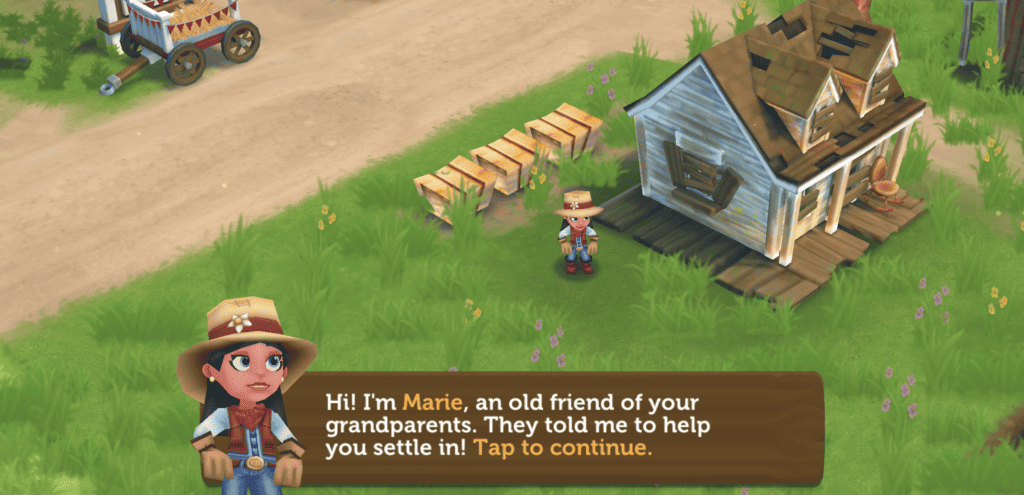 In FarmVille 2, the main characters aren't entirely used to introduce the game's story. Instead, they're used more as a vessel to show you the game's mechanics and how they work. Each character also serves as a quest giver, guiding you to complete new objectives along the adventure. Here are the most crucial you'll meet along the way:
Marie: Marie is the first character you meet, welcoming you to your brand-new farm. She'll show you the ropes as you get to grips with FarmVille 2. In the game's lore, she's a friend of your grandparents but her story never comes to much more than that.
Johnny: Johnny is the first farmhand you meet in FarmVille 2. He arrives on your farm once you reach level 8, and by this point, you should finally be comfortable with the game's mechanics. This means that you can make great use of his skills.
Heidi: Heidi is another of the important farmhands in FarmVille 2, although she is introduced at level 9. She provides you with a few unique boosts in the game, including an increased chance of Country Biscuits at the Prized Pineywoods Cow.
FarmVille 2 Titles in the Series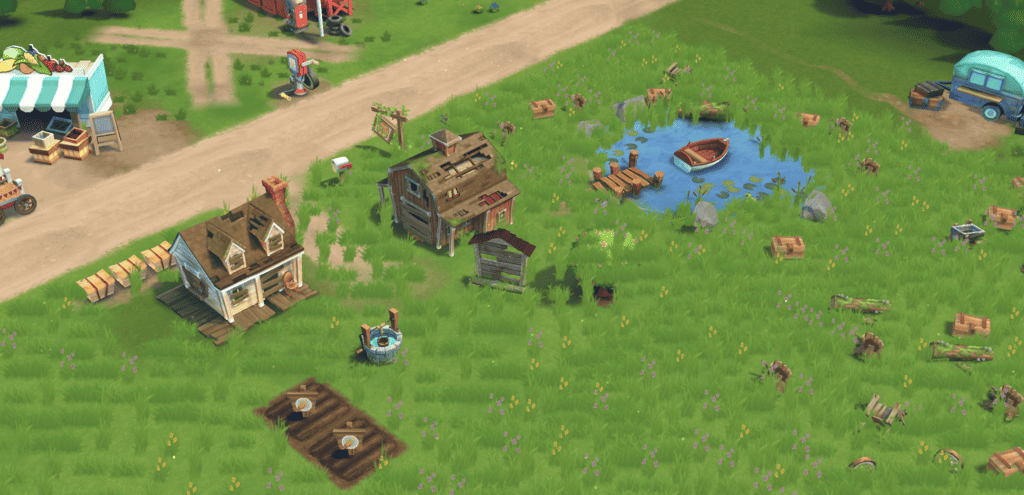 When the first FarmVille game was released in 2009, it was a Facebook-exclusive title. The series moved to mobile in 2011, and has never looked back. Among the sea of town-builders you see cramming the mobile games market today, FarmVille can look rather generic, but there's a reason for that.
FarmVille practically invented the formula for town-builders, perfecting it where few other developers wouldn't dare to deviate from it. The result is a genre that has a variety of clones taking ideas from each other. Because of this, FarmVille hasn't necessarily had to pump out new releases constantly. Instead, its releases have been steady over the years, coming out when the games need a new lease of life.
FarmVille 2 Cheat Codes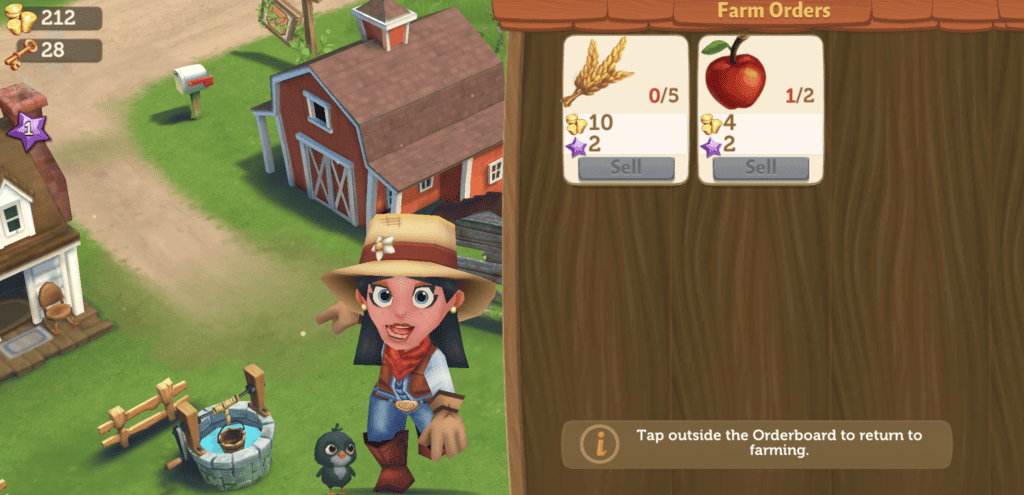 As a mobile game, FarmVille 2's business model relies on there being no readily-available cheats for gamers. However, there are still a couple of ways to exploit the game instead as a means to get ahead.
Quick Build Cheat
Like many mobile games, you can get around FarmVille 2's most frustrating restriction by using the time cheat.
When you start building something, it will tell you to wait a while before it completes. You can spend a key to get it done instantly, however, if you go into your mobile device's system settings and move your clock forward, you'll notice that it completes the build anyway. This is perfect for those longer tasks that can be a chore to complete!
Free Keys
So this is a one-time thing, but it's worth doing nonetheless. If you've got Facebook and you're playing on mobile, you can connect your account to FarmVille 2 to earn 25 free keys in an instant. This can be useful if you've got one build that you want to complete straight away, but have used your keys elsewhere.
FarmVille 2 Cheat Code FAQs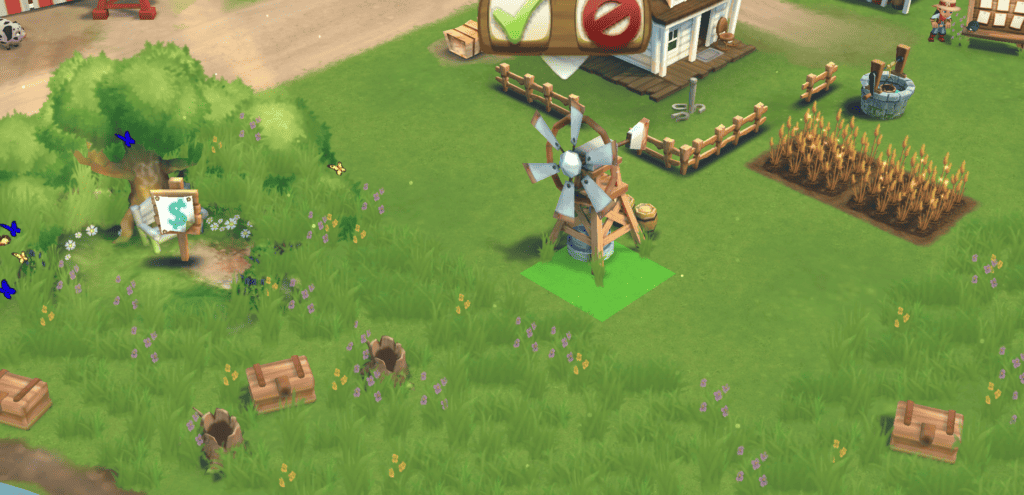 Can I Hack FarmVille 2?
As with any game, there are third-party programs available for FarmVille 2 that allows you to cheat pretty much anything into the game. Despite the availability of these, we wouldn't recommend you use them. They usually involve a form of untrustworthy download on either your mobile or PC, and it's not worth the risk of anything bad happening to your devices.
As well as this, these types of cheats usually lead to a ban if you're caught. If FarmVille 2 is a part of your daily routine, then it's definitely not worth taking the chance.
What is the Max Money in FarmVille 2?
The max money you can earn is 20,000,000, even with the use of hacks. Most players never reach this amount in normal play, so unless you're using these cheats, you'll likely have nothing to ever worry about.
If you do reach the max money in FarmVille 2, the game simply stops counting after that point.
How Can I Get More Keys in FarmVille 2?
If our method for 25 free keys wasn't enough, then there are certainly other ways to get them in-game. Of course, you can always cheat them in, but we've talked about why that's not worth the risk.
Make sure you're spinning the Prize Wheel daily, as this can often reward free keys. Also try and fill the Sales Bonus Meter, which unlocks at level 15. If neither of these works for you, then you can trade 20 Yellow Ribbons, 15 Red Ribbons, and 13 Blue Ribbons at the Prize Tent, which you can access from level 16.