A lot of people are fine with HD monitors or 4K TVs for displays. That's great! Having everything right in front of you is a good way to game or watch movies. But, it isn't the only way. There are also projectors, like the ones sold by BenQ , which can turn any flat wall into a perfect surface to see your games or shows in the biggest and best way. But, how do these projectors compare? Which one might be best for the sort of home theater you may want to create? Well fortunately, there are two models you can go with. One is the BenQ TH671ST for gamers, while the other is the BenQ MH535FHD for more mass media use.
Let's start by going over what these two BenQ projectors have in common, so you have an idea of what each one would start to have to offer. Each one is a HD projector with native 1080p resolutions. They also each have two HDMI ports for connectivity and display. They also have a similar vertical keystone correction. Each one allows for vertical adjustments to create perfectly squared images. This means if you have the projector positioned at an angle, you won't get an unrealistic and distorted trapezoid effect. In addition to the keystone tech that handles things when you can't perfectly center your device, both have short throw capabilities. This means even if you have the BenQ projector placed close to the wall on which you will be displaying things, you can still get 100″ output. Depending on the mode you are using, the light source life for each one is between 4,000 and 15,000 hours. That makes either one of these devices ideal for any space.
It is once you start considering how you will use the BenQ projector that things get more specialized. If you are going to be using the device for watching videos on DVD or Blu-ray or streaming, then the BenQ MH535FHD has a lot of features that are better for people who basically want to put the projector on a table, press a few buttons, and be done. It has a Quick Install that offers easy keystone correction, so the display is perfect. There are non-full and full HD options. The former is okay for, say, cartoons or shows where you might not need to see all the details,but the latter would be great for movies with text or subtitles and business presentations. It has a 2W built-in speaker, for audio that is just right, and it also has an ultra bright 3600 ansi lumen brightness level and a 15000:1 contrast level, so you catch every detail. It is about eight pounds, so it is somewhat substantial, but still light. It's short throw requires slightly more space, as it needs 9.28′ for a 100″ picture.
The BenQ TH671ST, which is made with gaming in mind, does a few things to keep that in consideration. For example, it is slightly lighter, at almost six pounds, so if you needed to transport it for events, you could. It also only needs 4.9′ to project a 100″ image on a wall. It's brightness is slightly less than the BenQ MH535FHD, as it is at 3000 lumens, but it also has the LumiExpert technology that checks the ambient light around it and makes automatic adjustments to make sure your image remains consistent. It also has a better 5W speaker, which adjusts for its Cinema, Music, Sport, and Gaming modes.
However, there are two areas in which the BenQ TH671ST does a little something extra to cater to people who will use it for games. The first is that it has low input lag and ultra-fast responses. It has microsecond digital micro-mirror device (DMD) responses and 16.67ms input lag. This means what you will be seeing on the wall through the projector will be happening at almost the exact same time as the actions you are taking in the game. Like say you were playing a rhythm game like Hatsune Miku: Project Diva X. You wouldn't have to worry about the projector messing up your accuracy when matching beats. Also, that DMD works with DLP technology so it has 1,000 time faster image reflection that changes angles on the chip in microseconds. This means the action you see on screen, say in a hectic battle against a Monster Hunter: World dragon or in a fight against another player in Tekken 7 will be super responsive.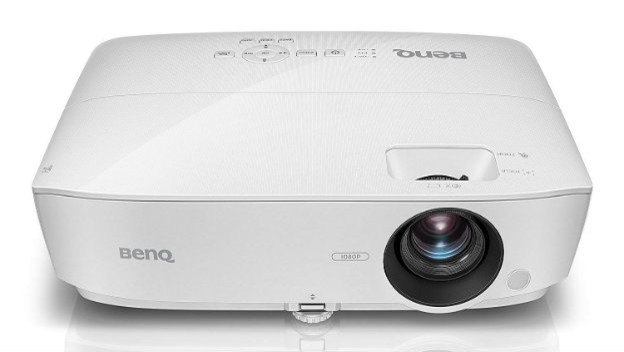 Of course, price is always going to be an issue with projectors too. This is high end tech, and it might come down to what you can afford. The BenQ MH535FHD's normal price is $549, though sometimes it can be found on Amazon for $549. The BenQ TH671ST  is slightly more expensive, due to the accommodations it makes for gamers. You could probably expect to pay $699 for one. However, sometimes it can be found for $695.
Whichever one you pick, it could end up being a real winner for you. Projectors can really elevate a viewing experience. They also are getting to a price level and can be easy enough to use that anyone could pick one up and make it a part of their home theater experience. Both of BenQ's options are incredibly capable and could help make your games, shows, and movies look amazing.