There are so many different sorts of headsets available to gamers today. Everywhere you look, a new company is rolling out something it claims is premium, with $100-300 price tags being normal. When everything bills itself as the best of the best, what can you trust? Well, keeping a company that has been around since 1975 and making headsets since the PlayStation 3, Xbox 360 and PC era is an option. Turtle Beach has been an option for years, offering headsets on all ends of the spectrum. For those who are wanting to wade in, the $79.95 Stealth 300 is a good way to start.
The Turtle Beach Stealth 300 is a PlayStation 4 and Xbox One wired headset model that handles all the basics you need. It uses a rechargeable battery, which lasts 40 hours, to amplify the sounds of the game and other people playing. It has 50mm Neodymium magnet speakers, which help capture and deliver every sound in high quality. The response is 20Hz to 20kHz, which means you should have no problem hearing a teammate if they whisper or enemy's footstep if they start to move, but also you can hear the detail behind more massive sounds like explosions, the crescendo of a game's theme song, or roar of a crowd. There are even presets ready for you, that prioritize Bass Boost, Signature Sound, Bass and Treble Boost, and Vocal Boost. It is the sort of headset that covers every base.
What I appreciate is the consideration that goes into making sure you are properly heard. The whole reason we get headsets for our setups is so we can be properly heard when playing with friends, can hear them, and maybe even so we could get into streaming. The Stealth 300 keeps that consideration in mind. It's mic is omni-directional, so you can arrange it perfectly. It has a flip-up to mute option, so you can quickly cut off the sound if you need to get up to answer a door, take a phone call, or handle other business. As for when you are talking, the Variable Mic Monitoring system keeps you aware of your own voice. You can hear yourself and adjust the volume, so you are never too soft or too loud. It's all about consideration.
The Stealth 300 takes comfort and durability into account too. This is a device with all kinds of considerations when it comes to the materials making it. If you enjoy gaming sessions that last at least two hours, this headset will keep you comfortable. It's headband has a breathable fabric with synthetic leather, that is animal friendly and keeps you from getting sweaty. The foam cushioning there keeps you from feeling like a weight is on you. The ear cushions are cozy too, with memory foam that adjusts to your contours. If you have glasses, either prescription or gaming Gunnars, the ProSpecs technology keeps it from feeling like the frames are being pushed into your ears and face by the headset.
What's also nice about Turtle Beach are the options the company affords you. The Stealth 300 is like the headset for everybody. But if someone has more money and wants a better, higher quality experience, there is the Stealth 700 PlayStation 4 or Xbox One headset. Each of these carries a $149.95 price, but they have the kind of features that make them more a little more luxurious and comfortable. From the fact that these are wireless headsets with Bluetooth connectivity, so you could also use them for streaming or phone calls, to the extra tech inside, they are better.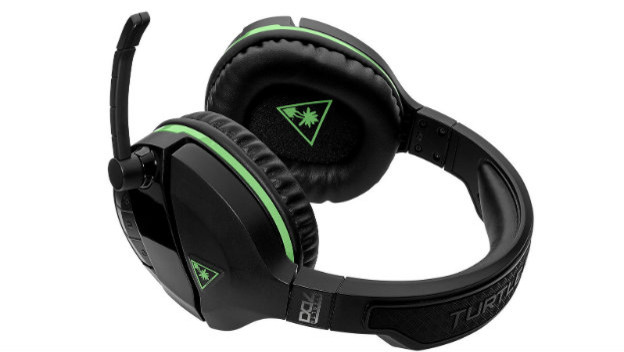 Just to compare, here's what a Stealth 700 owner can expect. These are a 7.1 channel headset with DTS Headphone:X Surround Sound. They have the same 50mm speakers and glasses friendly design of the Stealth 300. The battery life is a little less, since the Stealth 700 lasts 10 hours compared to the Stealth 300's 40, but it has the same 20Hz – 20kHz speaker frequency response, Variable Mic Monitoring, an omni-directional microphone with flip-up to mute option, and synthetic leather with foam cushioning headband. Both even have Bass Boost, Signature Sound, Bass and Treble Boost, and Vocal Boost. But the extras set it apart. Some of the Stealth 700 exclusive features include synthetic leather ear cushions, a Dynamic Chat Boost option, and noise canceling. It is the kind of headset you have if you intend to stream or attempt to play like a pro.
Turtle Beach has handy peripherals that people can make good use of in their daily gaming lives. Whether you are going for the basic, but still very capable and comprehensive Stealth 300 or spring to get the Stealth 700, with its bells and whistles, you are letting a headset that can improve your experience into your life. Each one is great for PlayStation 4 and Xbox One owners who want their games to sound as good as they look and play.