Logitech has been by PC users' sides for years. Since 1981, it has been helping people with peripherals that will make their adventures into other, virtual worlds better. The keyboards, mice, headsets, speakers, and other devices have always stepped up and been there. That remains true, even now, as the company continues to support gamers as they casually and professionally enjoy their hobbies.
In fact, Logitech might be more active in gamers' lives today than ever before. Especially now that it has the G513 Carbon and Silver RGB Mechanical Gaming Keyboard , its PRO Gaming Headset , and its G560 Lightsync PC Gaming Speaker on the market. All three of these devices are designed with the hobby in mind. Which means whether you pick up one of the items or all three, you may be prepared for a better experience as you play.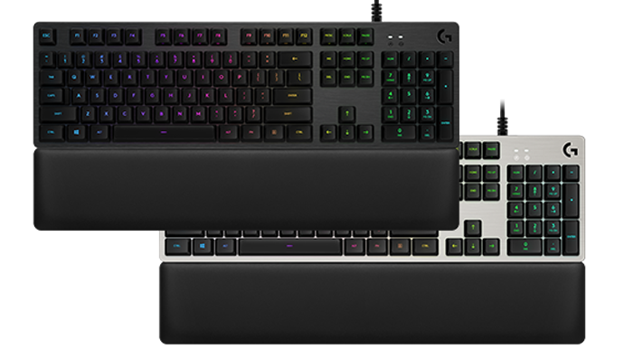 G513 Carbon and Silver RGB Mechanical Gaming K eyboard
Let's go ahead and start with Logitech's G513 RGB Mechanical Gaming Keyboard. This is a USB 2.0 keyboard with USB passthrough ports and backlighting that is made from a 5052 aluminum-magnesium alloy. It is a sturdy, durable keyboard with a built-in, leatherette memory foam palmrest built into the bottom. It has 26-key rollover, to guarantee accuracy as you play or work. Most importantly, you get to choose which kind of Romer-G mechanical switch you want for your keys, Linear or Tactile, so you can choose between smooth keystrokes or more marked actuation points. Not to mention, its durability is set for 70 million keypresses.
Where the G513 really shines is with its gamer-exclusive features. This is a keyboard that knows what your lifestyle is like. One handy element is a game mode you turn on and off by toggling FN+F8. When this happens, it keeps you from losing progress or being taken out of the game because you accidentally pressed a shortcut key in the heat of the moment. The RGB lighting profiles can be altered, so you have different schemes for different games, and the keyboard has memory built into it to save these, in case you have multiple computers or feel a need to travel with it.
But it is the more intricate details that make the G513 really great for gaming. The Logitech Gaming Software lets you assign macros and custom functions to the customizable F1-F12 buttons. And, as always, there are media and volume controls built into the keyboard, so you can control everything from there. Plus, it comes with 12 additional gaming keycaps for the 1, 2, 3, 4, 5, Q, W, E, R, A, S, and D keys, which alter the shape so it is easier to press and find those critical buttons. You can easily swap them with a puller, so you can be ready for games where you know you will use them most often. All in all, it is a device perfectly designed for a gaming lifestyle.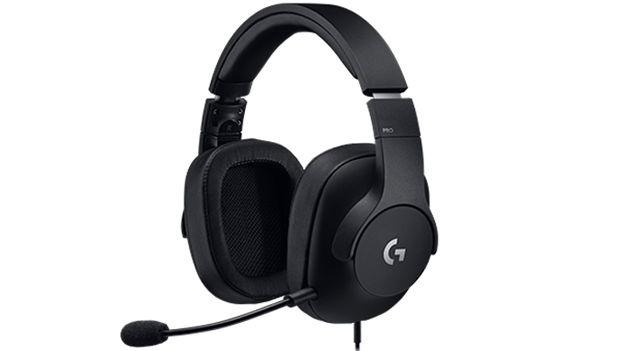 PRO Gaming Headset
While the G513 Keyboard is strictly a PC gamer grab, the PRO Gaming Headset from Logitech fills a more universal need. This works not only with your PC and VR headsets, but also with the PlayStation 4, Xbox One and Nintendo Switch. No matter what system you have, this headset with both noise-isolating leatherette and microsuede sets of earpads, a detachable mic, inline volume and mute controls, and PC splitter will have you covered. It is a lightweight, 259g headset with a nylon headband, stainless steel slider, and soft-touch earcups that will comfortably fit all sorts of heads and provide a 2m long cable that allows you enough freedom of movement.
The PRO Gaming Headset is designed to help you hear as much of the action as possible. It has hybrid-mesh Pro-G audio drivers with neodymium magnets, 20Hz-20kHz frequency response, and 32 Ohms impedance. All of this means you should have no problem hearing the highest high and lowest low sounds as you play, letting you pick up everything. Especially since the up to 16dB noise isolation will help you focus on what matters. Combine that with the leatherette earpads, and you will block out as much outside noise as possible. Its microphone is a pro-grade with a 100Hz-10kHz response, a full-range flexable arm, a back electret condenser with a pop filter, and a unidirectional pickup pattern. This means it will catch everything you say when you have it unmuted and won't miss a word, making sure they people you are playing with hear clear, even audio. It will be like they are in the same room with you. And, if you decide to use it for more casual affairs, the mic can be detached so you can focus on its other features.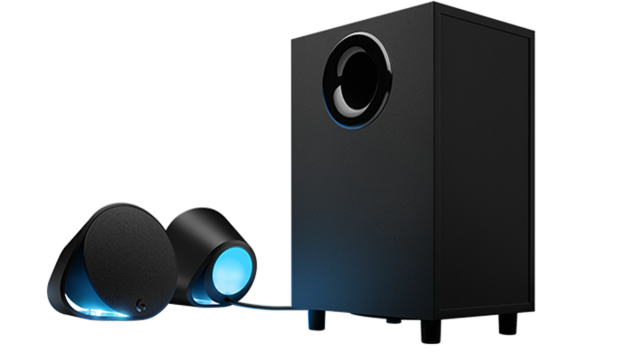 G560 Lightsync PC Gaming Speaker
Finally, there is the G560 Lightsync PC Gaming Speaker. While it is designed with PC gaming in mind, it has the same versatility as the PRO Gaming Headset. It can work with Windows or Macs, but also can work with a mobile device. This is all due to this sound system being 3.5mm, USB and Bluetooth compatible. That means you can enjoy the joy of a 6.5in drive subwoofer and two 2.5in driver satellite speakers and their light show on multiple platforms. When you have this set up with your PC, you can enjoy DTS:X Ultra surround sound that offers a 3D soundscape that puts you in the middle of your games, movies, and music. It is an all-incompassing 2.1 speaker system using 240 watts to make everything sound better.
But what is really amazing is how the G560 Lightsync uses light to change your environment and match your situation. Developers work with Logitech to provide have supported games with their own RGB experiences and palettes. The speakers are actually like visualizers and equalizers, with automatic effects that pair with attacks, defenses, and healing moments. This means different cues as you play. The audio visualizer has low and high volume responses that can be customized with the Logitech Gaming Software for more subtle effects. And, if you set up the customizable screen sampler, the game will watch four lighting zones as you play to make sure the lights being shined by your speakers match the colors prevalent in the game you are currently playing.
We all have things we need and use on a daily basis for our PCs. Keyboards are a must, as we are constantly tapping away at them not only in our games, but in our everyday lives. Headsets are handy whether we are playing online against friends or talking to people over services like Skype and Discord. As for speakers, we are constantly listening to media, either going through our massive music libraries, streaming content through Netflix, Hulu, or Twitch, and enjoying items from our Steam or GOG libraries. It only makes sense to go ahead and invest a little more, stepping up with things like Logitech's G513 Carbon and Silver RGB Mechanical Gaming Keyboard, its PRO Gaming Headset, and its G560 Lightsync PC Gaming Speaker