Have you ever had a good gaming headset? I'm not talking about the ones you settle for. The free ones that come with consoles or the models you pick up for under $50 out of desperation. I'm talking about a headset that professionals use, something that has you set when you're playing games or enjoying media. I'm talking about a headset like the HyperX Cloud Revolver. Think of it as the elite means of enjoying any form of entertainment.
The HyperX Cloud Revolver is HyperX Gaming's latest headset, a studio-grade peripheral that makes its debut next week. It's an extraordinary piece of technology and the sort of thing you know will be with you for not only this console generation, but maybe even the next too. Its steel frame guarantees it'll always be around, while its memory foam and leatherette cushions keep it comfortable.
You'll want the HyperX Cloud Revolver for gaming first and foremost. The headset has, as mentioned earlier, studio-grade sound stage technology with an increased audio range, and 50mm directional, neodymium magnet drivers with enhanced bass. It's frequency response is 12Hz-28,000Hz, so you'll never miss a thing. This means you'll be more aware of the location of everyone and everything in your game.
It's fantastic for keeping up with your allies and opponents too. The HyperX Cloud Revolver has a noise-cancellation microphone with –40dBV sensitivity. It'll pick up everything you have to say and clearly convey it to your online companions. It also is a TeamSpeak certified device. That means the people you're talking to won't hear any background noise, distortions, or echos. Only you. That's the way it should be, because we all know how important in-game conversations among teammates can be (and sometimes those trash-talking sessions too).
There's another reason the HyperX Cloud Revolver is the best you can get. The headset works with everything. Really, you're absolutely set. The PlayStation 4, Wii U, and Xbox One are all compatible, though you'll probably need a separate adapter for the Xbox One. It works with Windows and Macs, so you can plug it into your PC. Also, consider it your mobile buddy too when traveling or away from home. It works with various mobile devices.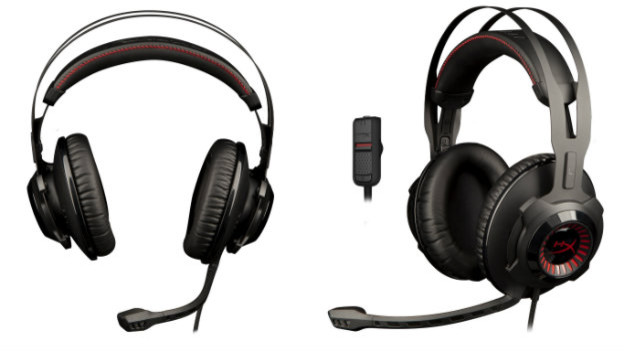 That means you don't have to delegate it to gaming activities. It works with Skype, Discord, Ventrilo, Mumble, and RaidCall, allowing you to keep in touch with everyone you hold dear. The microphone is detachable, easy to plug and unplug, so you can use it for gaming or listening to music and movies. It's also only 360g, so it won't be uncomfortable when worn for long periods of time. It's just there to act as a constant, cozy companion.
All that not only makes the $120 price tag understandable, but even reasonable. The HyperX Cloud Revolver is a headset you can use for absolutely everything. Depending on your lifestyle, it could be used on a daily basis. Wake up, put it on sans-mic for your daily commute. Get home and use it for some gaming sessions. If you're living with someone and want to watch some Netfix or Hulu on your laptop, plug the headset in so nobody's disturbed. Maybe call some family members over Skype to check in before bed. It can handle it all.
The HyperX Cloud Revolver is an admirable piece of equipment. It's from a line you can trust and will work with absolutely every electronic device you own. You'll never be let down with this buddy around. Which isn't just great for you. It's also wonderful for anyone you happen to be gaming with. You'll enjoy the best possible experience, and that's exactly what you deserve.