Publish Date: Thursday, June 18, 2020
Headphones are one of, if not the most, essential items someone needs with their electronic devices today. Practically every important thing in your life uses them. Your phones, tablets, and computers pretty much require them. So, having a good multitasking pair is essential. Especially if it'll work for all conditions. That's what makes a pair of $149.99 1More Dual Driver ANC Pro Wireless In-Ear Headphones so essential. It's designed for people who want to use them everywhere, complete with options to keep them close.
As the name suggests, 1More's Dual Driver ANC Pro Wireless In-Ear Headphones have a pair of dual drivers in their hybrid earbuds. It has a 13.6mm dynamic driver with a titanium composite diaphragm, which means there is a titanium layer and PET layer, that gives you a 32 Ω speaker impedance. It is a Bluetooth 5 device, for maximum compatibility, and is designed to have up to 10m range, so you aren't tied to a specific position or place. It also aims for quality, with the Bluetooth LDAC compatibility having 990kbps data rate to make things sound smooth and clear.
An important part of having headphones like these is being able to take them anywhere. So, what happens if you want to use the 1More Dual Driver ANC Pro Wireless In-Ear Headphones outside of your home? Well, that's when its different options kick in. First, when they're not in use, the magnetic earbuds will meet at the ends. The headphones and them go around your neck, so you'll never loose them. And, if you're working out while they're on, they have IPX5 water and sweat resistance, so they won't be damaged by your activities or a little rain. And, with the 160mAh lithium battery giving about 20 hour music battery life and 13 hours for phone calls, you can trust they'll keep you covered while out. (And even if not, you can get an extra three hours of use on a 10 minute charge.)
What if you are using them while out? Well, the earbuds themselves have wind noise resistance (WNR) built in, so you can focus on conversations or songs. If you have the active noise cancellation (ANR) tech enabled, which is available at two levels or can be off, it relies on an in-ear feedback mic and an external feedforward mic to make sure you're hearing what's important. Up to 35dB of noise will be reduced. The microphones built into it, for things like calls, have Environmental Noise Canceling technology and a Deep Neural Network algorithm. It focuses on and isolates your voice, so that's all the other person will hear.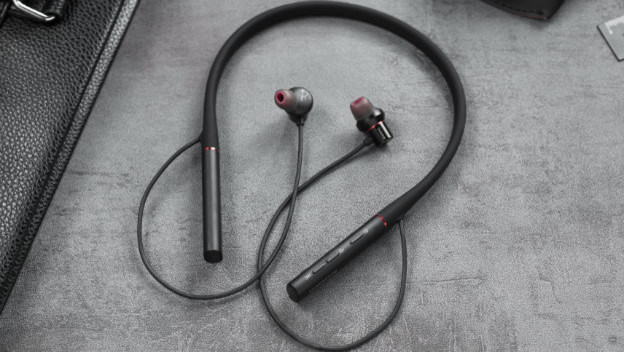 This pair is also a master of subtlety. All of the controls you need are right around your neck, with a few buttons doing some amazing things. You have a power and volume buttons, of course. The power button also activates voice controls for devices. One button is dedicated to handling calls and music control. Plus, the WNR and ANC modes each have their own dedicated buttons. Everything is there, easily accessible, and you'll know how to use them before you know it.
The 1More Dual Driver ANC Pro Wireless In-Ear Headphones are all about offering a degree of control. When you have a pair, you can determine how much of the outside gets in by managing the amount of outside noise gets through. You can manage your music, movies, shows, or conversations with a few pushes of a couple buttons. You know you would have almost a whole day of battery life in good situations, and a pair of headphones that offer extremely high quality sound. It keeps people covered.