When it comes to gaming headsets, sometimes it can feel like bigger is better. We want those cushioned, memory foam cups on our ears to help block out sound. We like having a supportive headband and durable frame. We might even be okay with wired, if it means we have a solid braided cable and know there's a better sense of security. But, when it comes to the audio options for our portable devices, a more minimalistic approach is better. Having something small, yet practical and stylish, can be exactly what we need. In the case of the 1More Stylish True Wireless In-Ear Headphones , everything people may want and need is right in the name. They're Bluetooth 5, wireless earbuds in multiple color options ready to work with your Android or iOS device and make your life easier.
The 1More Stylish True Wireless In-Ear Headphones starts with quite a bit of power packed into its small frame. You have a 7mm dynamic titanium composite driver. It is designed with not only low distortion in mind, but to also make the most of the music you are heading. Its Qualcomm Chip has true Bluetooth 5. It is designed to make a quick and high quality connection with its LDS antenna that prioritizes stability and has strong anti-interference technology. It even has Qualcomm aptX and AAC to make sure everything sounds equal no matter what OS your device uses. Everything is compact, covers a wide area, and makes sure things will always sound as good as it can manage. If you're using them for calls, it even has a stable MEMS microphone to isolate your voice and ensure you're heard, while its Digital Signal Processing blocks outside noise.
No space is wasted here, both inside and out. While each of the 1More Stylish True Wireless In-Ear Headphones' earbuds are small, they have the buttons you need to control everything going on with your device without actually taking it out of a pocket or purse. Each one has one button on it, which can be pressed in different ways to perform various functions. You press and hold the button on each to turn them on or off. The button on the left one can be pressed to answer or decline phone calls. The one on the right lets you execute different kinds of presses to play, advance, or reverse music. It's easy to keep track of and remember, without taking up needless space.Or, I mean, putting them in or taking them out of their case is a way to turn them on or off without bothering with buttons at all. You can even use the buttons
It's also easy to take care of and use them in other ways. After pairing the 1More Stylish True Wireless In-Ear Headphones for the first time, they automatically connect to your device after you remove them from their case. When you have them out, you six and a half hours of active use or 96 hours of standby time. The case itself holds three charges after it has been fully charged, so you don't have to keep gathering cables and plugging things in. If you're in a pinch and didn't get a chance to charge them, the technology in the earbuds and case lets you get three hours of power after a 15 minute charge. Making sure you're powered up is simple.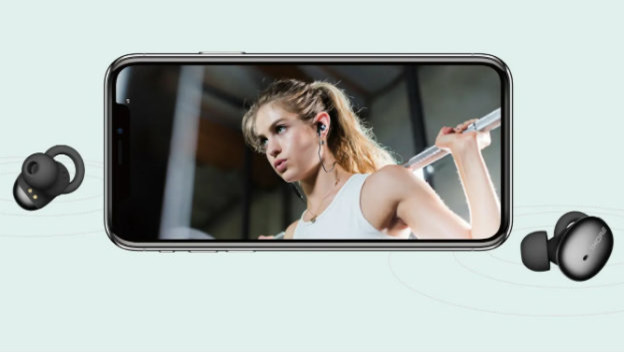 There's also a great deal of customization available with the 1More Stylish True Wireless In-Ear Headphones. The obvious side of this comes with the color options. People have four to choose from: black, gold, green, and pink. But, the ability to choose is more than cosmetic. It applies to comfort too. Each comes with six ear tips, the silicone portion that goes inside of your ear, and six o-hooks, which help keep it in place. You can mix and match these to ensure the perfect and most comfortable fit.
The 1More Stylish True Wireless In-Ear Headphones are designed to be the sort of $99.99 earbuds you rely on every day. They are made of high quality materials, they let you customize them so they look and feel right, they have easy to understand controls, and they don't require too much maintenance. All you have to do is use and enjoy them.