Gaming on the go is great. We have all of these fantastic opportunities to play anywhere now, thanks to the success of the Switch and all sorts of titles showing up on Android and Apple iOS devices. The problem is, many of these systems do not have the best quality speakers. You can not really savor the sound. And, if you are going to play on the go, you need accessories that are ready for the more mobile lifestyle. For people who want these sorts of experiences, a Soundcast VG1 speaker might be a good way to go.
Soundcast's VG1 is the sort of speaker that is perfectly designed to go anywhere with someone. It is only one pound, 2.9 inches tall, 6.8 inches long, and 2.3 inches deep. This means it can easily fit in a backpack or small bag and not weigh you down. It is waterproof and rugged, so a small drop or getting hit by rain or a pool splash will not hurt it. It has a battery that can last for 15 hours before you need to recharge it again, though its external power cord and USB charging port means it is easy to go ahead and recharge anywhere. With its size and shape, it is easy to go ahead and set up your Switch, connect everything via the 3.5mm port, and enjoy better sound.
Or, if you have a tablet or phone with games, music, or movies you would like to hear better, the VG1 has Bluetooth 4.2 technology built into it. There are six memory slots, so it can remember all of your devices without you needing to constantly be pairing them. It also has an auto-muting feature, in case a call or message comes in. Should you need it, it is compatible with Siri so you can issue commands. That means hands-free directives. Plus, it will make your media sound good, thanks to Bluetooth high definition ACC and AptX codecs.
But sounding good is probably what is most important and best about Soundcast's VG1. This may be a small speaker, but it provides amazing sounds. Even though you can fit it in the palm of your hand, it has two aluminum drivers with butyl rubber surrounds capable of 80Hz-20KHz. While this might not make it as loud or comprehensive as the headsets you use while gaming or the speaker system set up in your home, it will absolutely guarantee you hear everything crisply and clearly. Especially since it can handle bass lines well with its rear-firing weighted passive radiator. This is especially important, since playing on the go means you might have to deal with other sounds in your environment. The VG1 will make itself heard.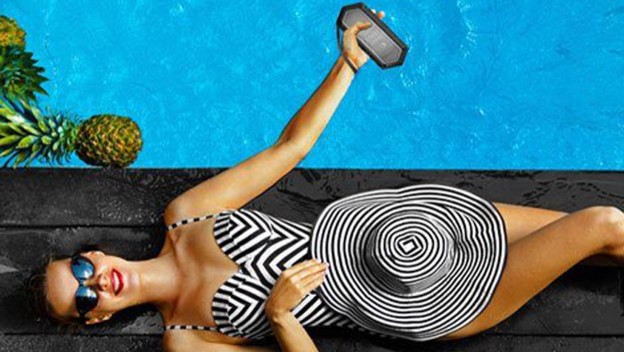 There is also something super cool that happens when you have more than one VG1. The speakers can communicate with one another. If you have two, you can sync them together. That means one will function as a dedicated right speaker, while the other acts as the left speaker. The Bluetooth True Wireless Stereo makes the two work together to provide a whole sphere of surround sound. Instead of sounding like one speaker trying to do it all in a more populated area, it is like you have a sound system on your side. It can be quite comprehensive and accommodating to various needs.
The Soundcast VG1 is one of those admirable devices that does as much as it can for people. This is a durable and portable speaker that can easily go anywhere with you. It can work with all of your major mobile devices. It provides quality sound, with an option for an even richer performance if you happen to sync two together. It is something anyone who travels and games on the go should consider, if they plan to play in public.