How many mobile devices do you have that tend to need charging all at once? My current "high score" is five. Before I go on trips, I always take the time to charge my iPhone, iPad, smartwatch, battery pack and either 3DS or Vita. Keeping all of these together while making sure they are set takes a lot of space, but a Udoq system helps you keep everything together. With this customizable organization device, you can have everything that needs to be charged in place, in front of you, so you do not have to worry about finding enough room or ports for everything.
The Udoq begins with a high grade, CNC milled profile aluminum dock that has silicon straps that keep it from scratching devices. When you go through the configurator process , telling which devices you would ideally use with it, it helps you determine if you need a 250mm, 400mm, 550mm, or 700mm model. It also comes with connectors, adaptors, and USB connectors for these specified devices, so you can properly snake them through the dock and space them out, allowing each phone, tablet, or device to have its own space. Once you get the connectors where you want them and endcaps in place, the Udoq is assembled and ready to begin charging your important items. Prices vary, with the base dock starting at about $89 and the connectors starting at around $10.
The Udoq is about convenience. The dock itself is small and organized, keeping all things together. You could have it in a prominent place in your home or office, perhaps on a desk, or take it when you travel if needed. It lets you clearly see all your devices as they charge, so you could still use them. I feel like it would be a great way to use a tablet to watch Netflix or Hulu without wasting power. Or, if you are in the middle of a game and need help at a specific section, you could have a YouTube guide or forum up on the screen and the Udoq nearby, acting as an assistant as you play.
There is also a social element to Udoq. If you have a family, this is a good way to enforce family time while making sure all devices are in one place and fully charged. Smartphones and tablets have become such an essential item that some people practically have them attached to their hand at all times. By having a Udoq in a kitchen, you can put everything away before a meal and ensure people can sit and enjoy each other's presence without looking at Facebook, Twitter, or YouTube. If people are going to setting in to watch a movie as a family, you can set up the Udoq in the living room, turn all the devices to silent mode, and have them organized at once while you enjoy.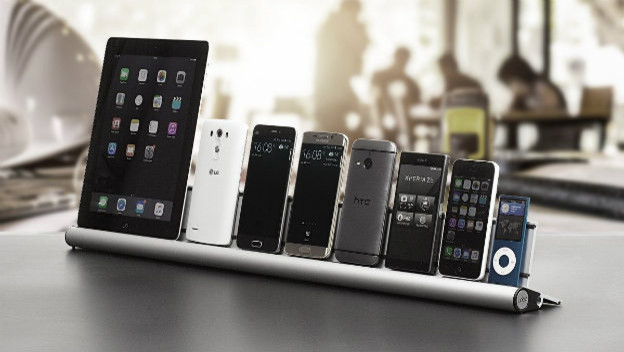 The Udoq is also the kind of item that is perfect as a game room fixture. Maybe this is just me, but whenever I have friends come over to play games, there will be at least one person who will ask if they can use one of my charging cables for with their phone. This means having to set up the computer in an inconspicuous place, get the person's phone connected, and have to worry about them maybe forgetting it. With a Udoq, you can set it up on a shelf or near your social media center, let more than one person also set up their phones for charging, and not have to worry about people taking turns while you are trying to enjoy being together.
USBs are an incredibly common means of charging devices, and it always feels like more than one needs an energy boost at once. Having a dock that lets you have all of your items in one visible place, at an angle where they can still be easily used and enjoyed, can make your life a lot easier. Especially if you have family or friends coming around often. It means everyone can have things in a safe, visible place! If you think it could be for you, check out its Indiegogo campaign!