Single board computers are the future. It's possible to have computers the size of our phones, sometimes even smaller. These fit in the palm of our hand, yet are capable of many of the same functions as our larger laptops and desktops. LattePanda by DFRobot is one such board , offering the ability to run Windows 10, be altered with coding tools like Java, NodeJS, Processing, and Visual Studio, and work with devices like drones, Kinects, and webcams. All this with an Arduino 1.8Ghz quad-core processor, 4GB ram, and 64GB flash memory, as well as Bluetooth 4.0, WiFi, HDMI, and USB 2.0 and 3.0 integration.
You could accomplish some seriously amazing things with a single board computer like a LattePanda. To help inspire your imagination, we've come up with a few basic ideas that would work well with such a device. But really, there's no limit.
Make a tablet.
Surface tablets are expensive. Plus, you're locked into the available options. People have already used Raspberry Pi to make functional phones. Why not try to do something similar and put together a tablet with a single board computer like the LattePanda? You can make it into the exact mobile device you want and need. Think about what you've always wanted and needed from a mobile device, see what the LattePanda board can do, and try putting something together. I mean, you can always buy a touch screen, add extra memory via the MicroSD port, and expand on everything the single board has to offer. Since it's 65% the size of an iPhone 6, it could certainly be a smaller than the Windows 10 tablets on the market today.
Prepare a media hub .
People are all about smart TVs and devices that allow you to stream music and videos from your PC. Instead of being dependent on internet connections, why not use a single board computer like a LattePanda to have everything immediately available in one place? You could craft some sort of add-on that plugs into a TV you already own. It already has 64GB of onboard memory and an HDMI connector. Even better, you could get crafty and find some sort of vintage TV or stereo, do a little tinkering, and have a retro-futuristic device reminiscent of something out of Fallout or BioShock .
Create an emulation station.
Video games are great. They're why you're here at this site. There's a good chance you love them. A single board computer could help you love them even more, as building something with a LattePanda could allow you to make an emulation station for all your favorite first, second, third, fourth, and maybe even fifth generation games. With a little ingenuity and the system's USB 2.0 and 3.0 and Bluetooth compatibility, you could even get some great controllers working with it. And know what would make a great case for such a project? That NES Classic Edition Nintendo will be releasing in November.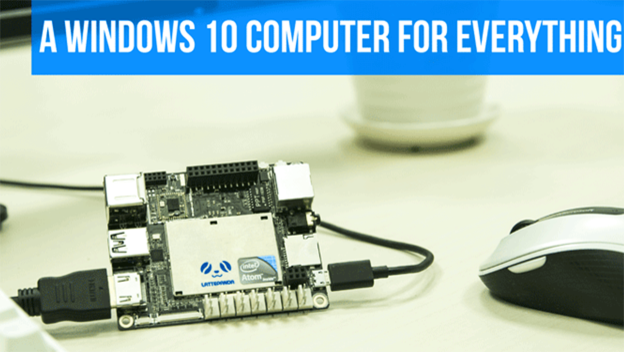 Build a robot.
Robots are cool. They're awesome buddies you can build and program to your liking. A single board computer like the LattePanda could be used to try making a companion. Maybe you could try making a virtual pet? Perhaps you could build something that could recognize paths and go around a track? You could add a Kinect or a webcam and build some sort of security station. The LattePanda's team has already shown this single board computer can work with real-time 3D modeling for drones, so perhaps you can do something with that? Think of it as a license to get creative. It'd be satisfying to piece together a robot, determining what sort of fun and educational functions it could serve.
Keep in mind, these are ideas from someone with only a passing knowledge and comprehension of the LattePanda's capabilities. This is a single board computer that could let you do wonderful things, either with Windows 10 or the Java, NodeJS, Processing, and Visual Studio coding tools. With enough time, effort, and ingenuity, you could end up putting together some amazing projects that go beyond making a standard computer. Your imagination is the only limit.