Update From the Editor-in-Chief – April 24th, 2017:
Since this story originally went live, I was provided with a sample of Solo's new pack the Rival , which I've had the chance to try out on my own. I have to say, for a bag I didn't even realize I wanted, I'm now in love with it! When managing a website like CheatCC, I have to keep a laptop with me when I travel. I'd been putting off getting a good case because I simply wasn't satisfied with the ones found at stores like Best Buy or Walmart.
Then the Rival showed up on my door step and was everything I could've asked for and more. It perfectly fits my extra-large laptop (with the 17-inch screen), but also can accommodate my wife's tablet and both our smart phones with plenty of space left over. The hard shell side pockets offer extra protection and the material throughout is absolutely perfect. I'm not a big fan of the cheap cloth you often find in standard laptop cases, as this is made of polyester and has a real heavy duty feel. I have no doubts this pack will outlast the life of my current laptop, as I have no intention of trading up any time soon. The Revival is a prefect go-to for any tech-head needing to bring their home office with them on the road. I simply can't recommend it enough!
Original Story:
Our lives are constantly expanding. We aren't forced to sit in one place as we work or enjoy our electronics. We can go out and about, enjoying our lives and technology on the go. It's a freeing thing. However, it also means we have additional worries. Traveling with pricy and delicate items can be a harrowing thing. Fortunately, people can rely on bags like the Solo New York Attitude Backpack .
The Solo New York Attitude Backpack is a military-grade backpack that is perfect for carrying all of your valuable cargo with you. This is a bag made of lightweight, parachute nylon, with military-grade Velcro and sturdy zippers to keep everything important to you locked away. This bag isn't going to shift or suddenly rip open, leaving your important items scattered about. It's incredibly durable and good to go.
Even more important is that the Solo New York Attitude Backpack is designed with your technological lifestyle in mind. It has multiple pockets perfect for holding a phone. There is an internal pocket that is designed with iPads and tablets in mind, but would be a great fit for a Nintendo Switch. It even offers a 17.3" laptop compartment that's fully padded. That isn't even mentioning the space you might have to pop a PlayStation Vita or Nintendo 3DS into your bag.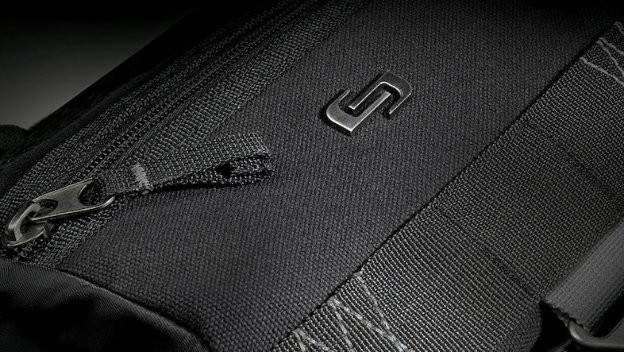 There's something else important to consider about such a bag. When you want a backpack to carry around your things, you'd like it to be comfortable. After all, you have to carry it. The Solo New York Attitude Backpack has you covered there too. It is only 2.2lbs, which is great. There's nothing worse than a bag being heavy before you even put your stuff in it. It also has padded straps and a padded back, to offer extra cushioning and comfort as you carry it. Combine that with a manageable size, as its 18.50" x 12.6" x 4.92", and you should have no trouble taking it, and all your devices, with you everywhere.
The Solo New York Attitude Backpack is something people with busy lives need. It is a hardcore and durable bag that isn't going to tear on you. It has plenty of space for all of the electronics and items you might immediately need, with the pockets and padding necessary to protect them. It even goes out of its way to make you more comfortable, what with it being relatively lightweight and offering all kinds of padding. This $80 bag won't let you down.