Backpacks are a necessity if you enjoy gaming. Eventually, you are going to want to leave your house and perhaps take a computer or system with you. Given how many accessories they need and how delicate they can be, of course you need a sturdy, reliable carrying case. That's where a company like Mobile Edge can come in. Its Core Gaming Backpack can give someone all the space they need.
The Mobile Edge Core Gaming Backpack is designed with carrying around your precious electronics and their extra accessories around. It's made of black ballistic nylon, so it'll be durable, lightweight to begin with, and dirt-resistant. The handle is padded, so if you are carrying it for a while, you aren't feeling the straps digging in with the weight of all your items dragging you down. As for the shoulder straps and back, they have air-mesh and are ventilated, so you won't start getting warm and sweaty while carrying everything around. Plus, you can go with a 16" or 17-18" size, so you have a bag designed specifically for the items you'll be carrying. And, if anything goes wrong, there's a lifetime warranty to fall back on.
As for those items, the Mobile Edge Core Gaming Backpack has a place for everything. Each important item has a pocket or space. You have a laptop section, another section for a tablet that is poly-fleece lined, and a third section that could hold accessories or other items. If you want wallet storage or other items, like pens, papers, and cables, there's an organizer that has specific sections for each item. That way, you're not just tossing your smaller stuff into an abyss and hoping for the best. (You even have specific slots for USB drives and memory cards.) On each side of the backpack, there are two zippered sections. The two on top and could be used for something like a phone, mouse, or maybe easily accessible keys, while the ones on the side could hold a drink bottle or a snack. You could even fit a full keyboard in one pocket, and a full headset can be hooked into place in one pocket.
The Mobile Edge Core Gaming Backpack will also be perfect for people who are going to be flying. Getting all of your items out for TSA is quite a hassle. If you have electronic devices, like a laptop, tablet, or console like a Switch, you're going to have to haul all of that out to show security what you have. Dragging things in and out is a hassle, but there's a place for everything with this accessory. There's a CheckPoint-Friendly laptop compartment designed specifically for these situations, so all you do is unzip it, your bag flat on the conveyor belt, and security can see everything without you pulling the computer out of its pocket. You also keep your tablet or Switch in a fleece-lined pouch on the side, which means quickly grabbing it out and placing it in a bin would be no big deal.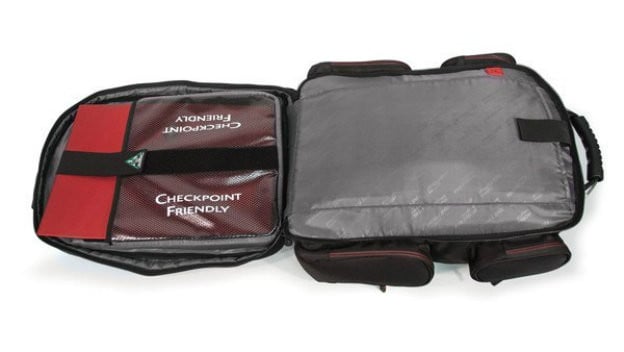 Speaking of travel, the Mobile Edge seems like it is perfectly engineered for an extended trip out of town. When you're getting away, either for fun or maybe to visit people during holidays and downtime, you won't always be able to plug in and charge up your phones, tablets, handhelds, or computers. It can be real inconvenient. Even if you do have battery packs, you have to constantly be pulling them in and out. This backpack has three designated spaces for batteries and power banks. The wires are built into the bag, so you have a USB 3.0 ready to go. You don't need to balance all sorts of battery packs around you. You just plug into your bag and let it keep things organized for you.
This Mobile Edge backpack attempts to do it all. For $129.99, people get a bag that could carry every PC item you need at the moment, of course with other small, essential electronics. It could end up being a great convention buddy. Especially since the front of the bag has a space specifically designed for the patches and badges you'll collect from each one.