Being able to have a portable music player is unquestionably handy, but relying on another device you own to pull double duty can be a bit much. I mean, music libraries can take up a lot of space, making a streaming service on a phone seem more enticing than trying to load up over 30GB of your personal music collection on a device that may only have 32GB of memory and need other mobile apps. A dedicated device can be a godsend, which makes a FiiO M11 Pro seem enticing.
The FiiO M11 Pro is a way to take their music library everywhere without worrying about taking up space or using up the battery on other, more critical devices that they might need for work, navigation, or taking calls. This is a device with a Samsung Exynos 7872 hexa-core processor, which is more than people might expect from "just a music player."
Also, since the FiiO M11 Pro is an open-source Android product, which means it supports third party apps. You control everything via its touchscreens. This means you could play around with the device and experiment with what its capable of. Maybe you even go beyond music with it. Who knows? It's up to you once you have it in your hands.
But if you do decide to grab one just for the music, the FiiO M11 Pro makes sure you have a quality experience. It has Dual Hi-Res Audio certifications, which means it is Hi-Res Audio and Hi-Res Audio Wireless capable. If you just grab audio from storefronts and transfer over the MP3s, you'll be fine. If you prefer higher formats, like PCM 384kHz or DSD256, it can manage those too. You can keep listening and going for up to nine and a half hours. (If you're not using it, it will end up keeping its charge and waiting for you in a standby mode for up to 55 days.)
As far as storage goes, it is a beast. It has 3GB RAM and 64GB of storage so you can carry a lot of music with you. If that isn't enough, it also supports microSD cards too. Up to 2TB cards could be popped in to expand its capabilities, allowing you to essentially have everything you could ever need running just on your FiiO M11 Pro.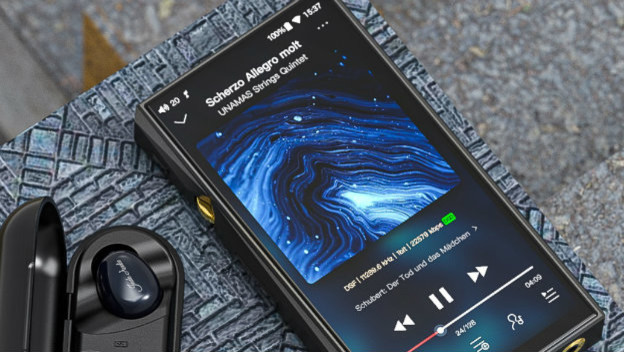 You can also transmit your music through various means. This includes Bluetooth, line output, USB, and even coaxial. The device also has Dual-band WiFi, in the 2.4GHz and 5GHz varieties. It has two-way Bluetooth with LDAC so it can transmit and receive lossless Bluetooth.
A FiiO M11 Pro is the kind of product that is just handy to, well, have on hand. Music is an essential part of people's lives. No matter what you're doing, it could help set a mood or make a situation more enjoyable. While many devices can multitask, there's often a cost associated with that. By getting a dedicated device, you don't have to worry about that and can let one handheld item go with you everywhere and take care of your audio entertainment needs. If someone has $649.99 set aside to spend on one, it could be an option for someone who wants to spread and share their songs.