Since its 2009 release, The Sims 3 has become a beloved installment in Maxis' iconic simulation game franchise. Offering players endless possibilities to create and shape the virtual lives of their Sims, it's still enjoyed by many fans even after the launch of the wildly popular The Sims 4. While the base game offers a plethora of content, the Sims 3 store is a treasure trove of additional items, worlds, and experiences that are easy to overlook. In this roundup, we'll explore some of our favorite items in the Sims 3 store, focusing on some lesser-known hidden gems as well as some must-have fan favorites.
Midnight Hollow
Some of the best items in The Sims 3 store are the new worlds players can buy. One standout gem is the Midnight Hollow world. This dark town has a gothic vibe, perfect for players who love all things mysterious and macabre. Its Victorian architecture and eerie lighting create a unique atmosphere. What makes this add-on really great is its eccentric residents like the Yates family, a clear spoof of the Bates family from the Psycho films.
Lucky Palms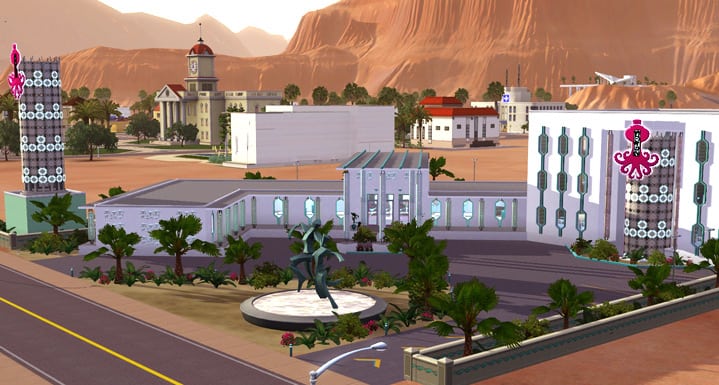 Lucky Palms is an oasis in the desert for players looking for a serious change of scenery. This beautifully designed desert world offers a refreshing contrast to the usual suburban or urban settings. With palm trees, oasis pools, Mediterranean-inspired architecture, and a magical Wishing Well, it's a hidden gem that provides a breath of fresh (and very dry) air in the Sims 3 universe. With the Gold edition, your Sims can also hit the blackjack tables and slot machines in the Lucky Simoleon Casino.
Roaring Heights
Step back in time to the glitz and glamour of the 1920s in the world of Roaring Heights. This world, another treasure from The Sims 3 store, introduces players to a lively, retro atmosphere filled with jazz clubs, classic cars, and stylish fashion. Whether you're a fan of The Great Gatsby or just love the Art Deco aesthetic, Roaring Heights is the perfect way for your Sims to experience the culture of the roaring '20s. The icing on the cake is the included Classically Cool Fixer-upper Car, which lets you rebuild and drive an old-school road cruiser.
Hidden Springs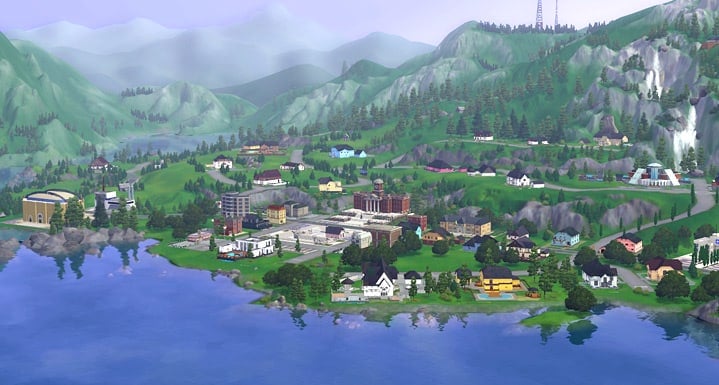 Hidden Springs is another serene and picturesque world from The Sims 3 store. Nestled in the mountains and shrouded in mystery, it's the perfect destination for Sims needing a peaceful, nature-filled escape. The world is dotted with tranquil lakes, hidden grottos, and new activities and locations for Sims to discover. It's an enticing getaway for those who appreciate the beauty of the great outdoors. There are also rumors surrounding the area's alleged healing powers. Then there's the secretive townsfolk and the supposed existence of the Fountain of Youth… but is it true? That's for you to find out.
The Boardwalk
Add a dash of nostalgia and outdoor fun to your Sims' lives with The Boardwalk venue. This amusement park features carnival games, the Sky High Roller Coaster, cotton candy machines, and more, allowing your Sims to enjoy a day of fun and excitement at the beach. While not a full-fledged world, it's a lesser-known gem from The Sims 3 store. You can even create your very own roller coaster for your Sims to enjoy.
Sunlit Tides
Sunlit Tides is a picturesque world that transports your Sims to an island paradise. This Sims 3 store world boasts tropical landscapes, crystal-clear waters, and vibrant locals, making it a great addition to your Sims universe. Swaying palm trees, sandy beaches, and charming tiki bars form the perfect backdrop for your Sims to soak up the sun and enjoy the laid-back island life. Whether you want to chill at the beach, fish in the lagoon, or sweat it out in the Steam-It-Up Sauna, Sunlit Tides provides your Sims with a much-needed waterfront vacation.
Monte Vista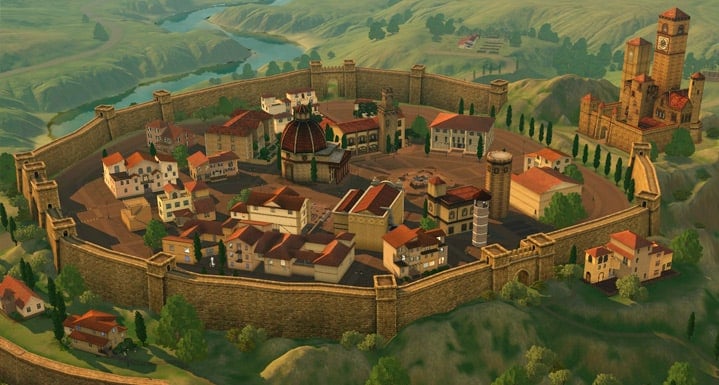 Monte Vista is another world from The Sims 3 store that's worth exploring for lovers of old-school European charm. Inspired by Italy, this store world brings the rolling hills, vineyards, and picturesque villages of Tuscany to your Sims' lives. Your Sims can indulge in Italian cuisine, sip fine wines, explore the piazza, and try their hand at making bread and pizzas with the new Wood Fire Oven. The world is also rich in history, with old-world architecture, museums, and historic landmarks that create an immersive experience. Monte Vista is the ideal setting for players who want a taste of European elegance with a dash of Italian amore.
Titanic Toy Machine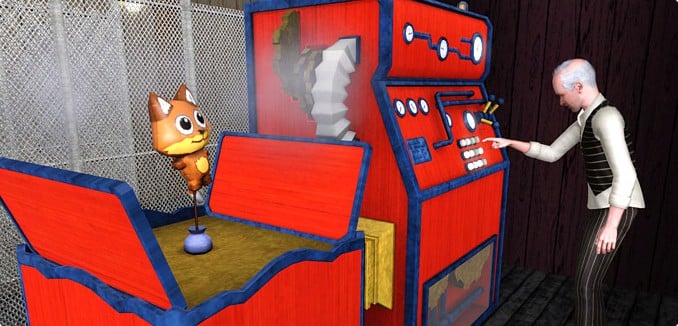 The Titanic Toy Machine is a fan-favorite item from The Sims 3 store and is included in the Gold edition of Midnight Hollow. This quirky item, allegedly created by a group of gnomes, lets your Sims create and collect new toys. Watching your Sims interact with the Titanic Toy Machine is fun, but this is also a highly useful addition to your world. With it, you can make any toy in the game, or you let the machine pop out a random one. And with the Savvy Seller's Collection, you can even use the Titanic Toy Machine to open your own toy-making shop.
Toddler Walker and Playpen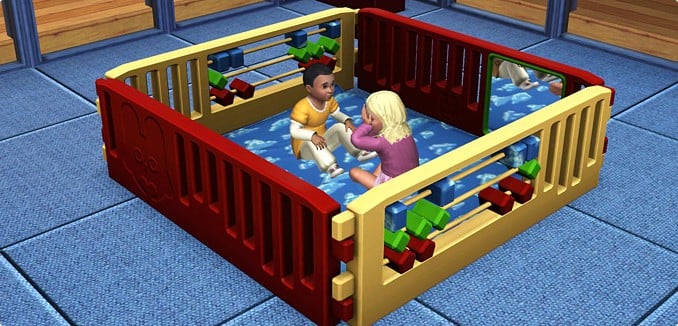 Raising children in The Sims 3 is a rewarding but demanding task. That's where the Local Motion Toddler Walker and Head Start Playpen come in. These essential items from The Sims 3 store provide safe ways for your toddler Sims to explore and learn. The Local Motion Toddler Walker encourages little ones to take their first steps, improving their walking skill. Meanwhile, the Head Start Playpen offers a space for toddlers to play with toys, learn new things, and develop their social skills by interacting with other toddlers. The Toddler Walker and Playpen are hugely helpful additions to your Sim family's home, making the toddler stage of parenting much more manageable.
Honorable Mentions
Although they didn't make the official list, here are a few more items from The Sims 3 store that deserve some love:
Fowl and Feathers Chicken Coop
Thinking about adding a chicken coop to your home? The Fowl and Feathers Chicken Coop allows your Sims to raise chickens, gather eggs, and verbally spar with Charles the Evil Chicken. This delightful addition brings a touch of rural life, complete with an evil chicken, to your Sims' backyard.
Prism Art Studio
The Prism Art Studio is a venue from The Sims 3 store that lets your Sims unleash their artistic talents. The set includes art supplies, an easel, and the Artisan's Glassblowing and Jewelry Making Station. Sims can create stunning paintings, blown glass, jewelry, and more. Your Sims' creations can then be put on display or sold for a profit.
Brunch at the Old Mill
Tired of the same old dining options? Brunch at the Old Mill is a rustic and charming restaurant venue with a distinct Hobbit-like feel. It adds a unique dining experience to your Sims' world with delicious dishes and tea. It's the perfect place for your Sims to enjoy a relaxing Hobbit-style meal after a long day of not working too hard.
Grandpa's Grove Tractor
Give your Sims a taste of farm life with Grandpa's Grove Tractor. This vehicle allows your Sims to manage their farm and cruise the neighborhood in style. You can water, fertilize, and harvest crops or take your Sims on a fun hay ride.
While The Sims 3 may not get the attention it deserves given the massive popularity of its successor, The Sims 4, it remains a favorite of many. The game's store is also a treasure trove of worlds, venues, and items that can enhance your Sims' virtual lives in a myriad of ways. Whether you're looking for new locales to explore, stylish outfits to wear, or quirky items to decorate and play with, there's always something to discover in The Sims 3 store.