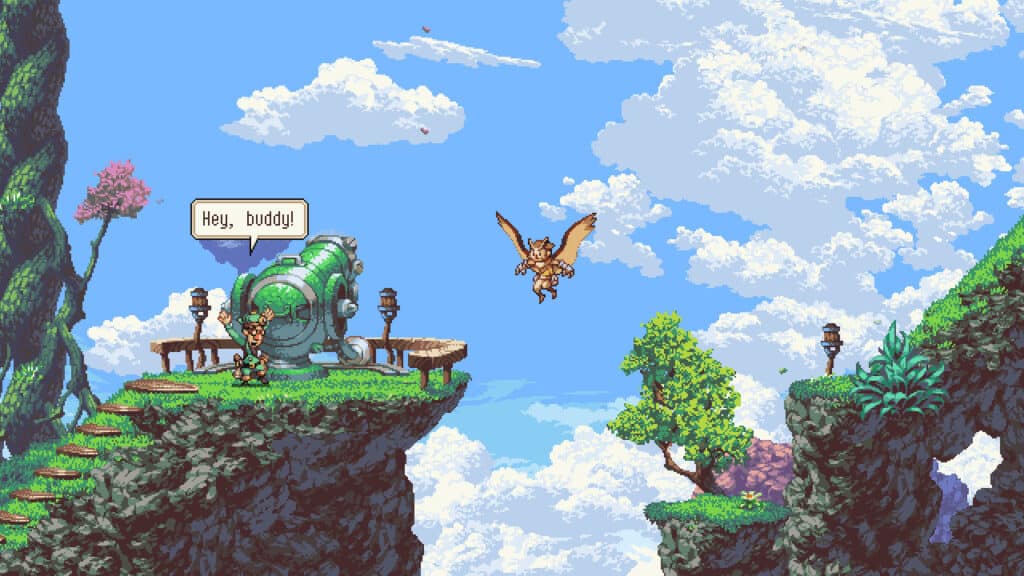 Although many classify it as a Metroidvania, D-Pad Studio's Owlboy is actually a fairly unique action platformer that focuses more on verticality and story than most games in the Metroidvania subgenre. Coming from the mind of solo developer Simon Stafsnes Andersen, Owlboy takes inspiration from several of the great games in the NES and SNES library. Andersen himself spoke of his reverence for Super Mario Bros. 3 and its flight-enabling Tanooki Suit, leading him to directly incorporate flight as a key mechanic within the world of Owlboy.
The development of Owlboy is notable for taking much longer than the dev cycles of AAA blockbusters, lasting nearly 10 years. Most of the delays to the project starting and stopping production due to Andersen's struggles with mental health and what the team describes as several restarts coming from fears of not meeting fan expectations. Owlboy would eventually arrive for PC and Nintendo Switch in 2016 after first beginning development in 2007, with the PlayStation 4 and Xbox One versions following shortly thereafter.
Owlboy is the recipient of several glowing reviews from major game publications as well as nominations for a slew of awards. In addition to noteworthy and prestigious nominations at both the D.I.C.E and Golden Joystick Awards, it's also the winner of the Gamer's Voice Single Player award at the 2017 SXSW Game Awards.
Owlboy Premise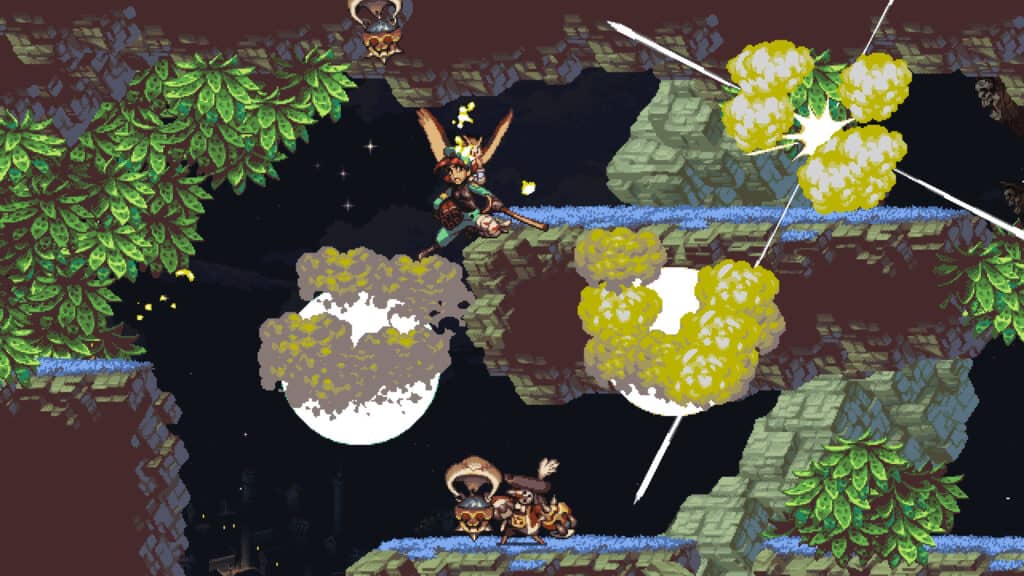 Owlboy is an action platformer in which players control the titular character whose name is Otus. Despite copious training from his mentor and receiving the cloak that grants him the ability of flight, Otus' neighbors view him as being undeserving of the owl mantle and incapable of being anything other than a nuisance. However, when his village comes under attack by a group of vicious pirates, Otus partners with his friend Geddy to bravely face danger and defend his home.
Like other Metroidvania games, players can backtrack and revisit previous areas to uncover previously inaccessible secrets. However, unlike many other Metroidvanias that focus on exploring horizonally inclined platforms, Owlboy opens up its screens and map to place an emphasis on verticality and flight. Additionally, the game features a heartfelt and moving tale in which the main character learns to appreciate himself for who he is rather than who he feels he's expected to be, and the game's narrative depth is uncharacteristic of most Metroidvania titles.
Owlboy Main Characters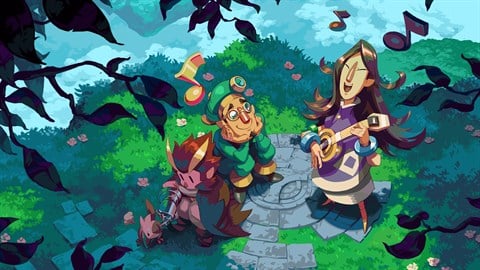 In addition to Otus and his best friend Geddy, there are several noteworthy and three-dimensional characters in Owlboy that help to flesh-out its heartfelt narrative. Out of the characters in the story, the player gets to control both Geddy and Alphonse in addition to Otus and use their different abilities to tackle unique situations. The characters in Owlboy include:
Otus: Otus is the titular Owlboy and the protagonist of the game. He is young and lacking in experience but more than makes up for it with his heart of gold and willingness to dive headfirst into danger.
Geddy: Geddy is a human and Otus' best friend. He's a mechanic for the defense systems of he and Otus' hometown but also is handy with a pistol.
Alphonse: Although he originally appears as a pirate, Alphonse decides to switch sides and become friends and partners with Otus and Geddy. His signature weapon is a blunderbuss that creates destructive blasts with a wide arc.
Asio: Asio may be Otus' mentor, but he's neither encouraging nor helpful, instead belittling and demeaning Otus at every chance he gets.
Dirk: Dirk is one of the high-ranking pirates and a friend to Alphonse who feels betrayed at him leaving to join up with Otus and go against the pirates' mission.
Games in the Owlboy Series
To-date, there's only one game featuring Otus and his companions. Additionally, Andersen and D-Pad Studio have another game in the works currently but it is not in any way related to Owlboy. Games in the series include:
Owlboy Cheats & Secrets
Despite releasing on both consoles and PC, only the PC version of Owlboy features cheats. Additionally, there are also cheats available for the PC version via third-party cheat engine software and a cheat trainer. This guide will cover both options in an effort to be comprehensive.
Enabling Owlboy Cheats for PC
In order to enable cheats on PC, simply hold the C, H, and E keys on the keyboard simultaneously during gameplay. If done correctly, a chime will sound in the game and two additional prompts will appear on the main menu. There are new options from the main menu that would otherwise not be possible, but the actual cheats are only usable in-game.
In-Game Cheat Commands
| Command | Cheat |
| --- | --- |
| F4 | Heal the player to full health at any point during play |
| F7 | Creates a save file from the most recent checkpoint |
| F8 | Loads a save file created using the F7 cheat |
Cheat Engine and Cheats
There are a handful of cheat engines with cheat trainer files for Owlboy, but the most robust is from Plitch. After downloading and installing the Plitch cheat engine, players will have access to the following cheats for Owlboy from the cheat trainer file:
Activation Cheat
Player Cheats
Refill Health
Lower Health
Health Cheats
God Mode
Invincibility: ON
Invincibility: OFF
Attribute Cheats
Set Jump Height (Default = 5)
Set Running Speed (Default = 0)
Money Cheats
Owlboy Cheat FAQs
How long is Owlboy?
A standard playthrough of the game should take most players between 7-8 hours to finish, with a 100% completionist playthrough advancing that number to between 12-14 hours.
Does Owlboy have combat?
Owlboy does indeed feature combat, with the primary control scheme being similar to that of a twin-stick shooter. Additionally, there are several high-tension moments that require players to skillfully fly through dangerous scenarios.
Are there cheats for Owlboy?
There are no cheats for the console releases of Owlboy, but like most cross-platform titles, the game does have cheats available through installing a third-party cheat engine and downloading its cheat trainer files. The PC version also has some limited cheats that are officially supported by the game.