What exactly are the differences between two Pokemon games, and how do they compare? With a franchise dating back over 20 years, it can be challenging for a new player to answer these questions. Each Generation has unique mechanics, styles, and, of course, Pokemon.
This article breaks down everything there is to know about Pokemon Brilliant Diamond/Shining Pearl and Black 2/White 2. By the end, you'll figure out which game is best for you and hopefully learn some interesting facts. Each of these iconic games represents a change in the series, with one being a sequel while the other is a remaster. So, let's jump right in and give a full comparison of these legendary titles.
Games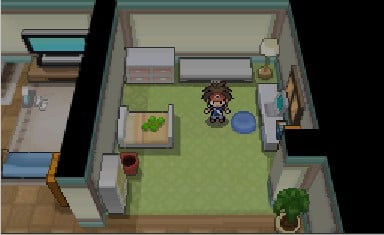 It's not often that Pokemon games get direct sequels. Storylines or characters may transfer over to other games but, for the most part, have no connections. Pokemon Black/White 2 was the sequel to the 2010 game Pokemon Black/White. While it didn't sell as well(7 million copies compared to 16 million), the games feature new storylines taking place two years after the original games.   
Brilliant Diamond/ Shining Pearl are remakes of the 2006 games Diamond/Pearl, the first Pokemon games released on the DS. The remakes feature modernized graphics, a new engine, and an overhaul to some gameplay mechanics. As of 2022, BD/SP sold over 14 million copies worldwide. These sales are close to the original titles that sold 17 million copies.
| Category | Brilliant Diamond/Shining Pearl | Pokemon Black/White 2 |
| --- | --- | --- |
| Release Year | 2021 | 2012 |
| Total Units Sold | 14 million | 7 million |
| Console | Nintendo Switch | Nintendo DS |
Regions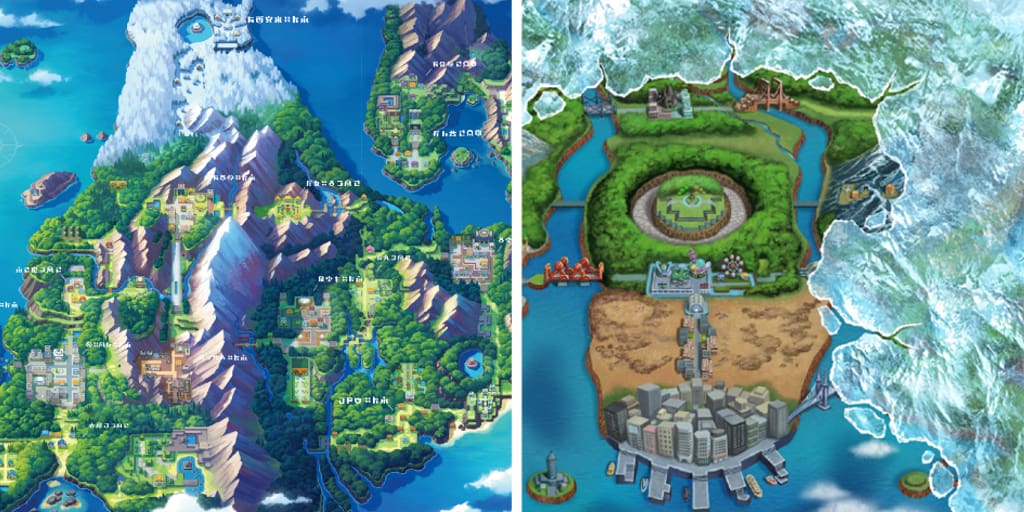 Brilliant Diamond/Shining Pearl brings players back to the Sinnoh region, an island based on the Japanese island of Hokkaido. Due to its location, it featured the first snow/cold weather route in the franchise. A large mountain splits the island in half, creating two distinct sub-regions. It also doesn't have many water routes, with most areas in the games taking place on land despite being an island.
Black/White 2 take place in the same Unova region. Unova is far from other regions like Kanto, Johto, Hoenn, and Sinnoh. The area takes inspiration from New York City and features a mix of residential and industrial areas. Various new Black/White 2 areas are absent in the first games. The region has one of the greatest ranges in the franchise, with small rural towns and large metropolis areas. 
Features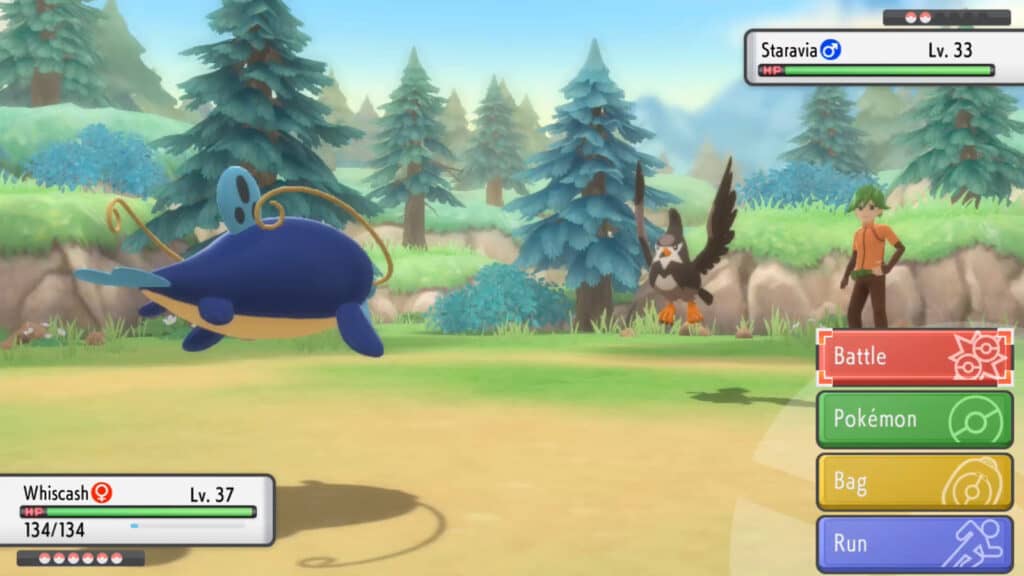 Brilliant Diamond/Shining Pearl are relatively faithful remakes of the original games but have distinct differences. These changes make the game easier and less of a headache and grind to get through. While not all of them are popular, it showed how the developers tried modernizing the game for today's audience.
HM Moves: HM or Hidden Machine moves make their return in BD/SP. In the original games, these were moves taught to Pokemon and were required to access certain areas. Only the required HMs return and no longer require teaching one of your own Pokemon to use them.
Auto-Save: Unlike past titles, BD/SP have auto-saves, meaning you won't have to save after every minor accomplishment manually.
Portable PC: The player's PC can be accessed from anywhere after unlocking it from the first Gym Battle. No longer will players have to travel to a Pokemon Center to swap out Pokemon.
Exp. Share: Pokemon can now gain experience and level without having to battle. If one Pokemon wins a battle, every Pokemon on the team will receive some exp.
Battle Knowledge: After battling a Pokemon once, the game will inform you which moves are effective/not effective, making fights easier.
Pokemon Platinum: Pokemon Platinum is often seen as one of the best games in the franchise. The game fixed issues from Diamond/Pearl and created one of the most memorable experiences. However, content and changes from Platinum cannot be found in these remakes, being more faithful to their direct games.
Most features in Black/White 2 stem from Black/White but have some unique mechanics. This adds to the games being treated more like sequels than other titles like Emerald or Platinum, which act as enhanced base game versions.
A Challenge and Easy Mode were introduced, raising and lowering opposing Trainers' strength.
Pokemon World Tournament: Players can battle Gym Leaders and Champions from all five regions, bringing back classic characters.
Pokestar Studios: A new feature that allows players to make their own movies with Pokemon.
Trainers can earn medals, which act as achievements in-game.
Every Trainer in the game has their own battle animations, along with the Pokemon.
Move Tutors return from Pokemon Platinum that teaches moves for Shards.
A new Team Plasma was formed during the two-year time skip, with Ghetsis again running the team.
Several areas previously limited to the post-game of Black and White are now part of the main story.
Gym Battles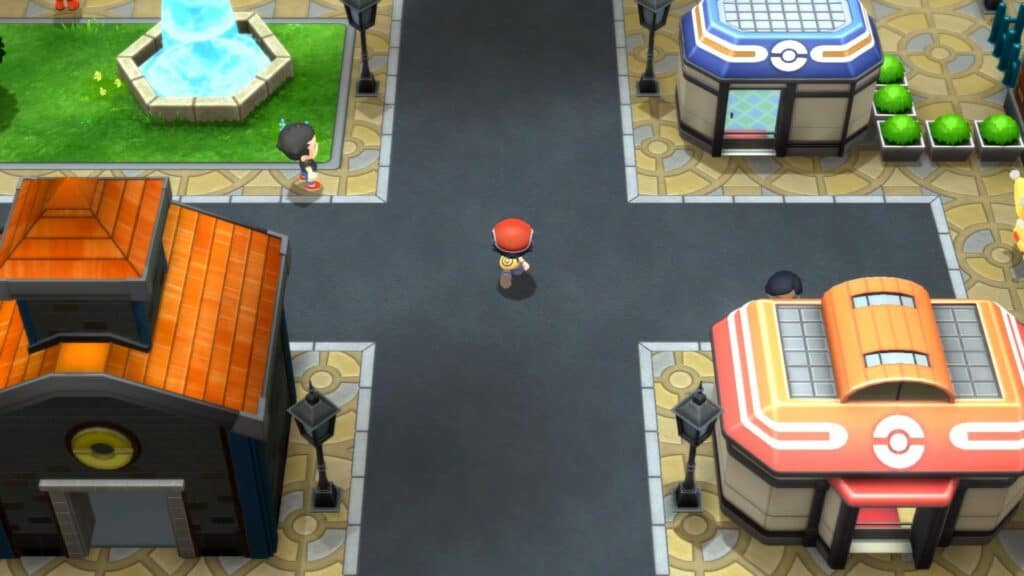 Both games feature the classic Pokemon system of fighting eight Gym Leaders before fighting the Elite Four and eventually the Pokemon Champion. However, there are some key differences between the two. Brilliant Diamond/Shining Pearl features an Exp. Share that levels Pokemon up simultaneously.
This takes away hours of grinding for levels and usually makes the final battles easier. While Pokemon Black/White 2 has no such feature, it does allow players to battle every Leader and Champions from previous games. Because of this, there is a larger variety and post-game content to complete than BD/SP.
Pokemon
At release, fans were taken aback by Black/White since they featured an entirely new roaster of Pokemon. This was the first time in the franchise, besides the first game, that had all new Pokemon created for the game. Past titles relied on a combination of new and old to flesh out the experience. Black/White 2 kept this new roster of Pokemon, making it easy for fans to adjust to the new game.
Similar to Black/White 2, BD/SP features the same Pokemon from the original game. Although some fans wanted a combination of old and new, the team made the remake as faithful as possible. It's because of this that the remakes are polarizing among fans.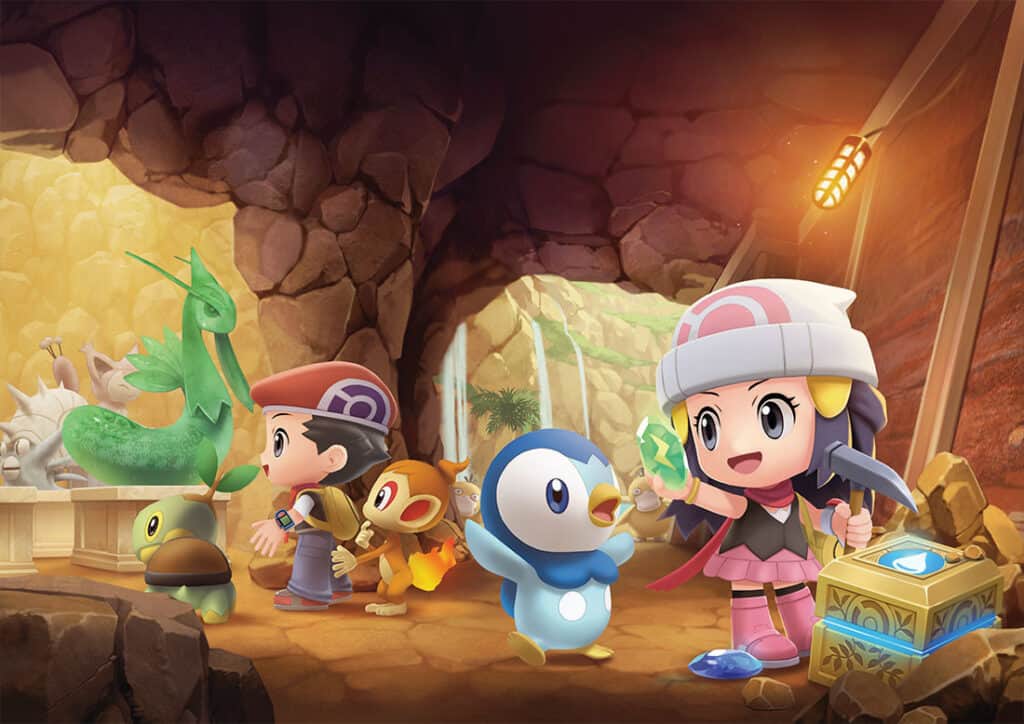 Brilliant Diamond/Shining Pearl Pokedex
Pokedex #
Pokemon
Type
Evolution
#0387
Turtwig
Grass
Beginning of evolution, Grotle (#388)
#0388
Grotle
Grass
Turtwig (#387), Torterra (#389)
#0389
Torterra
Grass, Ground
Grotle (#388), End of evolution
#0390
Chimchar
Fire
Beginning of evolution, Monferno (#391)
#0391
Monferno
Fire, Fighting
Chimchar (#390), Infernape (#392)
#0392
Infernape
Fire, Fighting
Monferno (#391), End of evolution
#0393
Piplup
Water
Beginning of evolution, Prinplup (#394)
#0394
Prinplup
Water
Piplup (#393), Empoleon (#395)
#0395
Empoleon
Water, Steel
Prinplup (#394), End of evolution
#0396
Starly
Normal, Flying
Beginning of evolution, Staravia (#397)
#0397
Staravia
Normal, Flying
Starly (#396), Staraptor (#398)
#0398
Staraptor
Normal, Flying
Staravia (#397), End of evolution
#0399
Bidoof
Normal
Beginning of evolution, Bibarel (#400)
#0400
Bibarel
Normal, Water
Bidoof (#399), End of evolution
#0401
Kricketot
Bug
Beginning of evolution, Kricketune (#402)
#0402
Kricketune
Bug
Kricketot (#401), End of evolution
#0403
Shinx
Electric
Beginning of evolution, Luxio (#404)
#0404
Luxio
Electric
Shinx (#403), Luxray (#405)
#0405
Luxray
Electric
Luxio (#404), End of evolution
#0406
Budew
Grass, Poison
Beginning of evolution, Roselia (#315)
#0407
Roserade
Grass, Poison
Roselia (#315), End of evolution
#0408
Cranidos
Rock
Beginning of evolution, Rampardos (#409)
#0409
Rampardos
Rock
Cranidos (#408), End of evolution
#0410
Shieldon
Rock, Steel
Beginning of evolution, Bastiodon (#411)
#0411
Bastiodon
Rock, Steel
Shieldon (#410), End of evolution
#0412
Burmy
Bug
Beginning of evolution, Wormadam (#413), Mothim (#414)
#0413
Wormadam
Bug, Grass
Bug, Ground
Bug, Steel
Burmy (#412), End of evolution
#0414
Mothim
Bug, Flying
Burmy (#412), End of evolution
#0415
Combee
Bug, Flying
Beginning of evolution, Vespiquen (#416)
#0416
Vespiquen
Bug, Flying
Combee (#415), End of evolution
#0417
Pachirisu
Electric
No evolution
#0418
Buizel
Water
Beginning of evolution, Floatzel (#419)
#0419
Floatzel
Water
Buizel (#418), End of evolution
#0420
Cherubi
Grass
Beginning of evolution, Cherrim (#421)
#0421
Cherrim
Grass
Cherubi (#420), End of evolution
#0422
Shellos
Water
Beginning of evolution, Gastrodon (#423)
#0423
Gastrodon
Water, Ground
Shellos (#422), End of evolution
#0424
Ambipom
Normal,
Aipom (#190), End of evolution
#0425
Drifloon
Ghost, Flying
Beginning of evolution, Drifblim (#426)
#0426
Drifblim
Ghost, Flying
Drifloon (#425), End of evolution
#0427
Buneary
Normal
Beginning of evolution, Lopunny (#428)
#0428
Lopunny
Normal
Buneary (#427), Mega Evolution
#0429
Mismagius
Ghost
Misdreavus (#200), End of evolution
#0430
Honchkrow
Dark, Flying
Murkrow (#198), End of evolution
#0431
Glameow
Normal
Beginning of evolution, Purugly (#432)
#0432
Purugly
Normal
Glameow (#431), End of evolution
#0433
Chingling
Psychic
Beginning of evolution, Chimecho (#358)
#0434
Stunky
Poison, Dark
Beginning of evolution, Skuntank (#435)
#0435
Skuntank
Poison, Dark
Stunky (#434), End of evolution
#0436
Bronzor
Steel, Psychic
Beginning of evolution, Bronzong (#437)
#0437
Bronzong
Steel, Psychic
Bronzor (#436), End of evolution
#0438
Bonsly
Rock
Beginning of evolution, Sudowoodo (#185)
#0439
Mime Jr.
Psychic, Fairy
Beginning of evolution, Mr. Mime (#122)
#0440
Happiny
Normal
Beginning of evolution, Chansey (#113)
#0441
Chatot
Normal, Flying
No evolution
#0442
Spiritomb
Ghost, Dark
No evolution
#0443
Gible
Dragon, Ground
Beginning of evolution, Gabite (#444)
#0444
Gabite
Dragon, Ground
Gible (#443), Garchomp (#445)
#0445
Garchomp
Dragon, Ground
Gabite (#444), Mega Evolution
#0446
Munchlax
Normal
Beginning of evolution, Snorlax (#143)
#0447
Riolu
Fighting
Beginning of evolution, Lucario (#448)
#0448
Lucario
Fighting, Steel
Riolu (#447), Mega Evolution
#0449
Hippopotas
Ground
Beginning of evolution, Hippowdon (#450)
#0450
Hippowdon
Ground
Hippopotas (#449), End of evolution
#0451
Skorupi
Poison, Bug
Beginning of evolution, Drapion (#452)
#0452
Drapion
Poison, Dark
Skorupi (#451), End of evolution
#0453
Croagunk
Poison, Fighting
Beginning of evolution, Toxicroak (#454)
#0454
Toxicroak
Poison, Fighting
Toxicroak (#453), End of evolution
#0455
Carnivine
Grass
No evolution
#0456
Finneon
Water
Beginning of evolution, Lumineon (#457)
#0457
Lumineon
Water
Finneon (#456), End of evolution
#0458
Mantyke
Water, Flying
Beginning of evolution, Mantine (#226)
#0459
Snover
Grass, Ice
Beginning of evolution, Abomasnow (#460)
#0460
Abomasnow
Grass, Ice
Snover (#459), Mega Evolution
#0461
Weavile
Dark, Ice
Sneasel (#215), End of evolution
#0462
Magnezone
Electric, Steel
Magneton (#082), End of evolution
#0463
Lickilicky
Normal
Lickitung (#108), End of evolution
#0464
Rhyperior
Ground, Rock
Rhydon (#112), End of evolution
#0465
Tangrowth
Grass
Tangela (#114), End of evolution
#0466
Electivire
Electric
Electabuzz (#125), End of evolution
#0467
Magmortar
Fire
Magmar (#126), End of evolution
#0468
Togekiss
Fairy, Flying
Togetic (#176), End of evolution
#0469
Yanmega
Bug, Flying
Yanma (#193), End of evolution
#0470
Leafeon
Grass
Eevee (#133), End of evolution
#0471
Glaceon
Ice
Eevee (#133), End of evolution
#0472
Gliscor
Ground, Flying
Gligar (#207), End of evolution
#0473
Mamoswine
Ice, Ground
Piloswine (#221), End of evolution
#0474
Porygon-Z
Normal
Porygon2 (#233), End of evolution
#0475
Gallade
Psychic, Fighting
Kirlia (#281), Mega Evolution
#0476
Probopass
Rock, Steel
Nosepass (#299), End of evolution
#0477
Dusknoir
Ghost
Dusclops (#356), End of evolution
#0478
Froslass
Ice, Ghost
Snorunt (#361), End of evolution
#0479
Rotom
Electric, Ghost
Electric, Fire
Electric, Water
Electric, Ice
Electric, Flying
Electric, Grass
No evolution
#0480
Uxie
Psychic
No evolution
#0481
Mesprit
Psychic
No evolution
#0482
Azelf
Psychic
No evolution
#0483
Dialga
Steel, Dragon
No evolution
#0484
Palkia
Water, Dragon
No evolution
#0485
Heatran
Fire, Steel
No evolution
#0486
Regigigas
Normal
No evolution
#0487
Giratina
Ghost, Dragon
No evolution
#0488
Cresselia
Psychic
No evolution
#0489
Phione
Water
No evolution
#0490
Manaphy
Water
No evolution
#0491
Darkrai
Dark
No evolution
#0492
Shaymin
Grass
Grass, Flying
No evolution
#0493
Arceus
Normal
No evolution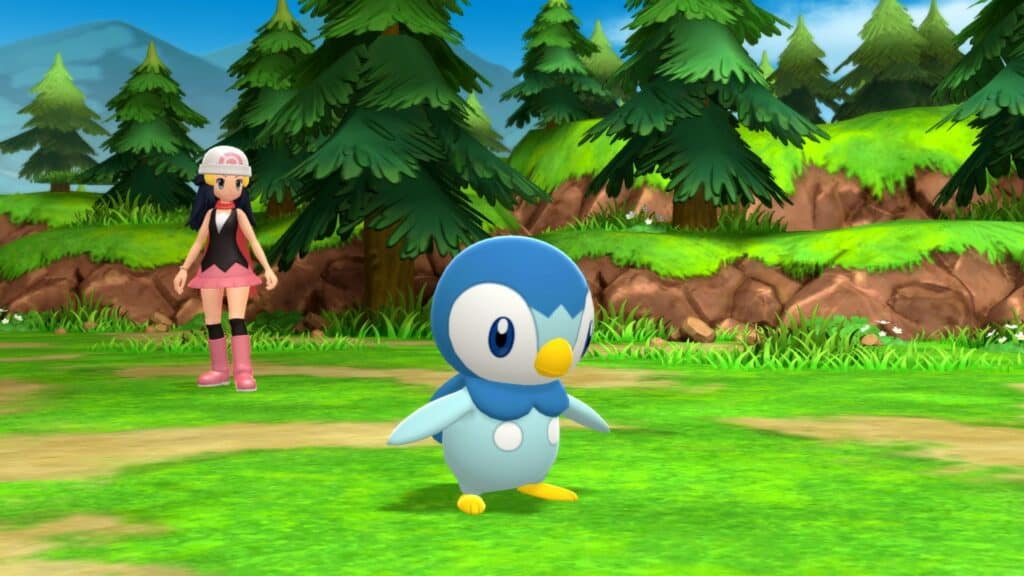 Black/White 2 Pokedex
Pokedex #
Pokemon
Type
Evolution
#0494
Victini
Psychic, Fire
No evolution
#0495
Snivy
Grass
Beginning of evolution, Servine (#496)
#0496
Servine
Grass
Snivy (#495), Serperior (#497)
#0497
Serperior
Grass
Servine (#496), End of evolution
#0498
Tepig
Fire
Beginning of evolution, Pignite (#499)
#0499
Pignite
Fire, Fighting
Tepig (#499), Emboar (#500)
#0500
Emboar
Fire, Fighting
Pignite (#499), End of evolution
#0501
Oshawott
Water
Beginning of evolution, Dewott (#502)
#0502
Dewott
Water
Oshawott (#501), Samurott (#503)
#0503
Samurott
Water
Dewott (#502), End of evolution
#0504
Patrat
Normal
Beginning of evolution, Watchog (#505)
#0505
Watchog
Normal
Patrat (#504), End of evolution
#0506
Lillipup
Normal
Beginning of evolution, Herdier (#507)
#0507
Herdier
Normal
Lillipup (#506), Stoutland (#508)
#0508
Stoutland
Normal
Herdier (#507), End of evolution
#0509
Purrloin
Dark
Beginning of evolution, Liepard (#510)
#0510
Liepard
Dark
Purrloin (#509), End of evolution
#0511
Pansage
Grass
Beginning of evolution, Simisage (#512)
#0512
Simisage
Grass
Pansage (#511), End of evolution
#0513
Pansear
Fire
Beginning of evolution, Simisear (#514)
#0514
Simisear
Fire
Pansear (#513), End of evolution
#0515
Panpour
Water
Beginning of evolution, Simipour (#516)
#0516
Simipour
Water
Simipour (#515), End of evolution
#0517
Munna
Psychic
Beginning of evolution, Musharna (#518)
#0518
Musharna
Psychic
Munna (#517), End of evolution
#0519
Pidove
Normal, Flying
Beginning of evolution, Tranquill (#520)
#0520
Tranquill
Normal, Flying
Pidove (#519), Unfezant (#521)
#0521
Unfezant
Normal, Flying
Tranquill (#520), End of evolution
#0522
Blitzle
Electric
Beginning of evolution, Zebstrika (#523)
#0523
Zebstrika
Electric
Blitzle (#522), End of evolution
#0524
Roggenrola
Rock
Beginning of evolution, Boldore (#525)
#0525
Boldore
Rock
Roggenrola (#524), Gigalith (#526)
#0526
Gigalith
Rock
Boldore (#525), End of evolution
#0527
Woobat
Psychic, Flying
Beginning of evolution, Swoobat (#528)
#0528
Swoobat
Psychic, Flying
Woobat (#527), End of evolution
#0529
Drilbur
Ground
Beginning of evolution, Excadrill (#530)
#0530
Excadrill
Ground, Steel
Drilbur (#529), End of evolution
#0531
Audino
Normal
Beginning of evolution, Mega Evolution
#0532
Timburr
Fighting
Beginning of evolution, Gurdurr (#533)
#0533
Gurdurr
Fighting
Timburr (#532), Conkeldurr (#534)
#0534
Conkeldurr
Fighting
Gurdurr (#533), End of evolution
#0535
Tympole
Water
Beginning of evolution, Palpitoad (#536)
#0536
Palpitoad
Water, Ground
Tympole (#535), Seismitoad (#537)
#0537
Seismitoad
Water, Ground
Palpitoad (#536), End of evolution
#0538
Throh
Fighting
No evolution
#0539
Sawk
Fighting
No evolution
#0540
Sewaddle
Bug, Grass
Beginning of evolution, Swadloon (#541)
#0541
Swadloon
Bug, Grass
Sewaddle (#540), Leavanny (#542)
#0542
Leavanny
Bug, Grass
Swadloon (#541), End of evolution
#0543
Venipede
Bug, Poison
Beginning of evolution, Whirlipede (#544)
#0544
Whirlipede
Bug, Poison
Venipede (#543), Scolipede (#545)
#0545
Scolipede
Bug, Poison
Whirlipede (#544), End of evolution
#0546
Cottonee
Grass, Fairy
Beginning of evolution, Whimsicott (#547)
#0547
Whimsicott
Grass, Fairy
Cottonee (#546), End of evolution
#0548
Petilil
Grass
Beginning of evolution, Lilligant (#549)
#0549
Lilligant
Grass
Petilil (#548), End of evolution
#0550
Basculin
Water
Beginning of evolution, Basculegion (#902)
#0551
Sandile
Ground, Dark
Beginning of evolution, Krokorok (#552)
#0552
Krokorok
Ground, Dark
Sandile (#551), Krookodile (#553)
#0553
Krookodile
Ground, Dark
Krokorok (#552), End of evolution
#0554
Darumaka
Fire
Beginning of evolution, Darmanitan (#555)
#0555
Darmanitan
Fire
Darumaka (#554), End of evolution
#0556
Maractus
Grass
No evolution
#0557
Dwebble
Bug, Rock
Beginning of evolution, Crustle (#558)
#0558
Crustle
Bug, Rock
Dwebble (#557), End of evolution
#0559
Scraggy
Dark, Fighting
Beginning of evolution, Scrafty (#560)
#0560
Scrafty
Dark, Fighting
Scraggy (#559), End of evolution
#0561
Sigilyph
Psychic, Flying
No evolution
#0562
Yamask
Ghost
Beginning of evolution, Cofagrigus (#563)
#0563
Cofagrigus
Ghost
Yamask (#562), End of evolution
#0564
Tirtouga
Water, Rock
Beginning of evolution, Carracosta (#565)
#0565
Carracosta
Water, Rock
Tirtouga (#564), End of evolution
#0566
Archen
Rock, Flying
Beginning of evolution, Archeops (#567)
#0567
Archeops
Rock, Flying
Archen (#566), End of evolution
#0568
Trubbish
Poison
Beginning of evolution, Garbodor (#569)
#0569
Garbodor
Poison
Trubbish (#568), Gigantamax
#0570
Zorua
Dark
Beginning of evolution, Zoroark (#571)
#0571
Zoroark
Dark
Zorua (#570), End of evolution
#0572
Minccino
Normal
Beginning of evolution, Cinccino (#573)
#0573
Cinccino
Normal
Minccino (#572), End of evolution
#0574
Gothita
Psychic
Beginning of evolution, Gothorita (#575)
#0575
Gothorita
Psychic
Gothita (#574), Gothitelle (#576)
#0576
Gothitelle
Psychic
Gothorita (#575), End of evolution
#0577
Solosis
Psychic
Beginning of evolution, Duosion (#578)
#0578
Duosion
Psychic
Solosis (#577), Reuniclus (#579)
#0579
Reuniclus
Psychic
Duosion (#578), End of evolution
#0580
Ducklett
Water, Flying
Beginning of evolution, Swanna (#581)
#0581
Swanna
Water, Flying
Ducklett (#580), End of evolution
#0582
Vanillite
Ice
Beginning of evolution, Vanillish (#583)
#0583
Vanillish
Ice
Vanillite (#582), Vanilluxe (#584)
#0584
Vanilluxe
Ice
Vanillish (#583), End of evolution
#0585
Deerling
Normal, Grass
Beginning of evolution, Sawsbuck (#586)
#0586
Sawsbuck
Normal, Grass
Deerling (#585), End of evolution
#0587
Emolga
Electric, Flying
No evolution
#0588
Karrablast
Bug
Beginning of evolution, Escavalier (#589)
#0589
Escavalier
Bug, Steel
Karrablast (#588), End of evolution
#0590
Foongus
Grass, Poison
Beginning of evolution, Amoonguss (#591)
#0591
Amoonguss
Grass, Poison
Foongus (#590), End of evolution
#0592
Frillish
Water, Ghost
Beginning of evolution, Jellicent (#593)
#0593
Jellicent
Water, Ghost
Frillish (#592), End of evolution
#0594
Alomomola
Water
No evolution
#0595
Joltik
Bug, Electric
Beginning of evolution, Galvantula (#596)
#0596
Galvantula
Bug, Electric
Joltik (#595), End of evolution
#0597
Ferroseed
Grass, Steel
Beginning of evolution, Ferrothorn (#598)
#0598
Ferrothorn
Grass, Steel
Ferroseed (#597), End of evolution
#0599
Klink
Steel
Beginning of evolution, Klang (#600)
#0600
Klang
Steel
Klink (#599), Klinklang (#601)
#0601
Klinklang
Steel
Klang (#600), End of evolution
#0602
Tynamo
Electric
Beginning of evolution, Eelektrik (#603)
#0603
Eelektrik
Electric
Tynamo (#602), Eelektross (#604)
#0604
Eelektross
Electric
Eelektrik (#603), End of evolution
#0605
Elgyem
Psychic
Beginning of evolution, Beheeyem (#606)
#0606
Beheeyem
Psychic
Elgyem (#605), End of evolution
#0607
Litwick
Ghost, Fire
Beginning of evolution, Lampent (#608)
#0608
Lampent
Ghost, Fire
Litwick (#607), Candelure (#609)
#0609
Chandelure
Ghost, Fire
Lampent (#608), End of evolution
#0610
Axew
Dragon
Beginning of evolution, Fraxure (#611)
#0611
Fraxure
Dragon
Axew (#610), Haxorus (#612)
#0612
Haxorus
Dragon
Fraxure (#611), End of evolution
#0613
Cubchoo
Ice
Beginning of evolution, Beartic (#614)
#0614
Beartic
Ice
Cubchoo (#613), End of evolution
#0615
Cryogonal
Ice
No evolution
#0616
Shelmet
Bug
Beginning of evolution, Accelgor (#617)
#0617
Accelgor
Bug
Accelgor (#616), End of evolution
#0618
Stunfisk
Ground, Electric
No evolution
#0619
Mienfoo
Fighting
Beginning of evolution, Mienshao (#620)
#0620
Mienshao
Fighting
Mienfoo (#619), End of evolution
#0621
Druddigon
Dragon
No evolution
#0622
Golett
Ground, Ghost
Beginning of evolution, Golurk (#623)
#0623
Golurk
Ground, Ghost
Golett (#622), End of evolution
#0624
Pawniard
Dark, Steel
Beginning of evolution, Bisharp (#625)
#0625
Bisharp
Dark, Steel
Pawniard (#624), Kingambit (#983)
#0626
Bouffalant
Normal
No evolution
#0627
Rufflet
Normal, Flying
Beginning of evolution, Braviary (#628)
#0628
Braviary
Normal, Flying
Rufflet (#627), End of evolution
#0629
Vullaby
Dark, Flying
Beginning of evolution, Mandibuzz (#630)
#0630
Mandibuzz
Dark, Flying
Vullaby (#629), End of evolution
#0631
Heatmor
Fire
No evolution
#0632
Durant
Bug, Steel
No evolution
#0633
Deino
Dark, Dragon
Beginning of evolution, Zweilous (#634)
#0634
Zweilous
Dark, Dragon
Deino (#633), Hydreigon (#635)
#0635
Hydreigon
Dark, Dragon
Zweilous (#634), End of evolution
#0636
Larvesta
Bug, Fire
Beginning of evolution, Volcarona (#637)
#0637
Volcarona
Bug, Fire
Larvesta (#636), End of evolution
#0638
Cobalion
Steel, Fighting
No evolution
#0639
Terrakion
Rock, Fighting
No evolution
#0640
Virizion
Grass, Fighting
No evolution
#0641
Tornadus
Flying
No evolution
#0642
Thundurus
Electric, Flying
No evolution
#0643
Reshiram
Dragon, Fire
No evolution
#0644
Zekrom
Dragon, Electric
No evolution
#0645
Landorus
Ground, Flying
No evolution
#0646
Kyurem
Dragon, Ice
No evolution
#0647
Keldeo
Water, Fighting
No evolution
#0648
Meloetta
Normal, Psychic
Normal, Fighting
No evolution
#0649
Genesect
Bug, Steel
No evolution