Gaming isn't the sort of hobby or activity where you have just one system. It might start out that way, sure. But eventually, things have a way of accumulating. Maybe you started out with a PlayStation 3, then matured into a PlayStation 4. But, because there was no backward compatibility, you had to keep the older console around. Maybe you couldn't decide between systems, so you have a PlayStation 4, Switch, and Xbox One all at once. Maybe you even decided to install a gaming desktop in your living room. Things happen. When they do, the cords you may have been using might not be enough. You might need different sorts of solutions. That's when things like Accell UltraRun Pro High Speed HDMI Active Cable or an USB-C to 3 HDMI 1.4 Multi-Display Hub .
The Accell home products can work alone or together to improve the viewing or working experience. Each one works to help provide the sort of accommodations to make sure things look and sound amazing. Plus, at the same time, they are about making things extra convenient for the user. Space isn't an issue. You don't have to rearrange your living space to suit the cords and hubs. Instead, they offer workaround to help you instead.
The Accell UltraRun Pro High Speed HDMI Active Cable is a good place to start. This is an HDMI cable designed for long distance runs. Do you want to have your consoles hidden away somewhere, out of the way, and your monitor hanging on a wall somewhere else? Normally, the HDMI cable that you get with a console, say a PlayStation 4, would be around six feet long. It limits you. Accell's starts at 66 feet long, with people also able to go with 82 feet and 100 feet options. But, even more important, is that it has a Redmere signal repeater inside of it. This is in the display end and regenerates the signal, which means that you don't lose any fidelity or quality even with the length.
This is combined with everything else you would need with an HDMI cable. The connectors are 24K gold-plated, to ensure the best connections. They have HDCP components. They can be used with in-wall installations, in case you want to hide them away and keep them out of sight when connecting your computer or console to a TV. There's ethernet built into them, to support 18GBps bandwidth. These HDMI 2.0 cables will have 60Hz and 4K, no matter how far away things are.
For people who want to use multiple displays with their PCs for work or play, the USB-C to 3 HDMI 1.4 Multi-Display Hub is a great way to have up to three displays in either Mirror or Extend mode. If you have a Windows PC that directly connects to it, you can have 4Kx2K resolutions on three screens at once, with a setup that could be pretty much as easy as plug-and-play. (Though, you could always adjust the refresh rates and display settings as needed.) All you need is the one USB-C to have all of them at once. You could even have two Ultra HD ones and take advantage of its up to 5.4 GBps per lane to make sure everything is crisp, clear, and displaying as it should.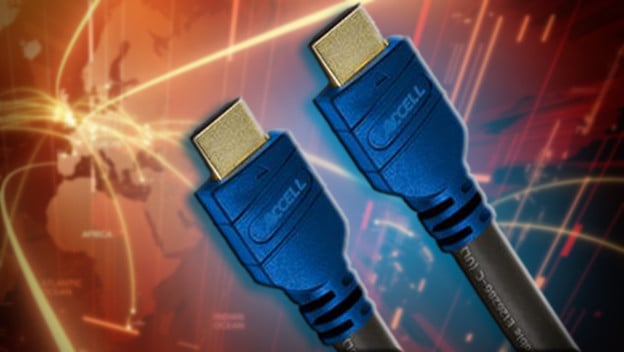 You could even have the two working in tandem, to provide the freedom and space needed. The USB-C to 3 HDMI 1.4 Multi-Display Hub is already built with potential distance in mind. It has WideEye SerDes Technology, to help make sure everything transfers well even if the data is traveling over a distance. Combine that with the Accell UltraRun Pro High Speed HDMI Active Cables, and you'd be able to have even more quality assured.
To have a perfect setup, you need to invest in quality parts to make it all work. The six foot cables that come with consoles aren't often enough. You might not have enough room for a multi-monitor display. A USB-C to 3 HDMI 1.4 Multi-Display Hub and Accell UltraRun Pro High Speed HDMI Active Cables could help. The former is $143.99. As for the cables, it is $155.99 for a 66 foot one, $179.99 for the 82 foot one, and $203.99 for the 100 foot one. Both might help make your experiences better.