Gaming gets costly. New games tend to start at $59.99. That's before DLC or expansions, which you have a 50/50 chance of running into. Ones that have multiplayer elements require an additional investment if you're on a console, since that means paying a subscription fee to actually interact with other people. That's not taking into account if you want in on one of the gaming subscription services out there for access to games you don't own, but want to play briefly. It's a lot. But, oddly enough, the company that seems like the odd one out during the eighth console generation is the one that might have the best outlook.
Microsoft has always offered Xbox Live Gold, which has turned into one of the better subscription services as of late. It's $9.99 per month or $59.99 per year, which is identical to Sony's PlayStation Plus. Except, it seems like it has always had a more solid network. While might hear about PSN going down or services not all working as they should, Microsoft's Xbox Live just… does it. There's no concern.
While people fret over whether they are getting their money's worth with PlayStation Plus' free Instant Game Collection titles, there's none of that concern with Xbox Live Gold's Games with Gold. PS4 owners are only getting two games per month, with both for the one system. Microsoft always makes sure there are four games per month. Two are Xbox 360 games and two are Xbox One titles, but all four play on any Xbox One, thanks to backwards compatibility. Even if the titles aren't stars, they're a success. So in general, Microsoft may seem like it has an edge.
But then, there was Microsoft's E3 2019 announcement. Xbox Games Pass Ultimate was revealed, blowing other services out of the water. Prior to the event, the Xbox Games Pass service that would let you stream or download games from a growing library would be $9.99 per month. At the event, Xbox Games Pass Ultimate was revealed. For $14.99 each month, people were given the Games with Gold subscription and Xbox Games Pass for both the Xbox One and PC. You'd think it would be around $25, since Xbox Live Gold is $9.99 per month, Xbox Games Pass is $9.99 and the Games Pass for PC is $4.99 in beta. But no! It's cheaper.
To compare, PlayStation Now is $19.99 per month and $99.99 per year. There is no bundle offer to give people both it and PlayStation Plus. People just have to, well, pay about $160 per year. Nintendo doesn't attempt to offer anything similar. Only Microsoft decided to try and fold everything in together.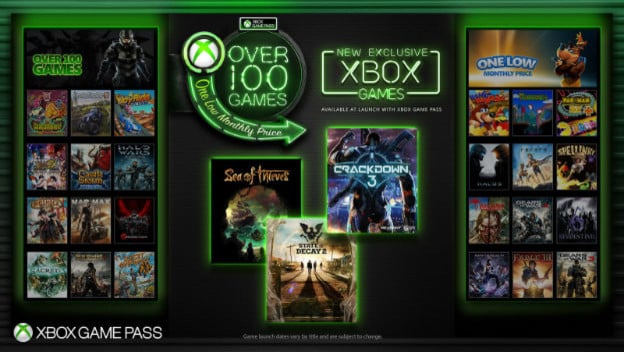 Even its trial period can feel like it might be more beneficial. Sony offers a 14-day PlayStation Plus trial and a 7-day PlayStation Now free trial. Which are both fine. You should be able to get an idea if the service is right for you with that. Microsoft's promotion is $1 for a first month of Xbox Games Pass Ultimate as an introductory price. While it does mean paying an actual fee and making sure you go ahead and cancel before being charged more, it's a more substantial opportunity. Having a full month means a lot more and offers a better example.
It feels like it could be a good opportunity. Instead of spending money on games each month, people could pay a $14.99 fee for both online multiplayer and a rotating and growing catalog of games. It eliminates clutter and helps you see what you could really love. Plus, it might make people feel a little easier to know they could focus on one service instead of multiple ones.