Having the right gaming gear is serious business. People can spend hours playing their favorite games. You want to ensure you are comfortable as you do it. Also, that any guests who may be joining you are also in the best possible place as they play. Bean bag chairs have long been noted as one of the most comfortable chairs, but always can be considered too casual to be a serious furniture option. However, Sumo Lounge and its luxury chairs turn them into furniture you can be proud of. In particular, the Omni Plus suede beanbag and the Gamer microsuede beanbag are the kind of chairs any adult would be proud to have in their home.
The Sumo Gamer chair is the one you want if you would like an accent piece in your living room that is exceptionally cozy. This is a huge, $219 beanbag for anyone in the family to enjoy. It has an easily washable, microsuede cover available in 15 different colors, to avoid that stereotype of all beanbag chairs eventually getting dirty and grungy. It is filled with superior Sumofoam, so it is more comfortable than other chairs. It is 30 inches high, 48 inches wide, and 48 inches long, which means that anyone can comfortably sit in it. And, since that cover is removable, you could even get extras to make sure it always matches its environment.
Basically, the Sumo Gamer beanbag is the basic model that any home could use. Everyone can enjoy it. It could fit in any place. While it does weigh 50 pounds, the durability here is impressive. When you get this particular chair, it can become a comfortable fixture. It is like a classier version of that kid's room or college room staple, and something that could easily replace a regular seat in a room.
Sumo's Omni Plus, on the other hand, is a bigger affair. This is the piece you place when you want something that is essentially a miniature couch. I would consider it a good accent for an actual gamer room. This $199 beanbag is big enough to seat two people, what with it being 5.5 feet long and 4.5 feet wide. Whether one person wants to lounge or two people want to share, this shredded SumoFoam beanbag can handle it. Plus, you have the same customization and cleaning options as the smaller Sumo Gamer chair, as the Omni Plus' suede cover is removable and also comes in 15 colors.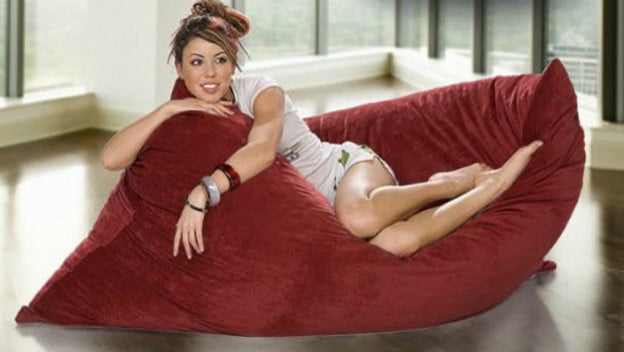 I think the real selling point with the Omni Plus is the way in which this 35lb chair can adapt to any situation. It is more flexible than Sumo's Gamer. You can use it as a couch, as I mentioned earlier. One person can lay on it. It can also be arranged to be a more supportive chair for someone who wants to sit upright. Two people could sit on it, if needed. And, while it is rather long, its lighter weight means it is much easier to shift and arrange. Personally, I'd probably be as likely to use it for napping as I would for a long gaming session.
Sumo Lounge makes beanbag chairs that defy expectations. These are not some fad furniture that will only be good until they get out of shape or stinky. Each one of these pieces of furniture is a high quality item with durable materials and covers that can last for years. The Gamer and Omni Plus both are the kinds of chairs that can fit perfectly in any home. They're a grown up beanbag for people who want to be comfortable and cozy. If someone is putting together an ideal media room or gamer lounge, the Gamer or Omni Plus would be a perfect fit.