People spend hours of every day seated. It can be at a desk doing work for your job or school, or sitting in a living or game room as you relax and enjoy a hobby. You would think people would go out of their way to have some sort of dedicated chair for these kinds of activities, but it is all too easy to resort to your normal couch, an extra chair from a dining room set, or whatever you happen to find for under $20 at IKEA or Goodwill. This does gamers a great disservice, as they could have something like an EWin Flash XL Series Ergonomic Computer Gaming Office Chair. For $479, you get a gaming chair that is designed for people's bodies as they game or work and even has appropriately placed pillows for extra comfort.
The EWin Flash XL Series Ergonomic Computer Gaming Office Chair looks like you took a seat from a race car, put it on a solid, aluminum base with five wheels, then rolled it into your living room. This is a 37.4" seat that is 23.6" wide, has a high density integrated foaming memory foam cushioning, a steel frame, PU leather covering, 120MM class-4 gas lift to adjust the height and 4D adjustable armrests. It keeps you solidly on the ground, with adjustable lumbar and cushion and headrest to make sure every angle of your body is supported.
Speaking of angles, the EWin Flash XL Series Ergonomic Computer Gaming Office Chair has all these options to ensure it is in the right position you need to feel comfortable while playing your games. I mentioned before there are 4D adjustable armrests. This means you can slide them forward, backward, left, and right. They can be moved higher or lower. You can even adjust the rotation, so they turn in clockwise or out counterclockwise. This could be very helpful, depending on the game you are playing. The position your arm is in while playing a shooter like Call of Duty or Overwatch is going to be different than the one it is in while racing in Driveclub or Forza .
It also has multiple reclining options. Tilt control and lock mechanisms are installed, to work with the class 4 gas lift. This allows you to adjust the pitch of your chair, in case you like to ease back a bit while you play. There is also a level operated back recliner that offers 85-155 degree adjustments. Maybe you could use the 85 degree option to try and improve your posture briefly? Or, if you are transitioning from a gaming session to watching the latest season of Castlevania or Luke Cage on Netflix, you can pitch it back to around 155 degrees and relax. These sorts of options increase the number of uses for the chair.
And let's deal with that sticker shock. Seeing a chair cost $479 might give you pause. You could almost get a PlayStation 4 Pro or Xbox One X for that price. But it is not out of line, considering the price of office chairs and what you are getting. Some of the most basic models, with no arms, leather, 250lb capacity and only height adjustment start around $50. You can see some gaming chairs that do not offer the same memory foam, cushioning, quality fabric options, and adjustment options going for around $600. While the EWin Flash XL Series Ergonomic Computer Gaming Office Chair is $479, it is designed with the sort of support someone enjoying two to five hour sessions might need and has considerations more expensive models do not.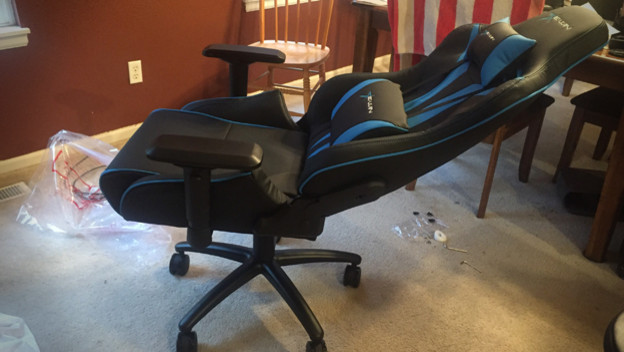 There are also warranties in place. An EWin chair is one designed to suit someone for between five to ten years. If any element of it is defective within five years of buying it, it will be repaired or replaced. There is a sense of comfort and security that comes from knowing you have something that will last. It is meant to be used and enjoyed and will help you feel better and more comfortable as you play.
The EWin Flash XL Series Ergonomic Computer Gaming Office Chair is the sort of product that is impressive to look at, but isn't about showing off to other people. It is about having a reliable, durable, comfortable place to sit and enjoy your favorite games. It is uses its memory foam to ensure you are in the best possible positions, with the ability to alter positioning ensuring it is perfectly suited to your body. And, with its steel frame, aluminum base, high density foam, and PU leather cover, it will stick with you through the eighth console generation and beyond.
Also, be sure to enter special coupon code " cheatcc " for an exclusive 15% off discount at checkout!