F1 22 is a driving/racing game developed by Codemasters and published by EA Sports. The title was EA Sports' second title after its 2021 return to the series. It was released across console generations, coming out on PC, PlayStation 4, PlayStation 5, Xbox One, and Xbox Series X/S.
Even as gamer's complaints about the lack of innovation in the titles have racked up over the years, the F1 games have remained relatively critic-proof. F1 22 holds a 79 on Metacritic, which is a strong effort from Codemasters.
F1 22 Premise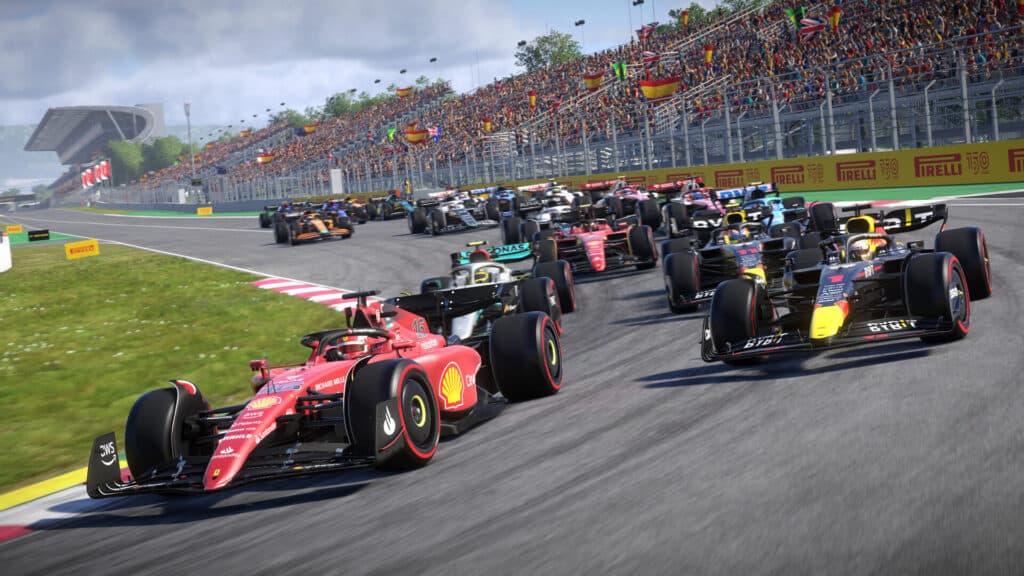 If you've played just about any F1 game over the years, you should have a pretty good idea about what to expect in this game. It's a racing game where you take control of a Formula One driver, speeding them around some of the world's most recognizable race tracks. In F1 2022, some of these tracks have received an update following real-life changes, while one new track has been added in the form of the Miami International Autodrome.
Most players here will take part in the Career Mode, which allows you to play through an entire Formula One season as one driver, competing for the World Drivers' Championship. Alternatively, you can hop into online play, where you take part in one-off races against huge lobbies of players
While many players won't experience this feature, F1 22 also supports virtual reality. This puts you closer to the driver's seat than ever before, giving players an unrivaled Formula One experience. The relative inaccessibility of virtual reality ensures it's a small portion of the player base who get to play like this, but if the option is available to you, we'd wholeheartedly recommend it.
F1 22 Main Characters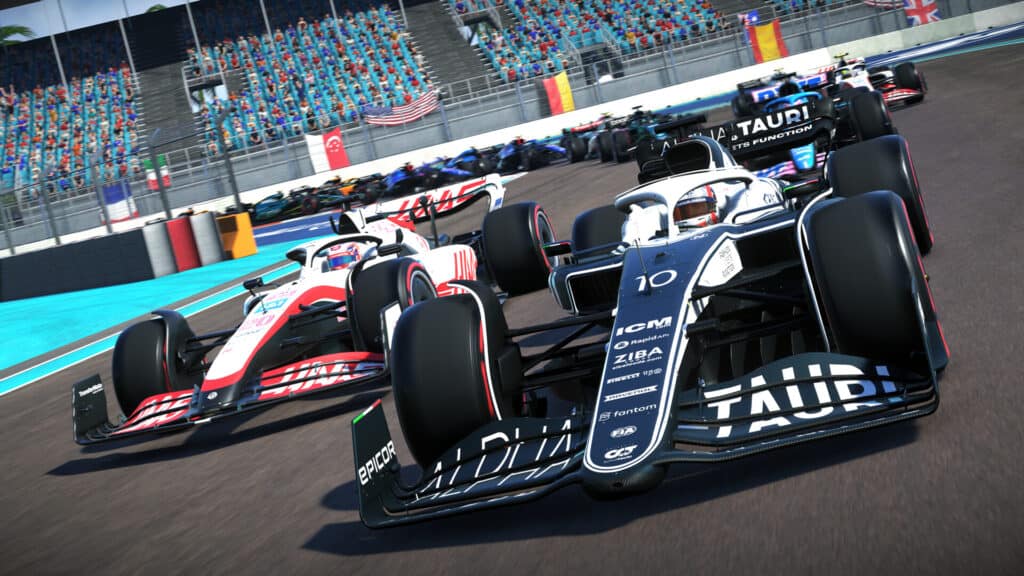 As part of the main career mode, you get to choose who you play as out of the twenty drivers in the 2022 Formula One season. Legends like Lewis Hamilton and Fernando Alonso appear, and you have the chance to drive them to victory.
Because of this, the main character of F1 2022 is whoever you decide to play as. Here's the full roster of drivers in the game:
Alpine: Fernando Alonso and Esteban Ocon
Alfa Romeo: Valtteri Bottas and Zhou Guanyu
AlphaTauri: Pierre Gasly and Yuki Tsunoda
Aston Martin: Sebastian Vettel and Lance Stroll
Ferrari: Charles Leclerc and Carlos Sainz
Haas: Mick Schumacher and Kevin Magnussen
McLaren: Lando Norris and Daniel Ricciardo
Mercedes: Lewis Hamilton and George Russell
Red Bull: Max Verstappen and Sergio Perez
Williams: Alex Albon and Nicholas Latifi
The 2022 crop of drivers aren't the only ones who appear. You can also choose from a set of icons for Formula One's past, including the legendary Michael Schumacher and Ayrton Senna. This gives the game a strong hit of nostalgia for fans of Formula One, and is a great nod back to the sport's past.
Here are all the icons in F1 22:
F1 22 Icons
Alain Prost
Ayrton Senna
David Coulthard
Felipe Massa
Jacques Villeneuve
Jenson Button
Mark Webber
Michael Schumacher
Nico Hulkenberg
F1 22 Titles in the Series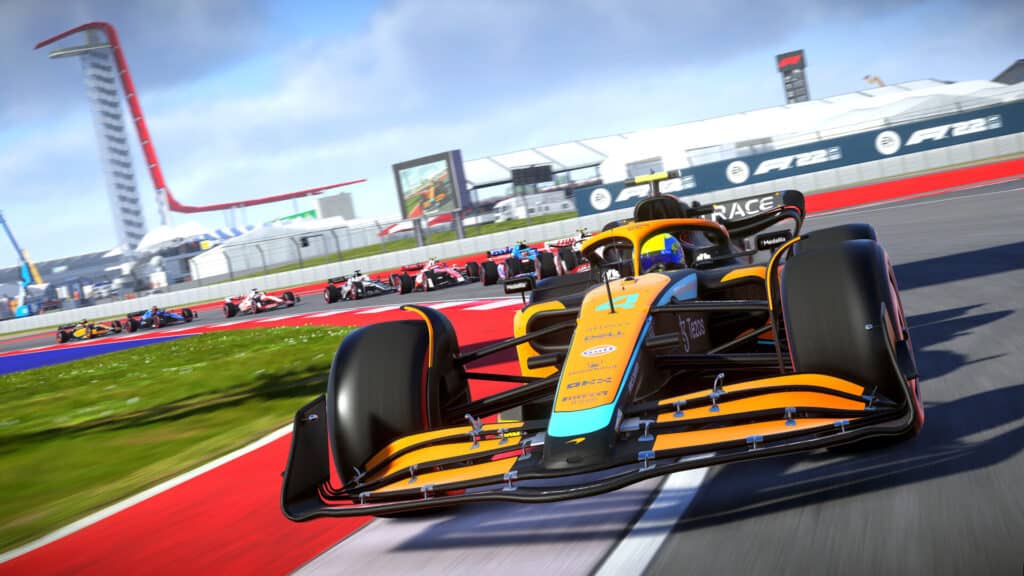 In the video game medium, F1 games have had a turbulent time. EA Sports published the early efforts, which were developed by Visual Science and Image Space Incorporated. However, the series took a hiatus, before Codemasters took the reins on both development and publishing throughout the 2010s.
Nowadays, EA Sports is back publishing, keeping Codemasters as the main developer of the series. Recent titles have come under some criticism for their lack of innovation, with many accusing these releases as cash-grabs. Despite this, the games continue to sell, as the popularity of Formula One continues to rise around the world.
F1 2000 (2000)
F1 Championship Season 2000 (2000)
F1 Manager (2000)
F1 2001 (2001)
F1 2002 (2002)
F1 Career Challenge (2003)
F1 2009 (2009)
F1 2010 (2020)
F1 2011 (2011)
F1 2012 (2012)
F1 Race Stars (2012)
F1 2013 (2013)
F1 2014 (2014)
F1 2015 (2015)
F1 2016 (2016)
F1 2017 (2017)
F1 2018 (2018)
F1 2019 (2019)
F1 2020 (2020)
F1 2021 (2021)
F1 22 (2022)
F1 Manager 2022 (2022)
F1 23 (2023)
F1 Manager 2023 (2023)
F1 22 Cheat Codes
Sadly, there are no cheat codes for F1 22 out of the box. However, that doesn't mean there isn't a way to add them, at least in the PC version of the game. By downloading an F1 22 trainer from a site such as WeMod, you can access different variables (see below) that you can change in-game. You can't use these online, or else you'll be banned. Even still, they're a great way to get ahead in Career Mode.
Unlimited Money
Unlimited Fuel
No Tyre Wear
Easy Steering
Unlimited Research Points
Freeze AI
F1 22 Cheat Code FAQs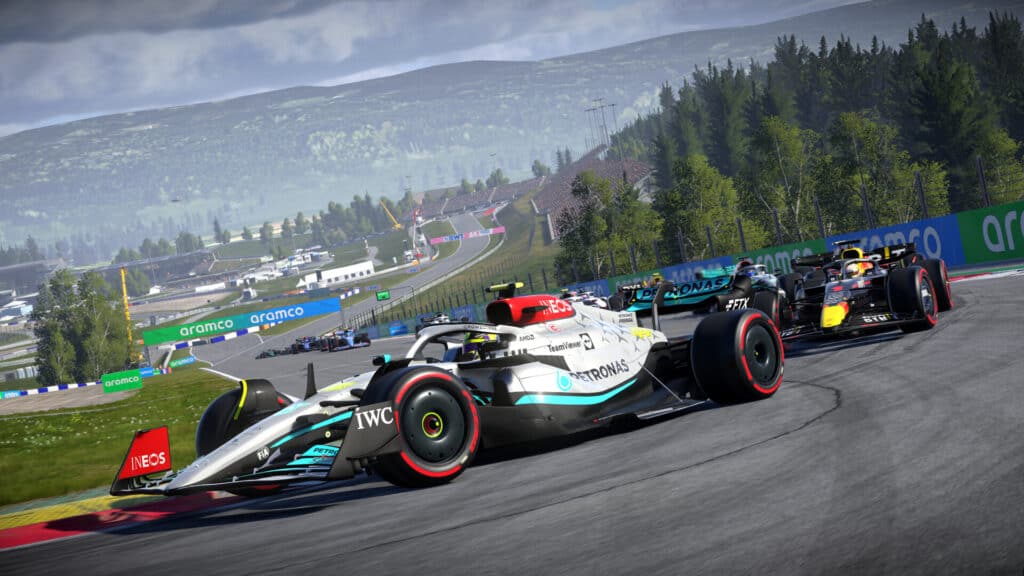 Does F1 22 Have Anti-Cheat?
Yes. There are measures in place during online play to ensure players aren't cheating, which will result in a ban if rules are being broken. The trainers we showed you earlier definitely fall into that category, so don't try to use them online.
Do F1 22 Cheats Work on Console?
No. The only way you can download and install F1 22 cheats is by downloading a trainer, which you can only do on the PC version of the game. If you're playing on one of PlayStation 4, PlayStation 5, Xbox One, or Xbox Series X/S, you'll need to race your way to victory legitimately.