Fall Guys: Ultimate Knockout is a 2020 battle-royal party game released by Mediatonic, as well as published by Epic Games. First released on PlayStation 4 and PC, the game become an instant smash hit with players due to its fun-first mantra. On release day, the servers completely crashed due to the unexpected and unprecedented demand.
In mid-2022, Fall Guys: Ultimate Knockout went free-to-play simultaneously with a release on Nintendo Switch, PlayStation 5, Xbox One, and Xbox Series X/S. This move has given the game a new lease of life, reaching a player count that now tops 50 million worldwide.
Fall Guys: Ultimate Knockout Premise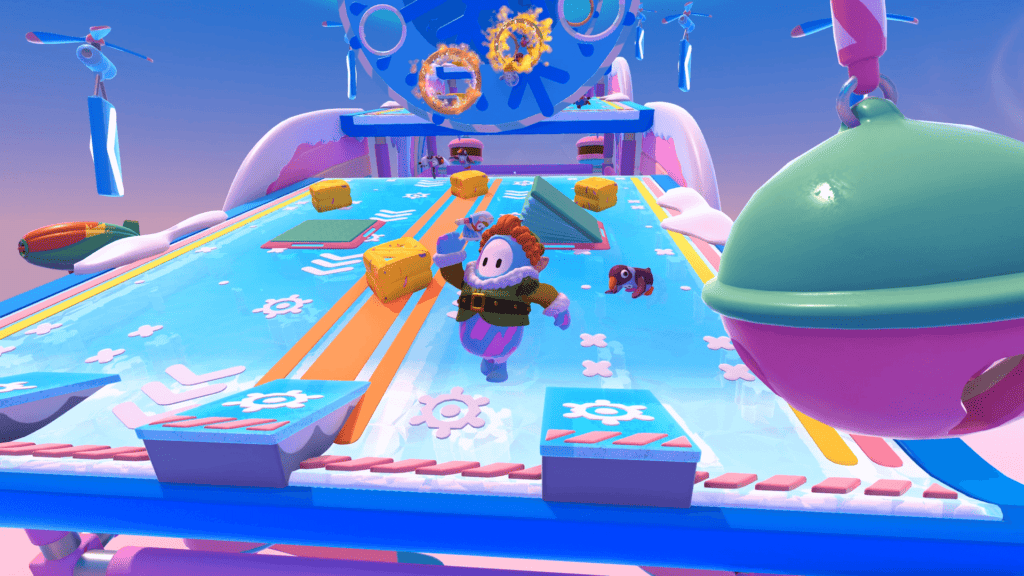 In Fall Guys: Ultimate Knockout, you take part in a 40-player battle royale across a series of random mini-games in an attempt to be the last Fall Guy standing. A set amount of players are eliminated from each round until the final player is crowned the victor.
These mini-games feature a variety of activities, from race obstacle courses where you must reach the finish the qualify, Survival rounds where you need to avoid falling to your death, Team rounds where the lobby is split into teams that must work together to win, Logic rounds where your memory is put to the test, Hunt rounds where you have to find certain items to win, as well as the final rounds where the mini-games become smaller in scale to account for the lower player count.
In many ways, Takeshi's Castle walked so Fall Guys: Ultimate Knockout could run. The game takes inspiration from many similar game shows and allows you to be a part of the action without actually putting yourself in harm's way. It's insanely fun, but you can even improve the experience by jumping in with a few friends too!
Fall Guys: Ultimate Knockout Main Characters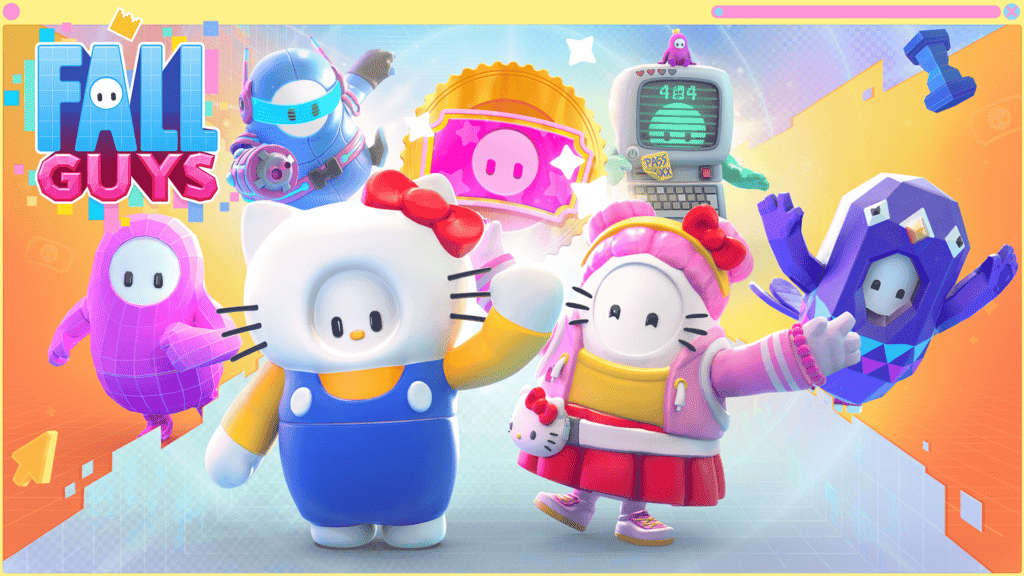 In Fall Guys: Ultimate Knockout, you play as your very own jellybean-like figure, customized specifically the way you want it. You can equip an Upper and Lower costume piece, and change the color and pattern of your Fall Guy. In most lobbies, no two Fall Guys look the same, with so many variants to choose from.
With absolutely no story to speak of, generally the only main character in Fall Guys: Ultimate Knockout is you. That's not to say you won't see any familiar faces here though. Fall Guys: Ultimate Knockout has seen an enormous amount of wacky collaborations, bringing plenty of characters you might recognize into the chaos. Each character comes at a cost, though, via the in-game currency Kudos. Here's the full list of collaboration items from Fall Guys: Ultimate Knockout released so far that can become part of your main character in-game:
Fall Guys: Ultimate Knockout Collaborations
Alien: Xenomorph, Ellen Ripley, Facehugger
Among Us: Eggscellent, Young Sprout, Bein Cheesy
Assassin's Creed: Ezio, Odin the All-Father, Eivor the Wolf-Kissed
Astro's Playroom: Astro, ASTRO BOT T-Rex
Bella Poarch: Bella Poarch
Bomberman: Bomberman
Bugsnax: Filbo Fiddlepie, Bunger Hat
Cuphead: Cuphead, Mugman, Ms. Chalice
Dead Cells: The Prisoner
Death's Door: Crow
Destiny 2: Hunter, Titan, Warlock, Ghost Shell
Doctor Who: Dalek, Fourth Doctor, Thirteenth Doctor, Fourteenth Doctor
Doom: Cyberdemon, Cacodemon, Doom Slayer, Doomicorn
Doraemon: Doraemon Pilot
El Chapulín Colorado: El Chapulín Colorado
Encanto: Mirabel Madrigal, Luisa Madrigal, Bruno Madrigal, Candle
Fatal Fury: Mai Shiranui, Terry Bogard
Gato Roboto: Gato Roboto, Virtual Gato Roboto
Gears of War: Marcus Fenix, Kait Diaz, General RAAM
Ghostbusters: Ghostbuster, Gozer, Mini-Puft Invasion, Slimer, Zuul Mask
Ghost of Tsushima: Jin Sakai, The Ghost
Godzilla: Godzilla, Godzilla 1995, Mechagodzilla, King Ghidorah, Mothra
The Grinch: The Grinch, Santy Claus Grinch
GRIS: Gris
Gungeon: Bulletkin, Ashen Bulletkin
Half-Life: Alyx, Gordon Freeman, Gordon Headcrab
Halo: Master Chief, Grunt, Brute Chieftain, Purrfect Helmet
Hatsune Miku: Hatsune Miku, BLUNDERLAND Miku, Miku 1 Fan
Hattie Stewart: Goldish, Flutterguy, Love Pack, Redcap Crown
He-Man and the Masters of the Universe: He-Man, Battlecat, Orko, Skeletor, Teela, Prince of Eternia
Hello Kitty: Hello Kitty, Cutest Friend
Horizon Zero Dawn: Aloy
Hotline Miami: Jacket
Invincible: Invincible, Atom Eve, Omni-Man
The Jungle Book: Baloo, King Louie, Mowgli, Shere Khan
Kena: Bridge of Spirits: Kena, Rot
Kizuna AI: Kizuna AI
The Messenger: Messenger, Latter Day Messenger
Murder By Numbers: SCOUT
My Friend Pedro: My Friend Pedro
NARAKA: BLADEPOINT: Viper Ning
NieR:Automata: 2B
The Nightmare Before Christmas: Jack Skellington, Sally, Santa Jack, The Mayor
Portal and Portal 2: Chell, P-Body
Pusheen: Pusheen, Super Pusheenicorn, Sloth, Pusheenosaurus
Ratchet & Clank: Ratchet, Clank
Sackboy: A Big Adventure: Sackboy
Shovel Knight: Shovel Knight
Skyrim: Dovah-bean, Alduin
Sonic The Hedgehog: Sonic, Knuckles, Super Sonic, Tails, Dr. Eggman, Sonic Shoes
SpecialEffect: Aim Lab, G2 Esports, MrBeast, Ninja
Spelunky: Guy Spelunky, Ana Spelunky
SpongeBob SquarePants: SpongeBob, The Snail's Meow, Mr. Krabs, Patrick, Sandy, Squidward
Star Trek: Spock, Hugh's Borg Mask, Worf, Uhura, USS Enterprise Backpack
Street Fighter: Ryu, Akuma, Cammy, Chun Li, Guile
Super Monkey Ball: AiAi
Team Fortress 2: Scout
Toejam & Earl: Toejam, Earl
Tron: Sark, Tron, Quorra, Rinzler
Ultraman: Ultraman
Untitled Goose Game: The Goose, The Groundskeeper, The Wimp
WWE: Asuka, Xavier Woods, Undertaker
Fall Guys: Ultimate Knockout Titles in the Series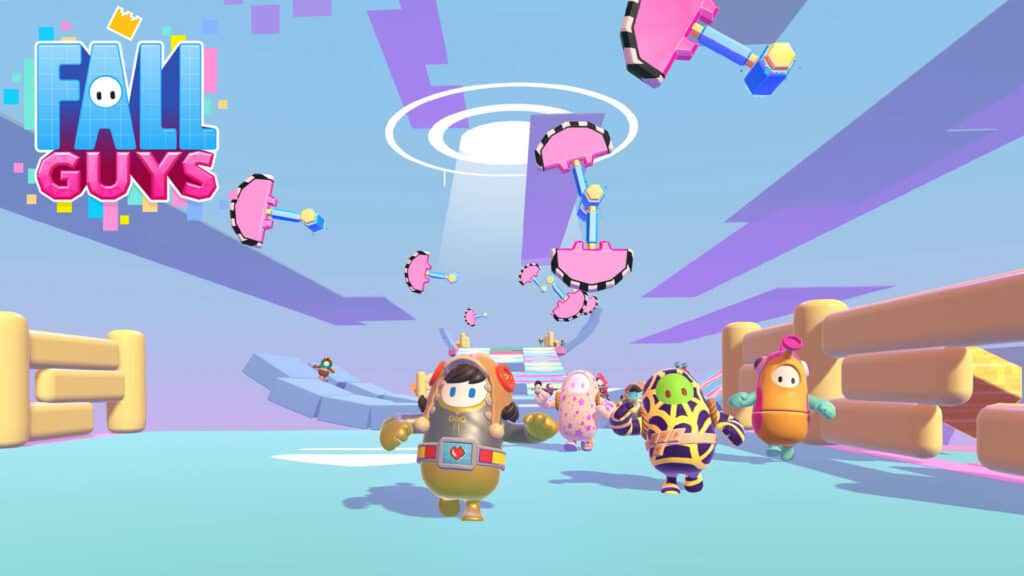 Despite the massive success of Fall Guys: Ultimate Knockout, developer Mediatonic has yet to capitalize with a sequel. However, there's no question that gamers would flock to a potential second game. There are simply too many further opportunities for amazing minigames to not be a hit.
The reason it hasn't happened yet is simple: It's just not needed right now. Mediatonic continues to update Fall Guys: Ultimate Knockout with regular new seasons, so there's always new content for players to enjoy. A sequel would just split the player base in an unnecessary way, and given that many have spent money on in-game cosmetics, it would also annoy plenty of players.
Although we certainly wouldn't rule out the possibility in the future, right now, Fall Guys: Ultimate Knockout remains the only game in this series.
Fall Guys: Ultimate Knockout (2020)
Fall Guys: Ultimate Knockout Cheat Codes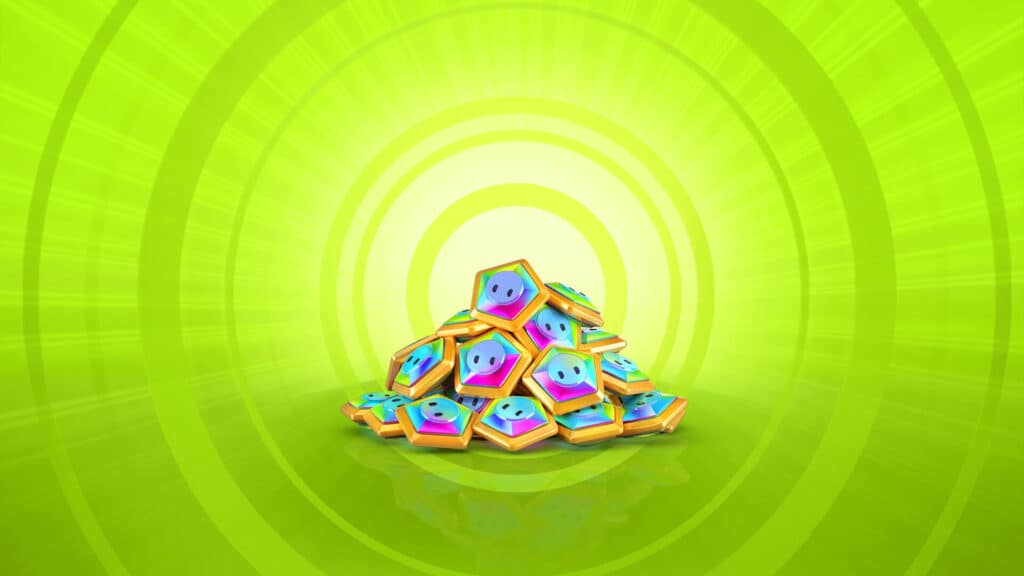 Fall Guys: Ultimate Knockout is online only, therefore it has absolutely no cheat codes to speak of. You can't even unlock any unique cosmetics through codes because they're a key part of the game's business model. It's unfortunate, but understandable.
The only way to cheat in Fall Guys: Ultimate Knockout is to download hacks, but that comes with massive risks. When using cheating websites, they can include viruses in their downloads and are almost certain to get you banned from the game permanently. While Fall Guys: Ultimate Knockout has a slightly competitive nature to it, its main intention is to be pure chaotic fun. It's not a game that players should feel the need to hack into, but there will always be someone out there that will.
Despite the lack of cheats for the game, there are still plenty of trophies/achievements that you can unlock instead – and we've got the full list.
Fall Guys: Ultimate Knockout Achievements / Trophies
| | |
| --- | --- |
| Trophy | How To Unlock |
| Ultimate Fall Guy | Obtain every other trophy in the game (PlayStation exclusive) |
| Head Turner | Equip a legendary Body Color, Pattern, Upper and Lower Costume piece |
| Star of the Show | Reach Level 40 fame during a season |
| Track Star | Get first place in racing round 20 times |
| Infallible | Win 5 Episodes in a row |
| Veteran Status | Qualify from 500 rounds |
| Fall Guy Fashionista | Unlock 50 cosmetic items from the store |
| Shopping Spree | Unlock 10 cosmetics from the item store |
| Mad Trendy | Equip a rare or legendary Body Color, Pattern, Upper and Lower Costume piece |
| Catwalk Model | Equip your first legendary customization item |
| Household Name | Reach Level 25 fame during a season |
| Quite Dashing | Get first place in racing rounds five times |
| Golden Guy | Win 20 episodes |
| One Giant Leap | Qualify from 100 rounds |
| Snowflake | Equip your first cosmetic item |
| Bargain Bucket | Equip an uncommon or better Body Color, Pattern, and Upper and Lower Costume piece |
| One to Watch | Reach Level 10 fame in a season |
| Flawless Victory | Qualify from a round without falling over once |
| Ahead of the Pack | Get first place in a racing round |
| Victory! | Win your first episode |
| Top Tier | Win seven episodes |
| One Small Trip | Qualify from your first round |
| Show Off | Win an Episode with a custom Celebration equipped |
| Squad Goals | Win an Episode as part of a party of three or more players |
| Down to the Wire | Qualify after a round goes to overtime |
| Face First | Qualify from a racing round despite falling over more than 10 times |
| Low Baller | Qualify from a team game with a score of 1 |
| Big Tease | Perform an emote just before coming first in a race |
| Fall Bae | Share a hug with a Fall Guy |
| Big Air | Clock up 1-hour total time falling |
| Stumble Chums | Bump into other Fall Guys 1000 times |
| Style Points | Fall for at least three seconds before landing on your head |
| Big Bully | Knock someone over |
| Troublemaker | Bump into three people while rolling on the ground before getting up |
| Fall Throttle | Reach terminal velocity |
Fall Guys: Ultimate Knockout Creative Codes
There is indeed one form of code in Fall Guys: Ultimate Knockout that you can use – creative codes. In essence, creative codes allow players to share their custom game modes with other players. With this in mind, be sure to enter these in-game for some extra Fall Guys: Ultimate Knockout mayhem. This list is every Mediatonic-made level, but there are plenty of other levels made by the community to check out, too!
Fan Frolics: 8145-6018-5093
Slimy Slopes: 8300-9964-4945
Digi Trek: 8058-9910-7007
Boom Blaster Trial: 8113-7002-5798
Downstream Duel: 7895-4812-3429
Wooseleum: 7652-0829-4538
Gentle Gauntlet: 7750-7786-5732
Bellyflop Battlers: 7774-2277-5742
Super Door Dash: 7488-7333-3120
Firewall Finale: 7495-5141-5265
Runner Beans: 7274-6756-2481
Two Faced: 7387-6177-4493
Gigabyte Gauntlet: 6970-1344-9780
Slide Showdown: 6498-0353-5009
Shortcut Links: 6546-9859-4336
Floorless: 6748-6192-9739
Tornado Trial: 5673-8789-9890
Scythes & Roundabouts: 6212-4520-8328
Blunder Bridges: 6401-4333-5888
Transfer Turnpike: 6464-4069-3540
Beat Bouncers: 5608-1711-5644
Choo Choo Challenge: 4446-4876-4968
Chuting Stars: 4582-3265-6150
Mega Monument: 4694-8620-4972
Cyber Circuit: 4409-6583-6207
Cardio Runners: 2777-8402-7007
Conveyor Clash: 3207-5100-4977
Cube Corruption: 3541-3776-9131
Serpent Slalom: 2767-1753-8429
Apples & Oranges: 2228-9895-3526
Fan Flingers: 2384-0516-9077
Airborne Antics: 2416-3885-2780
Prismatic Parade: 1595-7489-8714
Hyperlink Hijinks: 1335-7488-1452
Lost Palace: 1468-0990-4257
Hopscotch Havoc: 1521-1552-6833
Square Up: 0733-6671-4871
Spiral of Woo: 0942-4996-5802
Beans Ahoy!: 1127-0302-4545
Lane Changers: 0653-2576-5236
Swept Away: 2019-5582-0500
Up & Down: 1794-4080-7040
Incline Rewind: 1920-3797-9890
Mount Boom: 1976-1259-2690
Pixel Hearts: 9014-0444-9613
Winding Walkways: 9078-2884-2372
Spinner Sprint: 9189-7523-8901
Wham Bam Boom: 9335-2112-8890
Parkour Panic: 8993-4568-6925
Trouble Tower: 8398-4477-7834
Blueberry Bombardment: 8685-7305-6864
Data Streams: 8895-2034-3061
In The Cloud: 9641-5398-7416
Upload Heights: 9366-4809-0021
Disc Dashers: 9426-4640-3293
Circuit Breakers: 9525-6213-8767
Balancing Act: 0567-6834-7490
Windmill Road: 0633-3680-7102
Uphill Struggle: 0128-0546-8951
Fortress Frolics: 0324-4730-9285
Fall Guys: Ultimate Knockout Cheat Code FAQs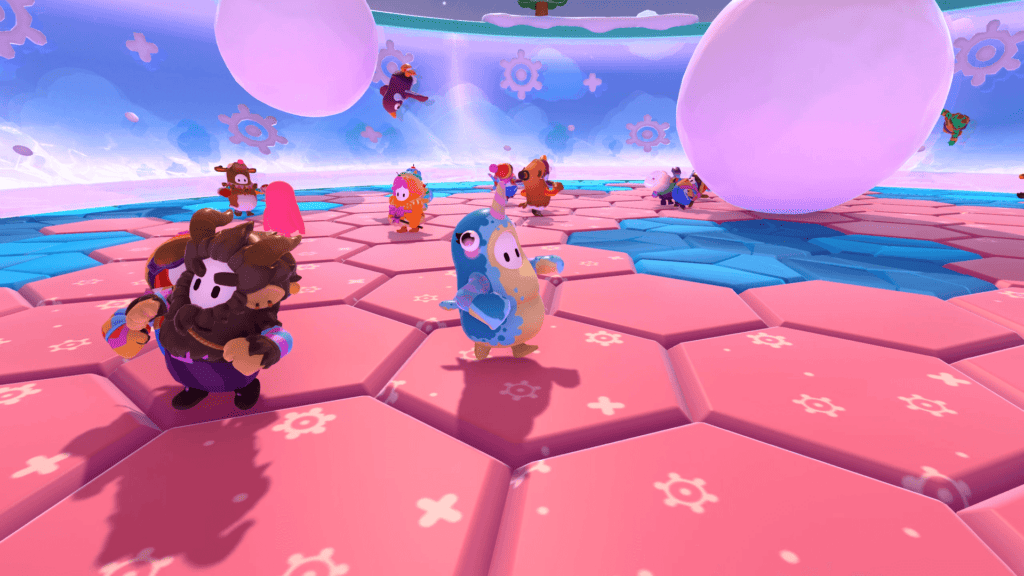 What Kind of Overall Cheats Are Available for Fall Guys: Ultimate Knockout?
As with any game, there are a ton of unauthorized hacks available in the shady corners of the internet for Fall Guys: Ultimate Knockout, but arguably the most common cheat you might encounter is the infinite speed cheat, which allows players to move forward at an insane speed. During Race rounds, this gives a massively unfair advantage and allows them to grab the Crown within seconds.
Another common cheat is the fly hack, which removes the need for floors entirely. Therefore, players using this can avoid all obstacles and get an instant win in every game.
Finally, there are bunny hop and gravity boosts available. These only add to the general chaos of the game, allowing you to manipulate the game's physics even more. In matches where there is a rising danger throughout, these certainly provide a massively unfair advantage to players.
Will I Get Banned When Using Fall Guys: Ultimate Knockout Cheats?
As soon as you're detected and flagged as a cheater, you'll be banned from playing Fall Guys: Ultimate Knockout. Due to the visual nature of these cheats, it's obvious when it's happening too, so you'll likely be reported and banned fast.
Ultimately, if you like playing Fall Guys: Ultimate Knockout enough to cheat in it, then it isn't worth the risk of being banned. Often, Mediatonic will be able to tell if you make a new account too, so you could even end up being IP banned.