The criteria for this list were pretty simple. The ladies listed here were introduced prior to the PlayStation 2 era of video gaming. That places them being released into the market, and our lives, around Q1 of 2000 or earlier. The other part is that the ladies still need to be making appearances in video game media. They don't actually have to still be in video games, but they need to be relevant and talked about in a semi-frequent manner. For those of you who grew up in a gaming culture where boobs are everywhere, the rare pleasures of seeing these ladies early on in gaming was the stuff of legend back in the day. So with that, here are some of our top favorites among the old-school beauties.
Princess Zelda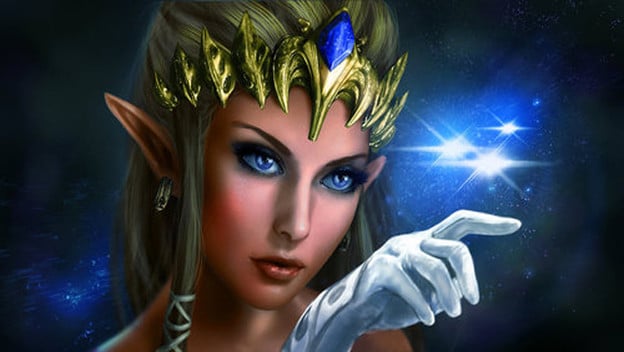 Link has been chasing this little tart since 1986. 1986! And as far as we know, there are still no little Link/Zelda babies to lead us to believe that she has ever once given it up. So seriously, our thing here is to say to Link, "It is time to move on." She has been the object of his affection for so long that I don't think he even realizes that there are probably a horde of common women in Hyrule that would love to help him forget Zelda. I mean, there are probably enough girls that have wanted him for so long that he could live like a young Tyrion Lannister for the rest of his life. Anyway, Zelda. Hot enough for one man to chase for 28 years.
Samus Aran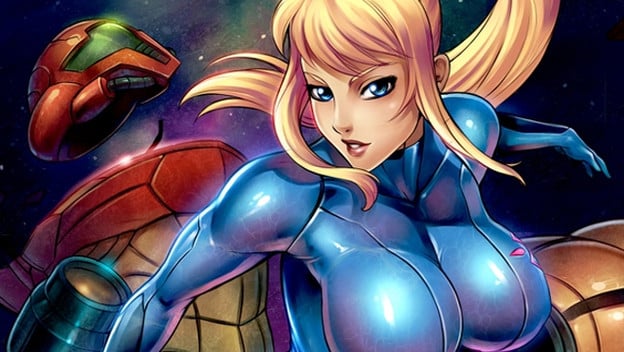 The other '86 uber-hottie that dropped into our consoles – and shocked the crap out of us at the same time – was Samus Aran. I know I played my way all the way through the serious frustration that was Metroid and was shocked when Samus removed her helmet to reveal that she was a woman with flowing blonde hair. Up until that point, women had only ever been objects of desire in need of rescue. They were void of strength and prowess in combat and needed a male champion to save them from their woes. But all that went out the window on that fateful day in 1986 when Samus took off her helmet and then proceeded to blow the world's collective mind. Video games would never be the same.
Sniper Wolf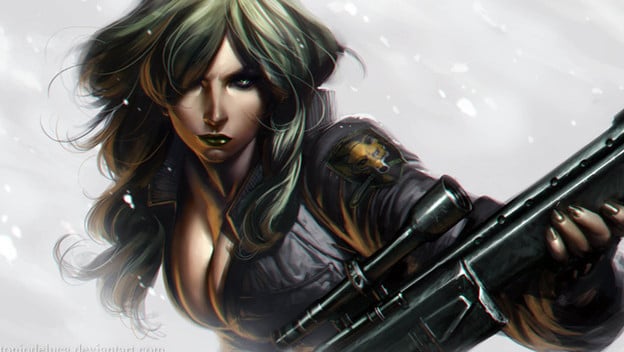 Introduced in 1998, Sniper Wolf has quickly become one of the most talked about lovelies in the MGS saga of games. She was so loved and talked about that Hideo Kijima and the gang had to create yet another beautiful but deadly sniper character in the upcoming MGSV: The Phantom Pain. But they had to strip her down to her underwear – literally – to even get MGS gamers to stop pining after their long-departed love, Sniper Wolf. She was as deadly as she was beautiful. And like all good MGS characters, she was totally messed in the head. But that was all part of her allure and charm.
Morrigan Aensland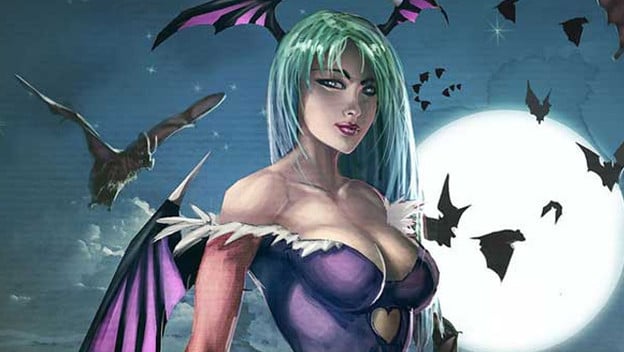 This sexy succubus started heating up our gaming consoles in 1994 and had been melting hearts and consoles ever since. She has appeared in nearly every Capcom fighting game since her arrival from the depths of Hell…well, Hell via Scotland apparently. But that's neither here nor there. She has been featured as a playable character nearly as many times as Ryu or Ken from the street fighter series. But truth be told, I know that I would much rather watch Morrigan in action than either of those two. I mean, she's even showed up as a secret character in a golf game! How many of the other Capcom beauties can say that they were so lusted after that they even got used to spice up a bad golf game (We love Golf on the Wii, if you were wondering)? Yep, that's how much every dude who has ever seen her has wanted to see her everywhere. And at this point in her history, they nearly have.
Mileena/Kitana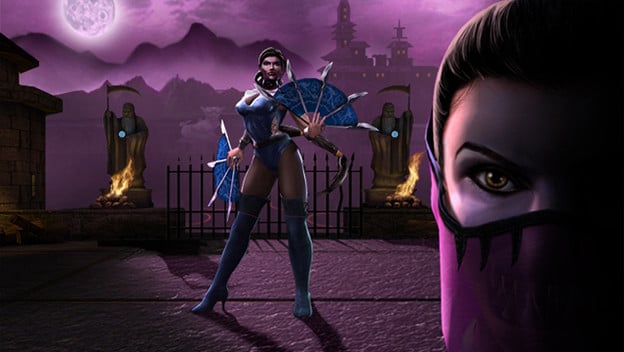 Two sisters that are both fighting for the "most scantily clad female warrior in video game land," award. Well, actually Mileena was an evil clone of Kitana. But as long as she doesn't take her mask off, all is well. But no matter what, these two have become synonymous with the sex-appeal of the Mortal Kombat series since their introduction in 1993. They even surpassed the popularity of Sonya Blade, who was the original MK hottie. But, I guess all good things must come to an end. I like my women with a little more human nature and not a reptilian face, but I guess the weirdos won out on this one with Mileena. At least her sister/clone is still human and hot.
Aya Brea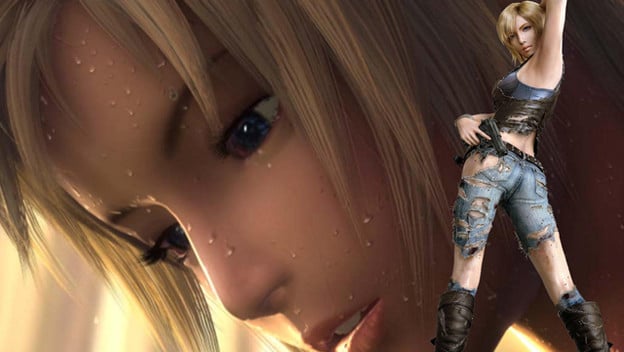 Aya makes the countdown because no other woman ever made being a detective in New York look so hot. Well, maybe Stana Kattick in the TV show Castle, but it would be a photo finish. But, apart from that, I can't think of another single female cop character that made me rethink the concept of digital crushes like Aya Brea. Not only was she smokin'-ass hot, she was also a total badass in the Parasite Eve series. There have been whispers that someone out there is planning a resurgence of the PE series. That, I am totally fine with. I mean, we would probably stand a better chance of seeing a Parasite Eve redo or HD version than we ever would see a FFVIII redo or HD version. So bring on more Parasite Eve…and more Aya!!
Cammy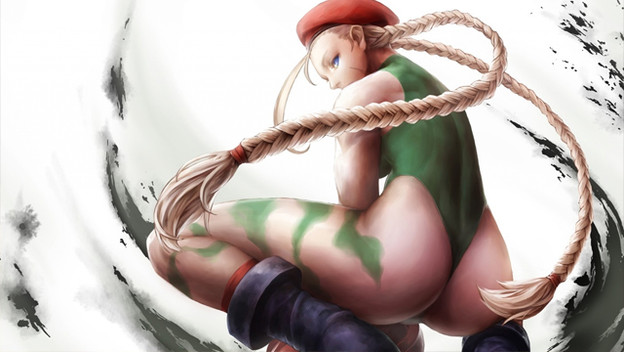 There so many hot women when it comes to nearly any of the games that roll out of the Capcom stables. Seriously, it's the one thing that they do consistently well – create beautiful women to help sell a title. Such is the case with Cammy from the Street Fighter franchise. Introduced in 1993, she quickly replaced, or in the very least competed with, Chun Li for the title of hottest Street Fighter beauty. Originally showing up as an employee of M. Bison's Shadaloo forces, Cammy then jumped ship and became one of the good guys. So not only did she shy away from her evil employer and fight her way through her defection to the good guy side of things, she did it all in a thong leotard and a beret. And that is why we love her. Beauty, booty and brains.
Lara Croft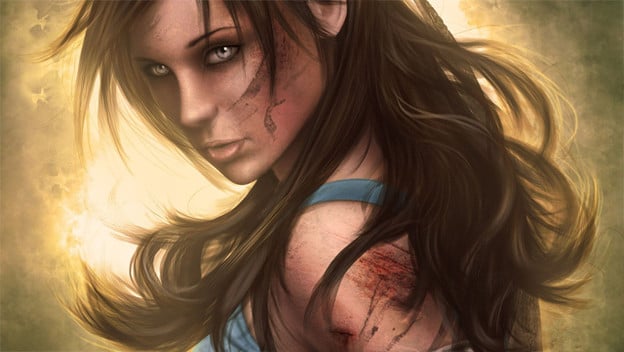 Lara Croft started shooting and bouncing her way into the hearts and minds of pre-pubescent male gamers in 1996 and has been the object of great affection ever since. Whether in her original form of blue tank top, short shorts, and dual pistols – or her persona objectified by the acting talents of Angelina Jolie – Lara has become the object of great desire in the video game industry for quite some time. 18 years to be exact. And even though she is reaching the two decade mark in her video game career, Lara looks more vibrant and alive than ever. We can't say enough good things about the direction that the franchise is taking – the re-imagined Lara is going to be a thing of beauty for some time to come.
Princess Daphne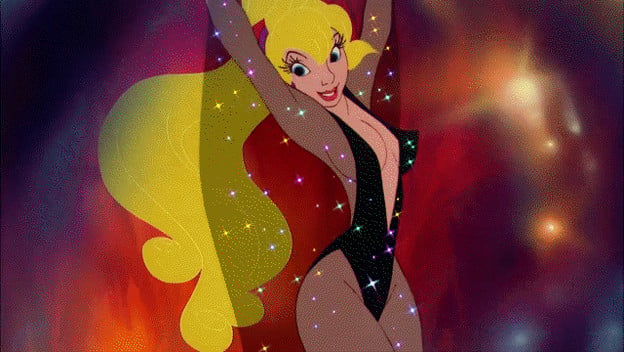 Introduced in 1983, Daphne is considered by many to be the first true video game hottie. She gets taken by the dragon Singe and of course, her hero Dirk the Daring must run to her aid and try and rescue her from her winged captor. The first time I saw Daphne in Dragon's Lair, I was killed a mere seconds later. I was completely stunned by what I had seen and couldn't believe how sexy she was…for a video game damsel in distress. It was one of those moments when I realized that video games would never be the same. And neither would I, or any of my friends for that matter. We were all totally blown away.
Tifa Lockhart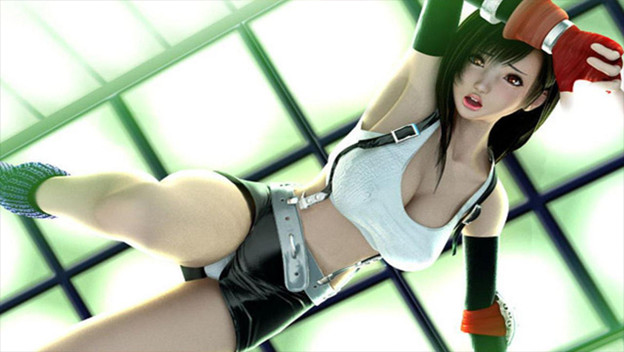 Say what you will about Final Fantasy VII, but for whatever reason, there has never been a bigger video game crush for me than Tifa Lockhart. It stems from that whole "total package" mindset that I have about women who are both super-smart and totally badass. Tifa most definitely fits the description. Her character is one of the few who can not only hold her own, but manage to keep her mentally unstable friends in the fight by being the glue that holds them all together. It wasn't until years later when the Advent Children film hit that I realized the insane beauty of this woman. I know she's not real (sorry guys, I know you don't want to believe that), but truthfully, she is one of the female game characters that I would love to meet in person. There aren't many that I would actually wish into existence, but Tifa is definitely one of them.