Publish Date: Tuesday, September 29, 2020
Who here games on PCs? It's a fairly consistent approach. You get a wide library. Upgrading isn't terribly difficult if you're willing to learn what you're doing. There's no constant going through consoles. What there can be is a premium on space. Games get big, and you're not just using a computer for games. They're media centers and work hubs. That's when you might need a Redundant Array of Independent Disks to keep track of everything. Fortunately, the OWC Mercury Elite Pro Dual is the exact sort of hardware someone might need.
A RAID solution is something a person just getting into building and maintaining their own computers might only be learning about for the first time. Essentially, it's like a little data warehouse for your computer. It has hard drives that keeps all of your content. By doing this, you can keep data safer, reduce the risk of it being compromised and damaged, and keeps you from having to rebuild if a drive would fail you.
So say you have save files you don't want to lose, movies and photos that irreplaceable, important work and personal documents, or maybe games that have since been delisted and unavailable. An OWC Mercury Elite Pro Dual RAID solution protects and stores it, due to the way it copies and preserves data. And, since it works with even Windows XP and OSX 10.6.8, you have something that could help you go way back to get things you might have thought you lost and keep them preserved. Especially since no driver is required. Naturally, it works with more recent operating systems as well. As long as you have Thunderbolt or USB 2.0, you're good to go, though Thunderbolt 2 or USB 3.1 Gen 1 are recommended.
The OWC Mercury Elite Pro Dual is a 16TB system, so right off the bat you're getting a huge amount of safe. This is split between two Toshiba 8TB hard disk drives. You'll definitely have enough space for everything you could possibly need. And it has dual Thunderbolt 2 ports, a USB 3.1 Gen 1 port, and it's ready for RAID levels 0 or 1 to store your stuff. (Though also span and independent are available.)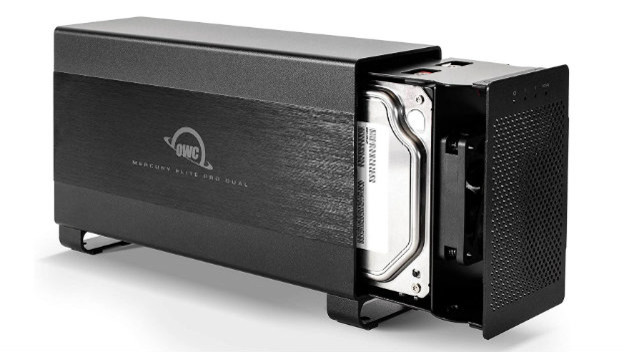 This is also a system that is quiet and does a good job of taking care of yourself so you don't have to worry. It monitors when you are and aren't working to cool down and turn off or on. It has a whisper-quiet fan to keep it within the optimal  temperature when it's operating. It also is possible to get replacement power supplies, so you can have a backup ready if you need it. Plus, with it only being 5.3" tall, 2.8" wide, 8.9" long, and 2.5lbs, it'd be easy to stick it on a shelf and have it there and working for you, then forget you even have it until you really desperately need it.
Is it an investment? Sure. The OWC Mercury Elite Pro Dual is $749. But you're also getting an item with two reliable, 8GB hard disks from a reliable company. It's guaranteed to work with new and old operating systems. It has all sorts of fail safes to guarantee your data won't be compromised. Plus, it has a three year warranty. Given the shift to working from home as of late and the amount of time and media people collect on their computers to watch and play, it can come across more as a responsible sort of tech you'd need for daily life, rather than some kind of extravagant purchase you'd make, then never actually use.